Publié le par Bernard Duyck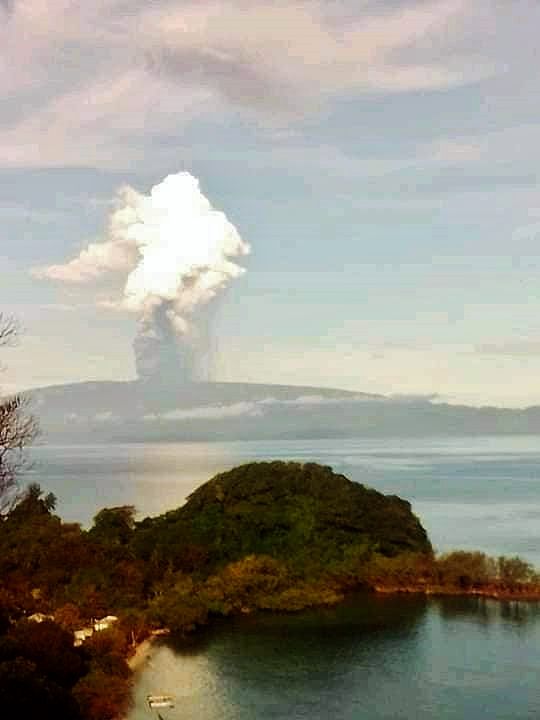 Ambae - Lombemben volcano - eruptive plume from 16.02.2022 - photo Tata Bari via Vanuatu Rainfall and agro-Meteorology Outlook
Volcanic activity on Ambae in Vanuatu continues at the Major Unrest Level, consistent with Volcanic Alert Level 2. Volcanic activity consists of steaming and explosions of moist tephra ejected above the surface of the lake but confined in the caldera while only very light ash is deposited on the villages located near the volcano, in particular those exposed to the directions of the wind. Volcanic risks remain in the area of ​​the summit and the creeks.
On the morning of February 16, a beautiful plume of gas and steam, emitted by the Lombenben, was observed from Alau / south Maewo (photo Tata Bari via Vanuatu Rainfall and agro-Meteorology Outlook)
The danger zone for the safety of persons in the summit area remains limited in danger zone A. This danger zone (Danger Zone A) is approximately 2 km in radius from the active 2017-2018 vents. An additional danger zone is in areas with flowing streams during heavy rains.
Sources: Vanuatu Rainfall and Agro-Meteorology Outlook & Vanuatu meteorology and geohazards dept.
The Gunung Api Ibu experienced an eruptive episode on Wednesday February 16, 2022 at 08:55 WIT, with a plume of gas and ash, gray in color, observed at ± 800 m above the peak (± 2125 m above the level of the sea). It was recorded on a seismograph with a maximum amplitude of 27 mm and a duration of 60 seconds.
Magma Indonesia reports for this 16.02 a plume at the main crater, white and gray in color, with moderate to high intensity, about 200-800 meters from the summit.
Seismicity is characterized by:
- 68 eruption earthquakes with an amplitude of 15 to 30 mm and an earthquake duration of 19 to 65 seconds.
- 32 avalanche earthquakes with an amplitude of 3 to 14 mm and a duration of 25 to 65 seconds.
- 23 blast/emission earthquakes with an amplitude of 5 to 14 mm and an earthquake duration of 10 to 40 seconds.
- 25 shallow volcanic earthquakes with an amplitude of 3-17 mm and an earthquake duration of 10-16 seconds.
Activity level remains at 2/waspada - alert.
Communities around Mount Ibu and visitors/tourists are advised not to travel within the 2.0 km radius and the sector expansion is 3.5 km to the crater opening in the northern part from the active crater of Mount Ibu.
In the event of ash rain, people who are active outside the home are advised to use nose, mouth (mask) and eye (goggles) protection.
Source: PVMBG – Magma Indonesia
The eruption of the Wolf volcano, which began on January 6, 2022, continues.
Thermal anomalies have been observed in satellite images at Volcan Wolf, in the Galapagos archipelago. FIRMS records 235 thermal alerts; while MIROVA registers 1 high thermal alert (748 MW) and 3 very high (1617, 1537 and 2142 MW).
These thermal anomalies are related to lava flows.
Source: IGEPN & Mirova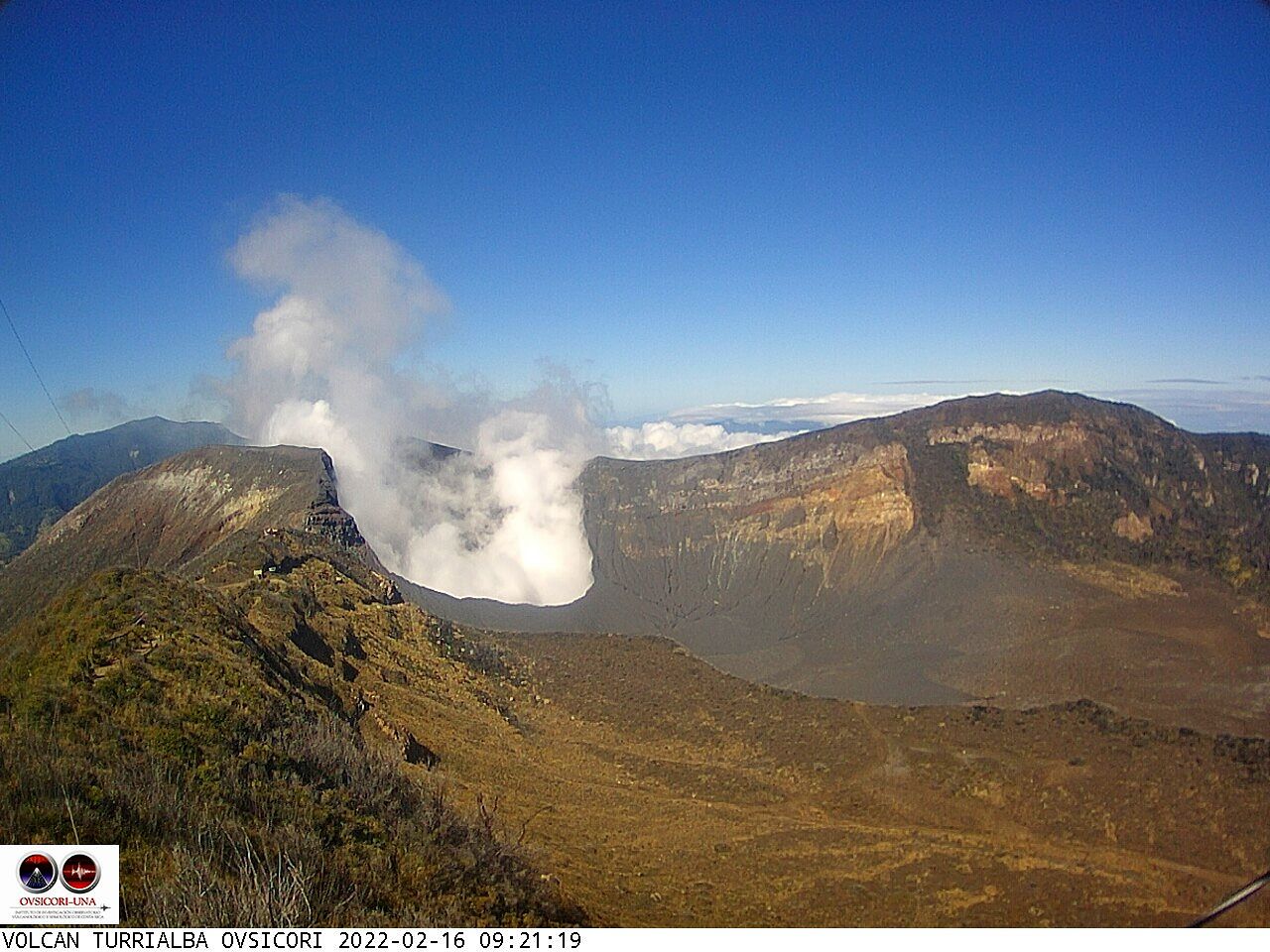 Turrialba - fumaroles and (possible) smoke ring above the right edge of the active crater - Ovsocori webcam 16.02.2022 / 09:21 - click to enlarge
No erupt2 reported in Turrialba / Costa Rica.
Seismic activity is similar, compared to yesterday.
At the time of this report, the winds are blowing to the southwest.
No eruption or volcanic tremor is recorded. The fumaroles inside the crater remain active.
Seismicity is dominated by volcanic earthquakes of low frequency and small and medium amplitudes. The SO2 gas concentration is kept below 10 parts per million of air. Yesterday there was an increase in the CO2/SO2 ratio (it reached 50), however, today it is back to previous levels near 20.
No deformation of the volcanic edifice is recorded.
Source: Ovsicori 16.02.2022 / 11:40 a.m