Publié le par Bernard Duyck
Lava effusion resumed at the summit of Kīlauea Volcano beginning at approximately 10:00 a.m. HST on February 27 and continues.
The summit tremor increased around 9:30 a.m. HST this morning and remains elevated and stable. The high inflation at the summit of Kīlauea Volcano mentioned in this morning's daily HVO update has slowed. The level of the active lava lake has risen approximately 30 feet since 8 a.m. HST on the 27th.
Based on previous observations, lava will likely be on the surface of the active lava lake tonight.
Source: HVO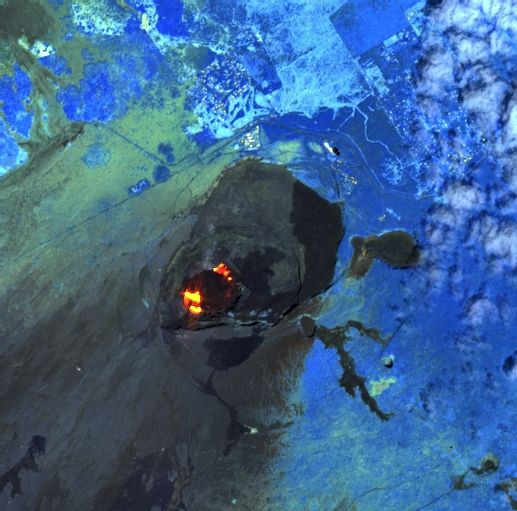 Kilauea - Halama'uma'u - image Sentinel-2 bands 12,11,8A from 02.26.2022 / 8:59 p.m. - via Mounts project
At Fuego, weak, moderate and strong explosions were observed, expelling columns of ash at a height of 4500 and 4800 meters above sea level, extending west and southwest over a distance of about 20 kilometers. The explosions generate moderate and strong avalanches of incandescent blocks, some of which cause fires in the vegetation zone. Sounds similar to train locomotives are sustained for periods of 2-5 minutes.
Ash falls in the villages of Panimache, Santa Sofía, Morelia, Morelia. , Yucales and surroundings. The loud explosions generate moderate to loud rumblings that rattle homes and windows for a distance of 7 km around the volcano.
Source: Insivumeh
Active eruptive activity continues at Otake crater on Suwanosejima.
Eight explosions (preliminary figures) occurred during the period from February 25 to February 28, 2022 / 3:00 p.m. local time. The eruptive plume rose 2200m above the crater rim. The large volcanic bombs reached about 400m from the center of the crater, and they can reach a range of about 2 km from the mouth.
According to the Suwanosejima branch of the Toshima Village Office, located south-southwest of the Mitake 3 crater.
Ash fall was confirmed at 5 km.
Nocturnal incandescence is observed on the webcam.
Inflation is seen on the western flank of the volcano.
It is recommended not to enter within 2 km of the active crater.
Source: JMA