Publié le par Bernard Duyck
After the 2nd paroxysm, the southeast crater of Etna was the site of ash emissions on February 14 around 9:00 a.m.
On the same day at 12:38 UTC, from surveillance cameras and what was reported by INGV personnel in the field, an emission of ash was observed from the Northeast crater, which was followed by other ash pulses of lesser intensity.
According to the forecast model, the ashes are dispersed in the atmosphere in the SSE direction.
The average amplitude of the volcanic tremor is currently at a low level. The centroid of volcanic tremor sources is located in the area between the Bocca Nuova crater and the southeast crater at an altitude of about 2000-2500 meters above sea level. A slight increase in the frequency of
appearance of infrasonic events located in correspondence with the northeast crater.
There is currently no significant variation in the deformation data from the clinometer and GNSS networks.
Source: INGV OE
On Mount Ontake, an increase in volcanic earthquakes was observed from approximately 2:15 p.m. February 23, 2022 (97 volcanic earthquakes).
Around 2:19 p.m., parallel to the volcanic tremors, the north tiltmeter of Ninoike shows a displacement
On February 23 at 4:35 p.m., we announced a warning around the crater and set the eruption alert level at 2 (regulation around the crater)
Notice not to enter hazardous areas in accordance with local government instructions.

Source: JMA Notice
At Mount Aso, the amplitude of volcanic tremors increased from about 05:00 on February 24.
A white plume marks the highest crater;
it rose 700m above the edge.
The agency declared a level 3 volcanic alert in the area, on a scale where the maximum is 5, urging people not to approach the vicinity of the volcano due to the risk of eruption and expulsion. pyroclastic flows and falling rocks within a radius of 2 kilometres.
Source: JMA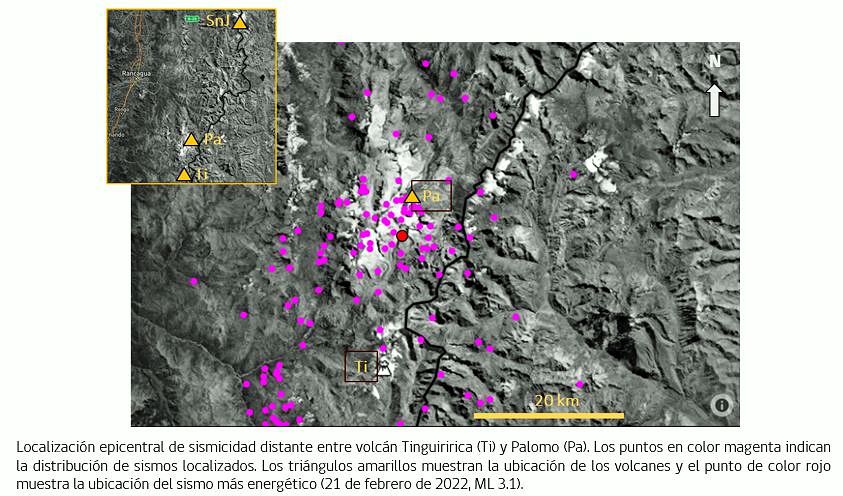 Location of the Tinguiririca (Ti) and Palomo (Pa) volcanoes – Epicenters of the earthquakes in magenta – in red, location of the most energetic earthquake of ML3.1 on 21.02.2022 – Doc. Sernageomin - one click to enlarge
In Chile, an increase in distal seismicity has been observed since February 1 between the two volcanoes Tinguiririca and Palomo.
The seismic sequence continues with low energy events (ML < 3.0). Monitoring by remote sensors shows no surface change related to volcanic activity in the area.
Its evolution is monitored 24 hours a day, 7 days a week by the Sernageomin
Sources: Sernageomin and Global Volcanism Program / Tinguiririca & Palomo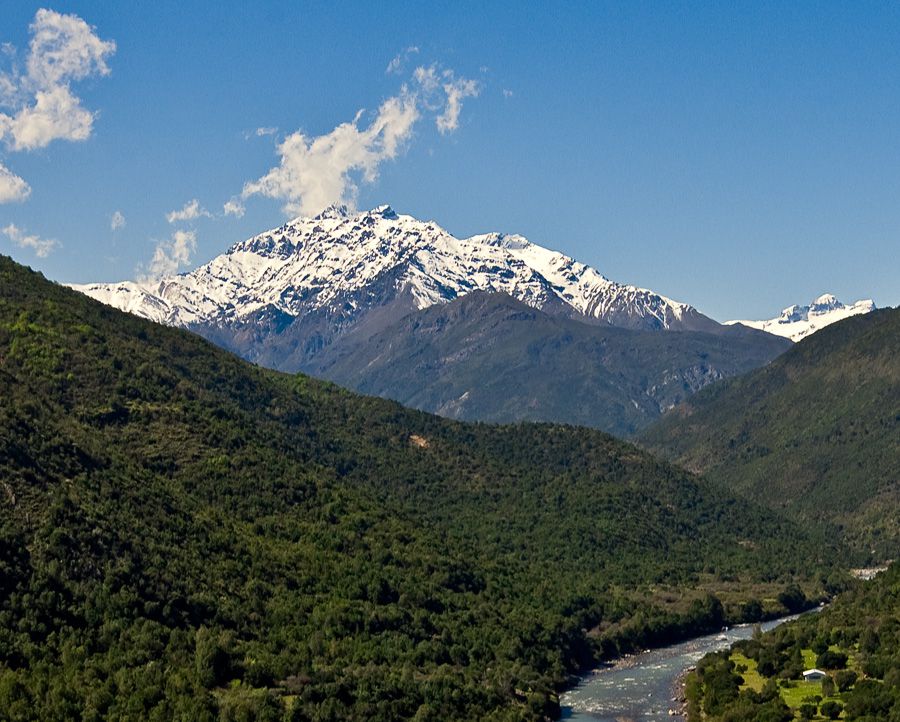 The Tinguiririca, and the fumaroles emanating from the crater - photo archives / Gerard Prins 04.10.2005 - one click to enlarge