Publié le par Bernard Duyck
The National Institute of Geophysics and Volcanology, Etneo Observatory, reports that during the night of February 9, we observed the resumption of a modest explosive activity at the level of the Southeast Crater of Etna, highlighted by flashes visible on the cameras of the CCTV network.
The activity is currently confined inside the crater and generates discontinuous and light ash emissions. According to the forecast model, the volcanic plume is heading southwest.
From 01:30 UTC an increase in the average amplitude of the tremor is observed up to average values ​​with an increasing trend. The source is located in the southeast crater area at a depth of about 3000 m above sea level. At the same time, infrasonic activity also showed an increase and is located in the southeast crater. is.
There are no significant variations in the time series of the tilt and GNSS network data
Sources: INGV OE & Boris Behncke
Two emission alerts were recorded by VAAC Washington at Reventador, Ecuador, with a maximum height of 1338m above crater level in a northwesterly direction. Emissions were observed with heights greater than 1000m above crater level in a westerly direction.
An incandescence was observed at the level of the summit accompanied by the rolling of blocks up to 700 m below the level of the crater, on all the flanks, an additional lava flow was recorded on the northeast flank. MIROVA records 1 low thermal alert.
Seismicity is characterized in the last 24 hours by: 38 LP earthquakes, 21 explosion earthquakes and 12 tremor episodes.
Source: IGEPN
In Galapagos, FIRMS records 309 thermal alerts at Wolf Volcano, Isabela Island, while MIROVA records 3 very high thermal alerts, of VRP 1876, 3727 and 4714 MW, and a high alert of VRP 670 MW in the last 24 time.
No emission is observed by the GOES-16 satellite.
On the map of lava flows established on February 8, 2022, we can see that since mid-January, a flow has been mainly fed in a south-southwest direction; another heading west. The lava field has widened but the flows have still not reached the coast.
Only one Volcano-tectonic earthquake has been recorded in the last 24 hours.
Source: IGEPN
In La Palma, in the Canary Islands, volcanologists are continuing their observations : visual checks in the field, taking measurements and collecting samples of gas, rocks and ash, both at the level of the craters and at the level of the lava deltas.
A digital surface model of the new Cumbre Vieja cone, still unnamed, has been established.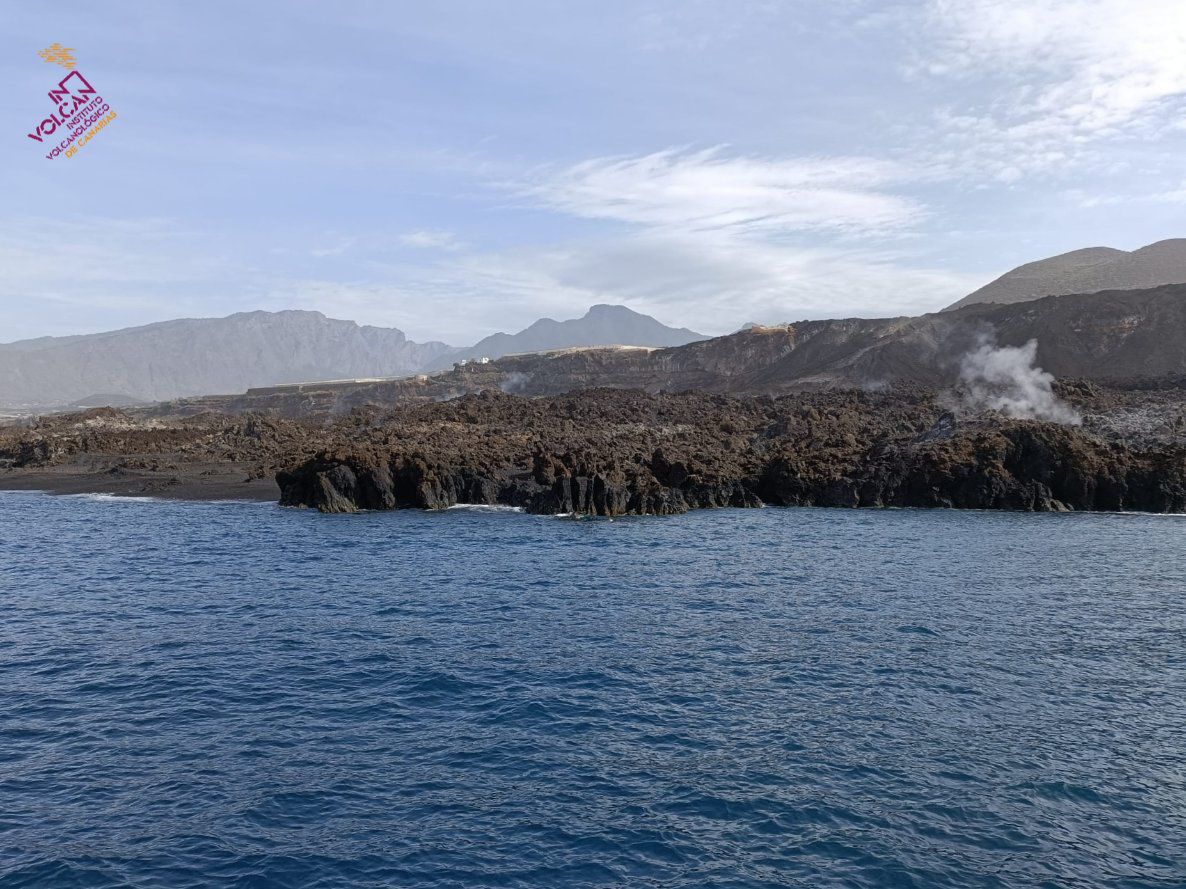 Cumbre Vieja - INVOLCAN is on 02.09.2022 on a LaPalma Marine Reserve boat to access the lava deltas to collect rocks and ash from the eruption.
La Palma / Cumbre Vieja - digital surface model (MDS) of the new CumbreVieja cone - Doc. InVolcan / INGV - one click to enlarge
The GUAYOTA (*), a weekly INVOLCAN graphic information on seismic-volcanic activity monitoring has started to be published by Involcan. This weekly graphic information is produced thanks to the projects LPvolcano, which finances the area of ​​security and emergencies of the Cabildo Insular de La Palma, and CANvolcano, which finances the General Directorate of Security and Emergencies of the Government of the Canary Islands.
The one concerning La Palma dates from February 4, 2022.- link to the original document.
(*) Guayota is an evil deity of the Guanche culture, in the Canary Islands, enemy of Achamán, the main god of the pantheon. He was likened to a demon by the Castilians after the conquest of the Canary Islands.
Sources : InVolcan; Legend of Guayota