Publié le par Bernard Duyck
During the last 7 days, since the last communication (the 25th at 9:00 UTC), 103 earthquakes have been located on the island of La Palma.
The magnitudes are between 0.4 and 2.2 (mbLg). Four of these earthquakes were felt weakly by the population with intensity II (EMS98). The location of the hypocenters continues under the central area of ​​Cumbre Vieja in the same areas as the previous days, at depths between 0 and 18 km. Three earthquakes with depths between 21 and 37 km were located in this period.
The network of permanent GNSS stations on the island does not show significant deformations that could be associated with volcanic activity.
The height of the cone is measured, obtaining a value of 1,120 m. On sea level.
Sampling of fumarolic gases in the crater of the main building is continuing, as well as the maintenance of the geochemical instrumentation deployed near it to monitor the post-eruptive stage in detail.
The traffic semaphore at volcanic risk on the island of La Palma passed this February 1 from red to yellow.
A new episode of violent Sahara dust storm engulfed the skies of the Canary Islands and Madeira.
AEMET Spain issued a health alert on January 30. Health authorities have advised people not to stay outdoors for long periods of time.
Sources: IGN, IGME, AEMET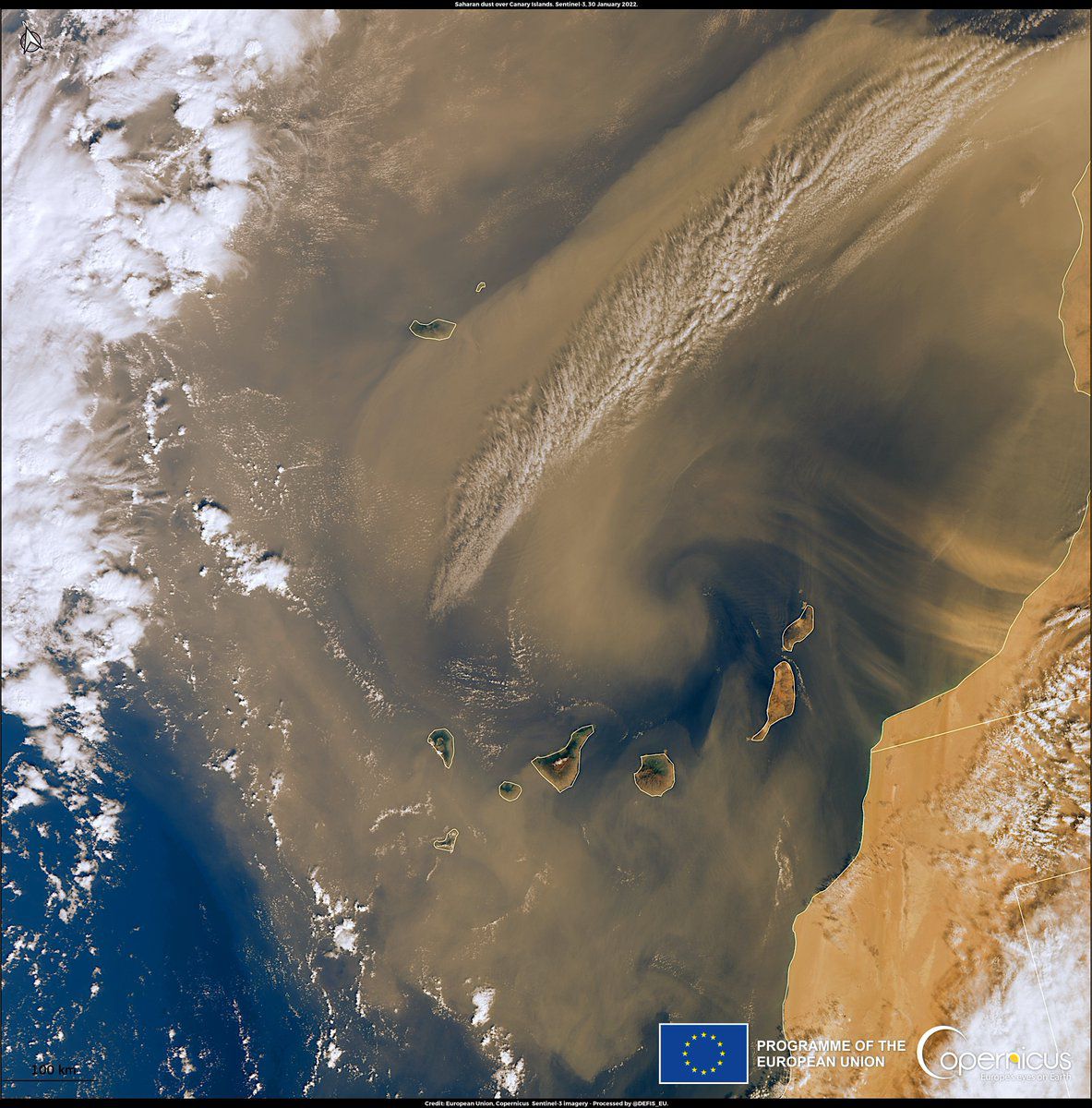 Canaries - after the ashes of the volcano, the sand of the Sahara engulfed the archipelago - image Sentinel-3 Copernicus 30.01.2022 - click to enlarge
At Santiaguito, seismic stations and observer reports record prolonged periods of degassing 200 - 800 meters above the crater, which is moving northeast.
During the night and early in the morning, weak to moderate avalanches were generated which mainly affected the southwestern and western flanks. This causes fine ash particles to fall into the volcanic perimeter and some of these remain suspended in the air.
Explosions can be generated that increase the number and size of avalanches and audible sounds several kilometers from the volcanic edifice. Due to the permanent extrusion of boulder lava into the dome of Caliente Dome, in a west-southwest direction and the instability of the accumulated material, the occurrence of more boulder and ash avalanches is not not excluded, as well as possible distributing pyroclastic flows in different directions.
Sources: Insivumeh & Conred
The month of January 2022 will have been marked by the continuation and the end of the eruption at Piton de la Fournaise, which began on December 22. Throughout the eruption which ended on January 17, a deflation of the summit area was observed, and from January 7 an increase in seismicity was recorded; both witnesses to the emptying of the magma reservoir located about 2 km below the summit.
Since the end of the eruption, residual seismicity has been observed, and summit inflation seems to be resuming at a low rate.
Source / OVPF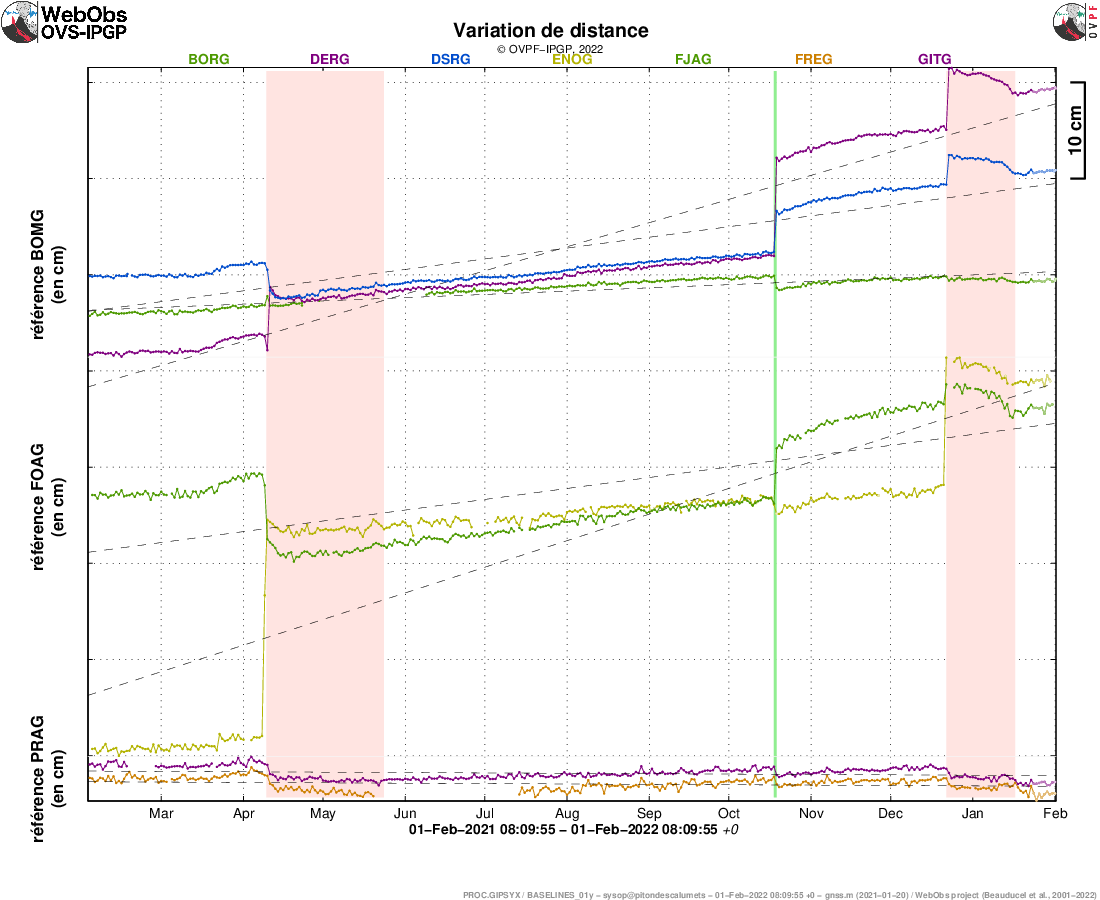 Piton de La Fournaise - Illustration of the deformation over 1 year. Here are shown baselines (variation of distance between two GPS receivers) crossing the Piton de la Fournaise building, at the top (top), at the base of the terminal cone (in the middle) and in the far field (bottom ) (see location on the associated maps). An increase is synonymous with elongation and therefore swelling of the volcano; conversely a decrease is synonymous with contraction and therefore deflation of the volcano. Any periods colored in light pink correspond to eruptions. - Doc. OVPF
At Vulcano, the week of January 24 to 30, 2022 is characterized by:
Temperatures recorded on the rim of the crater which show a strong variability linked to atmospheric phenomena, while on the internal side they remain stable.
The CO2 flux in the crater area remains at high values. CO2 fluxes at the base of the La Fossa cone and in the Vulcano Porto area remain at medium-high values ​​except for the Faraglione site, where close values ​​are recorded in the background.
The SO2 flux in the crater area remains at a high level.
Geochemistry of thermal aquifers: the physico-chemical parameters recorded in Camping Sicilia e Les Bambara remain stable.
Local seismicity: Number of weak microshocks, decreasing VLP.
Regional seismicity: Regional seismicity essentially absent.
The GNSS monitoring network and the clinometric network did not show any significant changes in deformation compared to the previous week.
.
Source: INGV – Weekly bulletin 01/02/2022