Publié le par Bernard Duyck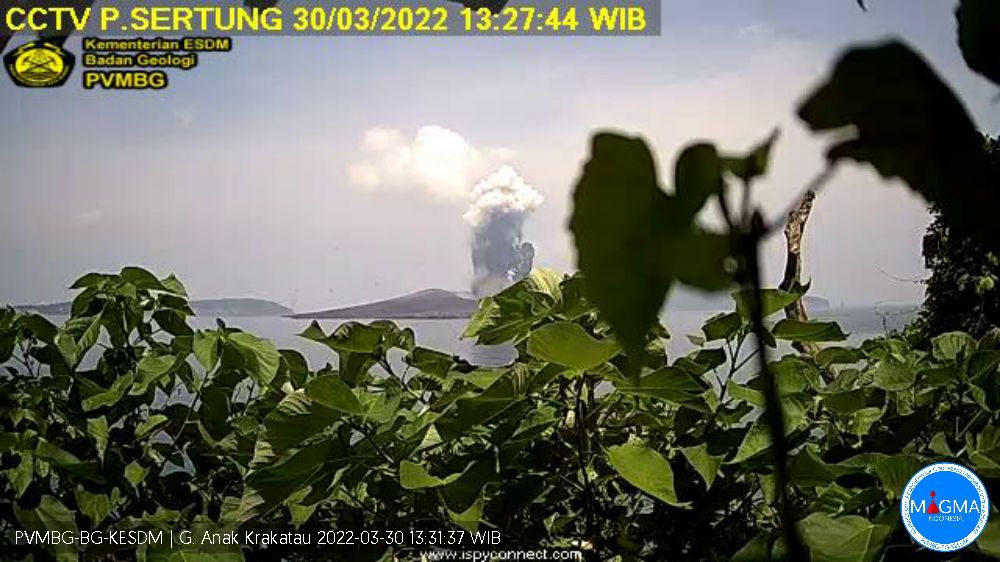 Anak Krakatau - eruptive episode of 30.03.2022 / 1:27 p.m. loc. - webcam Sertung / PVMBG - Magma Indonesia - one click to enlarge
Eruptive activity has continued for a few days at Anak Krakatau.
It is characterized on March 29 by:
- 3 eruption earthquakes, with an amplitude of 44-55 mm and an earthquake duration of 35-74 seconds.
- 38 emission/blast earthquakes, with an amplitude of 14 to 50 mm and an earthquake duration of 12 to 65 seconds.
- 19 harmonic episodes
- 30 low frequency earthquakes
- 14 shallow volcanic earthquakes
- 8 deep volcanic earthquakes
- and continuous tremor with an amplitude of 1 to 45 mm, dominating 7 mm.
An eruptive episode occurred this Wednesday, March 30, 2022 at 1:26 p.m. WIB, with a gray ash plume observed ± 700 m above the peak. This eruption was recorded on a seismograph with a maximum amplitude of 60 mm and a duration of 96 seconds.
Sources: PVMBG, Magma Indonesia
Between March 21 and 27, 2022, the eruptive activity of Sabancaya remained at moderate levels, with a daily average of 29 explosions, accompanied by plumes of gas and ash reaching 2,200 meters above the summit.
The I.G.P. mentions for this period a relatively low seismicity, with 163 earthquakes of volcanic origin, associated with the circulation of internal magmatic fluids, and no VT type earthquakes.
No significant deformation anomalies; seven thermal anomalies, of max. 30 MW, associated with the presence of a superficial lava body in the crater.
The volcanic alert remains at naranja, with a non-accessible zone of 12 km radius around the crater.
Source: I.G.Peru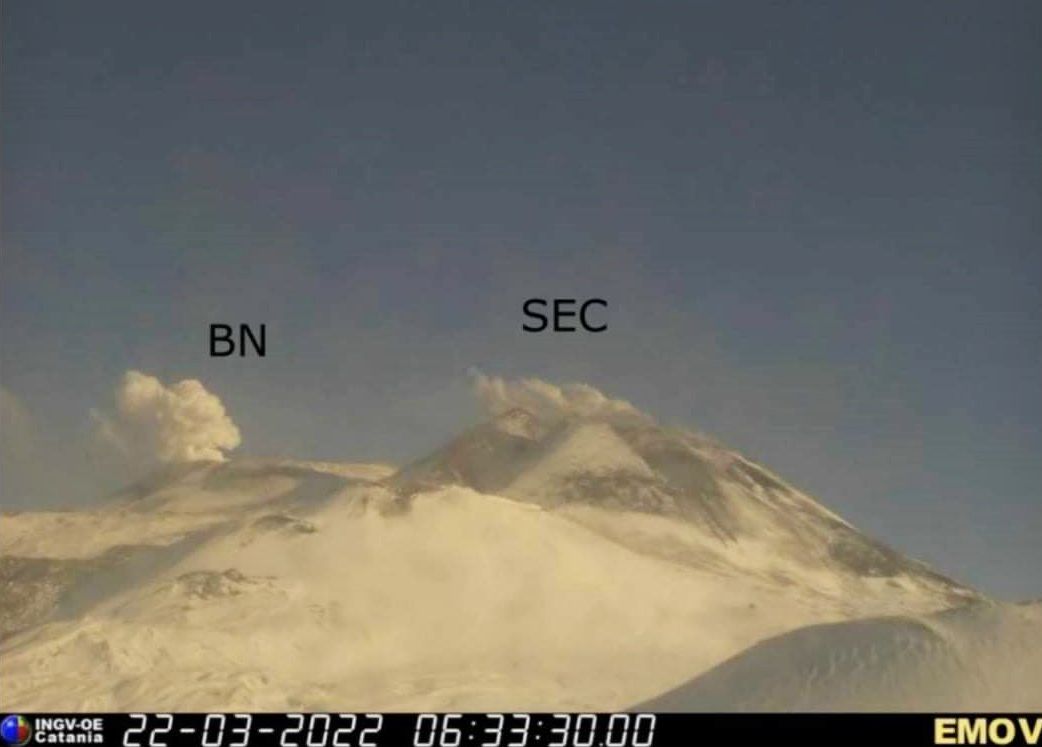 Etna - degassing at Bocca Nuova and the southeast crater on 03.22.2022 / 06:33 a.m. - EMOV / INGV OE webcam
The INGV reports a variable rate degassing activity at the summit craters of Etna between March 21 and 27, 2022, as well as weak seismic fracturing activity. The amplitude of tremor, with sources located under the central craters, remains low.
Weak infrasonic activity is reported near inconspicuous Bocca Nuova.
Ground deformation monitoring networks have not recorded any significant changes over the past week.
At gas level: the lux of SO2 is at a low level.
The soil CO2 flux shows increasing average values.
The partial pressure of dissolved CO2 in the aquifer shows values ​​in seasonal variability.
Helium isotope ratio shows high values ​​(03/23/2022).
Thermal activity in the summit area was at a low level after the February 21, 2022 lava fountain.
Source: INGV OE
In the Azores, uncertainties remain as to the fate of possible volcanic activity on São Jorge.
Since March 19, more than 20,000 earthquakes have been recorded to date, of which 208 earthquakes have been identified as "felt" by the population. The most energetic was of local magnitude 3.8 on the Richter scale on 03.29.2022 at 9:56 p.m.
The activity is located in the central part of São Jorge (54 km long by 8 km max. wide), precisely along a WNW-ESE trending fault, in a sector between Las Velas and Faja do Ouvidor.
GNSS deformation data points to a magmatic dyke intrusion in the epicentral area.
No anomalies of the geochemical parameters.
There is a possibility of a volcanic eruption, although not imminent, and the alert level is set at V4.
Sources: CIVISA & IVAR