Publié le par Bernard Duyck
On Sunday, March 6 at 6:49 p.m. local time (21:49 UTC), monitoring stations near Hudson Volcano, Chile, recorded an earthquake associated with both rock fracturing and fluid dynamics in the within the volcanic system (Hybrid).
The characteristics of the earthquake after its analysis are as follows:
ORIGINAL TIME: 6:49 p.m. local time (9:49 p.m. UTC)
LATITUDE: 45.958°S
LONGITUDE: 72.966° W
DEPTH: 5.2 km
The alert level remains green
The last activity of Cerro Hudson dates back to the period of October 26, 2011-November 1, 2011 (GVP)
Source: Sernageomin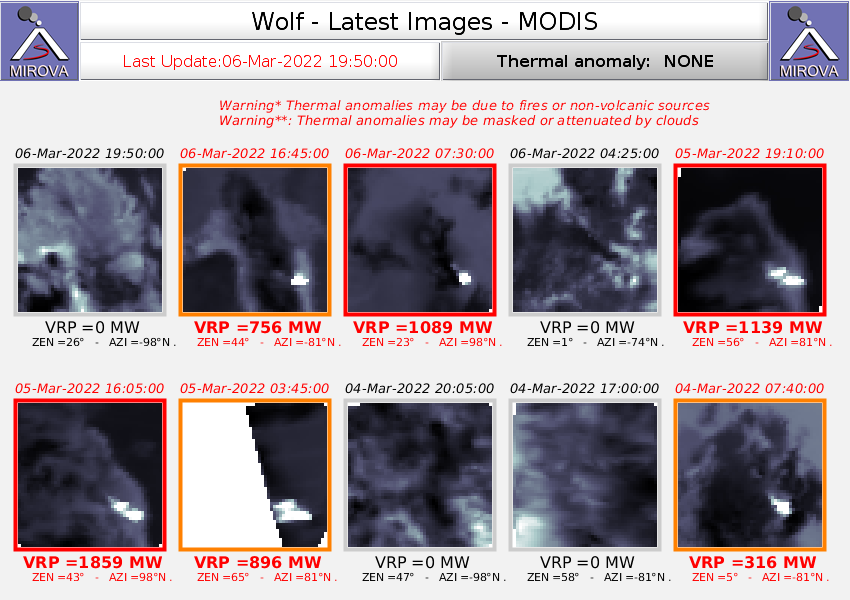 Galapagos- Wolf volcano - thermal anomalies on 06.03.2022 - Doc. Mirova_MODIS_Latest10NTI - one click to enlarge
The IGEPN reports that the activity, both superficial and internal, of the Wolf volcano remains high, with an unchanged trend.
Thermal anomalies continue to appear on satellite images, associated with the presence of lava flows.
The MIROVA system records 3 very high thermal anomalies (1089, 1139 and 1859 MW) and
The WORLDVIEW system records 106 thermal alerts over the past 24 hours.
Seismicity comes down to a single volcano-tectonic earthquake.
No good satellite view as the Galapagos are covered in clouds.
Sources: IGEPN / 06.03.2022 at 11 a.m., Goes and Sentinel-2 satellites
The Washington VAAC reported 4 emissions at Sangay, whose heights varied between 870 and 1170 meters above the level of the crater with West, North-West and South-West directions.
Gas measured via the Mounts system returned 1,888 t at 1:56 p.m. on 05/03/2022. TROPOMI detected a strong SO2 signal at a distance of 13.7 km from Sangay with 15.07 DU of SO2 at an altitude of about 1 km. Estimated mass within a radius of 300 km: 1.5 ktonne.
The FIRMS system records 4 thermal anomalies in the last 24 hours.
The weather conditions are permanently cloudy, so there are no observations of surface activity.
Alert level - SNGRE: Yellow
Sources: IGEPN & Sentinel-5P / Tropomi
During the last 24 hours, thanks to the monitoring systems of the Popocatépetl volcano, 9 low intensity exhalations have been detected, accompanied by water vapor, gas and slight amounts of ash.
In addition, 1265 minutes of low amplitude tremor were recorded.
During the morning and at the time of this report, a constant emission of volcanic gases and a slight amount of ash are observed, which disperse towards the northeast.
Source: Cenapred 06 March, 11:00 a.m. (06 March, 17:00 GMT)