Publié le par Bernard Duyck
Several eruptive episodes are reported in Manam, Papua New Guinea, by VAAC Darwin on March 8, 2022.
The largest occurred around 6:50 p.m., accompanied by an ash plume that rose to 15 km (flight level 500), before drifting towards the main island and west.
A second produced later a plume 3 km high (flight level 100).
The alert level is 3 out of 5 / minor activity or eruption warning.
Manam has been erupting since June 29, 2014, ongoing- The GVP has confirmed a VEI 4.

Source: VAAC Darwin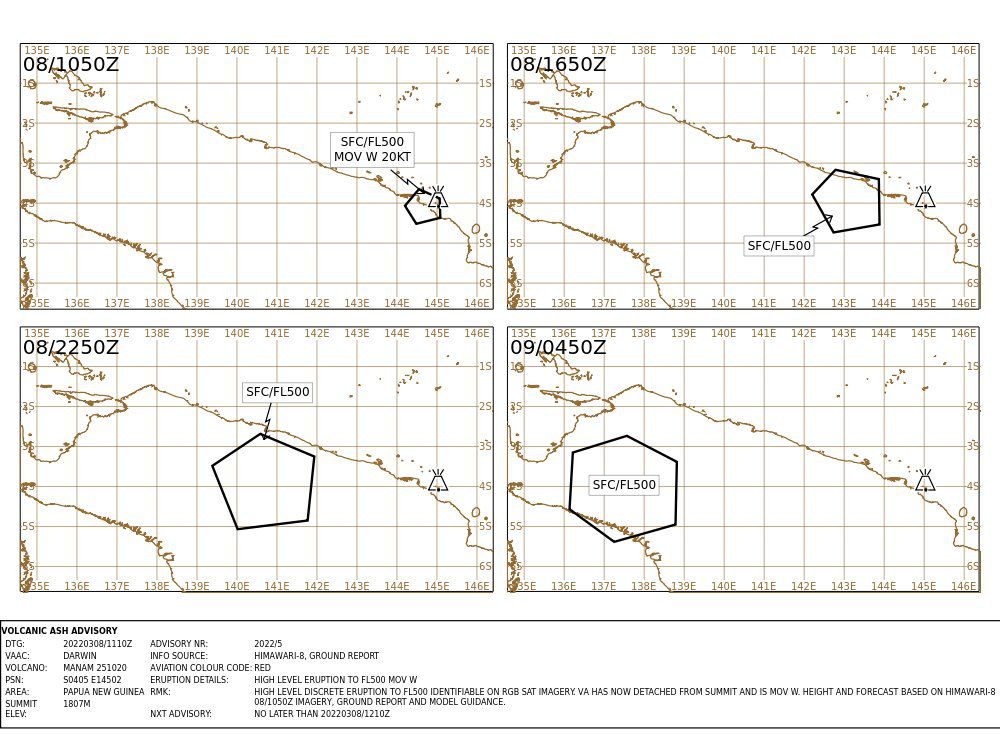 Manam - eruption with plume at FL500, the height of the eruption is 15 km - Volcanic ash advisory of 08.03.2022 / 10h50Z - Doc. VAAC Darwin - one click to enlarge
At Fuego, weak to moderate explosions continue to produce copious amounts of ash. They accumulate on the flanks of the volcano and are unstable, being able to generate collapses, and descend in the form of moderate avalanches in the barrancas recently affected by pyroclastic flows.
The vegetation, the streets and the roofs of the houses are covered with large deposits of ash, which can be mobilized by the wind, conditions that are detrimental to health.
Degassing continues and produces locomotive noises.

The RSAM reflects the drop in seismic amplitude, which returned to its base levels around 3 a.m., after 26 hours of eruptive activity.
Source: Insivumeh special bulletins of 08.03.2022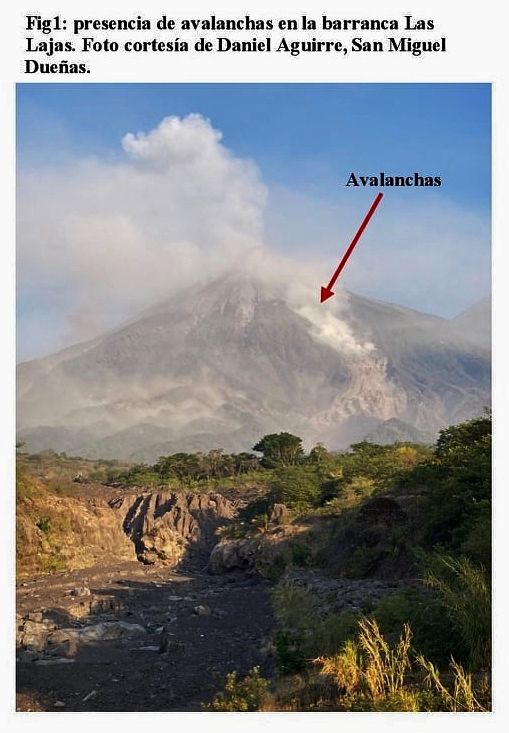 Fuego - Pyroclastic avalanche of 08.03.2022 / 10.30 a.m. local in the barranca Las Lajas - Doc. Insivumeh - one click to enlarge
Updated temperature data recorded on the rim of the La Fossa crater of Vulcano, between February 28 and March 6, 2022, show stable values ​​and confirm the continuation of the thermal anomaly. On the internal side, the values ​​are always stable at 114°C.
The CO2 flux in the crater area remains at high values. The CO2 fluxes at the base of the La Fossa cone and in the Vulcano Porto area: The CO2 fluxes recorded in the Rimessa, C. Sicilia and P4max remain at medium-high values; on the Faraglione site they are recorded at values ​​close to those of the base.
The SO2 flux in the crater area is at a medium-high level and decreasing
No updates are available regarding the geochemistry of fumarolic gases.
The physico-chemical parameters of the aquifers recorded in the wells of Camping Sicilia and Bambara remain stable at high values, although showing a very slight downward trend.
Local seismicity: Low rate of occurrence of local micro-shocks. Modest increase in the occurrence rate of VLP events.
Regional seismicity: Low level fracturing seismicity: 1 single earthquake with Ml = 1.1
Deformations: The network of permanent GNSS stations, and the inclinometers have not recorded any significant changes.

Source: INGV OE