Publié le par Bernard Duyck
An overflight of Nishinoshima, in the Ogasawara Islands was carried out by the Japan Coast Guards on March 14, 2022.
Gas and steam emissions and high temperatures persist in the summit crater. Note the sulfur deposits on the rims and inner parishes of the crater.
A brownish to yellowish discoloration is visible in the water along the coasts of the island, and extends into the surrounding area.
Thermal anomalies have been reported by Mirova since March 13, with a max. current VRP 23 MW on March 16, 2022 / 04:05.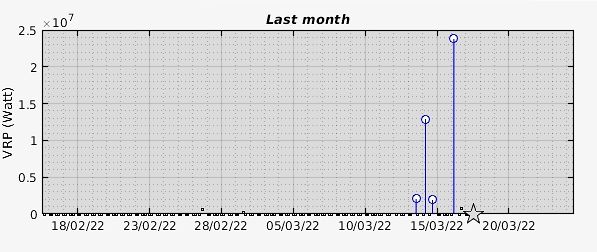 Sources: Mirova and Japan Coast Guards (via Shérine France)
Deflation at the summit of Kīlauea Volcano resumed around 9:30 a.m. H.S.T. this March 17, 2022 in the morning, and no longer seems to deflate or swell.
The summit tremor has also decreased but fluctuates on short timescales.
The level of the active lava lake in Halema'uma'u Crater has dropped significantly, although lava continues to enter and flow into the main active lava lake area. Based on previous observations from last week, lava will likely be on the surface of the active lava lake tonight, but activity will likely be less rigorous than earlier this week.

Current volcanic alert level: Watch
Current Aviation Color Code: Orange
Source: HVO-USGS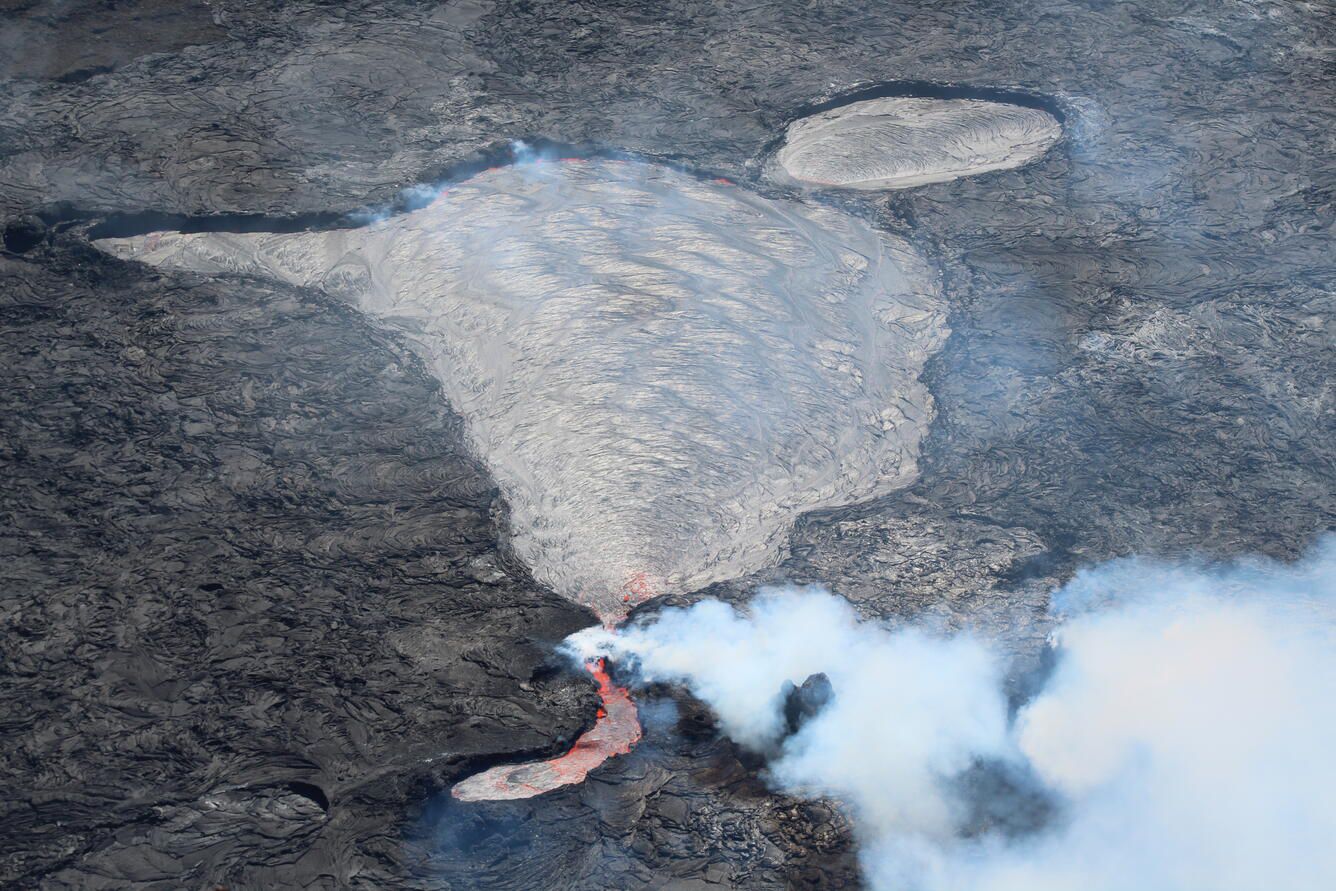 A telephoto view east of the active lava lake in Halema'uma'u crater at Kīlauea's summit on March 11, 2022. The craggy remnants of the western vent cone, which has collapsed in recent weeks, are visible through the volcanic gas plume in the lower right. Lava feeds the lake through a small bay and weir (lower center) just north of the west vent cone area. From the main active lava lake, lava pours over a narrow divide into a second, smaller lake to the southeast (upper right). - USGS image by N. Deligne.
A severe outage in a regional telecommunications link at King Salmon has resulted in the loss of data feed from seismic stations at nine volcanoes in the Katmai region and northern Alaska Peninsula in recent weeks, a report says. communicated.
As a result, AVO can no longer seismically monitor the following volcanoes: Griggs, Katmai, Mageik, Martin, Novarupta, Snowy Mountain, Trident, Ugashik-Peulik and Ukinrek Maars. assess whether these volcanoes are in their normal background state, or quickly confirm or refute reports of activity on these volcanoes.
AVO said that due to the disruption, the alert level and aviation color code of all nine volcanoes had been changed to "unassigned."
Source: AVO
An orange Vona was issued on March 17, 2022 for Semeru, on Java, following an eruptive episode at 06:15 local time. The eruption and ash emissions continue westward at 3876 m. asl.
The seismicity of March 17 is characterized by:
- 63 eruption earthquakes, with an amplitude of 10 to 24 mm and an earthquake duration of 70 to 150 seconds.
- 5 emission earthquakes, with an amplitude of 3 to 10 mm and the duration of the earthquake from 20 to 55 seconds.
- 2 harmonic episodes, with an amplitude of 3-4 mm and an earthquake duration of 50-193 seconds.
- 2 deep volcanic earthquakes, with an amplitude of 11-15 mm, S-P 1.4-1.7 seconds and an earthquake duration of 20-26 seconds.
The activity level remains at 3 / siaga, with recommendations of:
1. Do not carry out any activity in the southeastern sector along Besuk Kobokan, up to 13 km from the summit (the center of the eruption). Beyond this distance, the community does not conduct activities within 500 meters of the bank (river edge) along Besuk Kobokan due to the potential for expansion of hot clouds and lava flows. lava up to a distance of 17 km from the summit.
2. Do not travel within 5 km of the crater/summit of Mount Semeru as it is subject to the danger of jets of incandescent blocks.
3. Be aware of the potential for hot cloud avalanches (APGs), lava avalanches and lahars along the rivers/valleys that originate at the summit of Mount Semeru, especially along Besuk Kobokan, Besuk Bang, Besuk Kembar and Besuk Sat as well as potential lahars in the rivers a small river which is a tributary of Besuk Kobokan.
Source / PVMBG – Magma Indonesia