Publié le par Bernard Duyck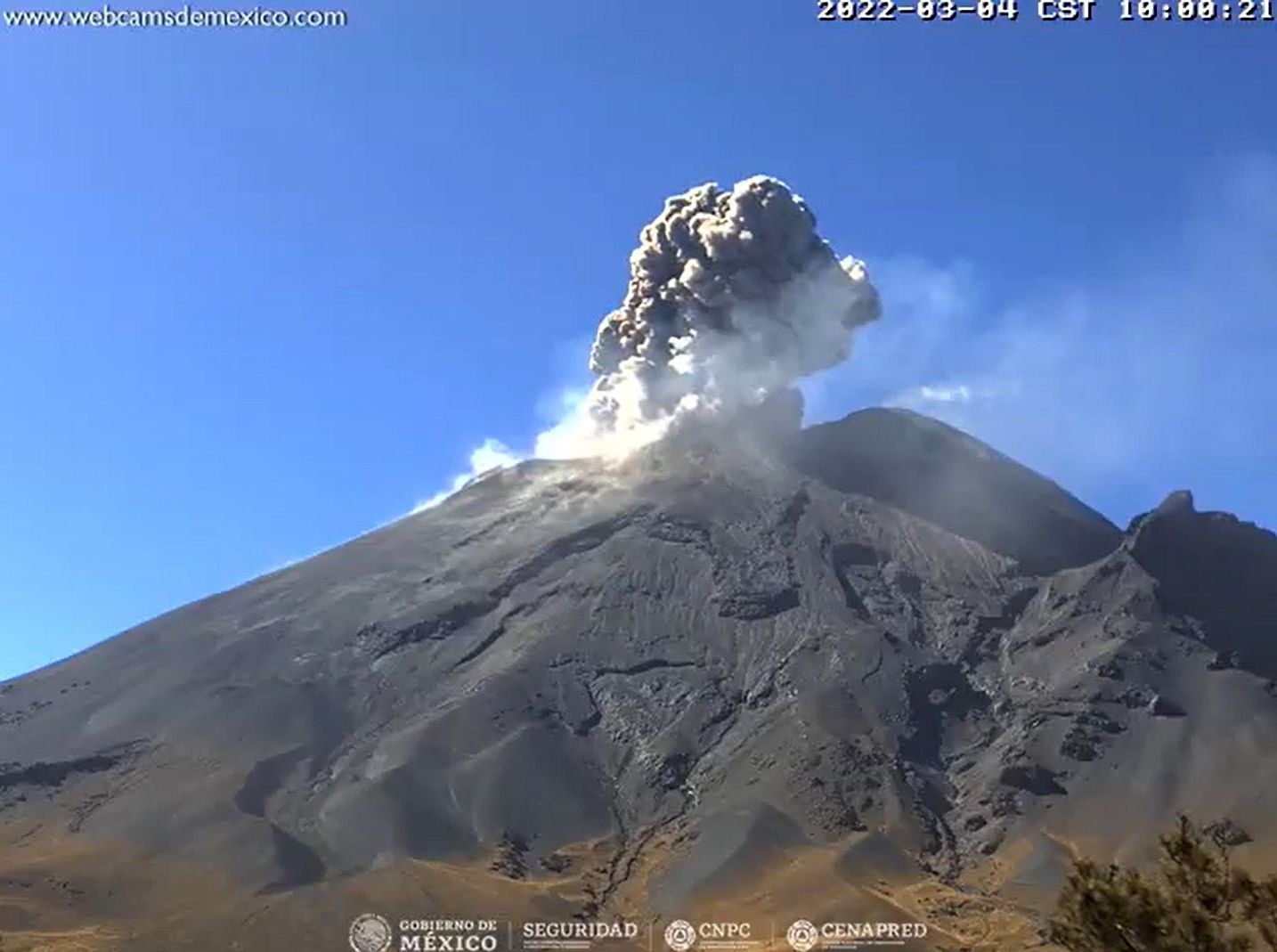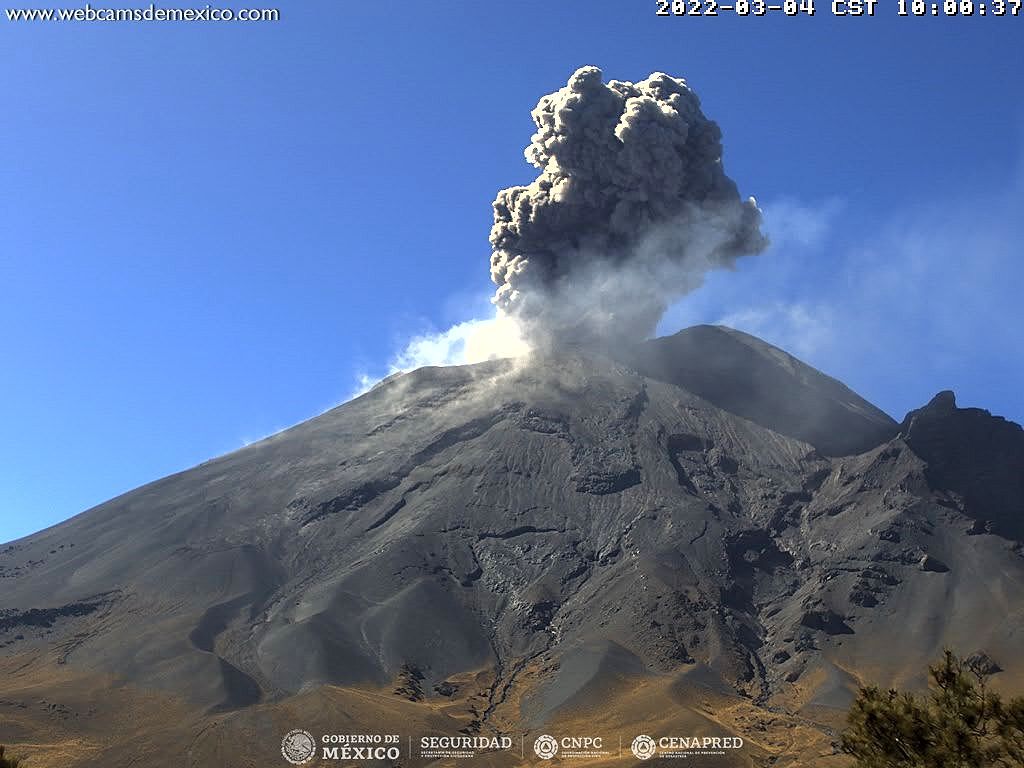 Popocatépetl - 04.03.2022 / 10:00:21 and 10:00:37 - webcamdeMexico / Cenapred - one click to enlarge
During the past 24 hours, thanks to the monitoring systems of the Popocatépetl volcano, 50 low intensity exhalations have been detected, accompanied by water vapor, gas and slight amounts of ash.
After more than 2000 minutes of tremor accumulated in the Popocatépetl volcano over the past 7 days... a moderate explosion was recorded today at 09:00:59 a.m. In addition, 534 minutes of low amplitude tremor were recorded, and a volcano-tectonic earthquake recorded yesterday at 11:14 p.m., with a magnitude of 1.6.
During the morning until 11 a.m. local, a constant emission of volcanic gases and a slight amount of ash are observed, which disperse towards the west.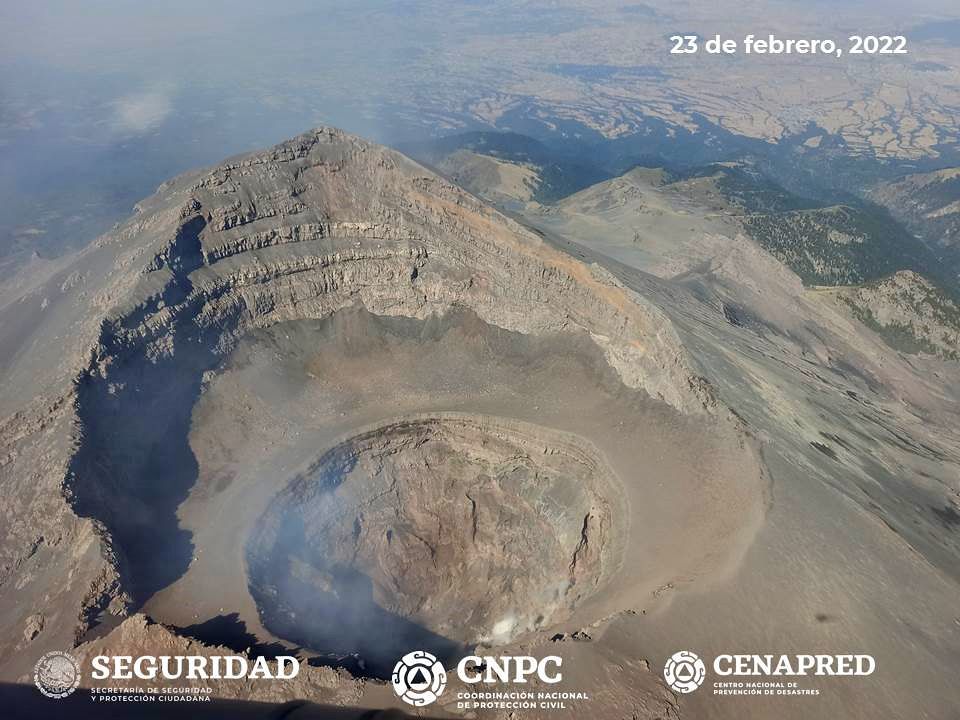 Popocatépetl - crater - flyby of 23.02.2022 - photo Cenapred / CNPC / Seguridad - one click to enlarge
Visibility conditions were optimal on February 23, so it was possible to determine that the dimensions of the inner crater maintain an approximate diameter of 390 to 410 meters and a depth of 160 to 200 meters compared to the flyby last November. Similarly, remnants of domes located recently at the bottom of the crater can apparently be distinguished.
Source: Cenapred
The activity is in slight decrease last week under Mount Pelée, according to the statements of the Volcanological and Seismological Observatory of Martinique.
Between February 25, 2022 and March 4, 2022, the Volcanological and Seismological Observatory of Martinique recorded at least 27 volcano-tectonic earthquakes of magnitude less than or equal to 1.1. There had been at least 35 the previous week .
These low energy earthquakes were located inside the volcanic edifice between 0.7 and 0.9 km deep below the surface. This superficial volcano-tectonic seismicity is associated with the formation of micro-fractures in the volcanic edifice. None of these earthquakes was felt by the population.
An extension of two zones of deteriorated vegetation located between Morne Plume and the Rivière Chaude was noted during a helicopter flight carried out on February 9 with the support of Dragon 972, and confirmed by analysis of satellite images.
The zone of degassing at sea at shallow depth between Saint-Pierre and Le Prêcheur is still observed. The IPGP (Institut de physique du globe de Paris) took fluid samples in order to determine the origin of this degassing and to assess its possible relationship with the hydrothermal system of Mount Pelée.
The alert level remains yellow / vigilance.
Source: OVSM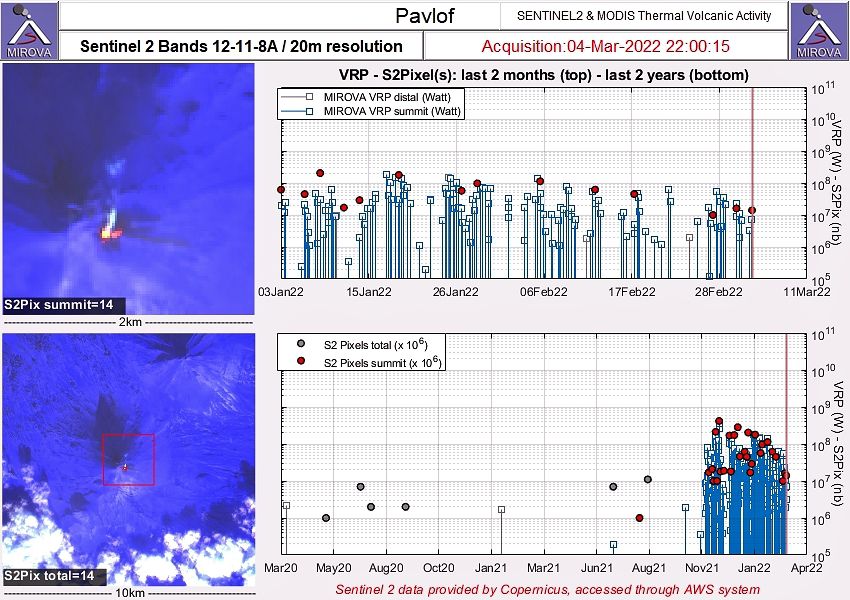 Pavlof - thermal anomalies on 04.03.2022 - Doc. Sentinel-2 & Modis thermal volcanic activity - one click to enlarge
A few small explosions were detected overnight and this morning at Pavlof. No ash emissions were detected in satellite or webcam imagery, but elevated surface temperatures continue to be detected near the active eastern vent, consistent with short lava flows on the upper flanks.
Small explosions associated with this eruption can occur at any time and may be accompanied by small ash plumes in the immediate vicinity of the volcano. The level of unrest at Pavlof can change rapidly and progression to greater eruptive activity can occur with little or no warning.
Pavlof is monitored by local seismic and infrasound sensors, satellite data, web cameras, and remote infrasound and lightning networks.
Current volcanic alert level: Watch
Current Aviation Color Code: Orange
Source: AVO