Publié le par Bernard Duyck
The Fuego Volcano Observatory reports 3 to 5 explosions per hour, with weak, moderate and strong characteristics, which raise columns of gray ash to heights of 4,500 to 4,800 meters above sea level, which propagate north and northwest for a distance of up to 30 kilometers or more, with the probability of generating a weak ashfall on La Soledad, San Antonio Nejapa, Acatenango and Patzicía. The explosions produce weak avalanches and moderate towards the ravines of Santa Teresa, Ceniza and Las Lajas until they reach the edge of the vegetation, as well as low rumblings with shock waves that vibrate the roofs and windows of the houses of the nearby communities of the volcano.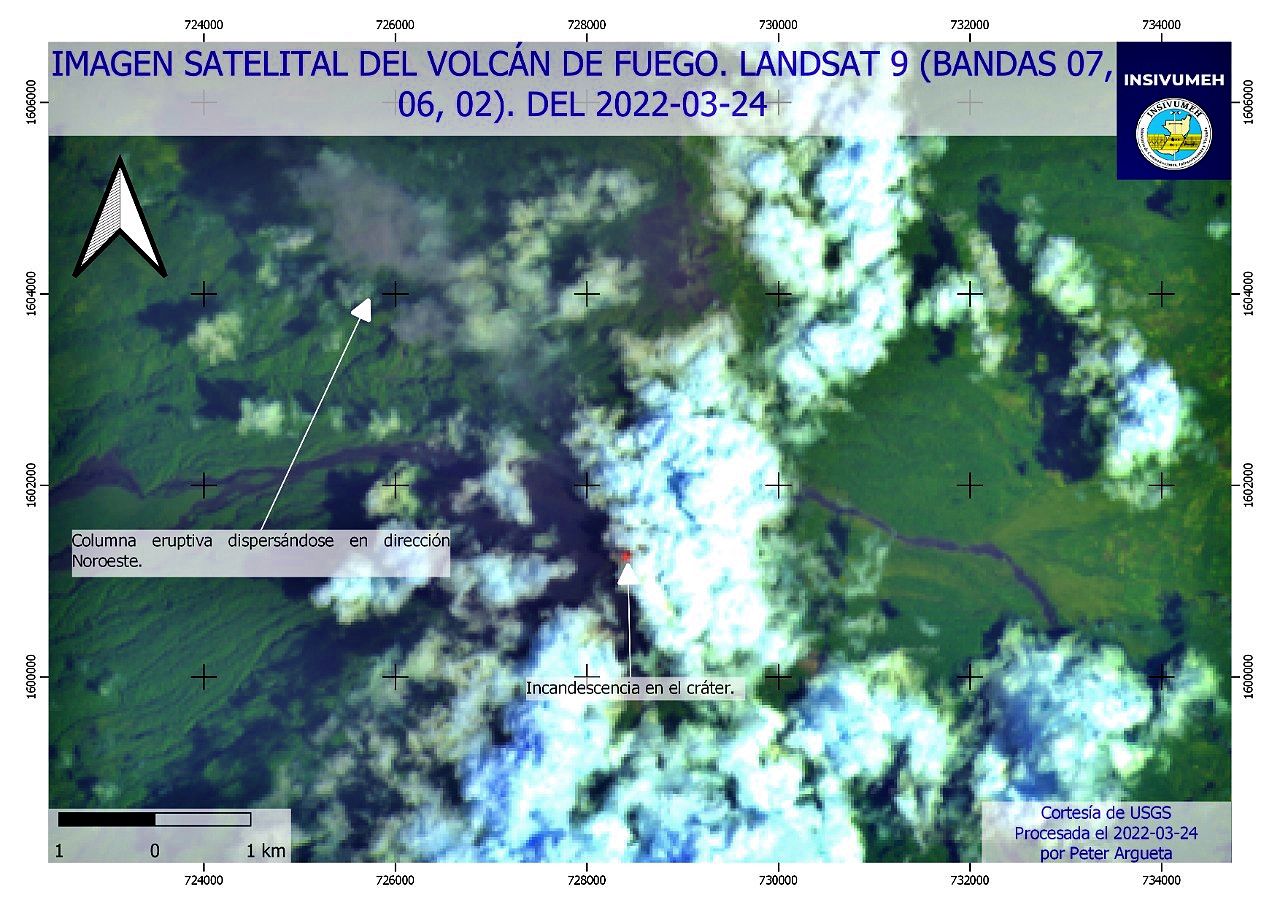 Fuego - incandescence in the crater and plume of gas and cebdres towards the northwest - Landsat 9 bands 7,6,2 image of 24.03.2022 - Doc. Insivumeh USGS - one click to enlarge
During the night and early in the morning, incandescent pulses reaching up to 200 meters high were observed above the crater. Due to the direction of the wind in the Observatory, no sounds associated with volcanic activity were heard. Bulletin BEFGO 015-2022 remains in force
Ashes can be carried by the wind and remain suspended at low levels in the air, creating a hazy environment for several hours which can be harmful to human health. In the presence of rain, lahars can be generated in all the ravines of the volcano. It is not excluded that new lava flows will be generated towards more ravines, as well as the continuation of violent explosions loaded with ash and avalanches of moderate characteristics. towards one of the canyons of the Fuego volcano, so you should not stay near or inside the canyons of the volcano.
INSIVUMEH maintains visual and instrumental monitoring of volcanic activity through seismic stations, volcano spotters and web cameras.
Source: Insivumeh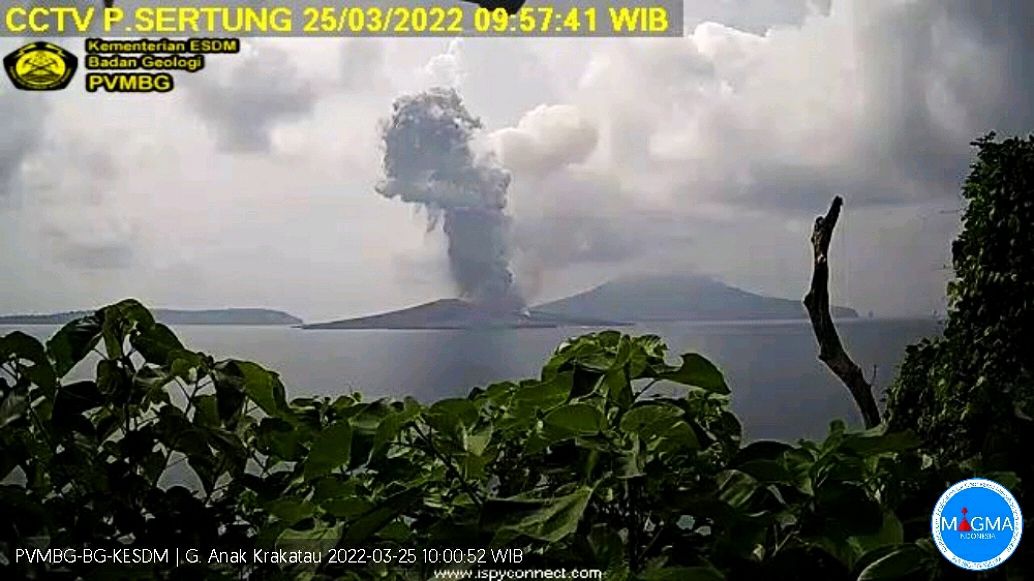 Anak Krakatau - 2022.03.25 / 09:57 WIB - Sertung / PVMBG webcam - Magma Indonesia - one click to enlarge
Anak Krakatau - 25.03.2022 / 2:39 p.m. WIB - Sertung / PVMBG webcam - Magma Indonesia - one click to enlarge
Continuation of the eruptive episodes reported yesterday morning at Anak Krakatau: two episodes occurred this Friday, March 25, 2022, respectively at 09:55 WIB, accompanied by a gray to black ash plume reaching ± 1,500 m above the summit ( ± 1657 m above sea level). This eruption was recorded on a seismograph with a maximum amplitude of 57 mm and a duration of 104 seconds.
And at 2:37 p.m. WIB with a gray ash plume observed at ± 2,000 m above the summit (± 2,157 m above sea level). This eruption was recorded on a seismograph with a maximum amplitude of 60 mm and a duration of 114 seconds.
The activity level remains at 2 / siaga, with a no-go zone of 2 km radius.
Sources: PVMBG & Magma Indonesia
The Portuguese Institute of the Sea and the Atmosphere announces that the seismic crisis they are experiencing on the island of São Jorge in the Azores archipelago, could be linked to a rise in magma through a dike.
More than 2,000 seismic movements have already been detected in the Azores, in particular on the island of São Jorge, where the Portuguese Meteorological Institute, in charge of seismic and volcanic monitoring, has raised alert levels to level 4 out of 5 , that is, a real risk of a possible eruption due to the presence of clear pre-eruption signs, with a lot of seismicity, deformation and gas, for which the evacuation of patients from the island and the preparation of new evacuations if the activity continues to increase.
In view of the seismic energy released accumulated in the Azores, after a very powerful release at the beginning, the energy continues to be released at a constant rate, which indicates an ongoing process, which neither relaxes nor accelerates , but continues, indicating a clear eruptive process in progress.
Sources: IPMA, CIVISA and Volcanes y ciencia Hoy
Azores Sao Jorge Volcano Update; Magma is on the Move, Alert Level Raised The Sao Jorge volcano in the Azores Island chain is showing signs of unrest, as its alert level was just raised from 2 to 4.
Since 7:01 p.m. on March 24, 2022, the Canarian seismic network, operated by INVOLCAN, has been recording a swarm of long-term seismic events on the Cumbre Vieja volcano. So far, more than 60 small events located at depths of around 10-13 km have been recorded.
These long-period seismic events do not reflect a process of magmatic intrusion, but a release of hydrothermal fluids caused by the cooling of the magma chamber.
Source: InVolcan