Publié le par Bernard Duyck
Sernageomin, Onemi Chile and regional authorities held a technical meeting this morning where the change to Alerta Tecnica Amarilla was decreed for the Lonquimay volcano in the La Araucanía region.
During the month of March, the recording of an unusual hybrid-type (HB) volcanic seismicity was recorded at Lonquimay, accompanied by long-period (LP) seismicity, the two signals generally associated with fluid dynamics in vents. volcanic. To a lesser extent, volcano-tectonic (VT) seismicity has been observed, linked to the rupture of rock material in volcanic systems.
Although their sizes and magnitudes are low to date, their assessment is distinguished by an incisive appearance during the first half of March, especially from March 9. Due to their low magnitude, only some of the HB and VT earthquakes were located near the main volcanic edifice, with distances between 2 and 7 km, and depths varying between 4 and 11 km from the summit of the volcano.
Analysis of data associated with surface deformation, and surface manifestations, sulfur dioxide levels, thermal and geomorphological anomalies, show that they remain stable.
The appearance of anomalous and low-magnitude seismicity, associated with superficial manifestations, justifies the precautionary change of the technical alert in Amarilla / "changes in the behavior of volcanic activity".
Source: Sernageomin REAV 21.03.2022 / 4:00 p.m. local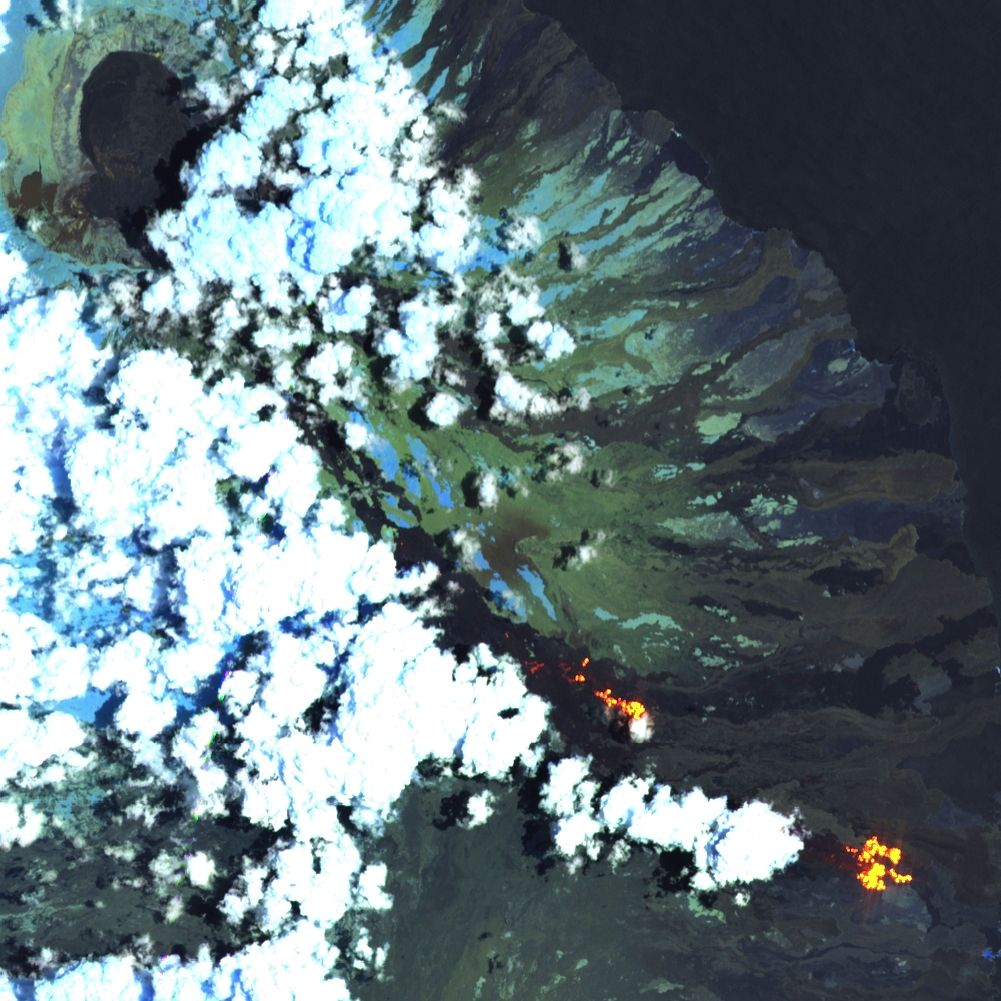 Galapagos / Isabela, Wolf volcano - Sentinel-2 bands 12,11,8A image from 03.17.2022 / 4:33 p.m. - Doc. Mounts project - one click to enlarge
In the Galapagos, Wolf Volcano's surface and internal activity levels remain high, with a decreasing trend.
Between March 20 and 21 / 11 a.m., the IGEPN recorded 3 volcano-tectonic earthquakes
The MOUNTS system recorded 12.6 tons of SO2 on 03/20/2022 at 2:15 p.m. TL.
FIRMS registers 63 thermal alerts and MIROVA registers 1 high thermal alert (1276 MW) and 1 moderate alerts at Wolf (between 210 and 491 MW) during the last 24 hours.
The thermal anomalies of the GOES-16 satellite are maintained due to the advance of the flows of lava.

Sources; IGEPN, Mirova, Mounts project
The seismic swarm continues in the Azores under the island of São Jorge, according to the Azores Seismo-Volcanic Information and Monitoring Center.
Have been recorded during:
- last 24 hours: 128 earthquakes, including 123 of M2+ and 2 of M3+
- of the previous 7 days: 352 earthquakes, including 331 of M 2+ and 18 of M3+
- the previous month: 359 earthquakes, including 338 of M2+ and 18 of M3+
Awaiting news from the teams delegated on site to refine the geophysical data.
Sources: OVGA, Center for Information and Seismo-Volcanic Monitoring of the Azores and Volcanoes y ciencia Hoy