Publié le par Bernard Duyck
On March 9 and 10, 2022, the Merapi triggered 17 pyroclastic avalanche flows (APG) towards Kali Gendol. The tip of the APG launch was observed from the southeast side of the Kaliadem bunker. Based on aerial photography using drones, the launch distance for the APG this time is 4.9 km from the summit.

On March 9, the VONA went from "without status" to "Red", following the eruptive episode of 4:18 p.m. UTC / 11:18 p.m. local.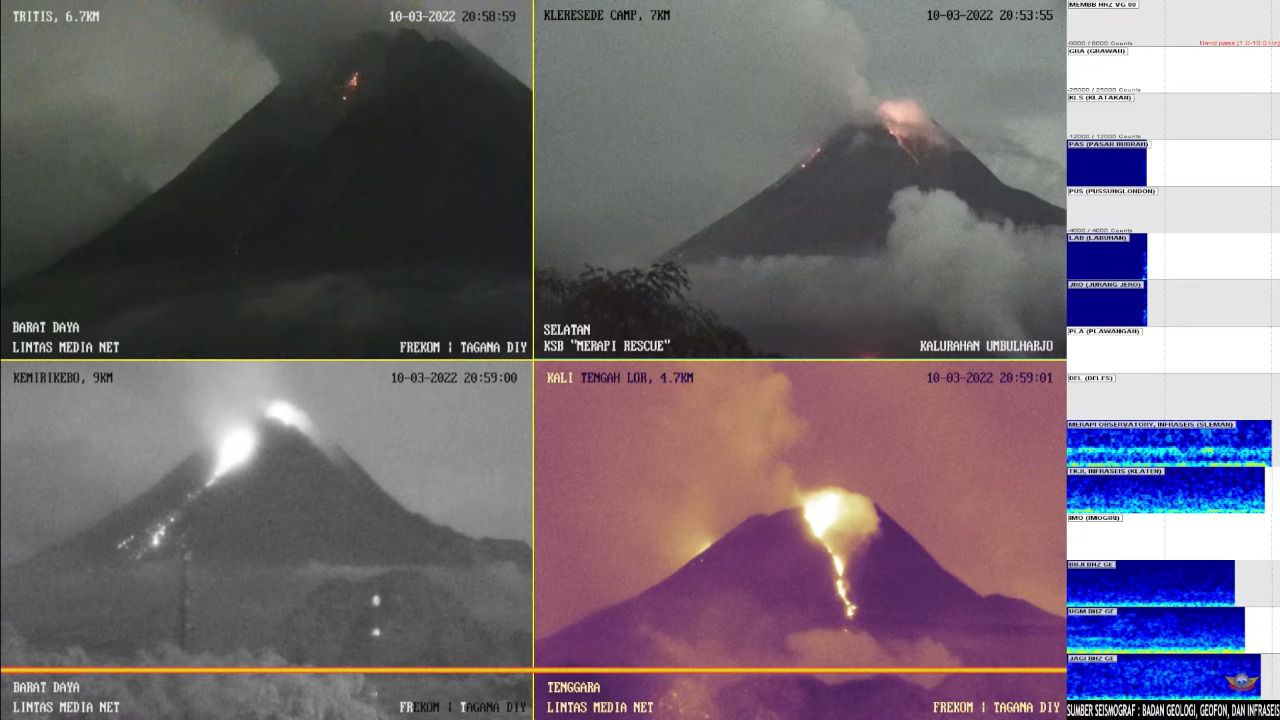 Merapi - activity of 10.03.2022 / around 8:50 p.m.: incandescent avalanches - Doc. FREKOM Merapi - one click to enlarge
The Merapi hot clouds of March 10, 2022 at 01:00, 01:22, 01:35, 01:59, 02:07 WIB were recorded on a seismogram with a max amplitude of 75 mm and a max duration of 191 seconds. Maximum glide distance of ± 2,000 m to the southeast.
Between 6:00 p.m. and 10:00 p.m. WIB, activity is dominated by avalanche earthquakes. Occasional incandescent lava avalanches are observed to the southeast and southwest.
The PVMBG recorded on March 10:
- 13 avalanche pyroclastic flow earthquakes, with an amplitude of 20-75 mm and an earthquake duration of 71.4-228.8 seconds.
- 343 avalanche earthquakes, with an amplitude of 3-65 mm and an earthquake duration of 10-256 seconds.
- 7 blast/emission earthquakes with an amplitude of 2 to 19 mm and an earthquake duration of 13.8 to 37.9 seconds.
- 3 hybrid/multiphase earthquakes with an amplitude of 3-15 mm, S-P 0.4-0.9 seconds and an earthquake duration of 5-10.7 seconds.
- 2 Shallow volcanic earthquakes, with an amplitude of 70 mm and an earthquake duration of 16.1 to 17.4 seconds.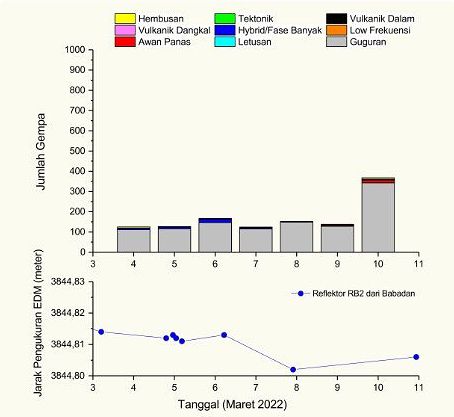 After this series of APGs, the status of the Merapi is still at the Alert level.
The current potential danger is in the form of lava avalanches and hot clouds falling on:
1. Kali Woro is 3 km from the summit;
2. Kali Gendol up to 5 km from the summit;
3. Boyong River up to 5 km from the summit;
4. Kali Bedog, Krasak, Bebeng up to 7 km from the summit.
At the same time, the ejection of volcanic material in the event of an explosive eruption can reach a radius of 3 km from the summit of Merapi.
Along with the rainy season still unfolding in Yogyakarta and Central Java, BPPTKG urges the public to be aware of the dangers of lahars, especially when it rains on the Merapi peak.
Sources: PVMBG, Magma Indonesia, Andi volcanist
The way observers behave is reckless, but the heat of recent deposits is highlighted - video Merapi Tvc
In the past 24 hours, the Taal Volcanic Network recorded 8 volcanic earthquakes, including 4 volcanic tremor events lasting 2-8 minutes and 3 low-frequency earthquakes.
Activity at the main crater was dominated by upwelling of hot volcanic fluids in its lake which generated 1,200 meter high plumes that drifted southwest. Degassing from Taal Main Crater has become noticeably more active since midnight, March 11, 2022.
Sulfur dioxide emissions averaged 15,990 tonnes/day on March 09, 2022. Maximum temperatures of 63.7°C were last measured from Main Crater Lake on February 25, 2022. Based on ground deformation parameters from electronic tilt, continuous monitoring by GPS and InSAR, Taal Volcano Island and the Taal area began to deflate in October 2021.
Alert Level 2 is currently maintained on Taal Volcano.
Source: Phivolcs
Merapi - 11.03.2022 - vidéo Motoblader - https://www.youtube.com/watch?v=gv8Yc8jgcmA