Publié le par Bernard Duyck
A new heating phase has started at Mt. Ruapehu (New Zealand) and the temperature of Crater Lake (Te Wai ā-moe) has now reached 31°C. This temperature rise was accompanied by high levels of volcanic tremor.
The Volcanic Alert Level at Mount Ruapehu is raised to Level 2 in response to these changes. The aviation code remains green.
There is an increased likelihood of eruptive activity as a strong tremor indicates increased gas flow through the system. Despite an increase in gas flow, lake temperature responds only slowly, suggesting that a partial blockage may exist in the vent below the lake. This could allow pressure to build up in the volcano.
The modeled heat flux in the lake is currently estimated at around 330 MW (megawatt), up from 100 MW in February 2022.
The lake currently overflows into the Whangaehu River, but the level of outflow is believed to be minor. The color of the lake is expected to change to a darker gray color as the sediments at the bottom of the lake are disturbed by the influx of warm fluids warming the lake.
Source: GeoNet
At Mt. Semeru, eruptive activity continues.
The seismicity of March 20 is marked by:
- 64 eruption earthquakes, with an amplitude of 10-25 mm and an earthquake duration of 50-180 seconds.
- 1 earthquake related to a pyroclastic avalanche flow, at 07:01 WIB with an ash plume observed at ± 500 m above the summit, and with an amplitude of 20 mm and an earthquake duration of 180 seconds.
- 1 avalanche earthquake, with an amplitude of 15 mm and an earthquake duration of 70 seconds.
- 1 harmonic episode with an amplitude of 10 mm, and an earthquake duration of 200 seconds.
- 1 distant tectonic earthquake with an amplitude of 28 mm, S-P 20 seconds and an earthquake duration of 90 seconds.
- 1 earthquake with Flood Vibration with an amplitude of 30 mm and an earthquake duration of 4200 seconds.
The activity level remains at 3 / siaga.
Sources : PVMBG, Magma Indonesia
A seismic swarm has started in São Jorge, in the Azores archipelago. More than 100 earthquakes were recorded by the seismic monitoring network, the strongest being M3.5 on the Richter scale; several tremors were felt by the population.
Difficult at this stage to define its origin: magmatic or tectonic. Teams are delegated on site to refine the geophysical data.
Small reminder of the last volcanic activity on São Jorge in 1808. The volcanic activity is related to the central rift system, and fissural eruptions... which is reminiscent of the eruption on La Palma in 2021.
Sources: IVAR, Google maps, Slip rates of Azorean active faults from neotectonic and paleoseismicity studies: data from the central group of islands - José Madeira - António Brum da Silveira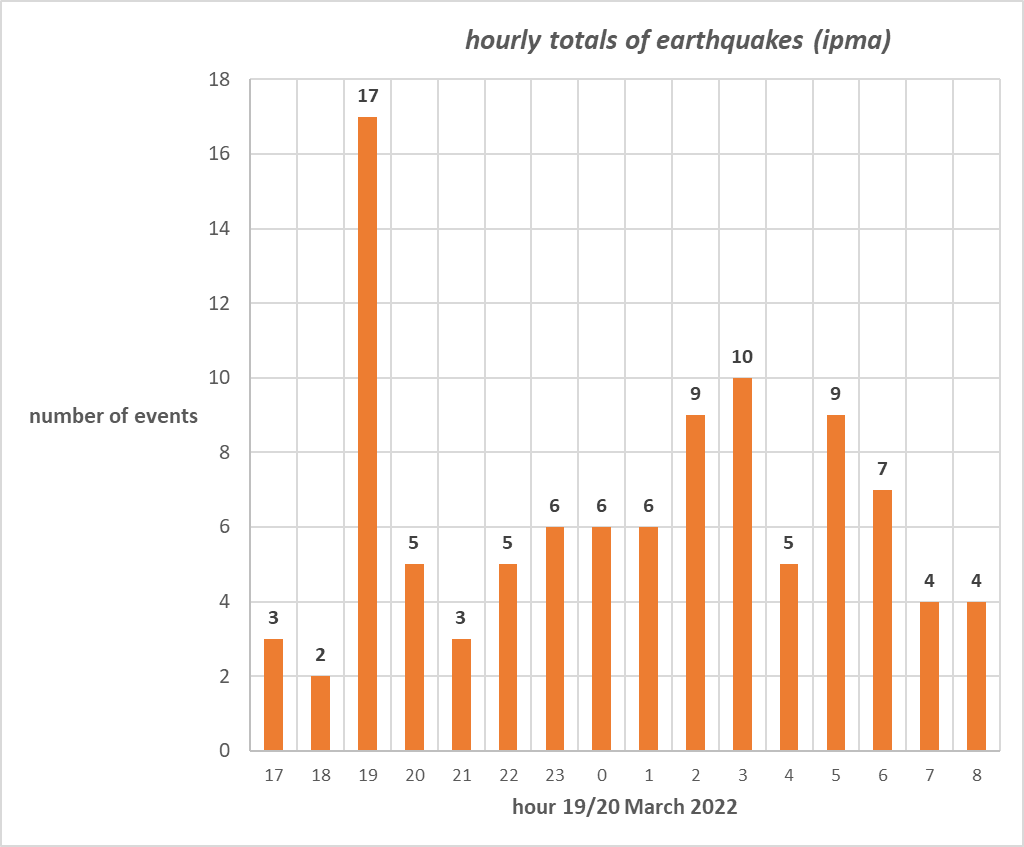 Azores - seismic swarm - More than 100 earthquakes in 16 hours on March 19 and 20, 2022, in the seismic swarm of São Jorge Island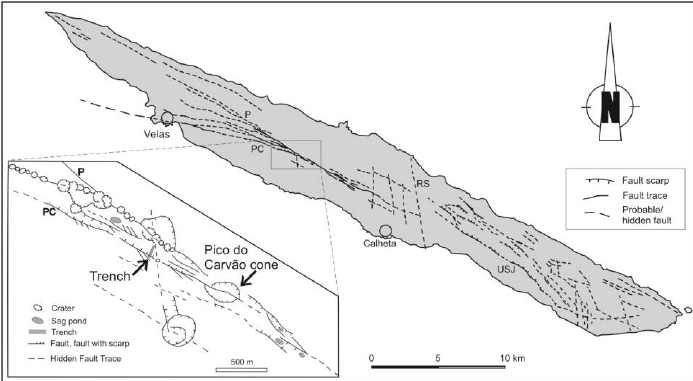 Main tectonic structures of S. Jorge. Main faults: P - Picos F.; PC – Pico do Carvão F.; USJ - Urze-S. João F.; RS – Ribeira Seca. The inset shows details of the morphologies and structures related to the eastern tip of the Pico do Carvão fault, including scarps, en echelon faults, displaced cinder cones, and collapsed ponds. Slip rates of Azorean active faults from neotectonic and paleoseismicity studies: data from the central group of islands - José Madeira - António Brum da Silveira / via Research Gate - one click to enlarge