Publié le par Bernard Duyck
After the phreatomagmatic eruption of the main crater from 07:22 to 08:59 yesterday March 26, 2022), two phreatomagmatic events occurred at 04:34 and 05:04 today March 27, recorded by the Taal Volcano Network (TVN) based on seismic records and visual cameras. These events produced plumes 800 meters and 400 meters high, respectively, from the main crater that drifted southwest.
In the past 24 hours, the TVN recorded 14 volcanic earthquakes, including 10 volcanic tremor events lasting 2 to 3 minutes and 4 low frequency volcanic earthquakes. Activity at the main crater was dominated by upwelling of hot volcanic fluids in its lake which generated 1,000 meter high plumes that drifted southwest. Sulfur dioxide emissions averaged 6,957 tonnes/day on March 25, 2022.
Maximum temperatures of 63.7°C were last measured from Main Crater Lake on February 25, 2022. Based on ground deformation parameters from electronic tilting, continuous GPS and InSAR monitoring, the he volcanic island of Taal and the Taal region began to deflate in October 2021.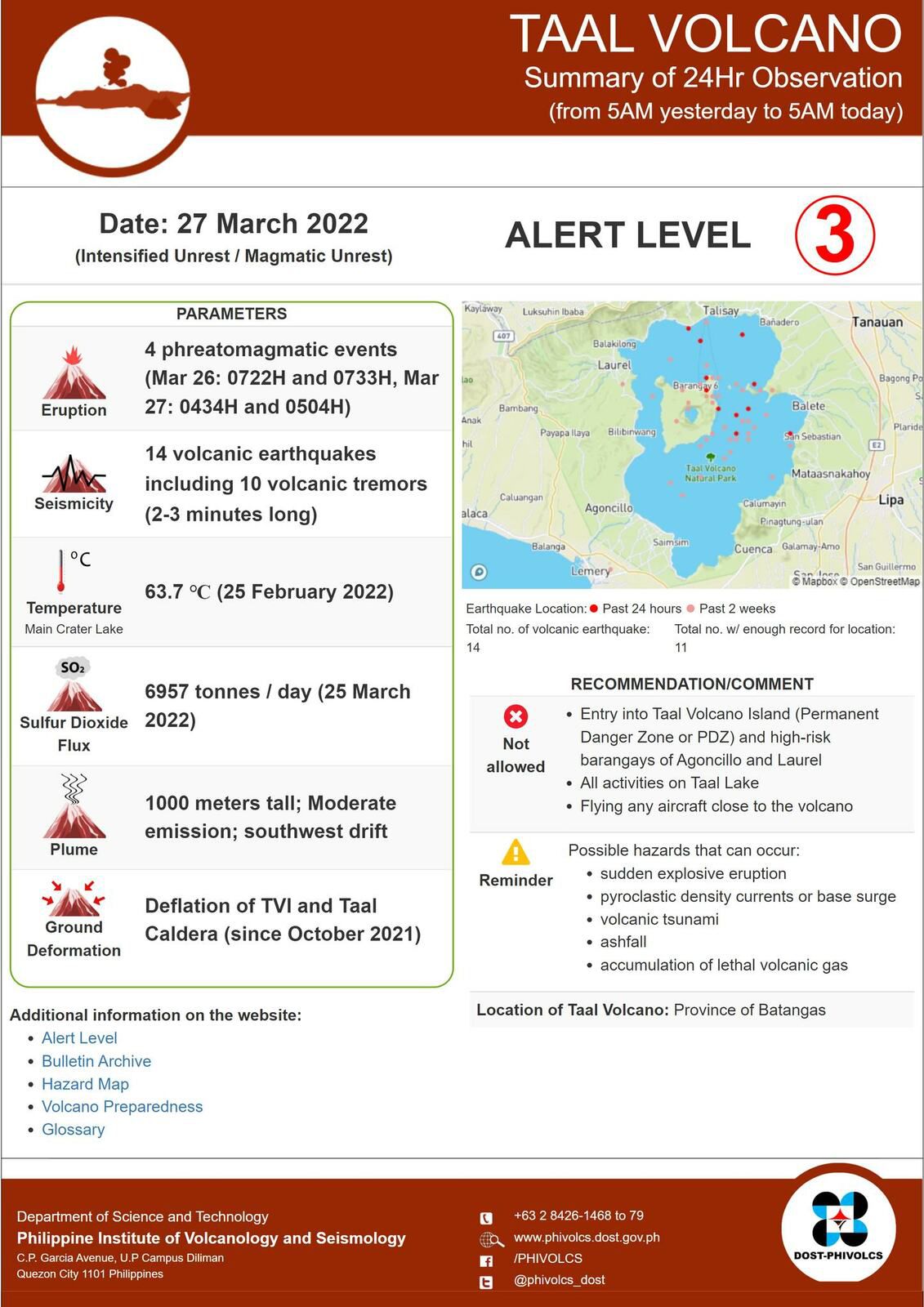 Taal - summary of observations of the last 24 hours on 27.03.2022 / 05h - Doc. Phivolcs - one click to enlarge
Alert Level 3 (magmatic unrest) prevails over Taal Volcano. This means that there is magmatic intrusion at the main crater which could still lead to further eruptions. DOST-PHIVOLCS strongly recommends the evacuation of Taal Volcano Island and the high risk barangays of Bilibinwang and Banyaga, Agoncillo and Boso-boso, Gulod and East Bugaan East, Laurel, Batangas Province due to the risks possible pyroclastic density currents and volcanic tsunami. eruptions then occur.
Source: Phivolcs
Between March 18 and 25 / 4 p.m. UTC, the volcanological and seismological observatory of Martinique recorded 2 low-energy volcano-tectonic earthquakes under Mount Pelée, associated with the micro-fracturing of the volcanic edifice; the hypocentres are located between 700 meters and 1,100 meters deep.
An extension of two zones of deteriorated vegetation, located between Morne Plumé and Rivière Chaude, was observed and verified by a helicopter flight and satellite images.
The alert level remains yellow / vigilance
Source: OVSM
The earthquakes continue in São Jorge, and remain localized between 7 and 15 km deep (IPMA). All earthquakes recorded so far are of low magnitude and show a tectonic origin.
Within the framework of geodetic monitoring, CIVISA, in collaboration with other entities, is strengthening the observation network based on GNSS stations and the processing of satellite images. The existing data to date corroborate the seismological observations by indicating the existence of some deformations in the epicentral zone.
The integration of the available information allows us to conclude that the tectonic structures where the historical eruptions of 1580 and 1808 took place, and the seismovolcanic crisis of 1964, in the Fissural Volcanic System of Manadas, have been reactivated, and it is possible to admit the occurrence of a deep magmatic intrusion.
CIVISA warns of the possibility of earthquakes that can reach magnitudes greater than those recorded so far, as well as the danger of landslides potentiated by seismic activity and adverse weather conditions that affect the archipelago.
There is a real possibility that a volcanic eruption will occur, but there is no evidence that it is imminent.
As a result, CIVISA has been on ALERT V4 since 3:30 p.m. on March 20.
Many inhabitants of Velas, a city close to the epicenters, have settled with relatives in the east of the island; others have left São Jorge according to the government, which advises against any unnecessary travel. (RTL info)
Sources: CIVISA, IPMA