Publié le par Bernard Duyck
The alert status of Taal, in Philippines, has been raised from Alert Level 2 (increasing unrest) to Alert Level 3 (magmatic unrest).
At 07:22 PST on March 26, 2022, the main crater of the Taal volcano generated a short-lived phreatomagmatic explosion which was followed by almost continuous phreatomagmatic activity which generated plumes at 1,500 m a.s.l., accompanied by a quake of volcanic earth and infrasonic signals. (video - https://twitter.com/i/status/1507582405313400834)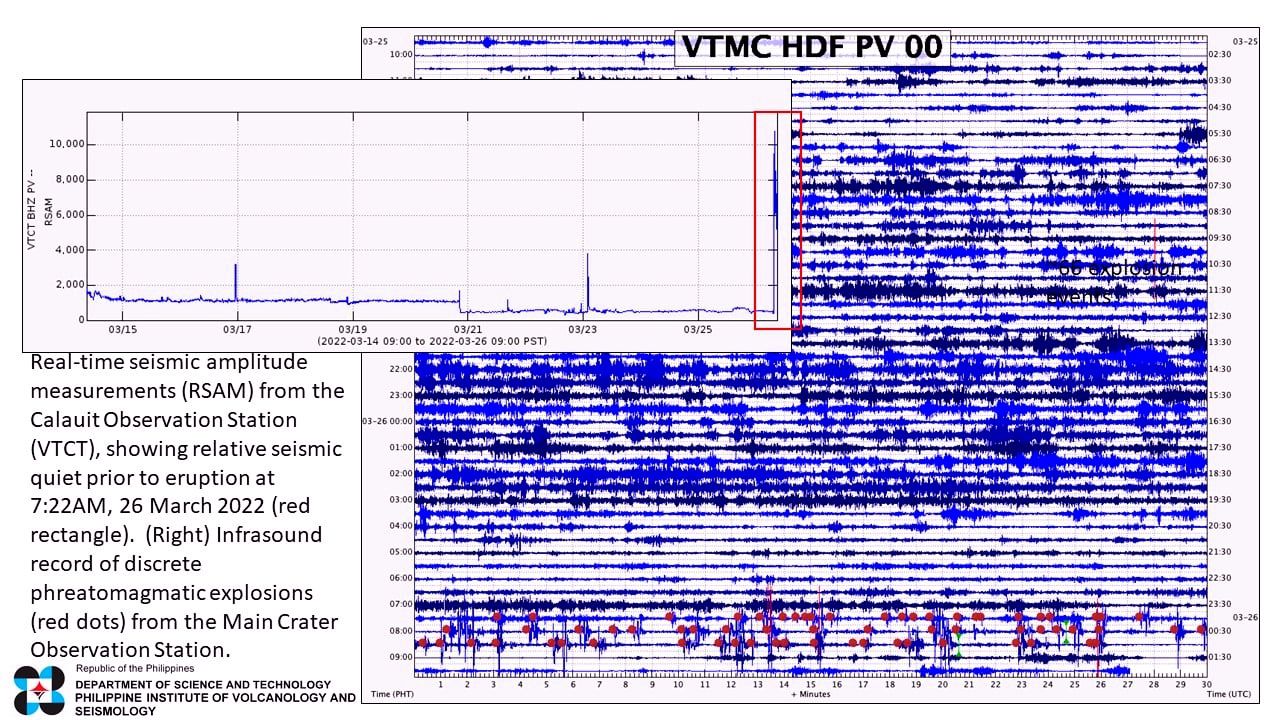 Taal - RSAM between 15 and 26.03.2022 & infrasound table with recording of phreatomagmatic explosions (red dots) - Doc. Phivolcs - one click to enlarge
PHIVOLCS strongly recommends the evacuation of Taal Volcano Island and the high risk barangays of Bilibinwang and Banyaga, Agoncillo and Boso-boso, Gulod and East Bugaan East, Laurel, Batangas Province due to possible risks pyroclastic density currents and volcanic tsunami in case of stronger eruptions thereafter.
All activities on Lake Taal should not be permitted at this time. Communities around the shores of Taal Lake are advised to remain vigilant, take precautionary measures against possible ash and airborne VOG, and calmly prepare for possible evacuation if unrest escalates. . Civil aviation authorities should advise pilots to avoid flying over Taal Volcano Island, as airborne ash and ballistic fragments from sudden explosions and pyroclastic density currents such as base surges can pose hazards to aircraft.
Source: Phivolcs
Sangay – ash and gas emission on 03.25.2022 / 06:03 local time - ECI-911 / IGEPN webcam - one click to enlarge
In Sangay, between March 24 and 25 / 11 a.m., thanks to photos from the ECU-911 webcam, an emission of gas and ash was observed up to 800 meters above the level of the crater in a north-north direction. Where is.
The Washington VAAC reported ash emissions at 870 and 2,070 meters above the summit in a west, southwest and northwest direction.
Seismicity is characterized by 19 explosion earthquakes, 48 ​​LP earthquakes, 4 episodes of emission tremor.
High frequency signals associated with two secondary lahars in the volcano area were recorded during the afternoon of the 24th.
The MOUNTS system recorded 34.7 tons of SO2 on 03/24/2022 at 13:00 TL.
FIRMS recorded 35 thermal anomalies. MIROVA reported 2 high thermal anomalies (183 and 526MW) in the last 24 hours.
Alert level - SNGRE: Yellow
Source: IGEPN
The eruption at Kīlauea Volcano's summit in Halema'uma'u Crater has continued for the past 24 hours. All recent activity has been confined to the crater, and there is no indication of migrating activity elsewhere on Kīlauea.
Eruption of lava from the west vent into the active lava lake (approximately 2.5% of the crater floor area) and on the crater floor has continued over the past 24 hours. There were also numerous sustained seeps along the margins of the crater floor.
Since the beginning of this eruption on September 29, 2021, the crater floor has experienced a total elevation of approximately 89 meters (292 feet). The volume of lava effused since the start of this eruption was approximately 58 million cubic meters (76 million cubic yards) as measured on March 17, 2022.
Summit tilt has stabilized after a period of inflation that began on March 23. Volcanic tremor remains above background levels. A sulfur dioxide emission rate of about 1,400 tonnes per day (t/d) was measured on March 23.
Current volcanic alert level: Watch
Current Aviation Color Code: Orange
Source: HVO
The volcanic activity of Mount Merapi, on Java, is still quite high in the form of effusive eruption activity.
During the week of March 18-24, there were 6 pyroclastic flows, with an estimated glide distance of 2,500 m. It was reported that there was light ash rain in Selo district.
Avalanches of incandescent blocks were observed 51 times towards the southwest, dominating the Bebeng River, over a maximum sliding distance of 2,000 m.
On the south-west dome we observe that the height increases by about 4 m. For the middle dome, no significant morphological change was observed.
According to photo analysis, the volume of the southwest lava dome is 1,609,000 m³ and the central dome is 2,582,000 m³.
The intensity of the earthquakes this week is higher than last week. Mount Merapi's deformation, which was monitored using EDM this week, showed a distance shortening rate of 0.3 cm/day.
A lahar was reported on the Boyong River on March 20, 2022.
Activity status is set at level 2 / siaga.
The current potential danger consists of lava avalanches and hot clouds in the south-southwest sector covering the Boyong river for a maximum of 5 km, the Bedog, Krasak, Bebeng river for a maximum of 7 km. The southeast sector covers the Woro River for a maximum of 3 km and the Gendol River for a maximum of 5 km. The ejection of volcanic material in the event of an explosive eruption can reach a radius of 3 km from the summit.
Sources: BPPTKG, PVMBG, Magma Indonesia