Publié le par Bernard Duyck
Anak Krakatau - thermal anomaly pixels at 04.27.2022 / 03:05 - image Sentinel-2 bands 12,11,8A - via Mounts project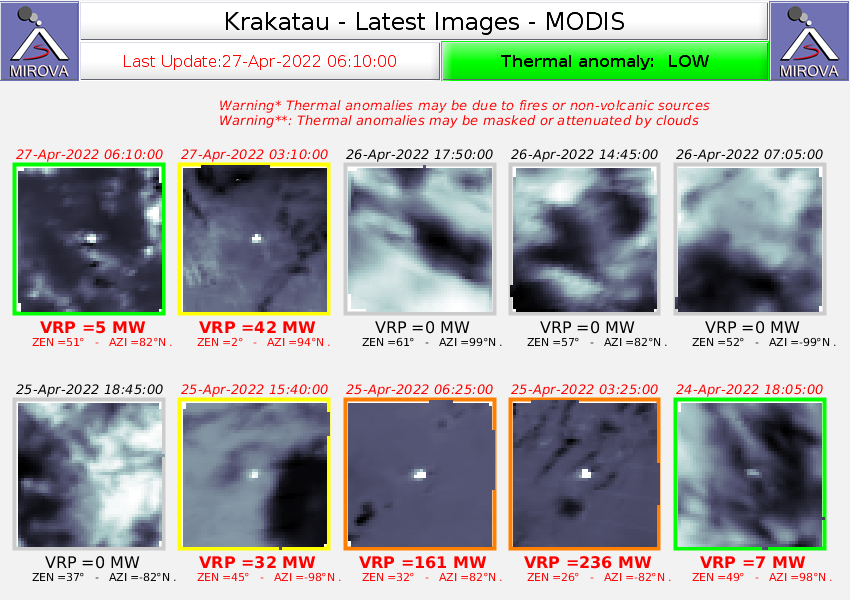 Anak Krakatau - moderate to low thermal anomalies on 27.04.2022 / 06:10 - Doc. Mirova_MODIS_Latest10NTI
At Anak Krakatau, moderate to low thermal anomalies are announced by Mirova and visible on the Sentinel-2 image: recent lava flows are still quite hot, they have reached water and created additional land.
The seismicity of April 27 is characterized by:
- 8 emission earthquakes, with an amplitude of 10 to 50 mm and the duration of the earthquake from 13 to 28 seconds.
- 14 low frequency earthquakes, with an amplitude of 9 to 41 mm and an earthquake duration of 6 to 20 seconds.
- 1 shallow volcanic earthquake with an amplitude of 26 mm and an earthquake duration of 17 seconds.
- 1 distant tectonic earthquake
- continuous tremor with an amplitude of 2-22 mm, dominating 3 mm.

The activity level is at 3 / siaga, with a no-go zone of 5 km radius.
Source: PVMBG, Magma Indonesia
This Thursday, April 28, 2022 at 2:26 p.m. WIT, the Gunung Ibu experienced an eruptive episode. The height of the ash column was observed at ± 1000 m above the peak. The eruption was recorded on a seismograph with a maximum amplitude of 3 mm and a duration of 200 seconds.
A second episode occurred at 2:31 p.m. WIT, with an ash column observed at ± 1000 m above the peak (± 2325 m above sea level). It is observed that the ash column is gray in color with a thick intensity towards the northwest. This eruption was recorded on a seismograph with a maximum amplitude of 28 mm and a duration of 50 seconds.
Source: Magma Indonesia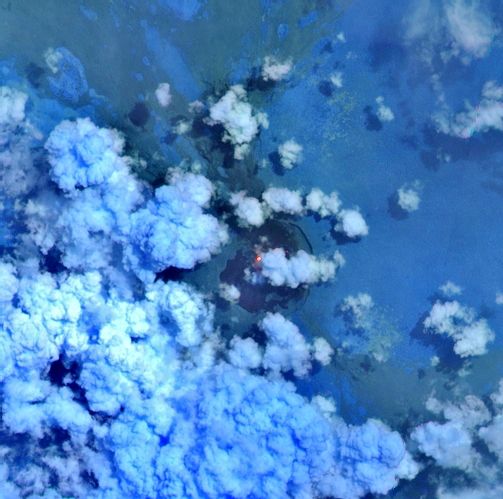 Nyamulagira - thermal anomaly - image Sentinel-2 bands 12,11,8A on 27.04.2022 / 08:05 via Mounts project
At Nyamulagira, eruptive activity of an effusive nature continues in the central crater of the volcano, accompanied by gas emission.
Sources: Mounts project / Sentinel-2 & Ch. Balagizi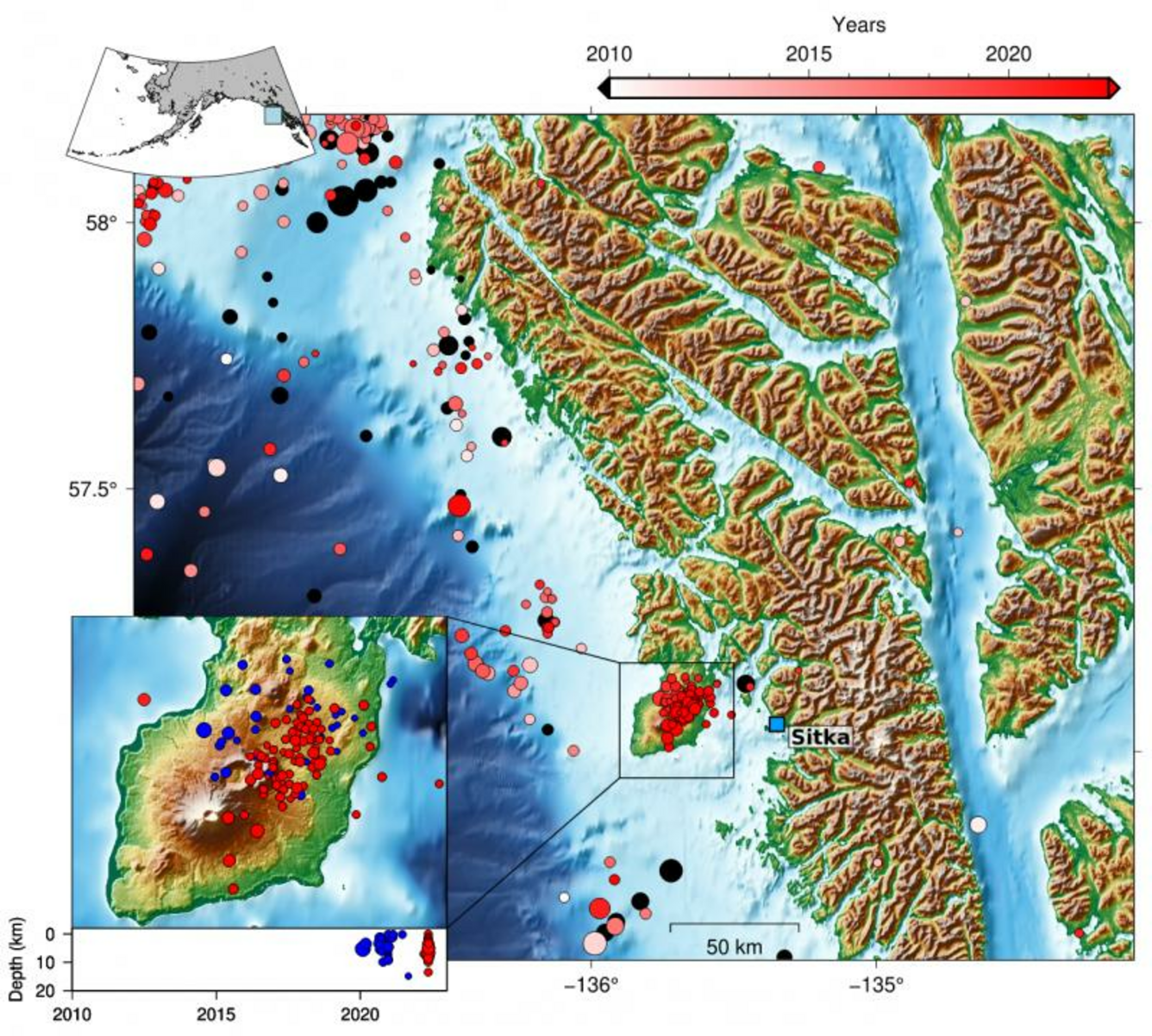 Map showing epicenters of earthquakes near Sitka, Alaska from 1990 to 2022 using data from earthquake.usgs.gov. Epicenters before 2010 are shown as black circles and from 2010 to present are color coded by date (see legend for timeline). The inset shows the Kruzof Island epicentres for the same period. The inset bottom panel shows the earthquake's focal depth versus time from 2010 to present with blue symbols from 2020 to 2021 and red symbols from 2021 to present. Figurine of Ronni Grapenthin, AVO/UAFGI
AVO said a seismic swarm beneath Kruzof Island near Edgecumbe that started around 2 a.m. on April 11 had fallen to background levels on April 22. The swarm prompted extensive analysis of satellite data covering the past 7.5 years.
The data showed that a large uplift area, about 17 km in diameter, was located about 2.5 km east of Edgecumbe. Uplift began in August 2018 and deformed at a rate of up to 8.7 cm per year in the center of the area, totaling 27 cm of uplift; the deformation was continuous. Retrospective analysis of seismic data revealed that the earthquakes started occurring in 2020, although the recent swarm was unusual. The deformation and seismic data together suggest magma movement beneath the volcano, consistent with an intrusion about 5 km below sea level. The nearest seismic station to the volcano was at Sitka, 24 km east E.
Intrusions of new magma under volcanoes do not always result in volcanic eruptions. Deformation and seismic activity at Edgecumbe may cease without any eruption occurring. If the magma rises closer to the surface, it would lead to changes in the deformation pattern and increased seismic activity.
The Volcano Alert Level and Aviation Color Code remained at Unassigned due to the lack of dedicated local instruments.
Sources: AVO – USGS & Global Volcanism Program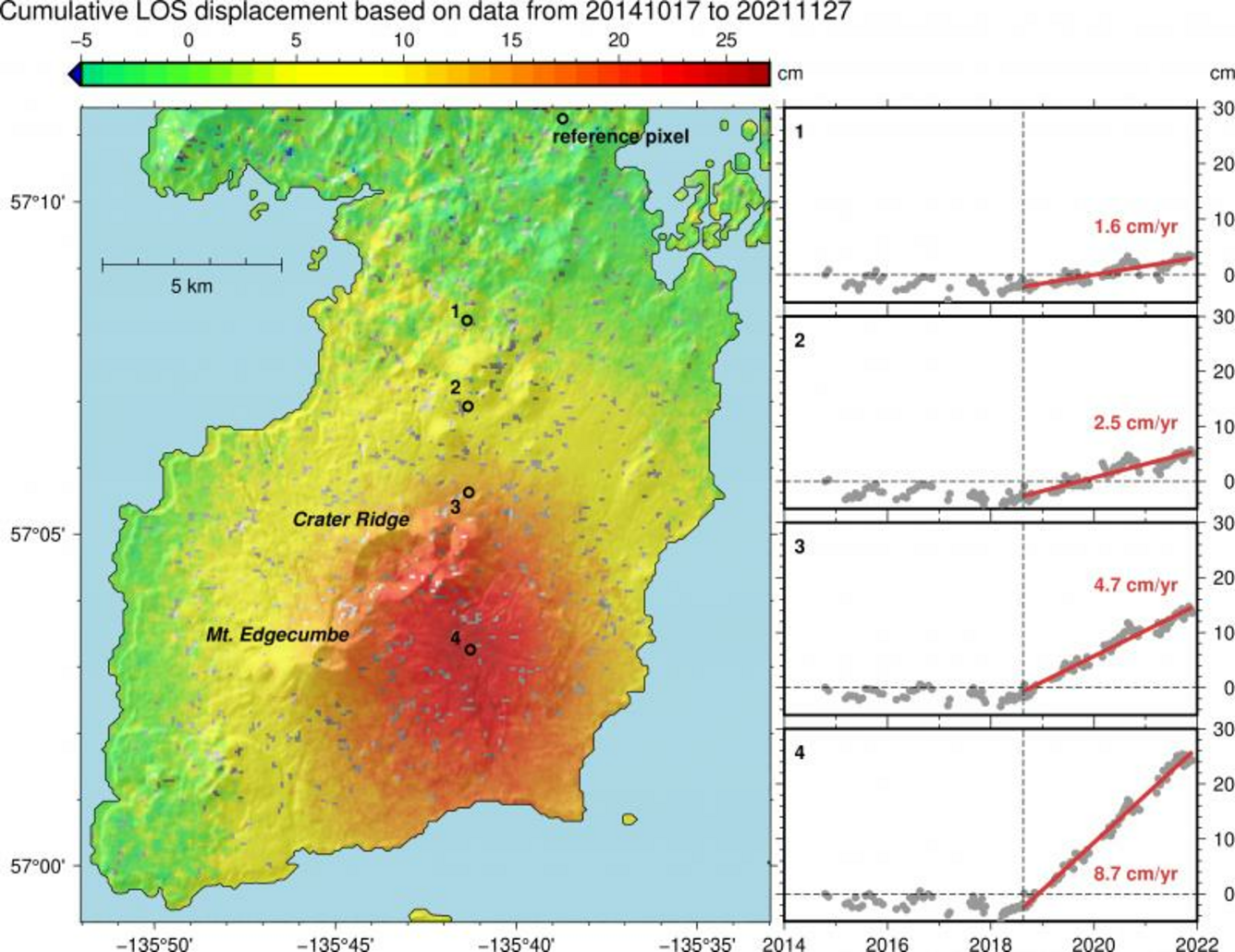 Kruzof Island with Mount Edgecumbe and Crater Ridge labeled. Cumulative displacement measured in the line of sight (LOS) of the Sentinel 1 radar satellites from November 2014 to December 2021 (a positive LOS displacement signifies uplift and horizontal movement towards the satellite). Red indicates up to 27cm inflation. Time series insets show deformation over time at locations numbered 1 through 4 on the main map. The vertical line shows the start of inflation in August 2018. We observe linear inflation of up to 8.7 cm/year since then. Figure of Yitian Cheng and Ronni Grapenthin, AVO/UAFGI