Publié le par Bernard Duyck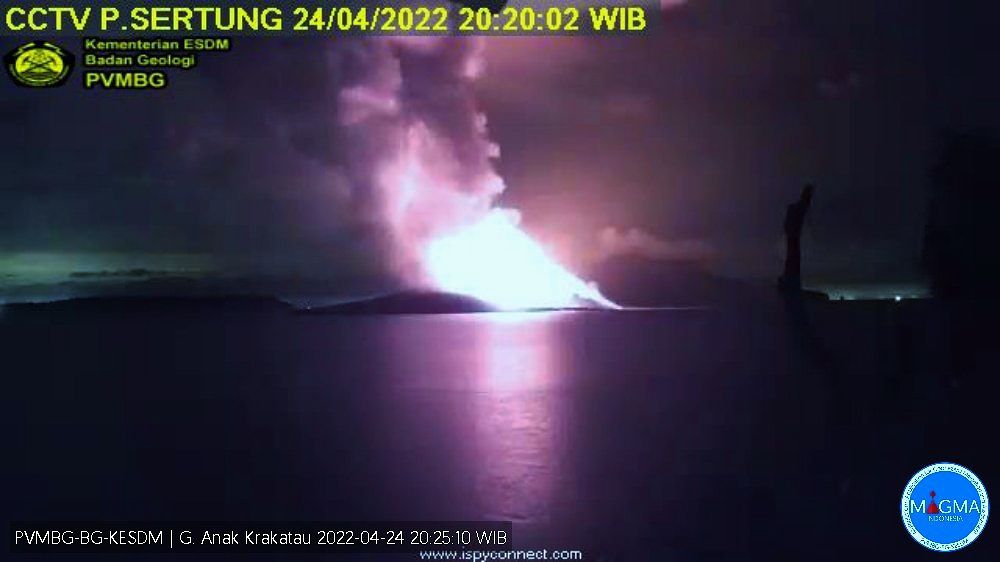 Anak Krakatau - ash plume and lava fountain on 2022.04.24 / 20:20 WIB - Sertung / PVMBG webcam - Magma Indonesia - one click to enlarge
The results of visual and instrumental monitoring show an increasingly significant increase in activity and the activity level of Mount Anak Kraktau has changed from Alert Level II to Alert Level III from April 24, 2022 at 6 p.m. WIB .
The seismicity of Anak Krakatau from April 1 to 24, 2022 was marked by the recording of 21 eruptive earthquakes, 155 blast / emission earthquakes, 14 harmonics, 121 low frequency earthquakes, 17 shallow volcanic earthquakes, 38 earthquakes deep volcanics and continuous tremor with an amplitude of 0.5 to 55 mm (mainly 50 mm).
The energy of volcanic activity as reflected in the RSAM value (real-time seismic amplitude measurement) shows a fluctuating pattern with a tendency to increase sharply since April 15, 2022.
Measurement of the deformation using a tilmeter installed at the Tanjung station shows fluctuations in the X (tangential) and Y (radial) components. Inflation over the body of Mount Anak Krakatau has been observed since April 18, 2022 and has been mildly intense since April 22, 2022.
The volcanic activity of Mount Anak Krakatau is currently still in a continuous eruptive period with changes in the eruption: from a dominant ash to a Strombolian type producing incandescent lava on April 17, 2022. And on April 23, 2022 towards 12:19 PM WIB, lava was observed flowing and entering the sea. Current seismic energy estimation results are observed to increase sharply with increasing amplitude of continuous tremors and increasing intensity of earthquake events. continuous eruptions. This increase was also followed by the results of the deformation measurements which showed fluctuations in inflation and deflation patterns.
SO2 emissions data based on Sentinel-5 (Tropomi) satellite monitoring shows that SO2 emissions began to be observed at:
- April 14 with 28.4 tons/day of SO2,
- April 15 with 68.4 tonnes/day
- on April 17 increase to 181.1 tonnes/day and
- on April 23, the level jumped spectacularly with 9,219 tonnes/day.
SO2 monitoring of this magma correlates with the current increase in eruptive activity at Mount Anak Krakatau. A significant increase in SO2 indicates further magma input and magmatic material coming out to the surface as ejections of incandescent material followed by lava flows.
The results of visual and instrumental monitoring show an increasingly significant increase in activity and the activity level of Mount Anak Kraktau went from Alert Level II to Alert Level III / siaga from April 24, 2022 to 6:00 p.m.
Due to the activity level of Mount Anak Krakatau which is at Level III (Siaga), the public/visitors/tourists/mountaineers are not allowed to approach Mount Krakatau within 5 km of the active crater.

Sources:
- excerpts from Magma Indonesia press release / 24.04.2022 22:35 WIB
- VAAC Darwin
- Tropomi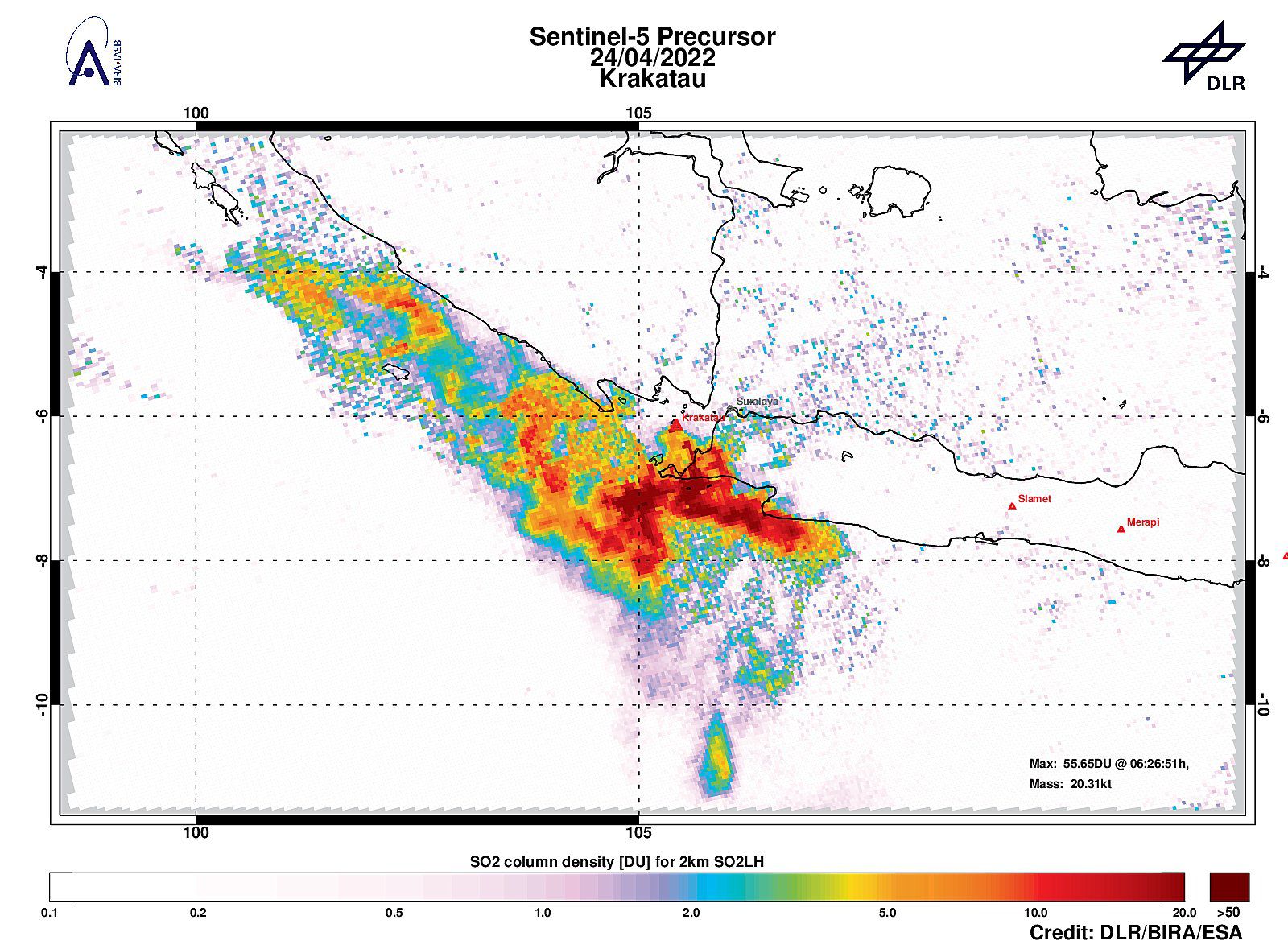 Anal Krakatau - strong SO2 signal with 27.10 DU at 130.8km from Krakatau on 04.24.2022 - Tropomi Sentinel-5P / DLR / BIRA / ESA image
Mount Ibu, in the Moluccas archipelago, experienced a new eruptive episode on Monday April 25, 2022 at 09:48 WIT, accompanied by an ash plume observed at ± 3000 m above the peak (± 4325 m above sea ​​level). The ash column is observed to be gray with thick intensity to the west. This eruption was recorded on a seismograph with a maximum amplitude of 30 mm and a duration of 102 seconds.
Source: PVMBG, Magma Indonesia
Sunset Crater Volcano National Monument burned "in its entirety" in an out-of-control fire in northern Arizona, the National Park Service has confirmed.
The huge fire in Coconino County, first reported Sunday afternoon, has scorched more than 20,000 acres and forced hundreds of residents to evacuate.
The monument, named for the vibrant red and yellow colors of its cinder cone, is the result of a volcanic fissure some 1,000 years ago. The eruption blanketed the surrounding area in lava and ash, leaving behind some striking geological formations.
Sources: Az Central, National Park Service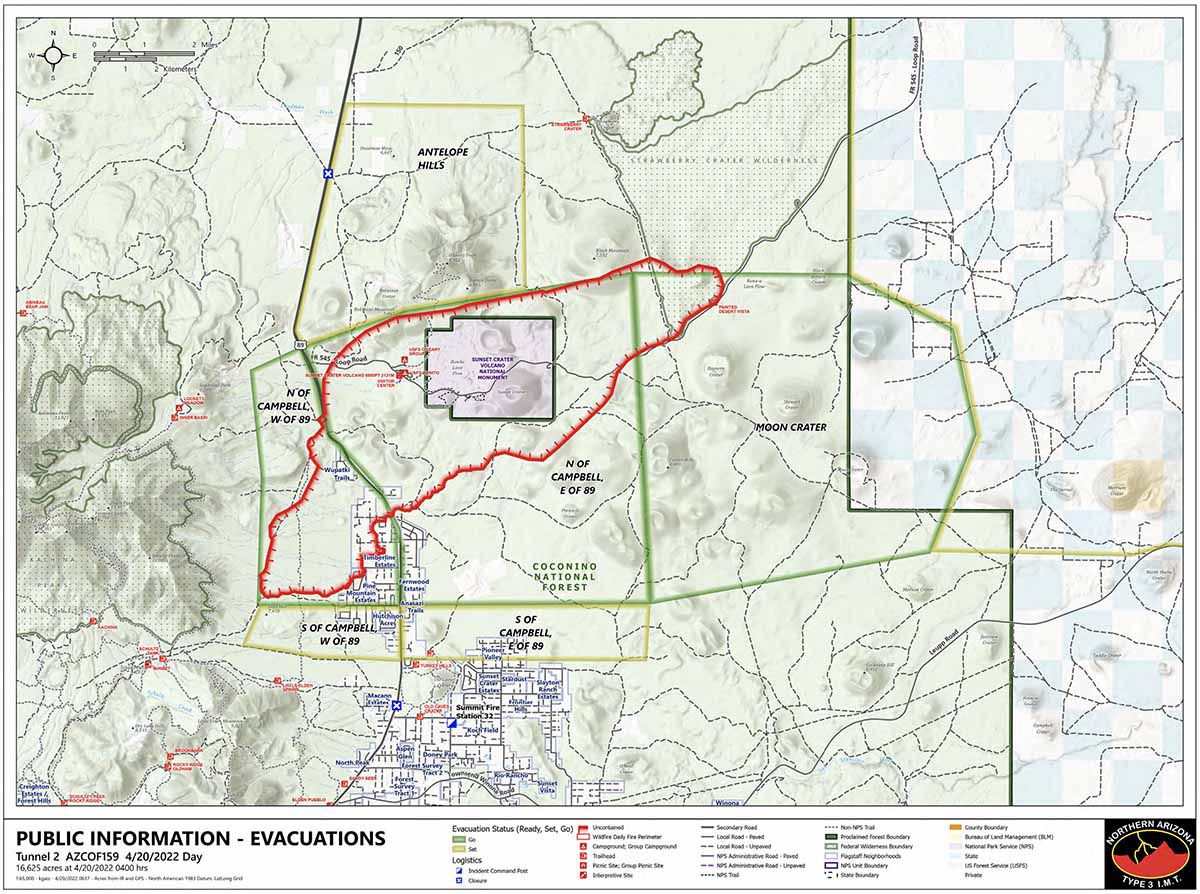 Sunset crater / Tunnel fire - the expanse of the burning area covers the surface of sunset crater national Monument