Publié le par Bernard Duyck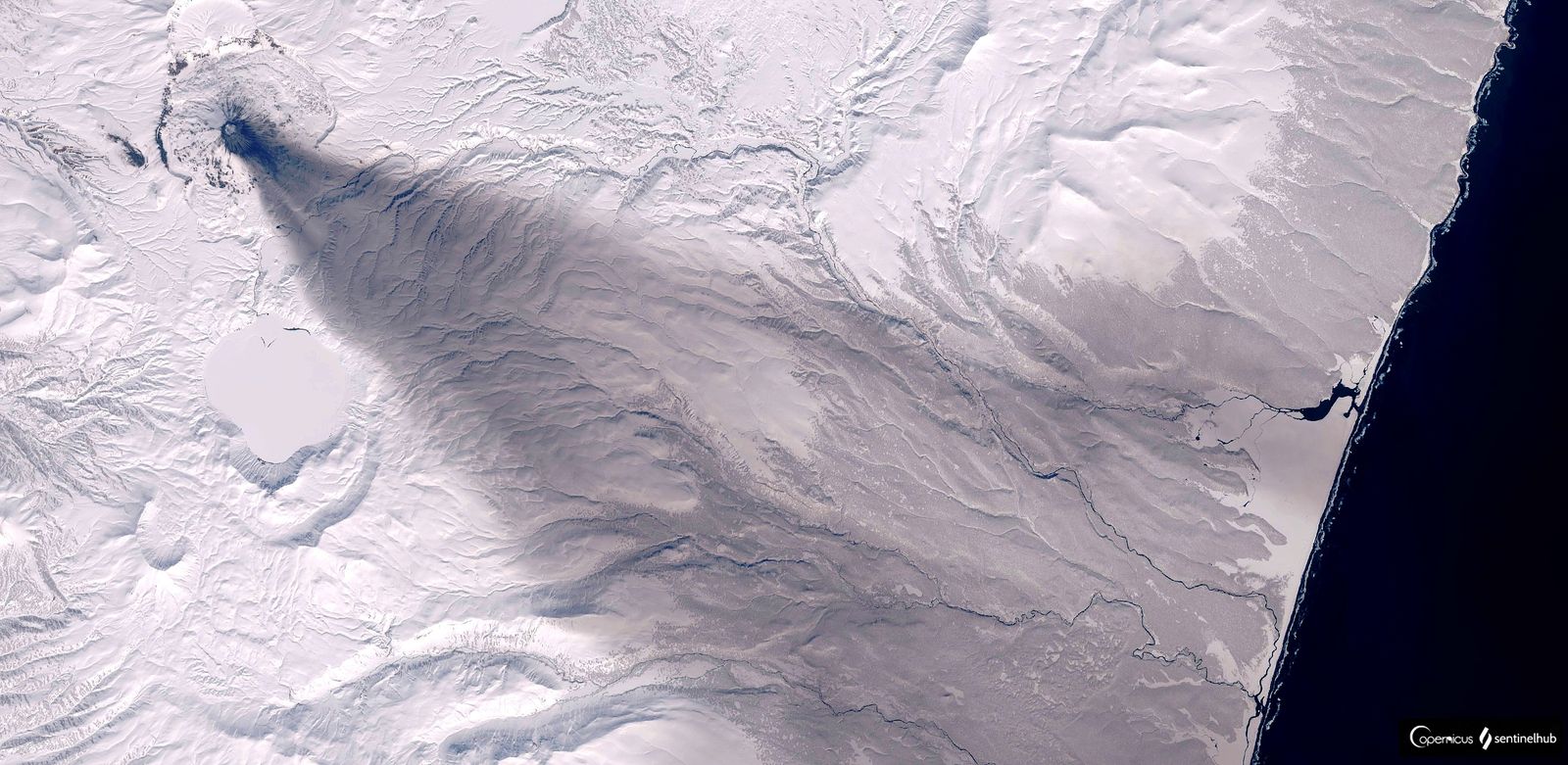 Karymsky - 300 km² under the ashes - Copernicus / Sentinel-2 image from 19.04.2022 - one click to enlarge
Recent eruptive episodes of Karymsky have resulted in a trail of volcanic ash covering just over 300 km², visible in a contrast-enhanced image captured by Sentinel-2 on April 19, 2022.
For the record, KVERT reported that a thermal anomaly over Karymsky was visible in satellite images on April 9 and 11-12; the volcano was quiet or obscured by clouds on other days from April 8 to 15. The explosions produced ash plumes that reached 6 km above sea level and derived SSW, based on satellite data acquired at 08:10 a.m. April 20 local time. Explosions continued and within an hour produced larger ash plumes that rose 9.8 to 10 km above sea level and drifted nearly 30 km to the NE. (see: http://www.earth-of-fire.com/2022/04/activity-of-karymsky-sabancaya-turrialba-poas-and-cumbre-vieja.html)
KVERT raised the Aviation Color Code to red (the highest level on a four-color scale).
Sources: KVERT & Global Volcanism Program weekly report
On the afternoon of 19 and April 20, the IGEPN reported steam, gas and ash emissions up to 1,000 m. asl. to the Reventador, with dispersion between the north and the northeast.
Among the explosions, that of 10:10 a.m. was well illustrated on the images from the webcams.
Nocturnal incandescence was observed at the level of the crater
Seismicity is characterized by 25 explosion earthquakes, 62 LP earthquakes and 4 episodes of harmonic tremor.
Source: IGEPN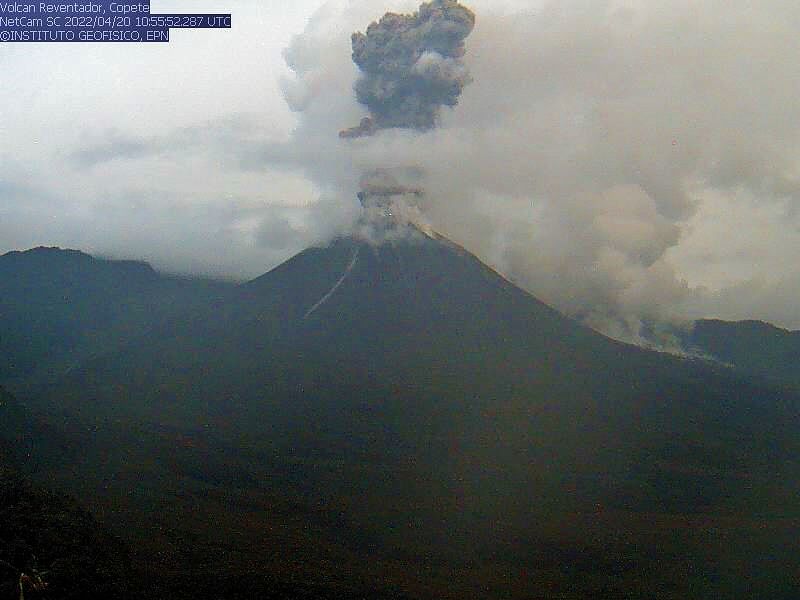 Reventador - gas and ash emission activity on 04.20.2022 / 10:55 a.m. - webcam Copete / IGEPN - one click to enlarge
The Anak Krakatau volcano erupted on Thursday, April 21, 2022 at 06:23 WIB with an ash plume observed ± 800 m above the summit (± 957 m above sea level)
This eruption was recorded on a seismograph with a maximum amplitude of 50 mm and a duration of 75 seconds.
Activity level remains at 2/waspada
The public or tourists are not allowed to approach the crater within 2 km of the crater.
This is the 10th eruptive episode of Anak Krakatau in April 2022.
Sources: PVMBG, Magma Indonesia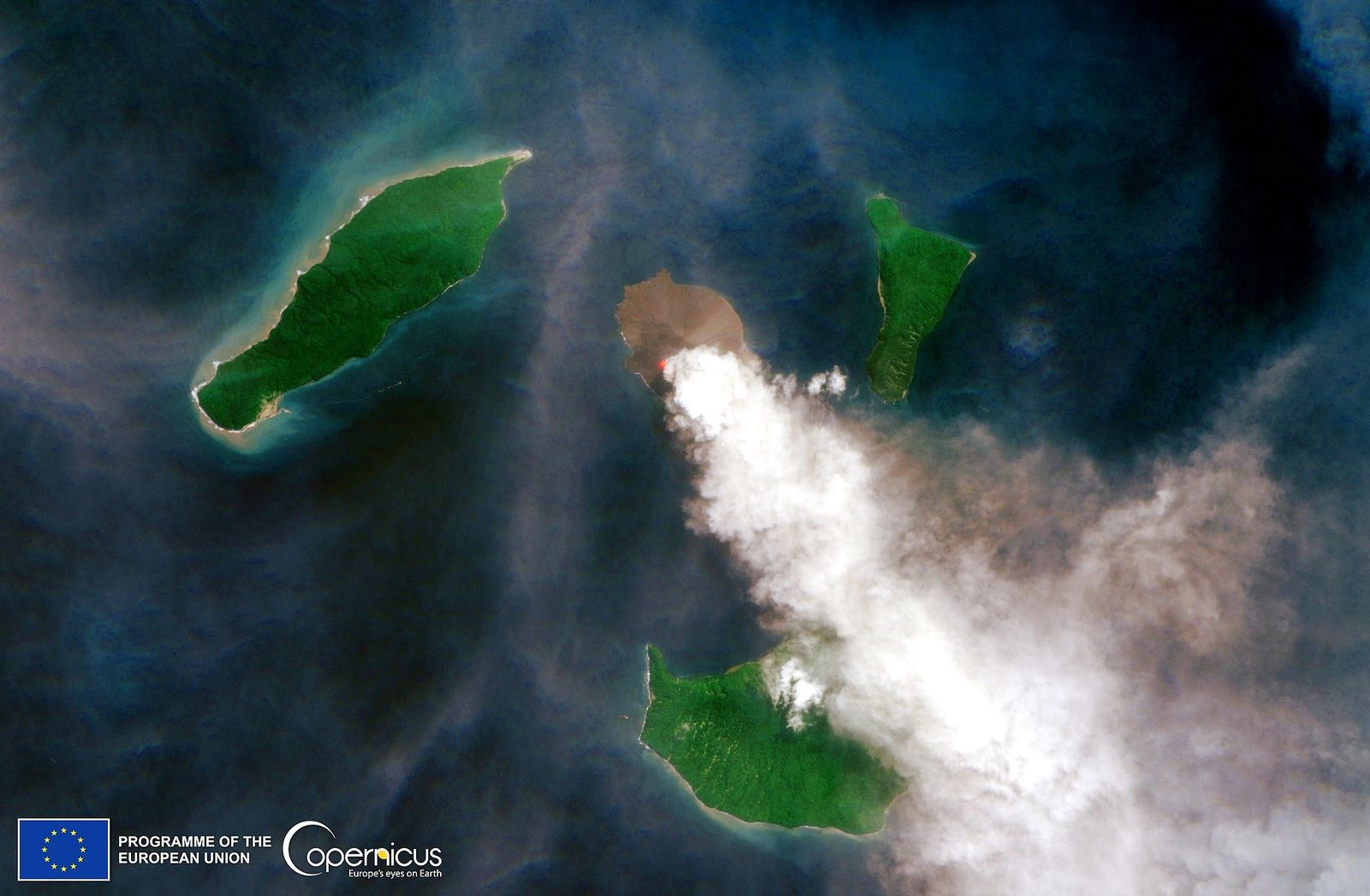 Anak Krakatau - thermal anomaly and gas and ash plume on 04.19.2022 - Sentinel-2 image via Copernicus - click to enlarge
A strong volcanic tremor and flow of heat and gas in the crater lake continues at Ruapehu, New Zealand. The lake temperature stabilized at 37C. This sustained agitation indicates that the interaction of magma with the volcano's geothermal system is driving the activity.
Source: GeoNet