Publié le par Bernard Duyck
Volcanic activity on Ambae continues at the Major Unrest Level, consistent with Volcanic Alert Level 2. Volcanic activity consists of steaming and explosions of moist tephra ejected above the surface of the lake but confined within the caldera while light ash may be deposited on villages near the volcano, especially those exposed to wind directions. Volcanic risks remain in the area of ​​the summit and the creeks.
New observations have confirmed that the volcanic cone formed inside Lake Voui and that the Ambae volcano continues to emit volcanic gases and ash contained in Lake Voui.
The life safety hazard zone in the summit area remains limited to Hazard Zone A (see Ambae Caldera safety map below). This danger zone (Danger Zone A) is approximately 2 km in radius from the active 2017-2018 vents. An additional danger zone is in areas with flowing streams during heavy rains.
Source: VMGD / Vanuatu volcano alert bulletin N°3 - AMBAE activity 31,03,2022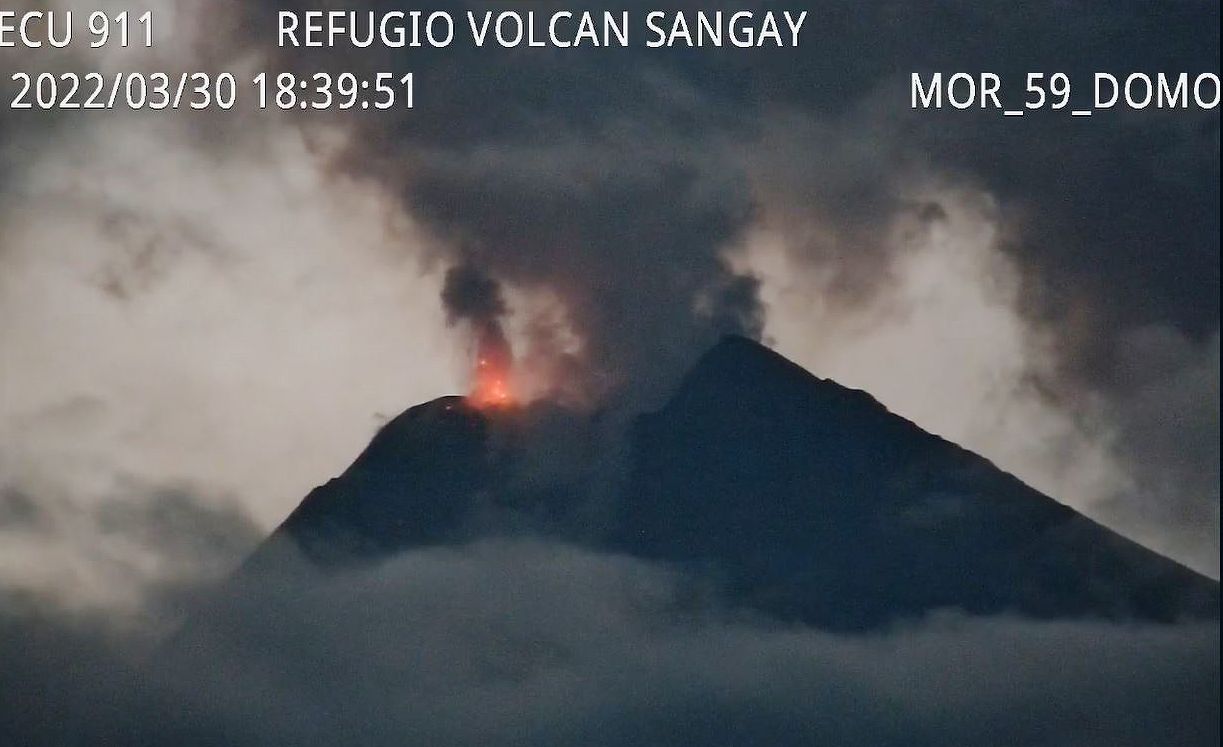 Sangay - incandescence in the crater on 30.03.2022 / 6:39 p.m. - Cámara Refugio ECU 911 / IGEPN - un clic pour agrandir
Sangay activity levels, both superficial and internal, remain high, with surface activity on the rise.
The Washington VAAC recorded 5 gas and ash emission alerts with heights of 870 meters above crater level, with a west and southwest direction.
On 2022-03-31, TROPOMI detected a strong SO2 signal at a distance of 6.8 km from Sangay with 18.59 DU of SO2 at an altitude of about 1 km. Estimated mass within a radius of 300 km: 3.5 ktons.
The FIRMS system records 36 thermal alerts, while the MIROVA system records 3 moderate alerts in the last 24 hours.
Yesterday afternoon, through images shared by ECU 911, incandescence was observed at the level of the crater.
Seismicity is characterized by 47 explosion earthquakes, 20 Long Period (LP) earthquakes and 45 episodes of emission tremor.
Source: IGEPN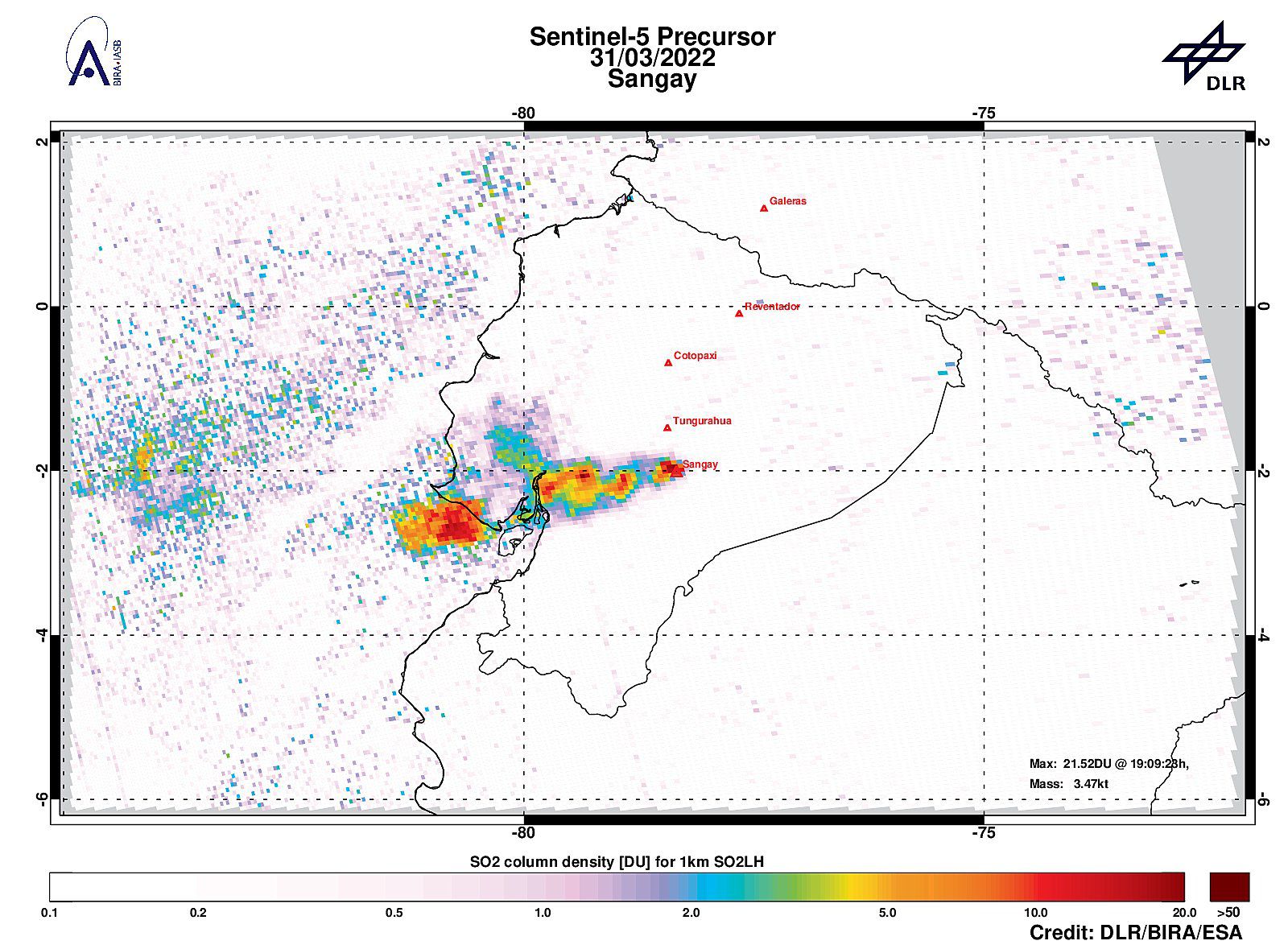 Sangay - strong SO2 signal with 18.59 DU at 6.8 km from the volcano and an altitude of ~1km. - Doctor. Tropomi/DLR/BIRA/ESA
Three phreatomagmatic bursts were recorded on 03.31.2022 at 10:39 a.m., 10:47 a.m. and 10:55 a.m. by the Taal Volcano Network or TVN based on seismic recordings and visual cameras at the main crater. These events produced 500 to 900 meter high plumes that drifted southwest.
In the past 24 hours, the Taal Volcanic Network recorded 13 volcanic earthquakes, including 3 volcanic tremors lasting 2-3 minutes, and 10 low-frequency earthquakes.
Activity at the main crater was dominated by upwelling of hot volcanic fluids in its lake which generated 2,000 meter high plumes that drifted southwest. Sulfur dioxide emissions averaged 7,856 tonnes/day on March 31, 2022.
Maximum temperatures of 63.7°C were last measured from Main Crater Lake on February 25, 2022.
Alert Level 3 (magmatic unrest) prevails over Taal Volcano. This means that there is magmatic intrusion at the main crater which could still lead to further eruptions. DOST-PHIVOLCS strongly recommends the evacuation of Taal Volcano Island and the high risk barangays of Bilibinwang and Banyaga, Agoncillo and Boso-boso, Gulod and East Bugaan, Laurel, Batangas Province due to possible risks pyroclastic density currents and volcanic tsunami. eruptions then occur.
Source: Phivolcs
Beginning of the lahar season at the Fuego and Santiaguito volcanoes / Guatemala
Monitoring of monthly climate forecasts and forecasts from the Department of Meteorological Research and Services, suggests an early start to the rainy season in the Bocacosta region between the months of March and April, and the fact that in recent days, rain was recorded over the Volcanic Arc in the afternoon and evening.
Following the eruptive activity recorded in these volcanoes during the months of February and March, the ravines located on the slopes of these volcanic buildings are filled with deposits of boulders and ash produced by pyroclastic flows. These are mainly concentrated in the Ceniza and Las Lajas ravines, in the case of the Fuego volcano, and in the San Isidro channel in the case of the Caliente dome of the Santa María-Santiaguito complex. In these ravines and channels, the first lahars of the season should be particularly large and eventually descend as a hot flow accompanied by water vapor and the smell of sulfur, due to the relatively cool deposits of recent eruptions. Likewise, the rest of the ravines and channels of the two volcanoes also contain volcanic materials accumulated by eruptions that occurred in previous years.
Source: Insivumeh Special Bulletin