Publié le par Bernard Duyck
On 04/04/2022 at 10:42 a.m. local time, an eruption is recorded at the level of the Rincón de la Vieja volcano, the height reached by the column is unknown due to the visibility conditions of the site.
Duration of activity: 1.5 minutes.
So far, no damage has been reported in the vicinity of the volcano.
Thereafter, no further eruptions were recorded, and the low-frequency tremor remained weak and intermittent. From time to time, small volcanic earthquakes of low frequency and very low amplitude are recorded. The volcanic edifice remains stable.
Source: Ovsicori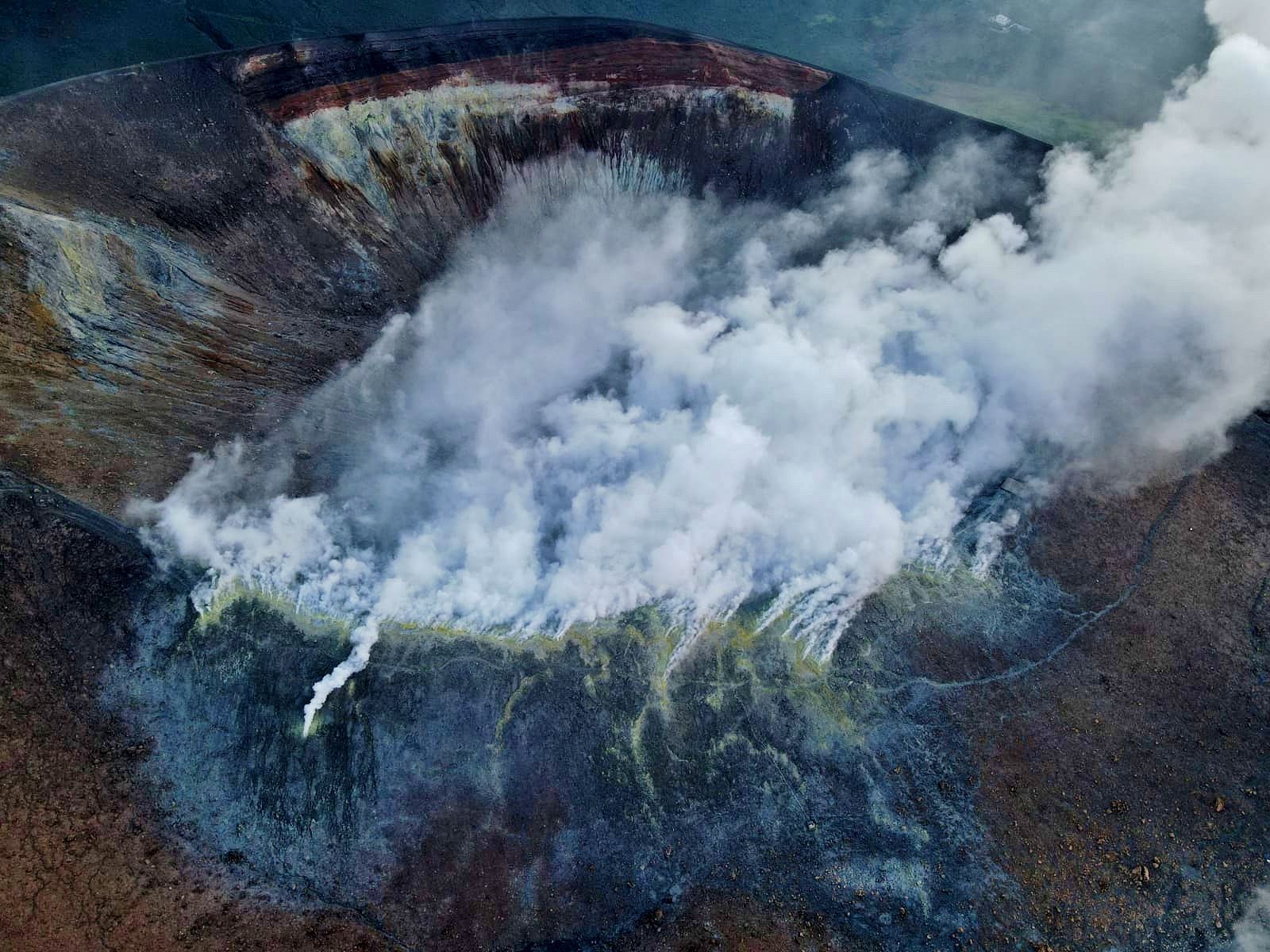 Vulcano - gas emissions at La Fossa crater; note the vents hemmed with sulfur deposits - photo archives INGV 2021.10 - one click to enlarge
Temperature data recorded on the rim of the La Fosssa crater at Vulcano show stable values ​​at high levels.
There are no updates available for the CO2 flux in the crater area. The latest measurements available (26.03.2022) were at high values ​​(around 14000g/m2/day)
The CO2 fluxes recorded in the C. Sicilia and P4max sites show a slight downward trend, but remain at medium-high values; in the Faraglioni site there are values ​​close to the background.
The SO2 flux is at a medium-high level.
Geochemistry of fumarolic gases: no update is available
Geochemistry of thermal aquifers: The temperature measured in the Camping Sicilia well is at high and stable values. The electrical conductivity shows low values.
The level values ​​measured in the Bambara well show a small fluctuation. Conductivity values ​​remain constant at medium-high levels.
Local seismicity: low rate of occurrence of local events.
Regional seismicity: Modest fracturing seismicity associated with earthquakes with Ml >= 1.0.
The networks of permanent and clinometric GNSS stations did not register any significant changes.
Gravimetry: During the period considered, no significant change was recorded.
Source: INGV OE – weekly bulletin 28/03/2022 – 04/03/2022 (issue date 04/05/2022)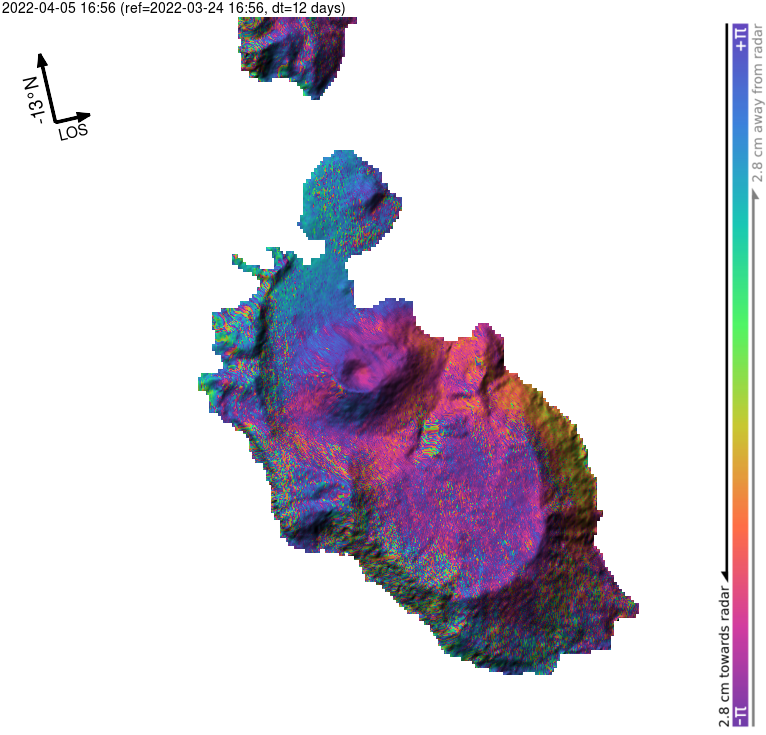 Vulcano - Sentinel-1 image InSAR interferogram 24.03.2022 / 05.04.2022 - image Copernicus vis Mounts Project
During the week of March 28 to April 3, 2022 in the Phlegraean Fields area, the Vesuvius Observatory / INGV recorded 70 earthquakes (Mdmax = 3.6 ± 0.3).
The event at 17:45 UTC on 03.29.2022 with Md = 3.6 is the most energetic event recorded since the resumption of this bradyseismic phase started in 2005, but it is also the most energetic event recorded since 1985 .
The average value of the uplift velocity in the maximum deformation zone from December 2021 is about 13 ± 2 mm/month. The lift recorded at the RITE GPS station is
approximately 87.5 cm in January 2011.
Soil CO2 fluxes measured last week showed no significant changes. The temperature sensor installed in a fumarole emission 5 meters from the main Pisciarelli fumarole showed an average value of ~95°C.
Source: INGV / OSSERVATORIO VESUVIANO – weekly bulletin 28.03 to 03.04.2022 (put online 05.04.2022)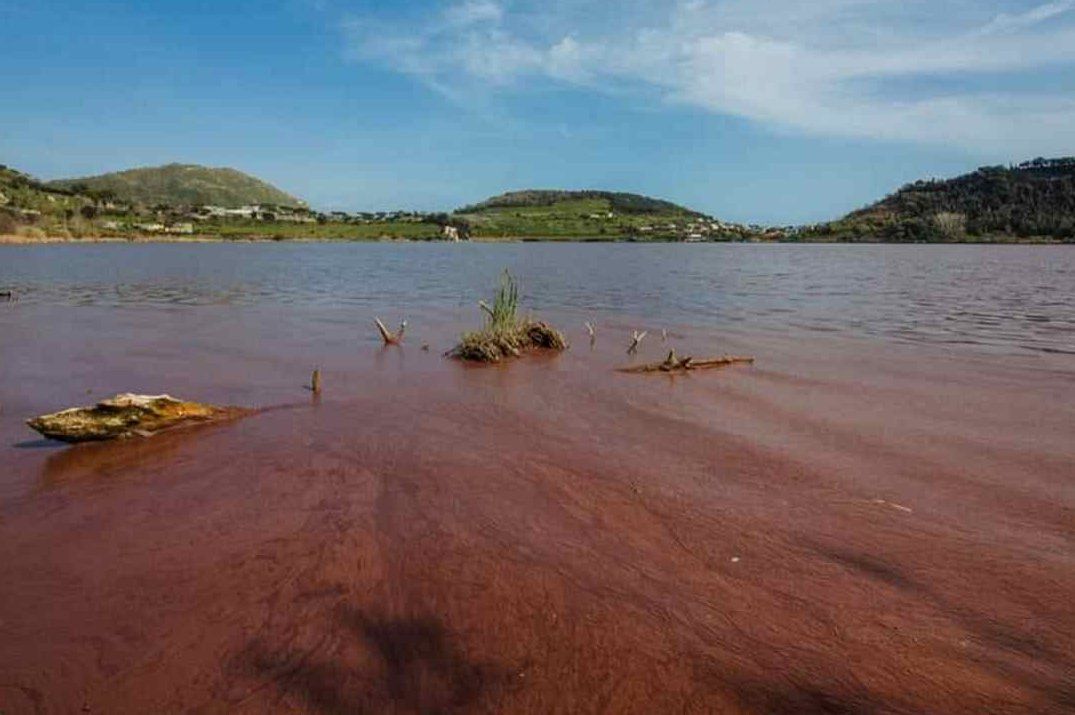 Lago d'Averno - eutrophysation responsible for the red color of the waters - photo 04.04.2022 INGVvulcani
A seasonal phenomenon, frequent (last year too), and is due to the proliferation of certain types of algae and the eutrophication of Lake Averno, a volcanic crater lake near Pozzuoli in the Phlegraean Fields, in conjunction with certain climatic conditions. This ends up giving the water that reddish-brown color.
INGV-OV researchers have published statements in this regard on various national newspapers, as has Arpac, and specifies: the change in color of Lago Averno is certainly not a phenomenon linked to volcanic activity.
Source: INGVvulcani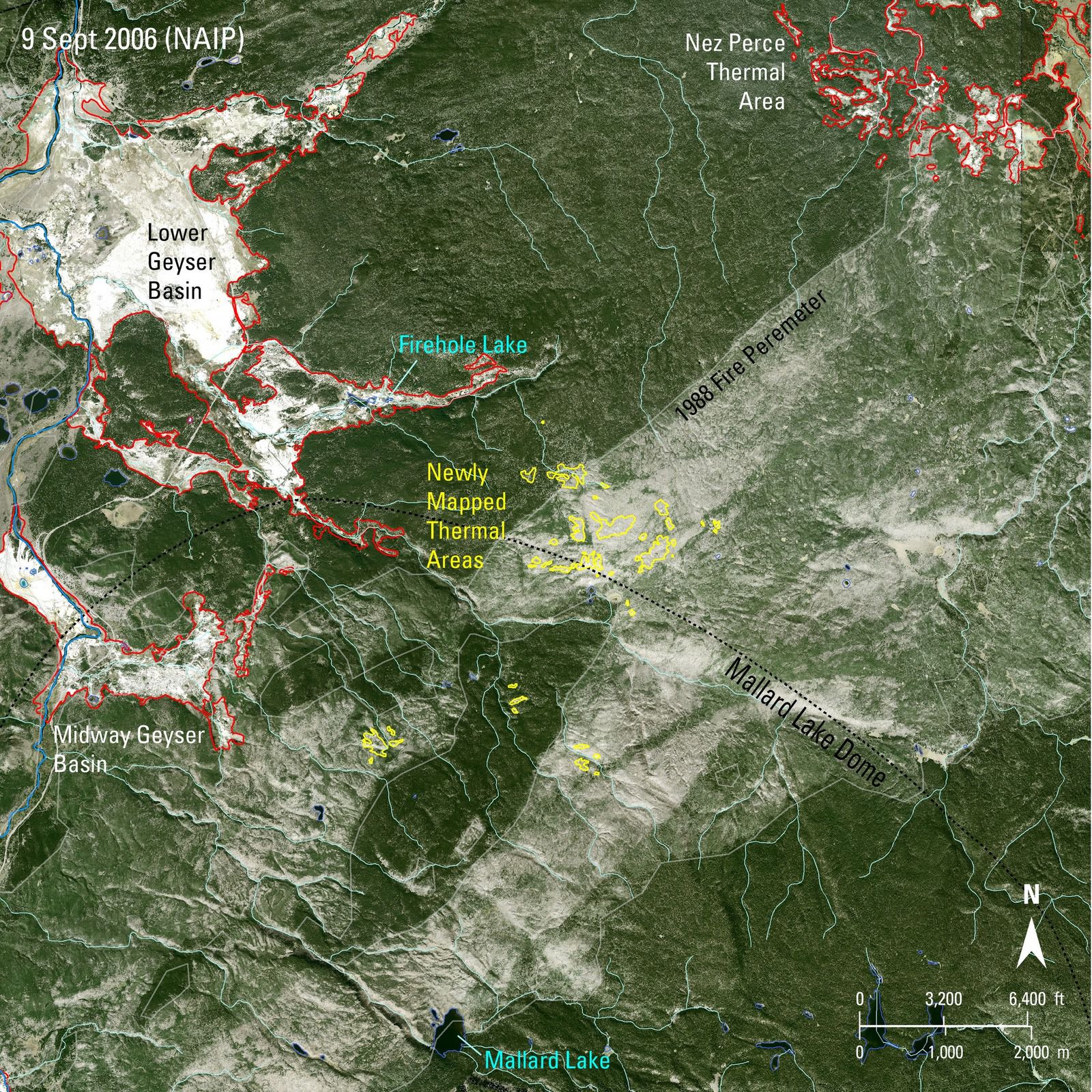 Yellowstone National Park: Newly mapped thermal areas (outlined in yellow) on the north side of the resurgent Mallard Lake Dome.) - Based on National Agriculture Imagery Program natural color image from September 9, 2006 - one click to enlarge
Several isolated thermal areas have recently been mapped in Yellowstone, using high-resolution satellite and aerial imagery over the resurgent Mallard Lake dome.
These are not new thermal areas, but they have escaped notice, on the one hand because they are located in a region of the hinterland not accessible by any path, on the other hand hidden in the scars of the fires. of forest past.
A thermal zone is a nearly continuous geologic unit that contains one or more thermal features (e.g., hot springs, geysers, or fumaroles), hydrothermally altered rocks or hydrothermal mineral deposits, heated ground, and/or gas emissions. gas, and which is generally devoid of vegetation or has stressed/dying vegetation.
During this month of March, no significant changes in ground deformation patterns were observed in data from continuous GPS stations over the past few months. The Yellowstone Caldera continues to subsidence at an overall rate of 2–3 cm (1 in) per year. This collapse has been going on since 2015.
Steamboat Geyser continues to be active in 2022, although the frequency of its eruptions has decreased significantly from the previous three years. The geyser has seen two major water eruptions in the past month, on March 4 and March 30.
Source: USGS - YVO - Monthly update of activity at Yellowstone volcano / 01.04.2022 - link