Publié le par Bernard Duyck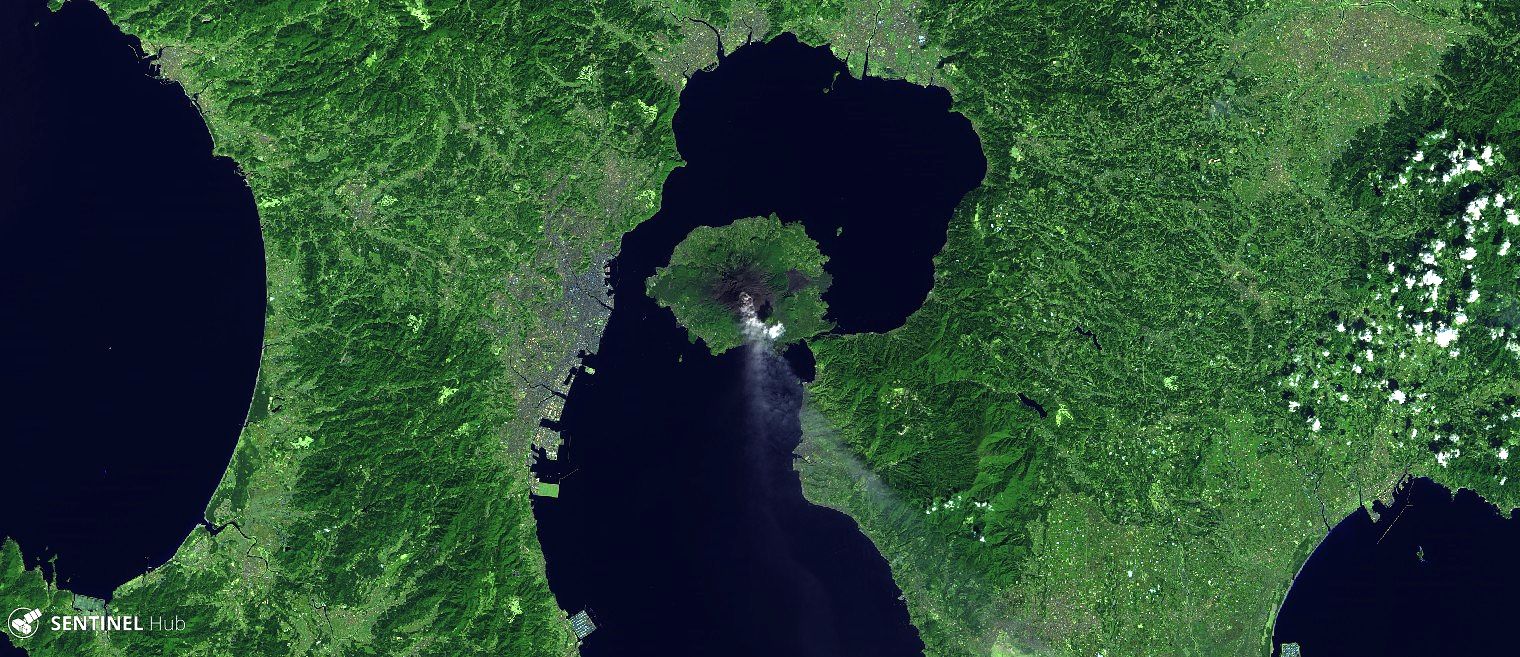 Sakurajima and the Aira caldera to the north - image Sentinel-2 image bands 12,11,4 from 27.02.2019 - one click to enlarge
The Aira caldera in the northern half of Kagoshima Bay contains the post-caldera volcano Sakurajima, one of the most active in Japan.
The eruption of the voluminous Ito pyroclastic flow accompanied the formation of the 17 x 23 km caldera around 22,000 years ago. The smaller Wakamiko caldera formed in the early Holocene in the NE corner of the Aira caldera, along with several post-caldera cones.
Construction of Sakurajima began about 13,000 years ago on the southern rim of the Aira caldera and built an island that was eventually connected to the Osumi Peninsula in the great explosive and effusive eruption of 1914, known as Taisho rash. (12.01.1914 – 05.1915, from VEI 4 / GVP)
Sakurajima magma is known to accumulate a lot about 15 km underground in the center of Aira Caldera and move 1 to 3 km directly below the volcano.
Professor Masato Iguchi, and his group from Kyoto University's Disaster Prevention Research Institute, studied the volume of magma beneath the Aira caldera to a depth of 15 km underground, where seismic waves often pass. Using the property that the speed of the S wave, which is a rolling seismic wave, slows down as it passes through a fluid such as magma. We analyzed about 30,000 seismic waves, such as those generated by natural earthquakes and those generated artificially using dynamite.
They estimated the amount of magma in the main Sakurajima magma chamber below the Aira caldera to be 10 to 18 cubic kilometers. There would be about 10 times the amount emitted by the Taisho eruption, about 1 km³.
On the northern coast of Kagoshima Bay, which borders the Aira caldera, the ground subsided more than 50 cm during the Taisho eruption, but it is now rising and returning to its height of origin.
Sources:
- 373news.com/
- Bulletin of volcanology – Using high-resolution Pb isotopes to unravel the petrogenesis of Sakurajima volcano – J.R.Brown & al.
- Global Volcanism Program – Aira