Publié le par Bernard Duyck
After an explosive episode on April 10, 2022, accompanied by a plume of ash and gas at 9,800-10,000 m. altitude asl. and an aviation code red, the Karymsky returned the cover on April 28 with explosions that propelled ash more than 10,000 meters asl.
The ash cloud, 5 x 7 km., moved in a west-northwest direction.
KVERT issued an aviation code red at 03:08 Z, before changing it to orange again at 04:34 Z, when the emission of ash ceased; the ash cloud, 28 x 34 km., continues to move at an altitude of 9 km. in a WNW direction.
At 3:50 am, this cloud was 289 km from Karymsky.
Sources: KVERT & VAAC Tokyo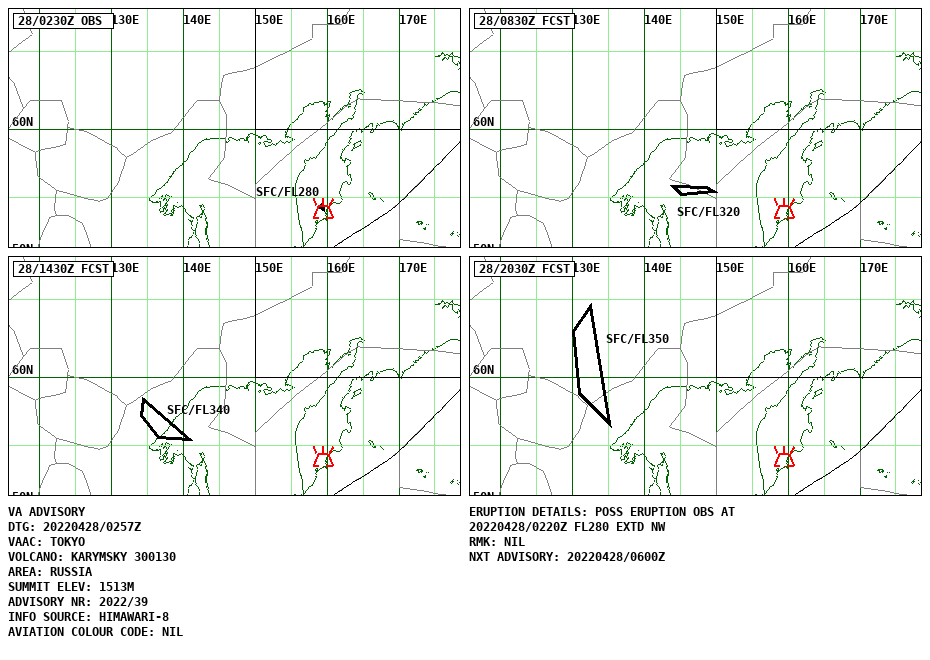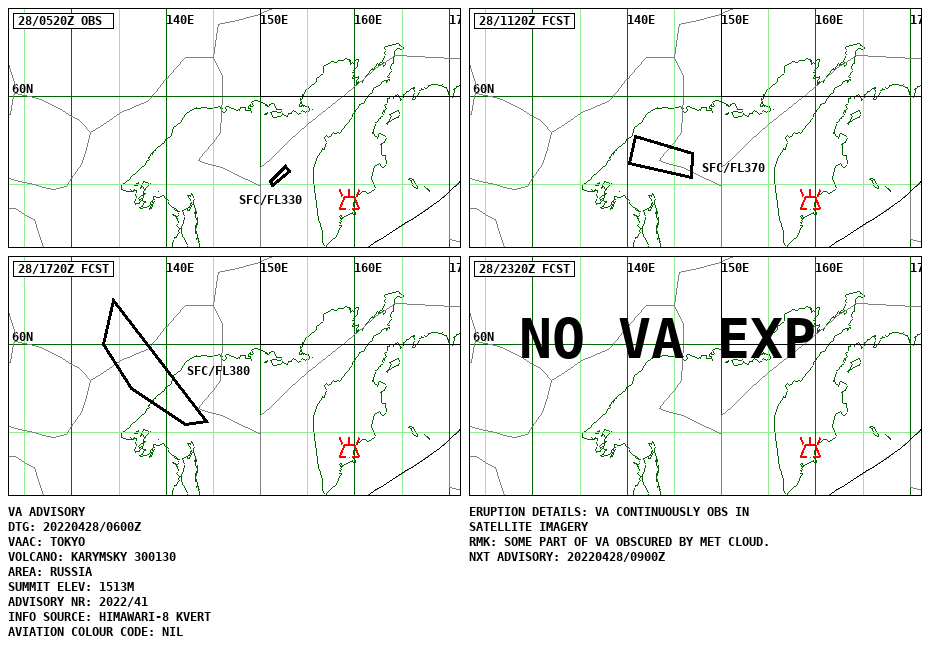 Karymsky - volcanic ash advisory for 04.28.2022 / at 0257Z and 0600Z - Doc. VAAC Tokyo - one click to enlarge
A helicopter flight over Anak Krakatau by the head of the National Disaster Management Agency (BNPB), Lt. Gen. Suharyanto, accompanied by the head of the PVMBG Hendra Gunawan and other authorities this Thursday, April 28, allowed to see the construction of a new cinder cone during the paroxysm / lava fountains.
High surface temperatures (thermal anomaly of max. 42 MW on 27.04 / Mirova) confirm the maintenance of an active flow, which has created new entry points into the sea, and built a lava delta.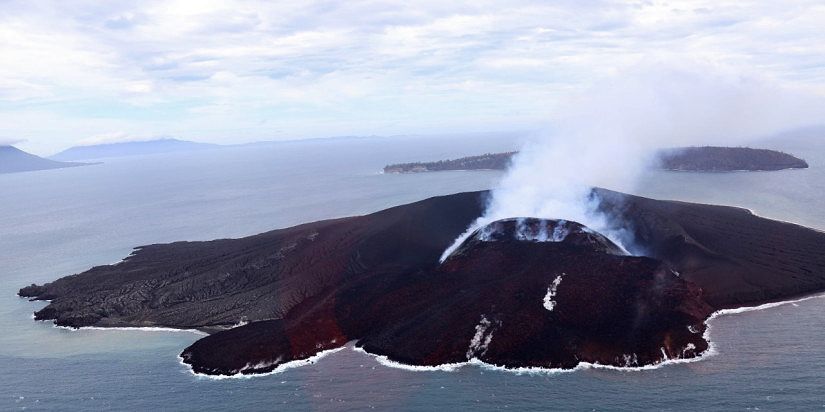 Anak Krakatau - the new lava cone and delta on 04.28.2022 - photo Udara Kondisi Gunung Anak Krakatau Kouminaksi Kebencanaa/M Arfari Dwiatmodjo via BNPB - one click to enlarge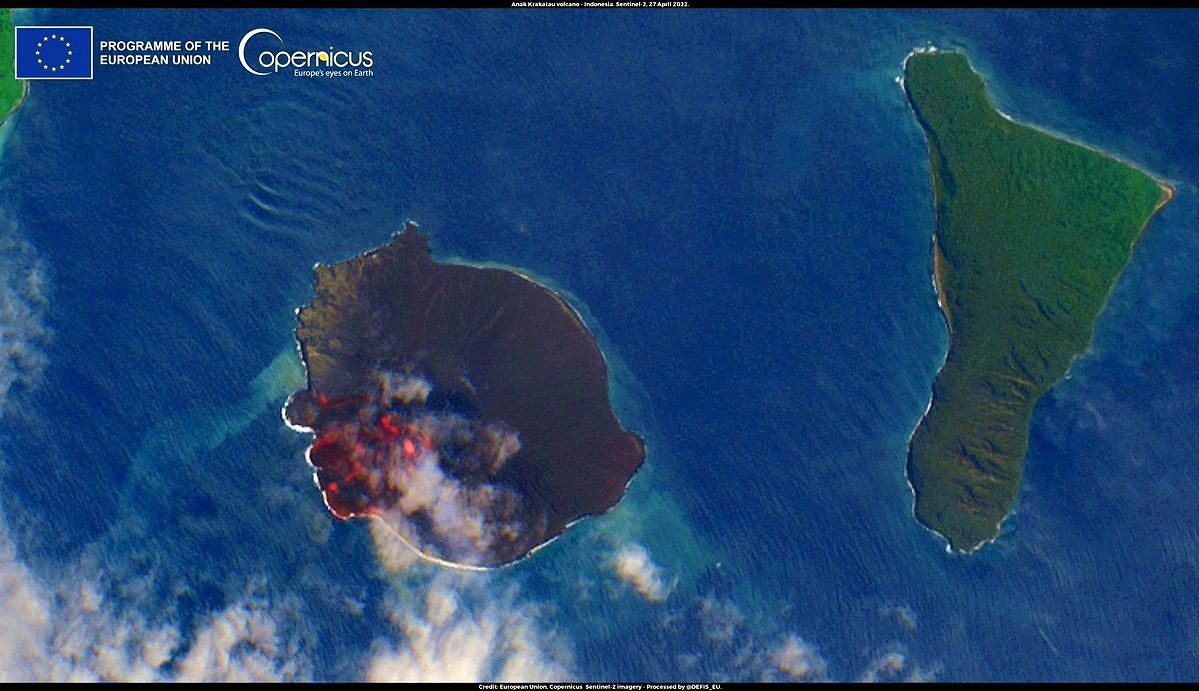 Anak Krakatau - Sentinel-2 bands 12,11,8A image dated 04.27.2022 / 03:28 UTC - Copernicus - one click to enlarge
The activity level remains at 3 / siaga.
The community must obey the determination of the areas included in the Mount Anak Krakatau (KRB) disaster-prone area. KRB 1 with a radius of 7 kilometers from the top of the mountain, KRB 2 with a radius of 5 kilometers from the top of the mountain and KRB 3 with a radius of 2 kilometers.
"Residents in KRB 1 area should increase their vigilance by not carrying out activities around the Singai Valley which originates in the peak area, while in KRB 2 it is hoped that the community will prepare to evacuate and will await orders from local government as recommended by the Ministry of Energy and Mineral Resources through the Geological Agency," Suharyanto said after conducting a review.
He further added, specifically for KRB 3 area, that it must be empty and there should be no activity in this area.
"Residents of KRB 3 area are not allowed to carry out activities and are starting to prepare to evacuate (if there are residents)," Suharyanto said.
Sources: Sentinel-2 and BNPB, PVMBG
The eruption at Kīlauea Volcano's summit in Halema'uma'u Crater has continued for the past 24 hours. All recent activity has been confined to the crater and current data indicates that this scenario is likely to continue.
Lava eruption from the west vent into the active lava lake and on the crater floor has continued over the past 24 hours. The active part of the lava lake showed continued surface activity. The lake level had minor fluctuations throughout the day and dropped slightly below the rim this morning with summit deflation. Sporadic eruptions also continue along the crater margins.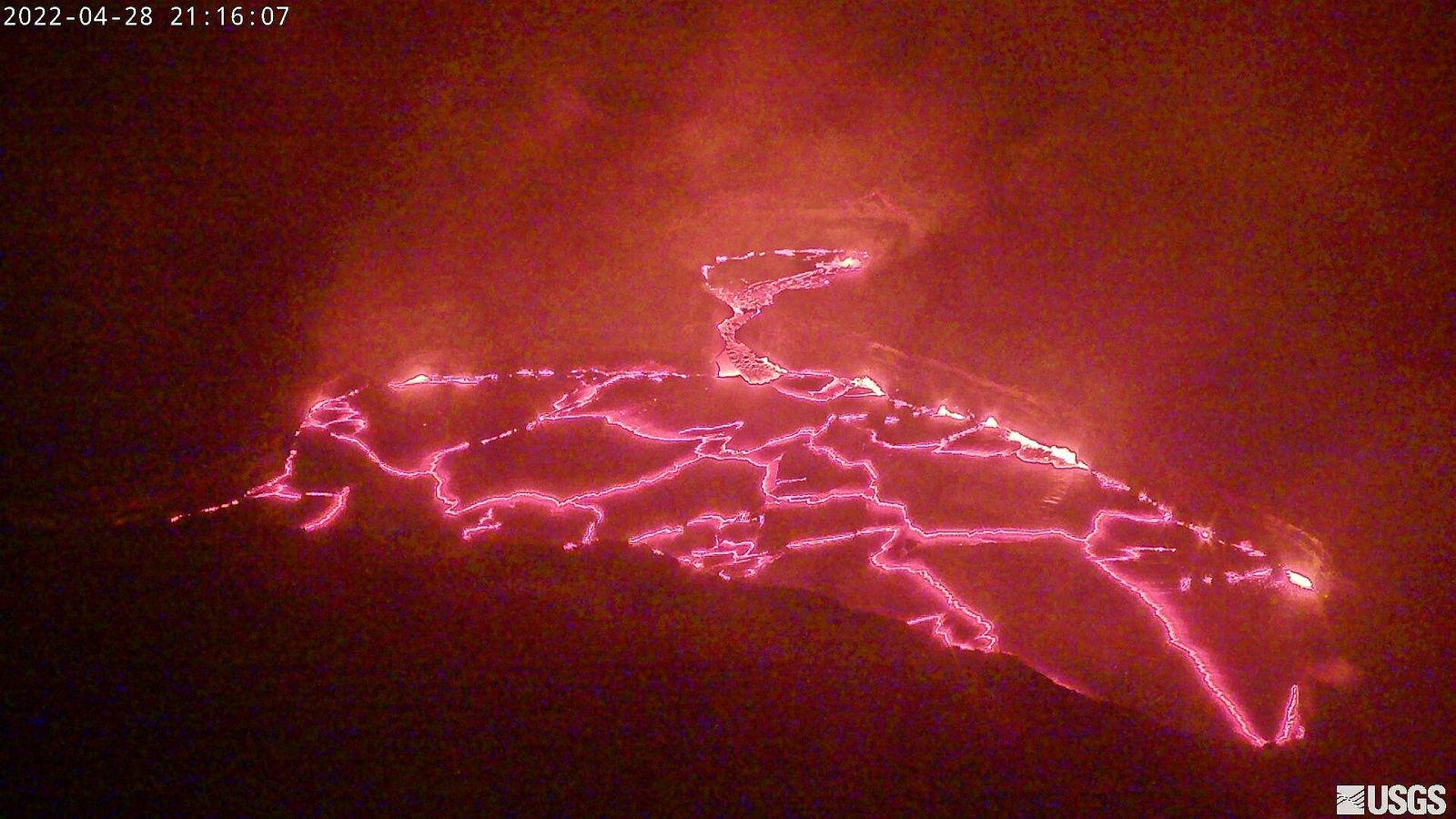 Halama'uma'u - west vent and lava lake on 2022-04-28 / 21:16 HST - HVO therm webcam - USGS - one click to enlarge
Since the beginning of this eruption on September 29, 2021, the crater floor has experienced a total elevation of approximately 99 meters (325 feet). The volume of lava effused since the start of this eruption was approximately 66 million cubic meters (18 billion gallons) as measured on April 6, 2022.
Summit tiltmeters recorded the onset of deflationary tilt this morning around 3am. Volcanic tremor remains above background levels. A sulfur dioxide emission rate of around 4,300 tonnes per day was measured on April 27, 2022.
The volcanic alert is Watch, and the aviation code orange.
Source: HVO