Publié le par Bernard Duyck
A brief tweet from PVMBG (above) informs March 30 of the sighting of a change in activity at Gunung Kelud. Current potential hazards are the release of toxic gases and phreatic eruptions around the crater lake.
Some webcam images were taken from Magma Indonesia.
A communication from Oystein Lund andersen from April 2, 2022 reports that Kelud crater lake has in recent weeks changed color from yellow (as of July 2019) to blue.
Steam, bubbles and hydrothermal activity in the crater lake are observed. (see his tweets of 02.04.2022: https://twitter.com/oysteinvolcano)
The PVMBG did not change the level of activity which remains at 1 / normal
Sources: PVMBG, Magma Indonesia, and O.L.Andersen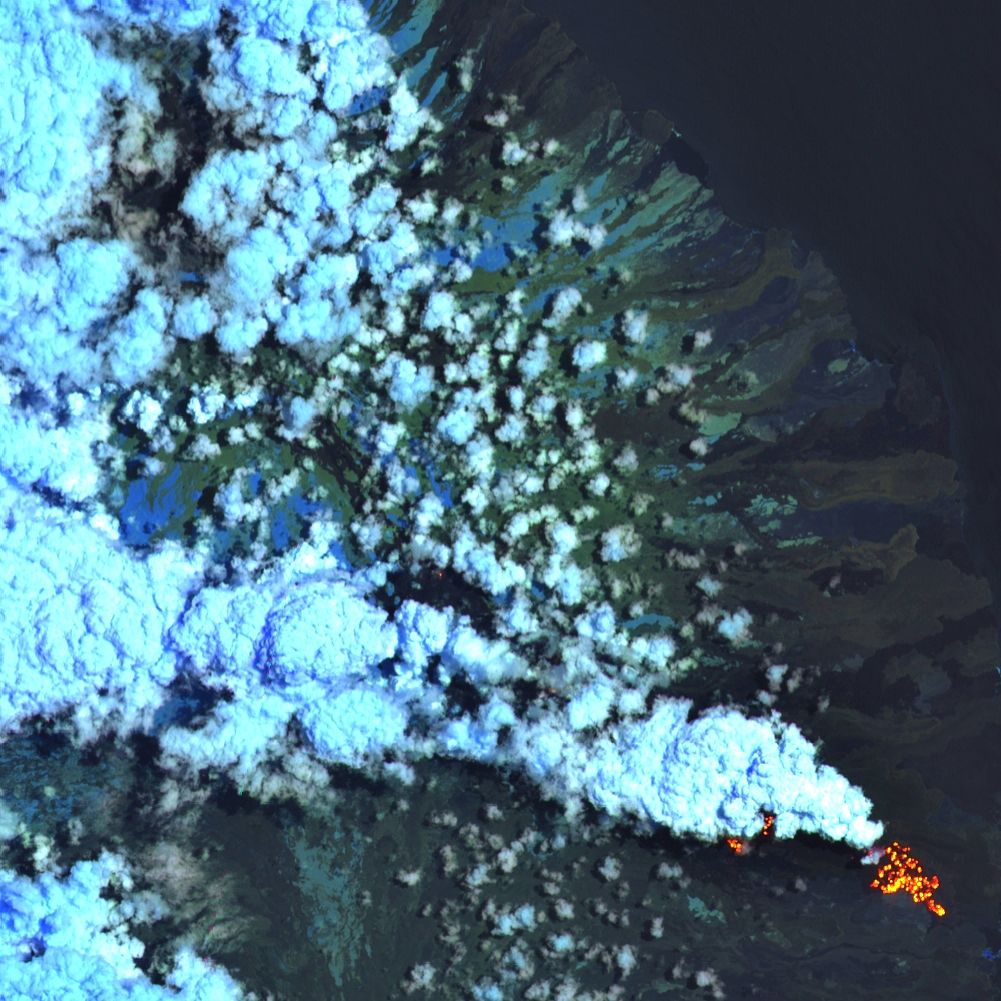 Wolf / Galapagos, Isabela island - image Sentinel-2 bands 12,11,8A from 01.04.2022 / 4:33 p.m. - Doc. via Mounts project - one click to enlarge
At Wolf Volcano in the Galapagos, activity remained subdued, with a declining trend.
No reports of seismic episodes, nor emissions by the VAAC of Washington or in the satellite images.
FIRMS recorded 145 thermal anomalies and MIROVA reported 1 high thermal alert (953 MW), in the past 24 hours, due to advancing lava flows.
Sources: IGEPN, Mirova and Mounts project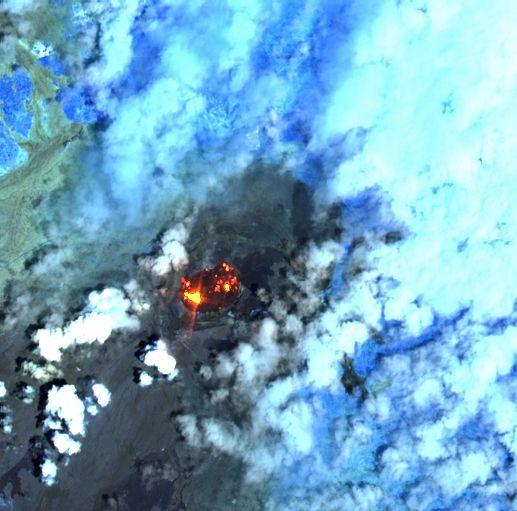 Kilauea / Halema'uma'u - image Sentinel-2 bands 12,11,8A from 02.04.2022 / 8:59 p.m. - via Mounts Project - one click to enlarge
The eruption at Kīlauea Volcano's summit in Halema'uma'u Crater is currently ongoing.
The summit tilt turned around midday into a slightly inflationary trend. The summit tremor remains high and stable. The level of the active lava lake in Halema'uma'u crater has not changed significantly. Based on previous observations, lava will likely be on the surface of the active lava lake tonight.
Current Volcanic Alert Level: WATCH
Current Aviation Color Code: ORANGE
Source: HVO
Between March 25 and April 1, the OVSM recorded at least 10 volcano-tectonic earthquakes of magnitude less than or equal to 0.6 under Mount Pelee. (There had been 2 the previous week.) These earthquakes of low energy were located inside the volcanic edifice between 0.7 and 1.5 km depth below the surface. This superficial volcano-tectonic seismicity is associated with the formation of micro-fractures in the volcanic edifice. None of these earthquakes was felt by the population.
The zone of degassing at sea at shallow depth between Saint-Pierre and Le Prêcheur is still observed. The IPGP took fluid samples in order to determine the origin of this degassing and to assess its possible relationship with the Mount Pelée hydrothermal system.
An extension of two zones of deteriorated vegetation located between Morne Plumé and the Rivière Chaude was observed during a helicopter flight carried out on February 9 with the support of Dragon 972, and confirmed by analysis of satellite images.
The alert level remains in vigilance Yellow.
Source: OVSM