Publié le par Bernard Duyck
The surface and internal activity of Sangay, in Ecuador, remains qualified as high by the IGEPN.
For the day from April 2 to 3 / 11 a.m., seismicity is characterized by 39 explosion earthquakes, 110 LP earthquakes and 10 tremor episodes.
Through photos of ECU-911, an emission of gas and ash was observed more than 1000 meters above the level of the crater to the west.
The Washington VAAC reported ash emissions at 870 and 1170 meters above the summit in a west, southwest direction.
The MOUNTS system recorded 399.6 tons of SO2 on 2022-04-02 at 1:30 p.m. TL.
FIRMS records 38 thermal alerts and MIROVA records 1 high thermal alert (VRP 266 MW) during the period considered ... during the afternoon, it rose to VRP 821 MW, and this April 4 to VRP 1242 MW

Alert level - SNGRE: Yellow
Source : IGEPN
Sangay - thermal anomalies and radiative power on 04.04.20220 / 03:55 - Doc. Mirova - one click to enlargeSangay - thermal anomalies and radiative power as of 04.04.20220 / 03:55 - Doc. Mirova - one click to enlarge
Observations and monitoring data over the past two months at Whakaari/White Island gradually trend back to lower levels of unrest typical of the volcano's long-term behavior. The decision to lower the Volcanic Alert Level to Level 1 is not based on changes in a single data set, but on the GNS Science Volcano Monitoring Group's collective interpretation of all monitoring data and their trends over the past two months. Datasets considered include observations from observation flights, web cameras, gas data, vent temperatures, ground deformation, and seismic activity.
The temperature of the emitted gases and steam remains high, but has dropped to less than 300°C. Sulfur dioxide (SO2), hydrogen sulfide (H2S) and carbon dioxide (CO2) gas release rates are at or below long-term trends, as are ground deformation and l seismic activity. No minor or dilute ash emissions have been observed since late February 2022.
Taken together, these observations and the downward trends in the major data sets over the past two months are consistent with low levels of unrest. As such, the Volcanic Alert Level is lowered to Level 1 and the Aviation Color Code is changed to Green.
The Volcanic Alert Level reflects the current level of volcanic unrest or activity and is not a prediction of future activity. Volcanic Alert Level 1 indicates that the main hazards are those expected during volcanic unrest; steam discharge, volcanic gases, earthquakes, landslides and hydrothermal activity. Although Volcanic Alert Level 1 is primarily associated with environmental hazards, an eruption hazard also exists and eruptions can still occur with little or no warning.
Source: GeoNet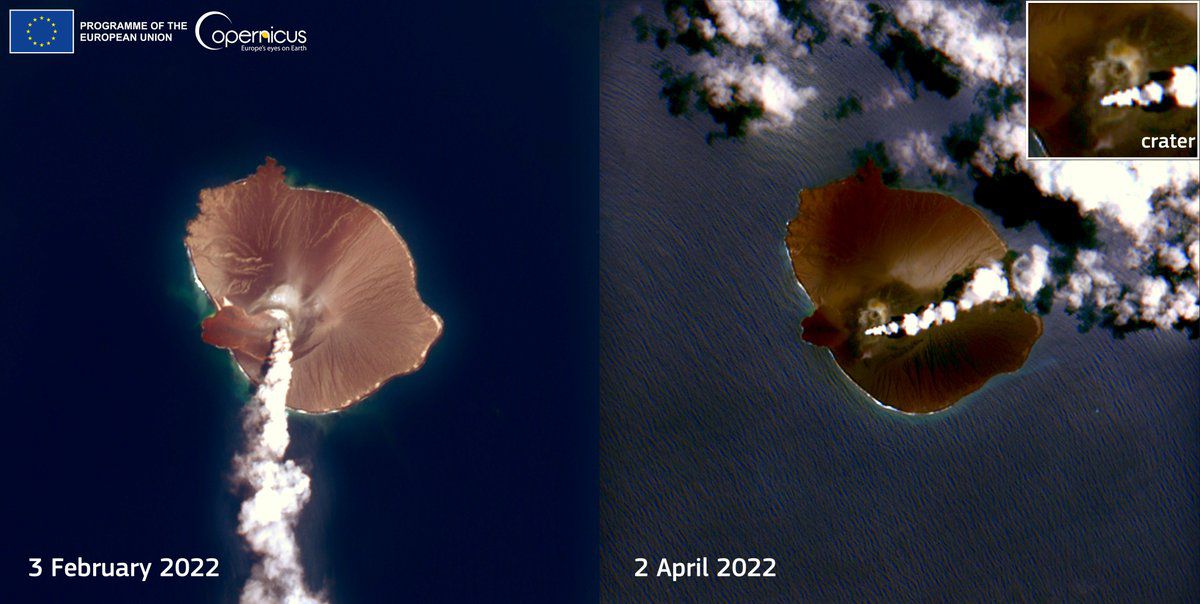 Anak Krakatau - morphological changes between February 2 and April 2, 2022 - Copernicus Sentinel-2 images - one click to enlarge
An eruption took place on March 24 and 25 on the Anak Krakatau volcano, forming a small volcanic cone in the crater area. The new shape of the crater is visible when comparing images from February 3 (before) and April 2 (after the eruption).
The activity level remains at 2 / waspada, with recommendations not to approach the 2 km zone around the crater.
Source: Sentinel-2 Copernicus and PVMBG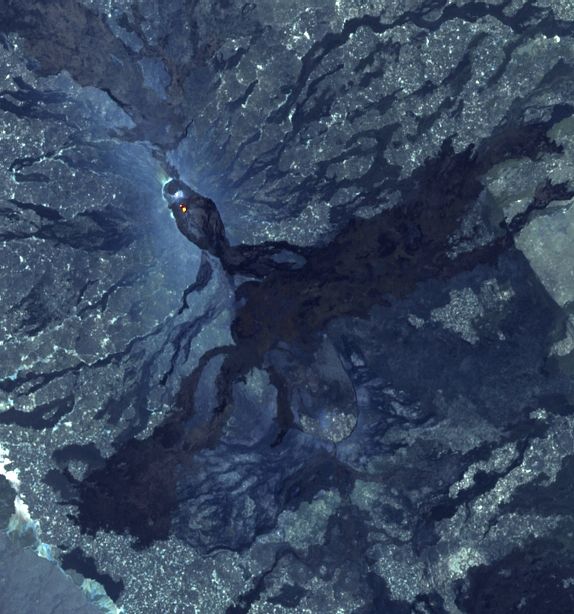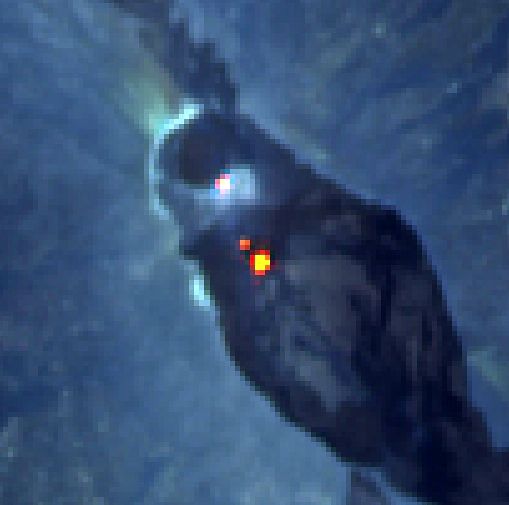 Erta Ale - images Sentinel-2 bands 12,11,8A from 03.04.2022 / 07:36 - Doc. via Mounts project one click to enlarge
Weak to moderate thermal anomalies are reported from the last week of March through April 3 at Erta Ale, with a larger spot at the southern pit crater.
This activity was corroborated by a few rare observers on site
Sources: Mirova, Mounts project and Copernicus Sentinel-2
Reykjanes Peninsula - seismic swarm on 03.04.2022 / 4.15 p.m. & 04.04.2022 / 06.55 a.m. - Doc. IMO
Around 2:00 p.m. UTC on April 3, 2022, an earthquake swarm started north of the city of Grindavík / Reykjanes Peninsula. There are similarities to a tension-breaking swarm of earthquakes, suggesting that inflation is again occurring in the Fagradalsfjall volcano. The strongest earthquake had a magnitude of Mw3.3 and the second largest earthquake had a magnitude of Mw3.0.
The swarm appears to be short-lived and in sharp decline.
Source: IMO (no comments from IMO)