Publié le par Bernard Duyck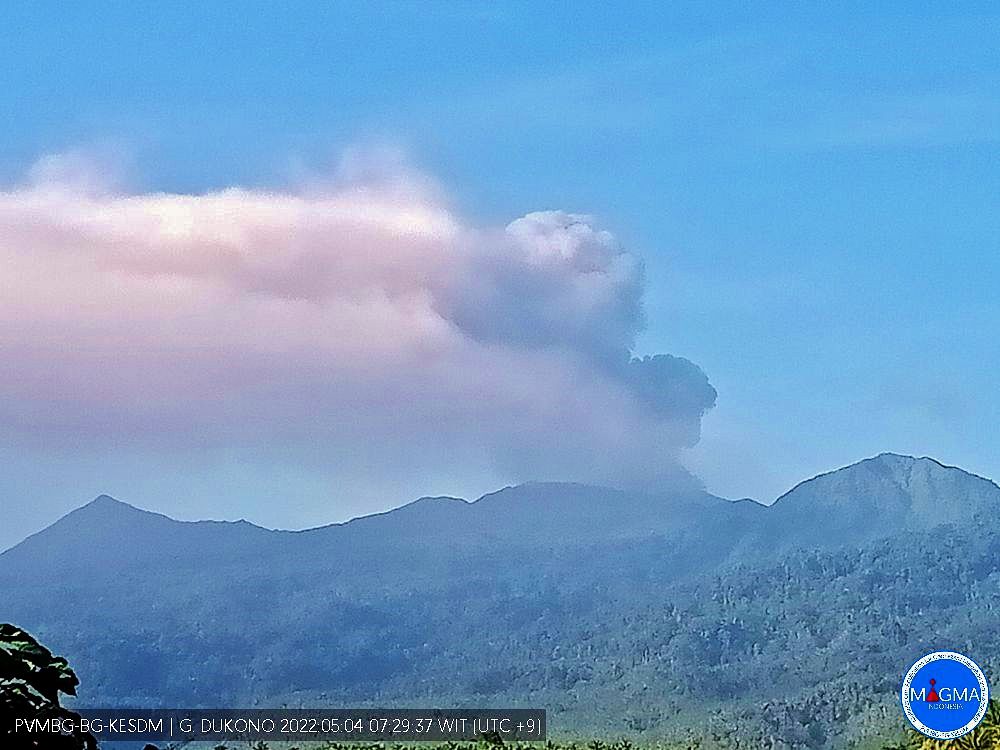 Dukono - plume of gas and ash on 04.05.2022 / 07:29 WIT - PVMBG Magma Indonesia webcam - click to enlarge
In Dukono, in activity level 2 / waspada, the PVMBG reports for May 3, 2022:
- an eruption earthquake, with an amplitude of 7 mm and an earthquake duration of 21.13 seconds.
- A local tectonic earthquake and 5 distant tectonic earthquakes
- continuous tremor with an amplitude of 0.5 to 2 mm, dominating 1 mm
Yesterday, the volcano was clearly visible, sporting a thick white to gray plume of gas and ash between 50 and 400 m. above the summit, drifting east.
On May 5, Sentinel-5P Tropomi detected a sulfur dioxide signal of 12.00 DU 5.8 km from Dukono.
Communities around Mount Dukono and visitors/tourists should refrain from activities, climbing and approaching Malupang Warirang crater within 2 km.
Sources : PVMBG, Magma Indonesia, Tropomi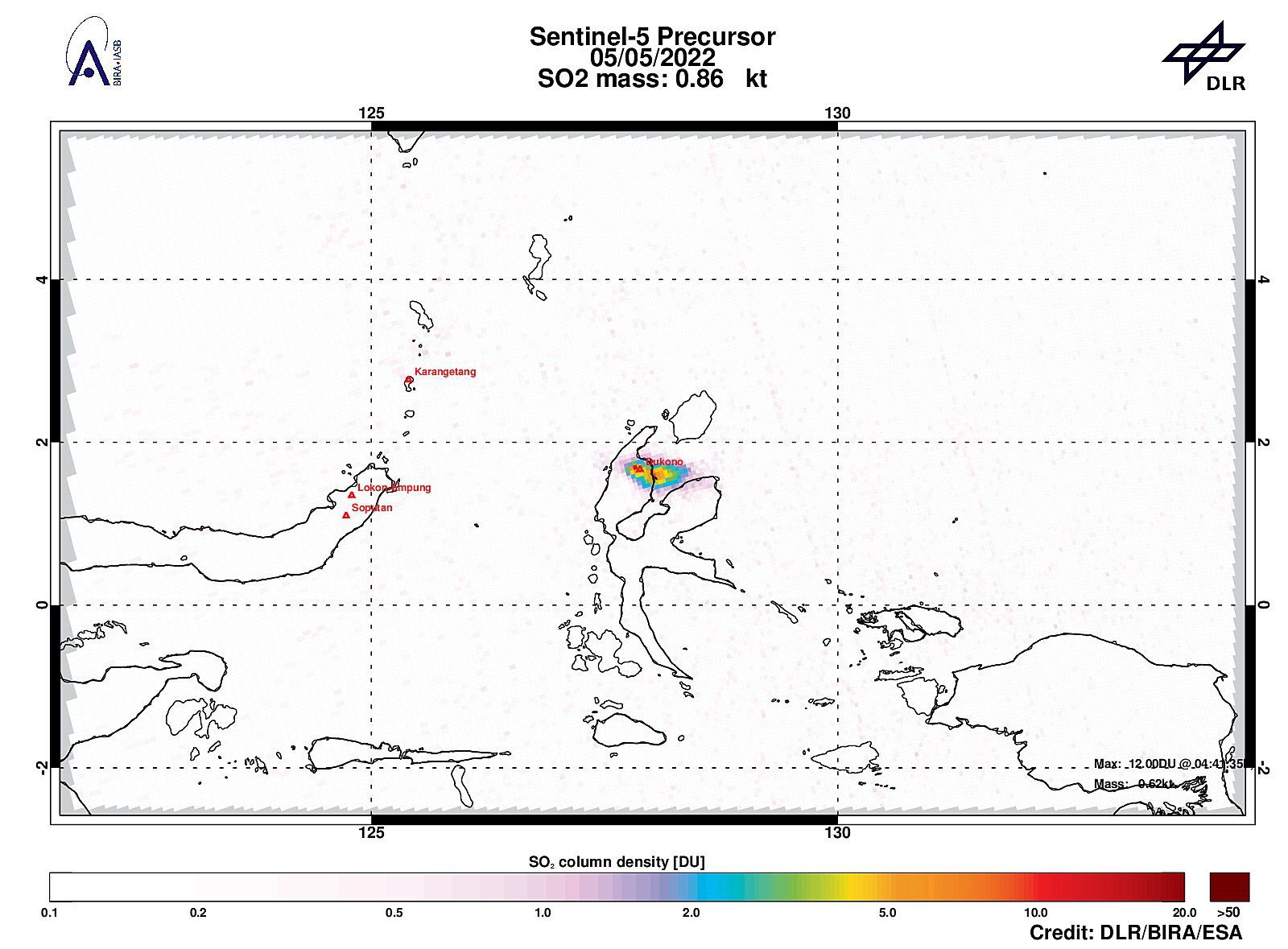 Dukono - improved SO2 signal, from 12.00DU at a distance of 5.8km from Dukono on 05.05.2022 - Doc. Sentinel-5P Tropomi / DLR / BIRA / ESA
A moderate activity continues at Karymsky.
KVERT reports ash explosions, with a plume reaching 3,000 – 3,200 meters asl, extending west southwest.
Explosions can occur at any time affecting air traffic.
The aviation code remains orange
Sources: KVERT & VAAC Tokyo
Variable rate degassing activity at the summit craters characterized Etna in April 2022.
In detail, the Bocca Nuova (BN) crater is characterized by variable and sometimes pulsating intra-crater degassing. According to the surveillance cameras, we observe that the plume consists
mainly in vapor emissions. In the early morning hours of April 27, very faint emissions of reddish ash were observed from the camera array.
The Southeast crater (SEC) has degassing of varying intensity, fed mainly by the fumaroles located along the northern edge of the crater and inside the niche formed by the collapse on the side of February 10, 2022. At 09:06 UTC the April 21, a small landslide occurred on the southern slope of the cone, which produced a modest thermal anomaly visible from the Montagnola camera. Another very modest landslide event occurred at the same site at 21:14 UTC on April 22.
Finally, with regard to the Voragine crater (VOR), no activity, not even degassing, is observed from the surveillance cameras, while the Northeast crater (NEC) shows only a weak degassing activity.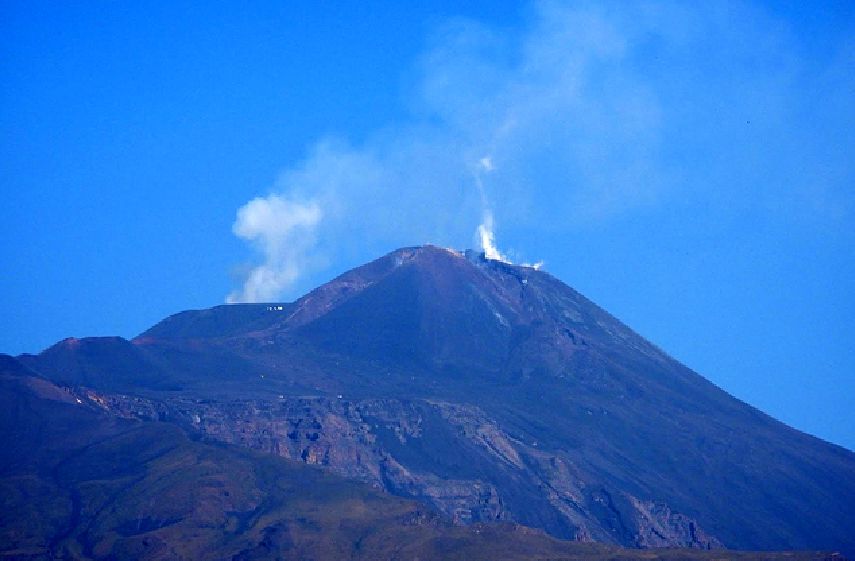 Etna - degassing at Bocca Nuova, on the left, and at the Southeast crater, on the right, on 27.04.2022 - photo INGV OE - one click to enlarge
Low fracturing activity. Tremor amplitude on medium-low and medium-low values. Sources of tremor located mainly between the Bocca Nuova and Southeast craters.
There are no significant changes in the rate of occurrence of semi infrasound, which is mainly in the Bocca Nuova crater area.
Ground deformation monitoring networks have not recorded any significant changes over the past month.
With regard to gases, the flow of SO2 at a medium-low level.
Soil CO2 flux shows a clear increase.
The partial pressure of dissolved CO2 in groundwater shows values ​​in seasonal variability.
The latest available data of the helium isotope ratio show high but stable values ​​(sampling of 11.04.2022).
Thermal activity in the summit area was at a low level.
Source: INGV OE – monthly bulletin of April 2022 / issued 03.05.2022