Publié le par Bernard Duyck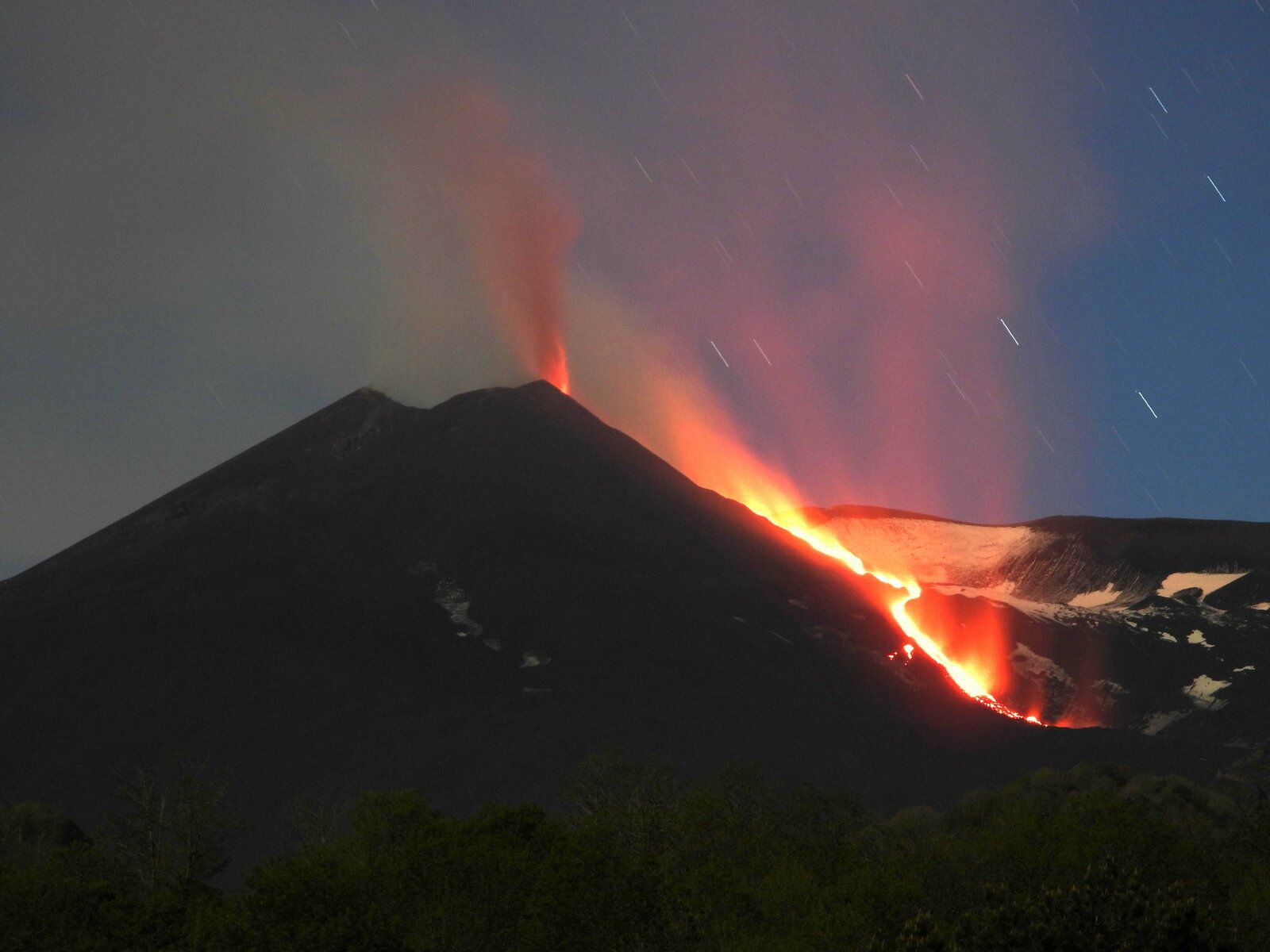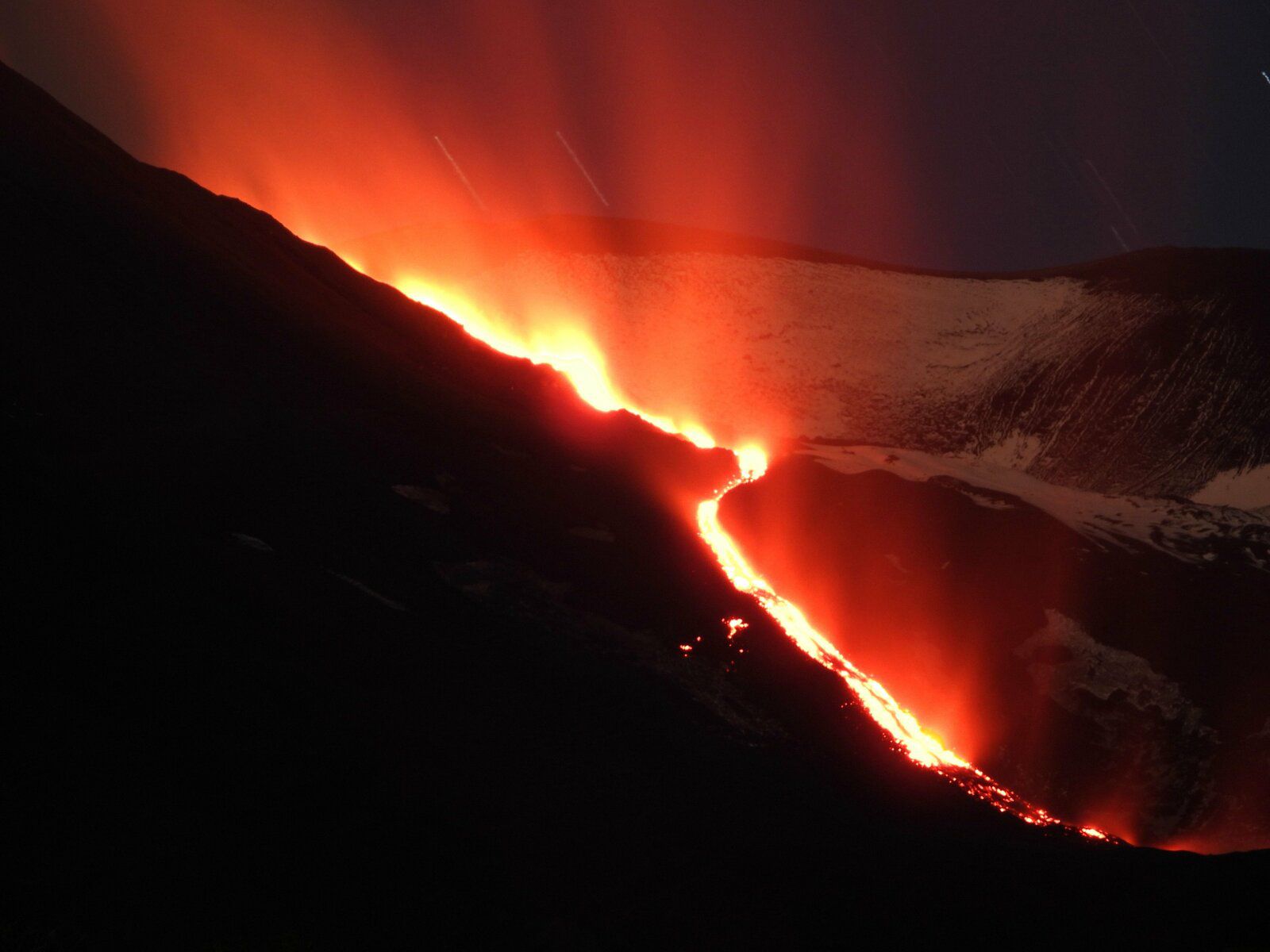 Etna SEC - the lava flow, seen from the "Mareneve" road near Fornazzo (eastern flank of Etna) on May 14, 2022 in the evening - photos Boris Behncke - one click to enlarge
The activity of the south-east crater of Etna has been mild for two days, during which the lava flows slowly from a fracture on its northern flank and feeds a flow, which stretches guaranteeing a splendid spectacle.
There are small puffs of ash, not likely to put a large area in crisis as a few months ago, and a few small dustings of incandescent pyroclastic materials, enough to ensure a beginning tourist season after the "Covid shutdown".
The tremor level remains high, in the red zone.
Sources: Boris Behncke & INGV OE
At Anak Krakatau, the main crater's observable plume is white with fine to medium intensity, rising about 25-100 meters from the summit.
The PVMBG informs a seismicity for this May 14 characterized by:
- 1 emission earthquake, with an amplitude of 8 mm and an earthquake duration of 12 seconds.
- 9 low frequency earthquakes, with an amplitude of 6 to 14 mm and an earthquake duration of 3 to 12 seconds.
- 4 episodes of continuous tremor, with an amplitude of 1-15 mm, dominating 3 mm.
Activity level remains at 3/siaga, with recommendation for people/visitors/tourists/climbers not to approach Mount Anak Krakatau or engage in activities within 5 km of the crater.
Sources: PVMBG, Magma Indonesia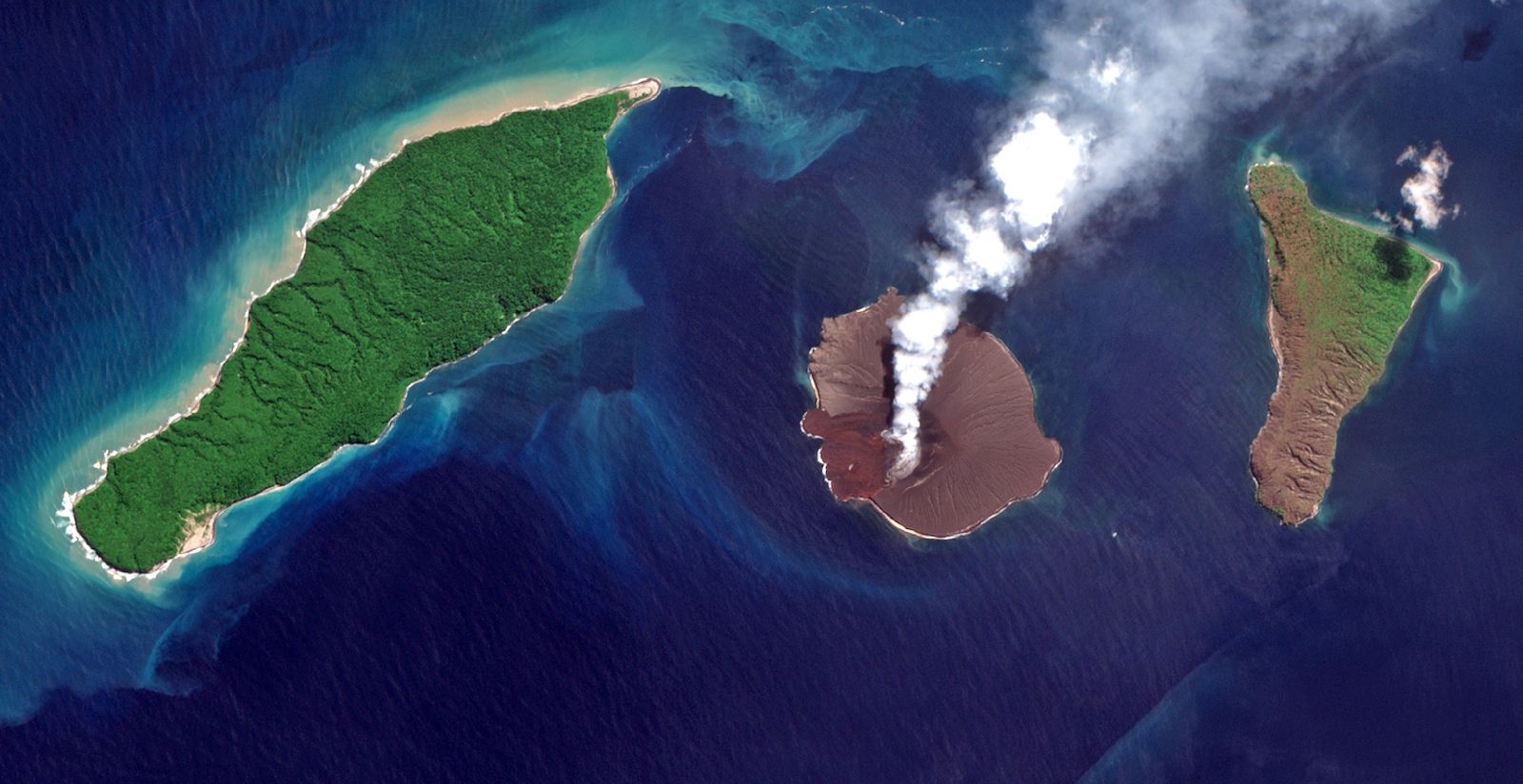 Anak Krakatau - Sentinel-2 bands 12,11,4 image from 05.14.2022 - we can clearly see the new lava delta and the gas plume marking the bese of the cone - click to enlarge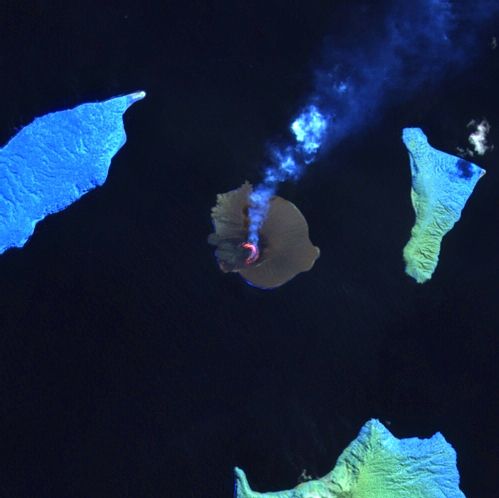 Anak Krakatau - image Sentinel-2 bands 12,11,8A - thermal anomalies and degassing as of 05.14.2022 - via Mounts project - click to enlarge
New seismic swarm in the Reykjanes Peninsula: About 400 earthquakes have occurred in the peninsula since midnight May 14 and 900 earthquakes have occurred in the past 24 hours.
Five earthquakes of magnitude greater than 3 were measured yesterday in Reykjanestá. At 7:28 p.m., the magnitude 3.2 earthquake, at 5:04 p.m. from M 3.1, at 4:41 p.m. from M 3.3, at 3:41 p.m. from M 3.5 and at At 11:09 a.m. yesterday morning, an earthquake of magnitude 3.4 was measured in the same region.
A M4.7 earthquake in the Hengill geothermal area was very well felt in Reykjavik before 5 p.m. on May 14.
" We're definitely watching for something that could be a precursor to an eruption", says Kristín Jónsdóttir, natural hazards group leader at the Icelandic Meteorological Office.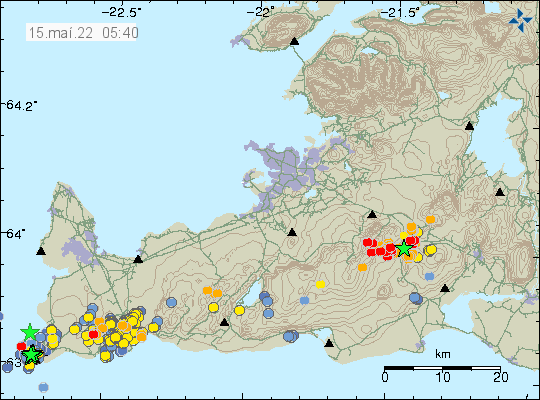 Reykjanes Peninsula - seismic swarm (with the Hengill area to the right) on 15.05.2022 / 05:40 - Doc. IMO
GPS stations near Þorbjörn have shown changes over the past two weeks that indicate a slight expansion at Svartsengi.
"These shifts that we see are around 10-15mm where they are greatest ", says Benedikt G. Ólafsson, a crustal movement specialist at the Icelandic Meteorological Bureau.
Such expansion may cause increased tension on the peninsula and promote increased seismic activity. Movements are also seen at remote GPS stations from Svartsengi following the current expansion.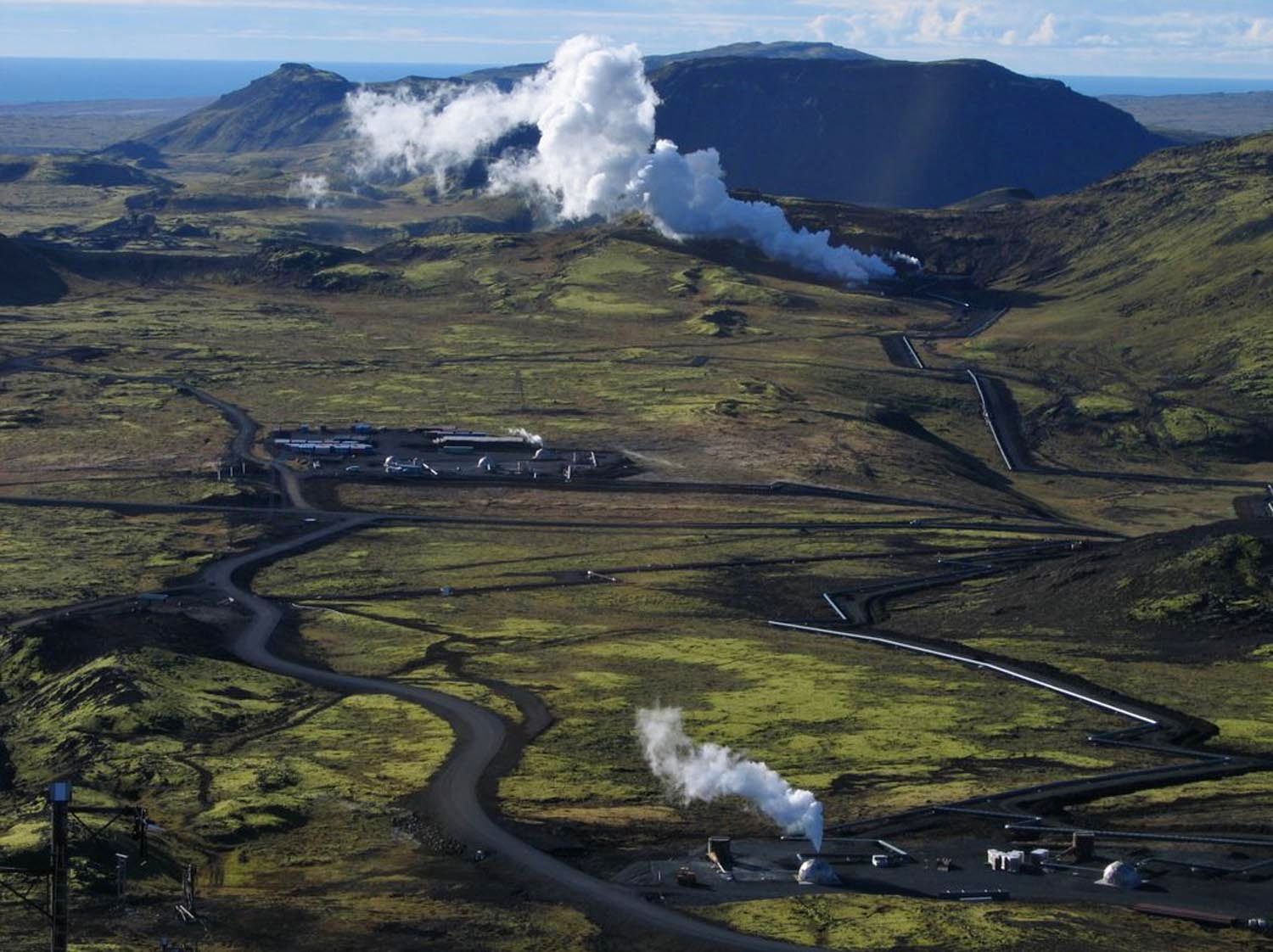 Hellisheiði power plant which uses geothermal energy from the Hengill volcanic system - photo archive Icelandic volcanoes by Dave McGarvie 2005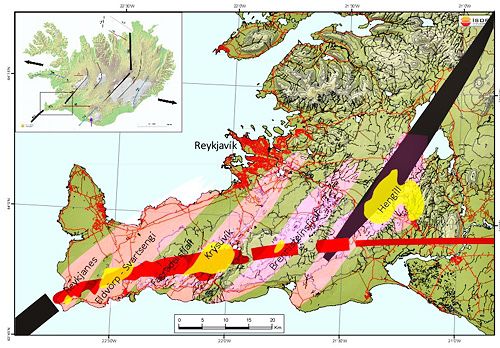 Reykjanes main structures - Volcanic systems of the Reykjanes Peninsula (in pink) and geothermal use areas (in yellow) - map Saemundsson / Iceland geosurvey research
Hengill is a volcanic mountain range located in southwest Iceland, south of Þingvellir. The mountain range covers an area of about 100 km². The volcano is still active, as evidenced by its many hot springs and fumaroles, but the last eruption occurred around 2,000 years ago, before Iceland was settled.
The volcano is an important source of energy for the south of the country, which is captured at the Nesjavellir power station and the Hellisheiði power station.
Magma collection is believed to be ongoing beneath the peninsula and has been ongoing since the end of the eruption at Fagradalsfjall.
Sources: IMO & Óróapúls