Publié le par Bernard Duyck
At Fuego, activity continues, with moderate and some strong explosions, in a range of 6 to 9 per hour, accompanied by plumes of gray ash at heights of 4,500 to 4,800 meters above sea level, that the wind scatters towards the west northwest at a distance of about 30 kilometers. Ashfall is reported at Yepocapa, La Soledad, Acatenango, with the likelihood of ashfall at Antigua Guatemala and other towns on this flank. The explosions generate moderate avalanches towards the ravines of Santa Teresa, Ceniza, Trinidad and Las Lajas which reach the vegetation. Moderate and loud explosions generate rumbling and shock waves.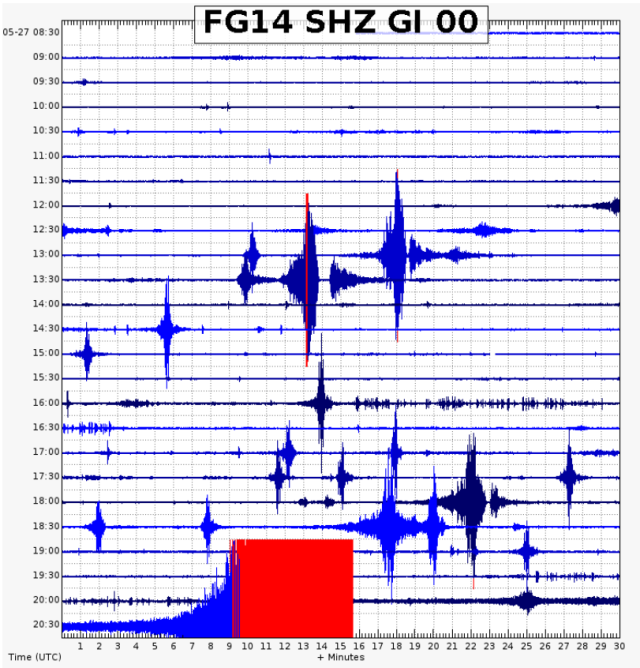 The presence of heavy rains in the upper part of the volcano, in combination with deposits from recent eruptions, is currently generating a moderate lahar in the bed of the Ceniza River, a tributary of the Achíguate River, but it can become strong in a few minutes . therefore, precautions must be taken, mainly in the area of ​​the Ceniza and Platanares rivers, since it is an area with a high probability of overflowing during these two rivers and becoming a danger due to the immensity of the area ., it must be taken into account that these lahars have the capacity to drag small vehicles and even buses, so they must not cross each other. Similar events can be generated in other ravines such as Seca, Las Lajas, El Jute, mainly.
It is also necessary to alert people who use the bridge between Las Palmas and San Antonio los Cimientos since it can be submerged by lahars, all precautions must be taken.
Source: Insivumeh May 27, 2022, 3:23 p.m. local time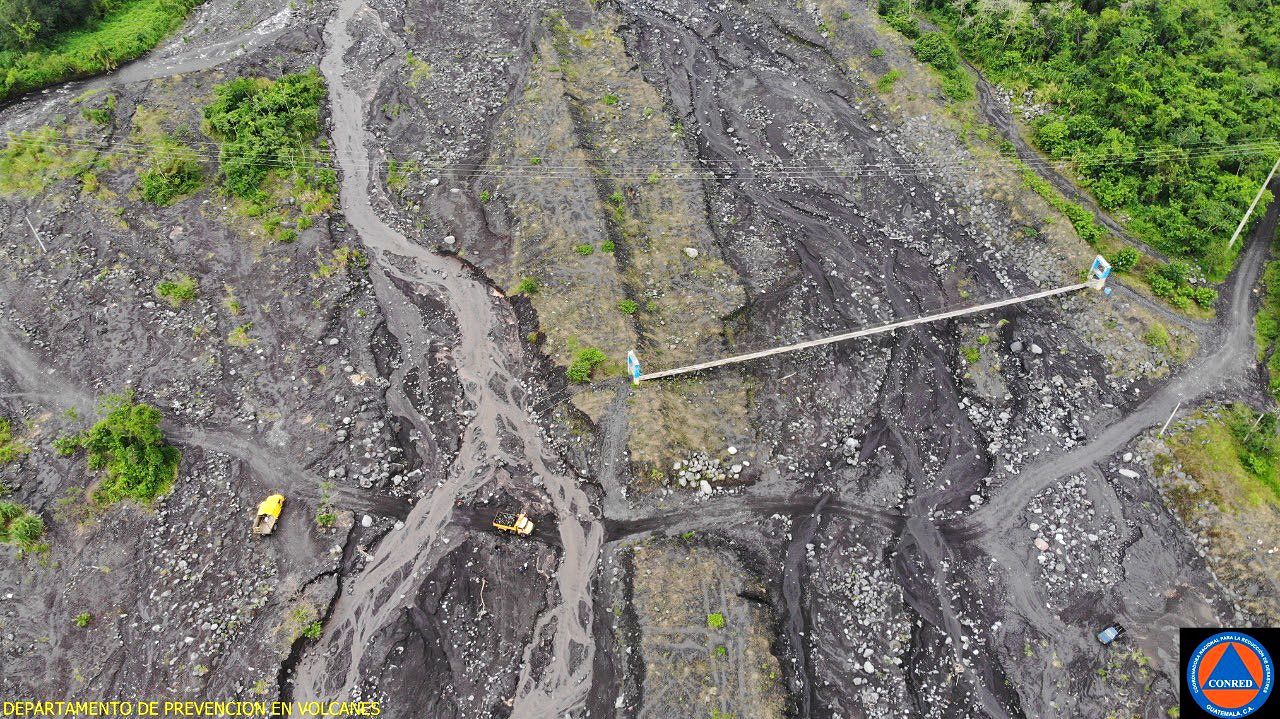 Fuego - Lahar in the barranca Ceniza on 27.05.2022 (the trucks give the scale) - Doc. Conred via W. Chigna - one click to enlarge
On May 26 at the end of the afternoon, an emission of gas and ash was observed in Reventador / Ecuador, with a height of 800 m and a direction towards the West. Thanks to images shared by ECU-911, several emissions were recorded this morning, with heights of less than 2 km. The Washington VAAC reported two
ash emissions that reached up to 988 m and the direction was west.
No thermal anomaly has been recorded in the past 24 hours.
Seismicity is characterized by 40 explosion earthquakes, 63 long-period earthquakes and 4 emission tremors.
The level of superficial activity is high, without variations, that of internal activity remains moderate.
The alert level - SNGRE remains at Orange
Source: IGEPN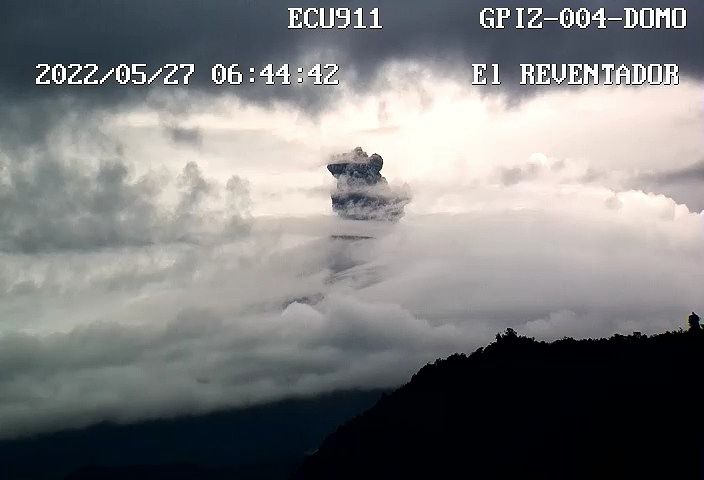 Reventador - Emission of gas and ash within 2 km snc. - ECU-911 / IGEPN camera. 27.05.2022 / 06:44 TL. - one click to enlarge
Merapi activity report from May 20 to 26, 2022
This week, there were 3 collapse pyroclastic flows, falling towards the southwest (upstream of the Bebeng River) with a maximum slip distance of 2,000 m. Lava avalanches were observed 144 times towards the southwest, dominating the Bebeng River, with a maximum slip distance of 2,000 m.
there is no change in the height of the southwest dome. For the middle dome, no significant morphological change was observed. According to photo analysis, the volume of the southwest lava dome is 1,551,000 m³ and that of the central dome is 2,582,000 m³.
The intensity of seismicity this week is still quite high. Mount Merapi's deformation that was monitored using EDM this week showed a distance shortening rate of 0.6 cm/day.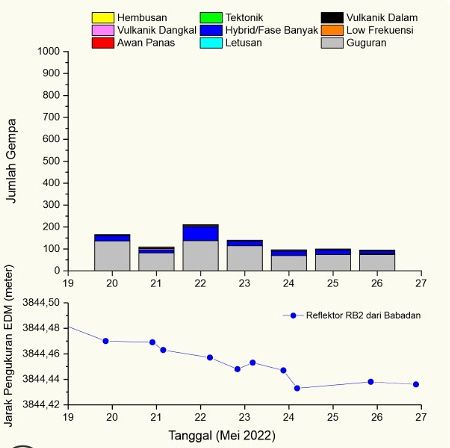 Merapi's volcanic activity is still quite high in the form of effusive eruption activity. The activity state is defined at the siaga level.
The current potential danger is lava avalanches and hot clouds in the south-southwest sector covering Boyong River for up to 5 km, Bedog River, Krasak, Bebeng for up to 7 km. The southeast sector covers the Woro River for a maximum of 3 km and the Gendol River for a maximum of 5 km. Meanwhile, the ejection of volcanic material in the event of an explosive eruption can reach a radius of 3 km from the summit.
The public should not carry out any activity in potentially dangerous areas, anticipate disturbances due to volcanic ash from the Merapi eruption and be aware of the dangers of lahars, especially when it rains around Merapi.
Source: BPPTKG