Publié le par Bernard Duyck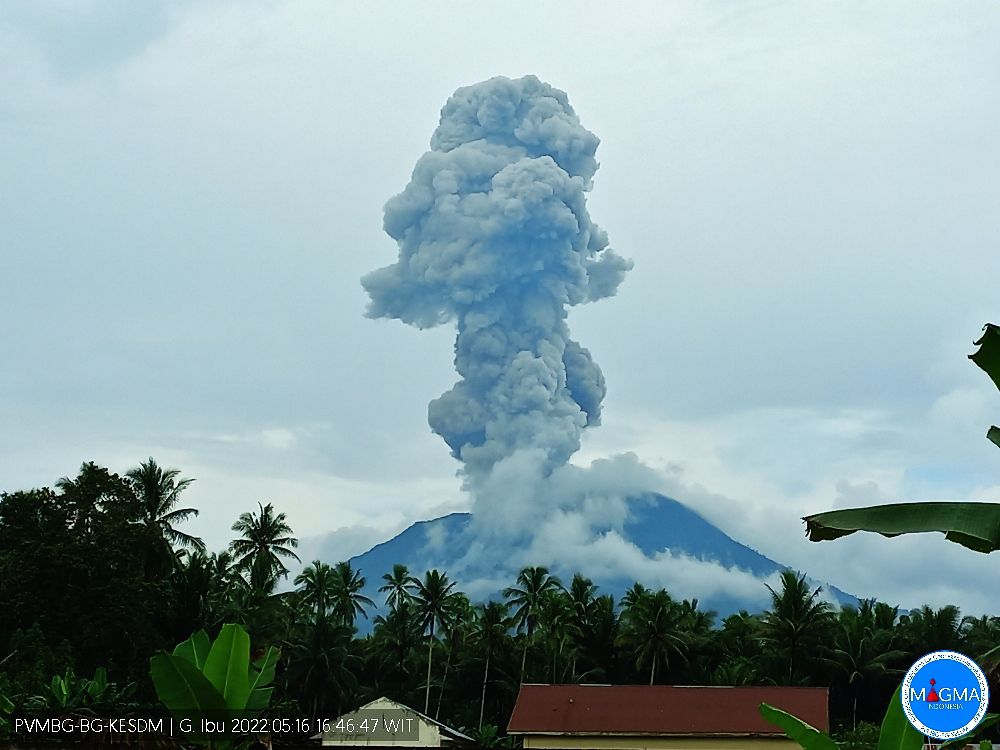 Gunung Ibu - ash plume from 05.16.2022 / 4:46 PM WIT - PVMBG Magma Indonesia webcam - one click to enlarge
The Gunung Ibu continues its eruptive phase with, this Monday, May 16, 2022 at 4:46 p.m. WIT, an ash plume observed at ± 2500 m above the summit (± 3825 m above sea level). The ash column is gray and thick, dispersing to the west. This eruption was recorded on a seismograph with a maximum amplitude of 30 mm and a duration of 154 seconds.
Activity level remains at 2 / waspada
Seismology is characterized this May 15 by:
- 49 eruption earthquakes, with an amplitude of 15 to 30 mm and an earthquake duration of 20 to 80 seconds.
- 24 avalanche earthquakes, with an amplitude of 2-3 mm and an earthquake duration of 15 to 65 seconds.
- 2 emission earthquakes, with an amplitude of 5 to 14 mm and an earthquake duration of 10 to 40 seconds.
- 9 harmonic episodes
- 24 shallow volcanic earthquakes
- 2 distant tectonic earthquakes.
Communities around Mount Ibu and visitors/tourists are advised not to travel within the 2.0 km radius and the sector expansion is 3.5 km to the crater opening in the northern part from the active crater of Mount Ibu.
Source: PVMBG, Magma Indonesia
For the week of May 9 to 15, 2022, I.G.Peru reports moderate eruptive activity at Sabancaya, with an average of 54 explosions per day, and plumes of gas and ash reaching 2,500 meters above the summit.
Over the period, 406 earthquakes associated with the circulation of internal magmatic fluids were detected, as well as VT earthquakes linked to the fradturation of rocks.
No significant deformation anomalies. Five thermal anomalies, with a max. of 68 MW have been identified by satellite, in relation to the presence of a lava body on the surface of the crater.
The volcanic alert level remains at naranja, with an inaccessible zone of 12 km radius.
Source : I.G.P. Posted on 17.05.2022
The Icelandic Meteorological Office website says that according to a GPS measurement network on the Reykjanes peninsula and InSAR satellite images, there are records from the Earth's surface that show signs of expansion indicating an accumulation of magma west of Þorbjörn.
Benedikt G. Ófeigsson, an expert in the field of crustal movements at the Icelandic Meteorological Bureau, said in an interview with Víkurfréttir that the GPS station at Þorbjörn has lifted 20 to 30 mm since the beginning of the month and continues to rise. To do.
Michelle Parks @Vedurstofan modeled the ongoing inflation signal at Svartsengi. It's in a similar location to the 3x magma intrusions we had in 2020. This one is slightly deeper (4-5km) and about half the volume compared to each 2020 intrusion. is estimated at 1.5 km³.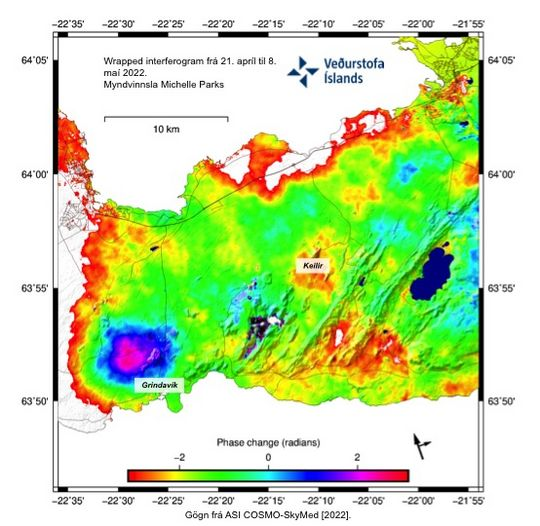 Reykjanes Peninsula - interferogram of the Grindavik region (April 21 - May 8, 2022) - Doc. Michelle Parks @Vedurstofan / via K. Jonsdottir
In light of signs of magma accumulation and expansion at Reykjanes, the VONA flight color code has been moved from green to yellow.
The National Police Commissioner, in consultation with the Suðurnes Police Commissioner, has declared the level of civil protection uncertainty as of 15 May.
Sources : IMO, Oroapuls, mbls