Publié le par Bernard Duyck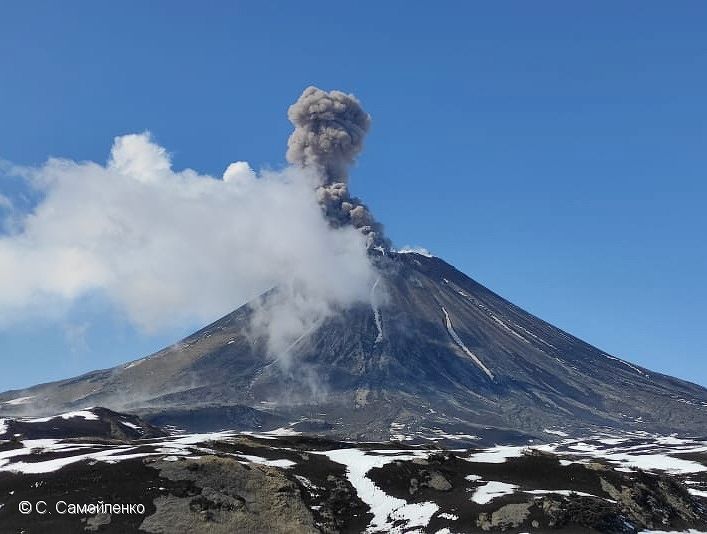 Karymsky - explosive activity as of 04.05.2022 - photo S. Samoylenko via IVS FEB RAS - one click to enlarge
A moderate eruptive activity continues at Karymsky.
A thermal anomaly over Karymsky was visible in satellite images from April 29 to May 6.
The May 4 explosions generated ash plumes that reached 3,200 m. above sea level. and drifted about 60 km to the SW.
This May 11, the explosions sent ashes up to 6,000 m. altitude, and a 7x10 km ash cloud moves 25 km west-northwest of the volcano.
Moderate activity of the volcano continues. Ash explosions up to 12 km a.s.l. could occur at any time. Ongoing activity could affect international and low-flying aircraft.
The aviation color code remains orange
Sources: KVERT & Global Volvanism Program
Low-level eruptive activity continues at Semisopochnoi on May 11, 2022.
Seismicity remains high with an intermittent tremor. Several explosions have been detected in seismic and infrasound data over the past day. Clear images from satellites and web cameras showed low level ash emissions.
Small eruptions producing minor ash deposits near the active north crater of Mount Cerberus and ash clouds generally below 3,000 m. above sea level have characterized recent activity. Small explosions and associated ash emissions may continue and be difficult to detect, particularly when heavy cloud cover obscures the volcano.

The Volcanic Alert Level is Watch, and the Aviation Code is Orange.
The Semisopochnoi is monitored by local seismic and infrasound sensors, satellite data, web cameras, and remote infrasound and lightning networks.
Source: AVO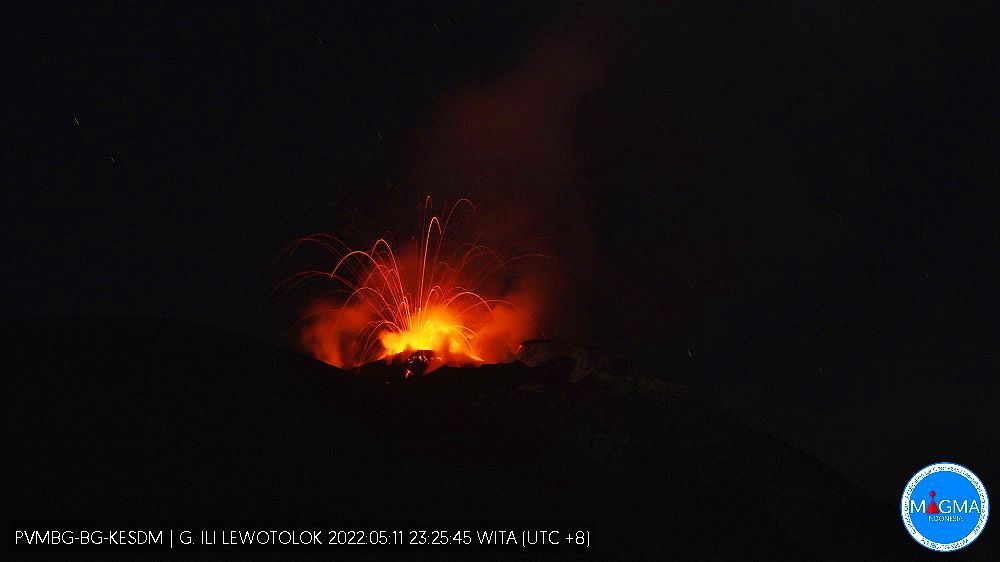 Ili Lewotolok - eruptive activity on 11.05.2022 / 11:25 p.m. WITA - PVMBG / Magma Indonesia webcam - one click to enlarge
At Lewotolok, the main crater plume is white and gray with fine, medium to thick intensity, about 100-500 meters from the summit. This May 11, 2022.
Seismicity is characterized by :
- 55 eruption earthquakes, with an amplitude of 12.4 to 38.1 mm and an earthquake duration of 25.8 to 67.8 seconds
- 73 emission earthquakes, with an amplitude of 1.9 to 25.4 mm and an earthquake duration of 22.4 to 255 seconds.
- 8 Harmonic episodes and 32 non-harmonic tremors
- 2 shallow volcanic earthquakes; 2 times with an amplitude of 5.6 to 38 mm and an earthquake duration of 25.6 to 26.5 seconds.
- 4 deep volcanic earthquakes
- 2 distant tectonic earthquakes
- 4 episodes of continuous tremor, with an amplitude of 0.2-1 mm, dominant 0.5 mm.
Activity level remains 3/Siaga-Veille, with recommendation to communities around Mount Ili Lewotolok as well as visitors/climbers/tourists not to conduct activities within 3km of Mount Ili summit/crater Lewotolok. The community of Jontona Village should always be aware of the potential threat of avalanches of weathered material which may be accompanied by hot clouds from the southeastern part of G. Ili Lewotolok peak/crater.
Source: PVMBG / Magma Indonesia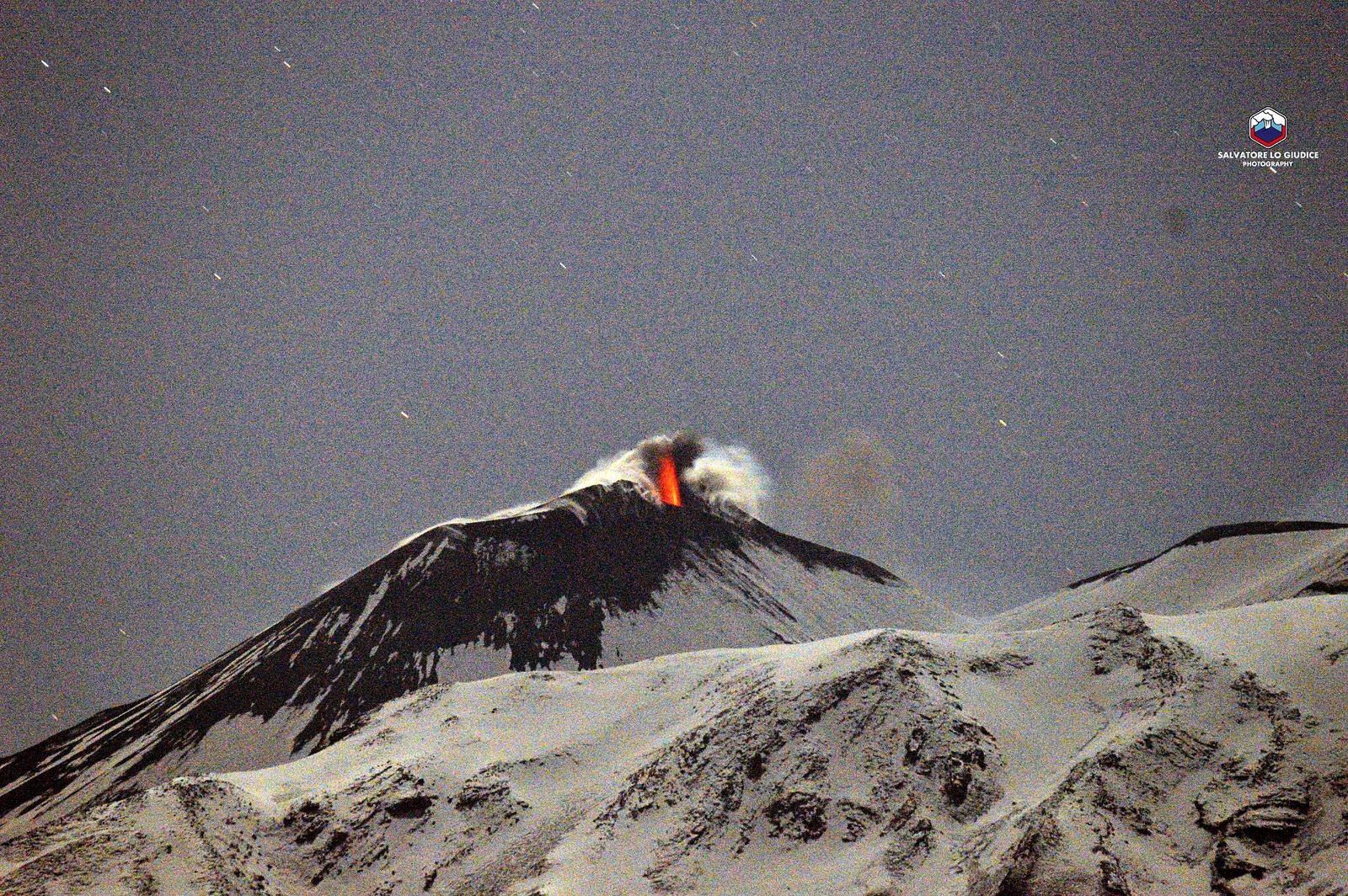 Etna SEC - burning ash emission at nightfall - photo © Salvatore Lo Giudice 11.05.2022 - one click to enlarge
Small activity in the evening of May 11, 2022 at the southeast crater of Etna, with an emission of ash and gas, lying by the winds, and a visible incandescence following the explosive activity at nightfall.
Small rise in the tremor.
Sources: Salvatore Lo Giudice, EtnaNews, INGV OE