Publié le par Bernard Duyck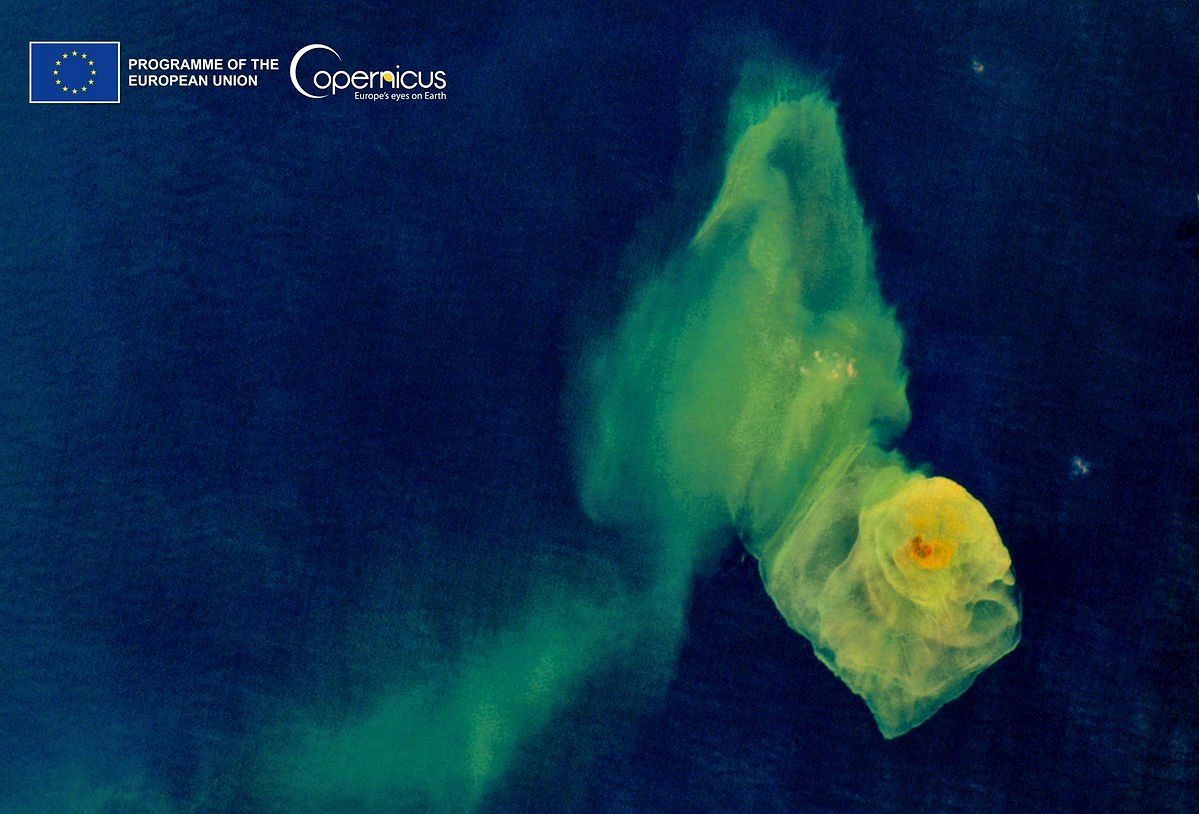 Kavachi - discolored water area - Sentinel-2 from 04.25.2022 / Copernicus via Earthart - one click to enlarge
Named after a sea god of the Gatokae and Vangunu peoples, Kavachi is one of the most active underwater volcanoes in the Southwest Pacific, located in the Solomon Islands south of Vangunu Island.
Sometimes called Rejo te Kvachi ("Kavachi's Oven"), this shallow basaltic to andesitic submarine volcano has repeatedly produced ephemeral islands up to 1 km long since its first recorded eruption in 1939. Residents of nearby islands of Vanguna and Nggatokae (Gatokae) reported "fire over water" before 1939, a possible reference to earlier eruptions.
The roughly conical edifice rises to water depths of 1.1 to 1.2 km to the north and to greater depths to the SE. Frequent shallow submarine and occasional subaerial eruptions produce phreatomagmatic explosions that eject steam, ash, and glowing bombs.
Its last reported manifestation by the GVP was on March 31, 2022, where a satellite view reported an area of ​​discolored water.
The GVP mentions a phase of eruptive activity since October 2, 2021 still ongoing.
The image taken by the Sentinel-2 satellite on April 25, 2022 confirms this.
Sources: Global Volcanism Program (GVP) & Copernicus Sentinel-2
For volcanophilatelists: two stamps from 1994 which evoke the eruptions of Kavachi in 1977 and 1978 - one click to enlarge
The Santiaguito Volcano Observatory / OVSAN reports abundant degassing of white color, with a height of 700 meters above the crater extending in a southwest and south direction. At night, incandescence was observed in the hot dome crater and in the lava flow in a west-southwest direction.
Weak and moderate avalanches continue to be recorded at the front and in the middle of the lava flow in a west and southwest direction as well as on the southern flank. The volcano maintains high activity; due to blocky lava extrusion in Caliente Dome in a west-southwest direction and unstable material within the crater, there is a likelihood of moderate to strong pyroclastic flows, so do not stay near or in the riverbeds near the slopes of the volcano.
The Insivumeh recommends instructing guides and tourists, on the ascent and parking in the areas described as dangerous in Santiaguito, and having the necessary equipment and shelters due to the low temperatures recorded in the upper part volcanoes at this time of year.
Source: Insivumeh
The period of increased volcanic unrest continues at Ruapehu. Over the past week, the level of volcanic tremor has varied, with bursts of strong tremor interspersed with short periods of weaker tremor. This represents a change in character in the shake, and the driving processes remain unclear.
The past three days have seen Crater Lake's temperature rise to 38°C, following a four-week stint of 36-37°C. Our modeling suggests that to maintain lake temperature and a subtle increase, approximately 200-300 MW is required.
Due to intensified volcanic unrest, GNS Science personnel are conducting more frequent aerial gas measurements and sampling of Crater Lake. A gas-measuring flight on April 28 recorded the sixth-highest sulfur dioxide (SO2) flux since 2003, at 390 tonnes per day. Sulfur dioxide is a strong indicator gas and is derived from a relatively shallow magma body, which is perceived to currently exist a few miles below Crater Lake. Further gas measurement flights will be conducted when weather conditions permit.
Sampling of Crater Lake was also done last week and during this visit our scientists observed Central Vent upwelling and reduced upwelling in the North Vent area. On recent visits, active upwellings were observed only at the northern vents. It is important to note that the central vent is the main vent, while the northern vents are a subsidiary vent system. We previously assumed that Central Vent was sealed off, blocking the main flow of fluids and gases into Crater Lake, but this vent now appears to be at least partially open.
Over the next four weeks, the most likely outcome of this episode of unrest is no eruption or a minor eruption confined to the lake basin. Small eruptions are still capable of generating lahars, especially in the Whangaehu River.
The next most likely scenario is an eruption that impacts the summit plateau and generates lahars in multiple watersheds, similar to what was observed after the September 2007 eruption or older events like those in 1975 and 1969.
The interpretation of this activity is consistent with elevated volcanic unrest at the Elevated Level and therefore the Volcanic Alert Level remains at Level 2. The Aviation Color Code remains at Yellow.
Source: GeoNet 02.05.2022