Publié le par Bernard Duyck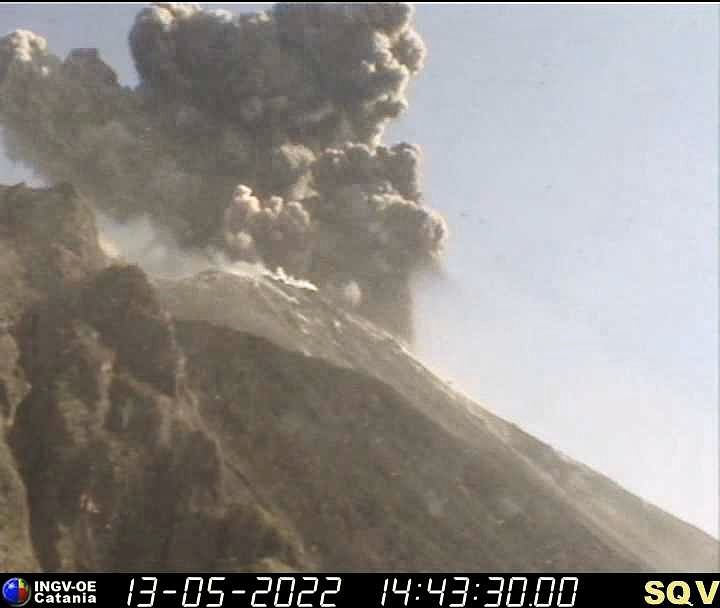 Stromboli - major intensity explosion on 05.13.2022 / 2:43 p.m. - INGV webcam - one click to enlarge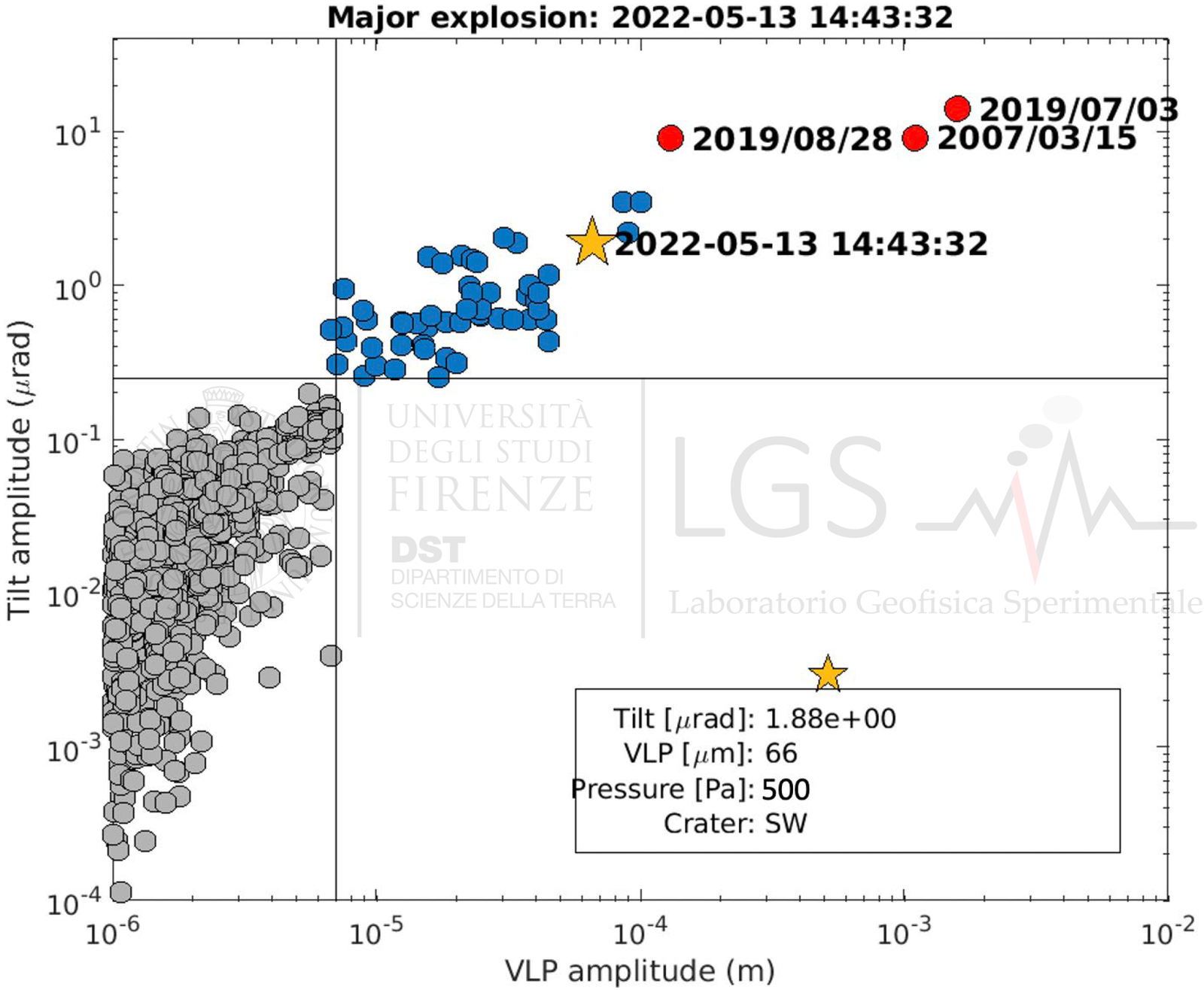 Stromboli - Comparison between seismic amplitudes (UD) and inclination. The deformations of the ground indicate that the event (star) of May 13, 2022 enters the field of major explosions – Doc. LGS
Stromboli monitoring networks recorded a thermal anomaly from surveillance cameras at 4:43 p.m. (14:43 UTC). and a sequence of explosions of greater intensity than usual from different vents in the south-central area of ​​the crater terrace.
The activity produced a significant emission of coarse pyroclastic materials which abundantly covered the terrace of the crater and also reached the Pizzo; the ash cloud produced moved towards the southern quadrants.
At 6:35 p.m. (4:35 p.m. UTC), the parameters return to normal activity.
Stromboli - 13.05.2022 / 2:43 p.m. - Doc. Volcano Time Lapse
CCTV camera images showed that the previously communicated explosive sequence of higher intensity began from one of the vents in sector CS1 of the south-central crater area and was followed by at least five other explosions also from the CS1 sector, of less intensity due to the height and the dispersion of the coarse products. These covered the crater terrace, they also fell on Pizzo, and only to a lesser extent on the Sciara del Fuoco. The fine material produced during the sequence was dispersed in the SE direction.
From the seismic point of view, the explosive sequence, which was not anticipated by significant variations in the amplitude values ​​of the volcanic tremor and the amplitude and frequency of occurrence of VLP events, was visible at all stations. Stromboli seismic waves with a succession of numerous low-frequency seismic transients. The first event, of moderate amplitude, recorded at 2:42 p.m. UTC, was followed in the following three minutes by a dozen other events, including the most energetic at 2:43 p.m. UTC.
A series of infrasonic pressure waves were generated, with maximum values ​​of 500 Pa all located in the SW crater sector.
After the sequence of events, for about 10 minutes, the amplitude of the volcanic tremor remained higher than the values ​​recorded before the explosive activity. Currently, the average amplitude of the volcanic tremor, the amplitude and the rate of occurrence of VLP events have normal values.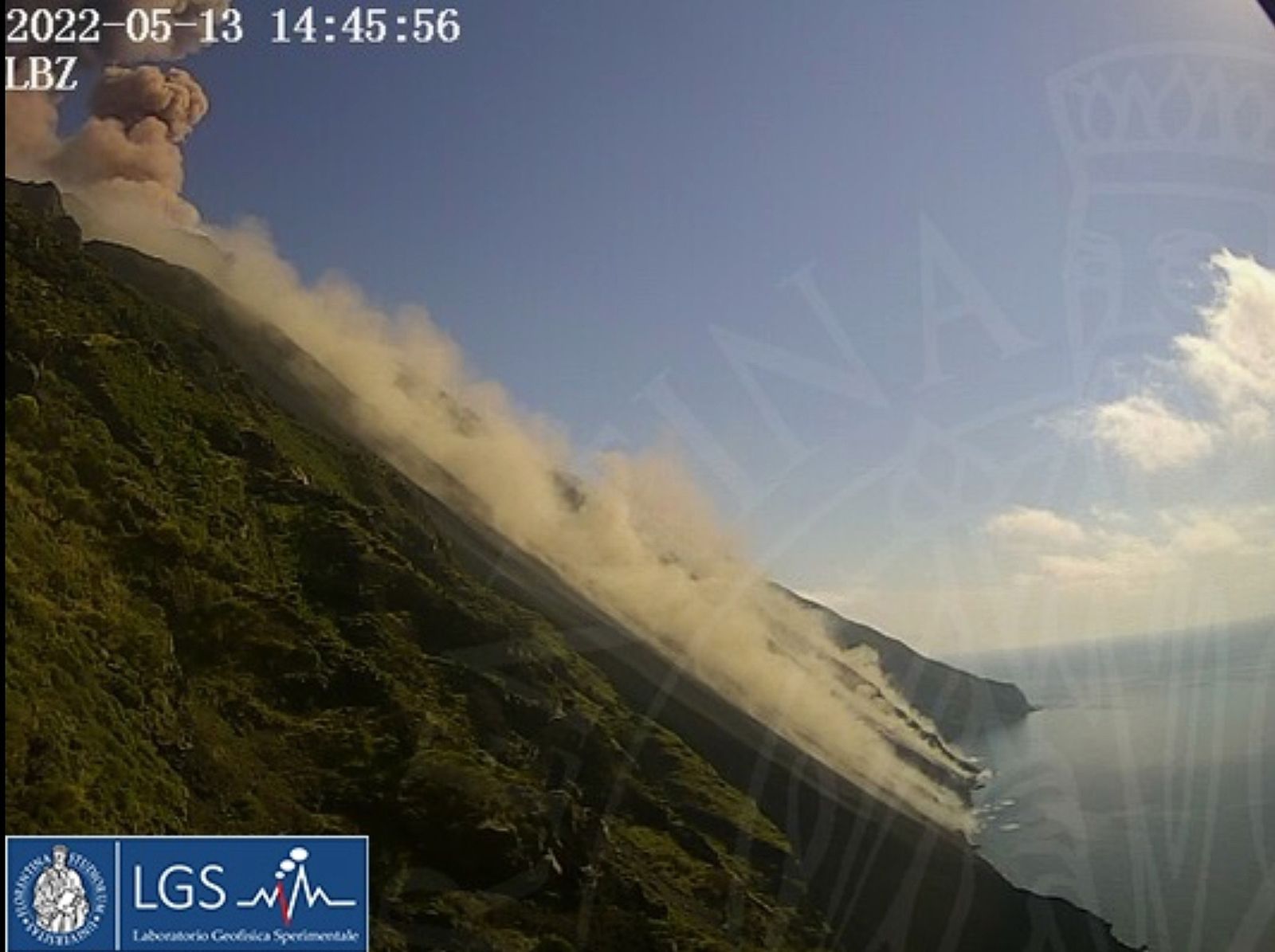 Stromboli - fall of pyroclastic materials on the summit and the Sciara del Fuoco - LGS webcam 13.05.2022 / 2:45 p.m. - one click to enlarge
Analysis of the clinometric signal from the Timpone del Fuoco station shows a transient of about 0.2 microradians during the explosive sequence, and is preceded by a gradual change in trend of the N-S component of about 0.2 microradians, which tends to enter the explosive phase later. The GNSS network did not register any significant changes during the explosive activity. However, it should be noted that from 11:30 UTC the stations of Punta Lena and Timpone del Fuoco recorded a shift towards S-SW of about 2 cm which returned around 13:30 UTC.
Once the phenomenon ended, the parameters returned to ordinary levels.
Sources: INGV OE / 3 communications of 13.05.2022, and LGS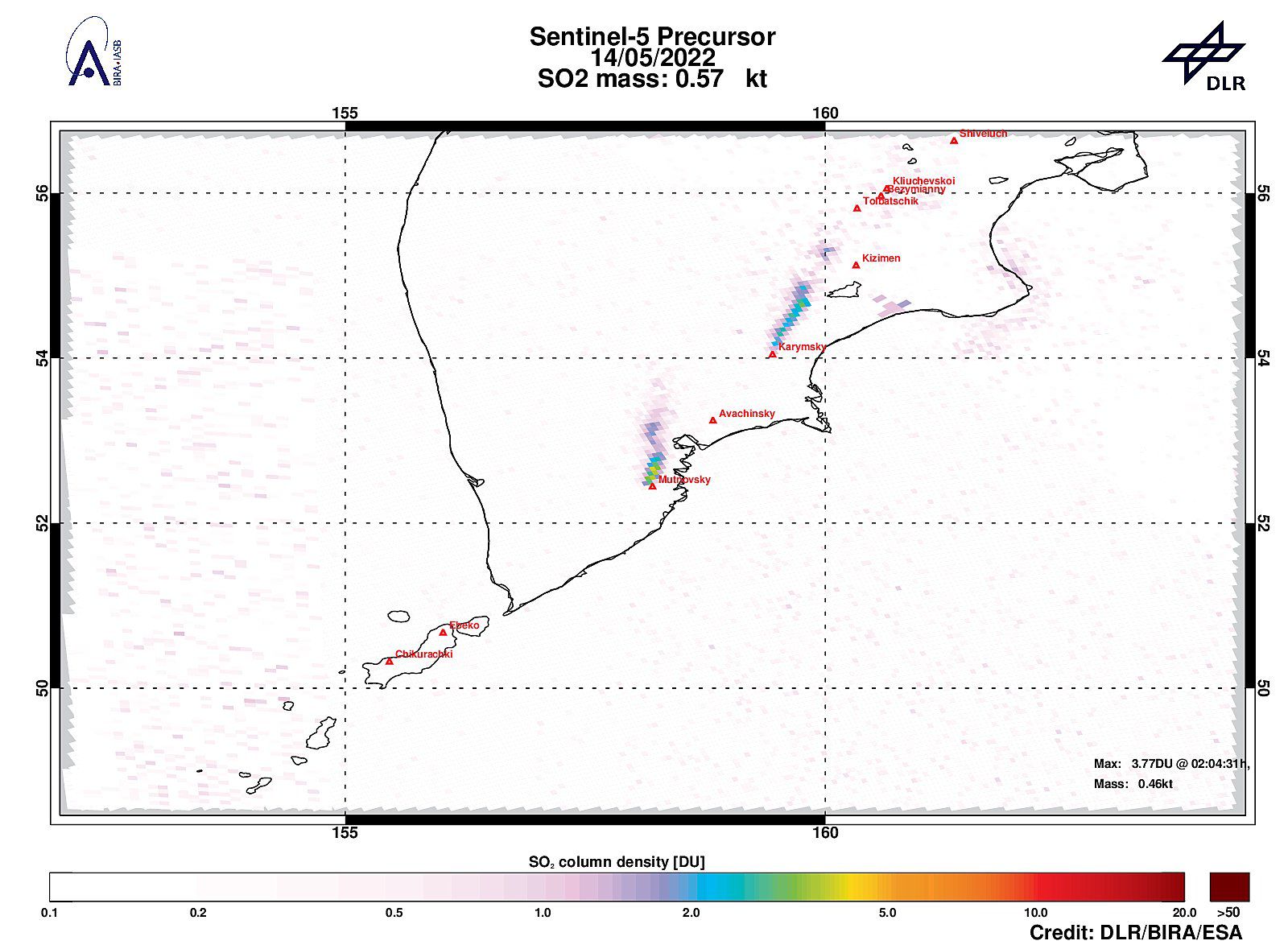 On 2022-05-14, TROPOMI detected an enhanced SO2 signal of 3.77 DU at a distance of 23.4 km from Mutnovsky. Other close sources: Avachinsky & Karymsky. - Doc. Sentinel-5P Tropomi/DLR/BIRA/ESA
A moderate eruptive activity of the Karymsky volcano continues. The explosions sent ash up to 5,500-5,700 m. amsl., the ash plume extends 28 km to the northeast of the volcano.
Sentinel-5P Tropomi detected a sulfur dioxide signal of 3.77 DU at a distance of 23.4 km from the Mutnovsky.
Explosive activity of the volcano continues. Ash explosions up to 12 km (39,400 ft) a.s.l. could occur at any time. Ongoing activity could affect international and low-flying aircraft.
The aviation code remains orange
Sources: KVERT & Tropomi
Strong northwesterly winds in the vicinity of Katmai and the Valley of Ten Thousand Smokes picked up loose volcanic ash that erupted during the Novarupta-Katmai eruption in 1912 and carried it southeast toward Kodiak Island on May 13, 2022. The National Weather Service has issued a SIGMET for this low level event and suggests the maximum cloud height is 6,000 feet above sea level.
This phenomenon is not the result of recent volcanic activity and occurs seasonally in the spring and fall during periods of high winds and dry snowless conditions in the Katmai region and other young areas. volcanics of Alaska. All volcanoes in the Katmai region (Snowy, Griggs, Katmai, Novarupta, Trident, Mageik, Martin) remain color coded GREEN.
Resuspended volcanic ash should be considered hazardous and could be harmful to aircraft and health.
Source: AVO / 13.05.2022 / 21:11 UTC
An interesting article has just appeared in Nature Communications:
"22 years of satellite imagery reveal an important destabilizing structure at Piton de la Fournaise", by Quentin Dumont, Valérie Cayol, Jean-Luc Froger & Aline Peltier.
Here is the excerpt; for the complete text, see in Source.
" Volcanic activity can induce flank failure, sometimes generating large earthquakes and tsunamis. However, the failure structures have never been fully characterized and the failure mechanism is still debated. Magmatic activity is a possible trigger, either fault slip, which could be induced by dyke intrusions, or sill intrusions, which could experience contemporaneous normal displacements and slips.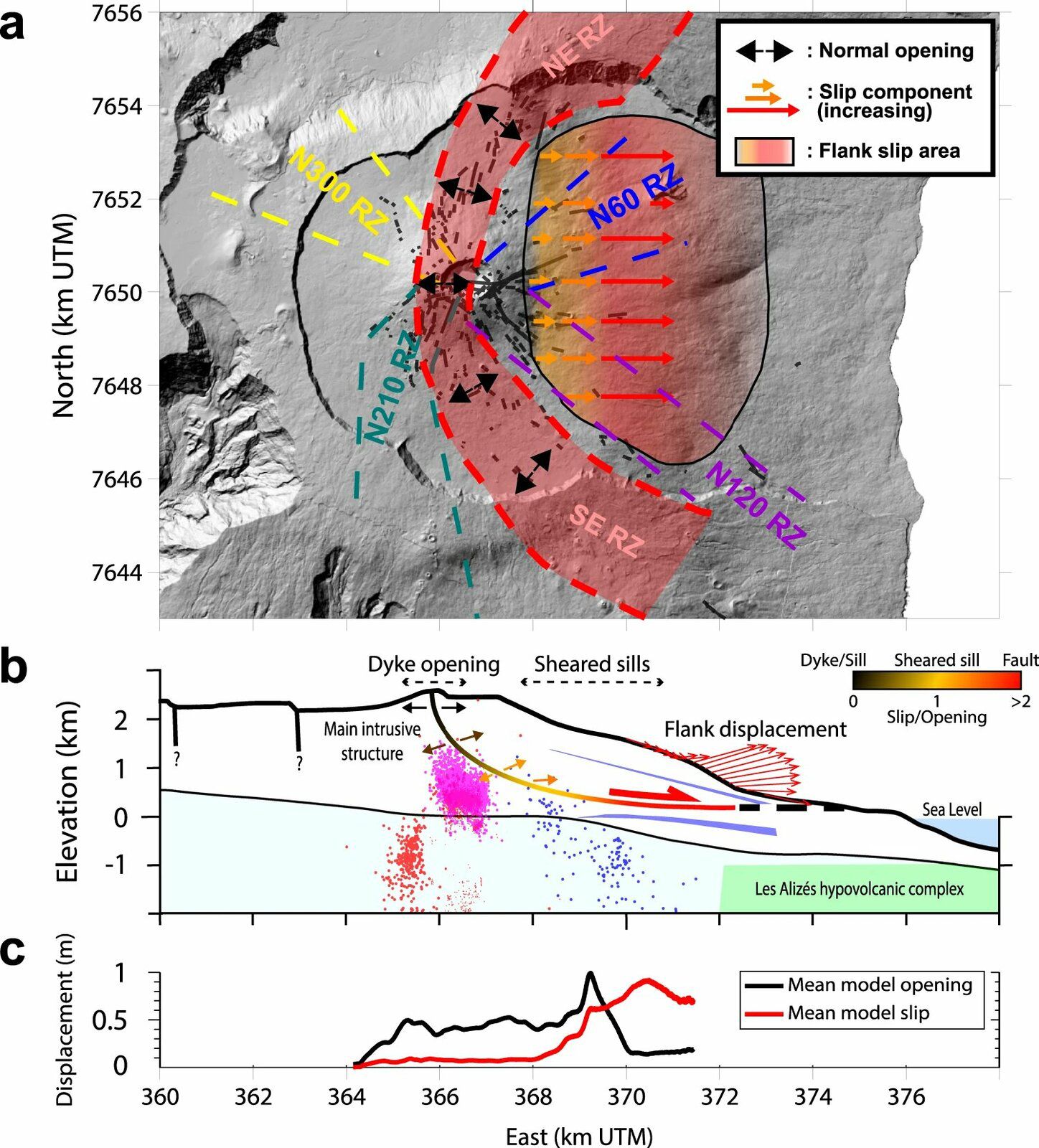 Main intrusive structure and displacement mechanism of the eastern flank. - Doc. from 22 years of satellite imagery reveal a major destabilizing structure at Piton de la Fournaise. Common Nat 13, 2649 (2022). - details in source. - one click to enlarge
At the level of the Piton de la Fournaise volcano, satellite imagery combined with inverse modeling highlights the trajectories of 57 magmatic intrusions that took place between 1998 and 2020. We show that a major arcuate dyke intrusion zone is connected at depth to a sill intrusion zone, which becomes a seaward fault zone, forming a spoon-shaped structure. Some sills are affected by contemporary normal displacement and seaward sliding.
Overall, the structure is characterized by a continuum of displacement ranging from no slip, to sheared supports, and finally to pure slip. Repeated intrusions into this spoon-shaped structure could trigger catastrophic collapses.
Source : Dumont, Q., Cayol, V., Froger, JL. et al. - 22 years of satellite imagery reveal a major destabilizing structure at Piton de la Fournaise. - Nature Communications 13, 2649 (2022). https://doi.org/10.1038/s41467-022-30109-w
This article is licensed under a Creative Commons Attribution 4.0 International License - http://creativecommons.org/licenses/by/4.0/.