Publié le par Bernard Duyck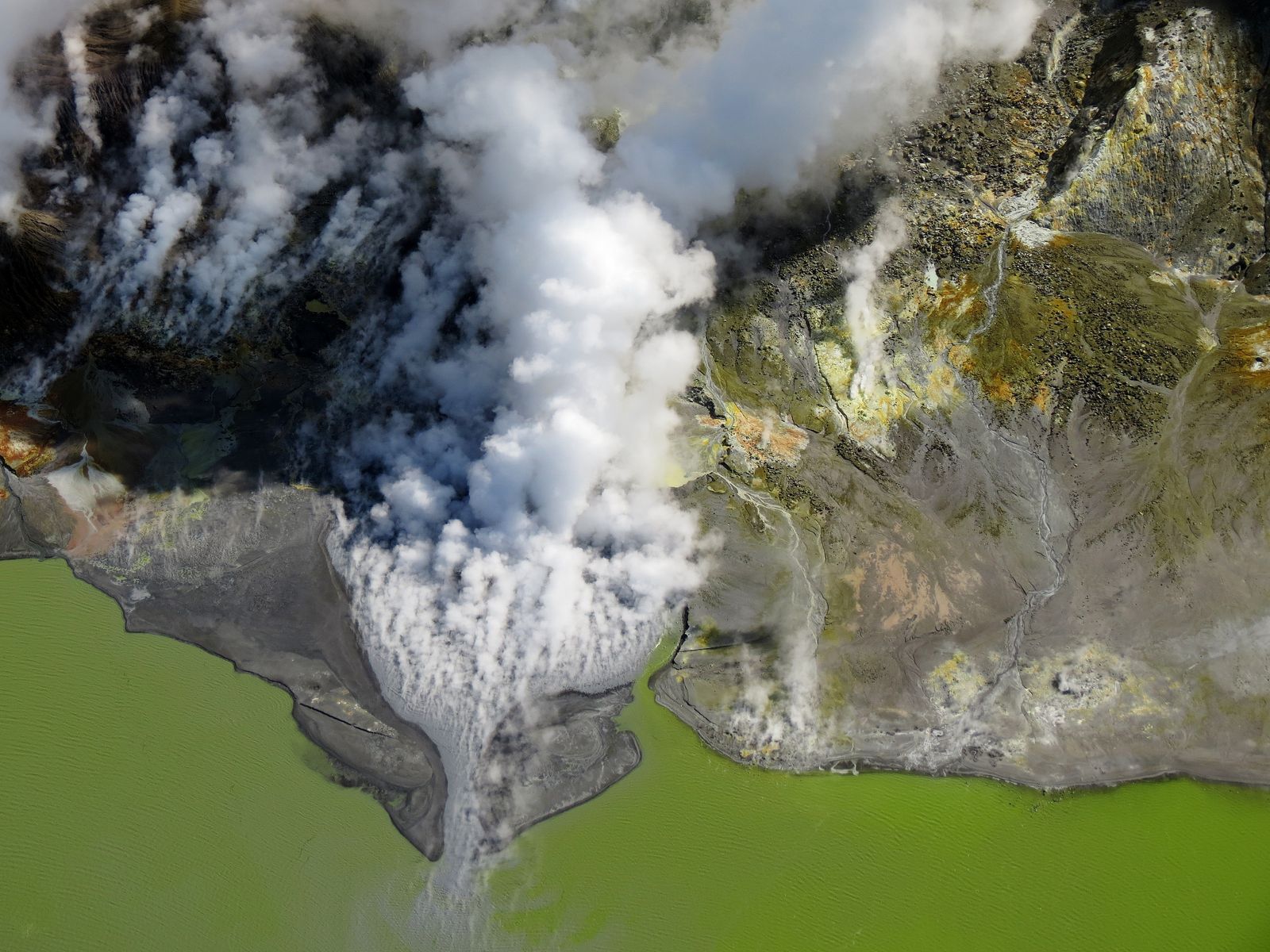 Whakaari / white island - geysering in waterlogged vent - survey flight May 2022 / GeoNet via Brad Scott - one click to enlarge
Monitoring data and observations from recent monitoring flights at Whakaari/White Island have confirmed that the level of volcanic unrest remains low.
The temperature of the gases and steam emitted continued to drop to a maximum of 111°C measured during the observation flight on April 27, 2022 (compared to 288°C on March 16, 2022).
Geyser activity was observed at one of the waterlogged vents during the same observation flight.
No minor or dilute volcanic ash emissions have been observed since late February 2022. Satellite ground deformation indicates minor uplift around the active zone of the vent lake, while seismic activity remains low.
Taken together, these observations remain consistent with low levels of volcanic unrest. The Volcanic Alert Level remains at Level 1 and the Aviation Color Code remains green.
Source : GeoNet / Brad Scott
At the Rincón de la Vieja volcano, no eruption is reported.
Seismic activity is similar, compared to yesterday.
At the time of this report, the winds are blowing to the northwest.
Several steam releases from the activity of the lake were observed, a.o. at 5:02 a.m. or 9:13 a.m. on May 08, 2022.
These exhalations are small and do not exceed the edge of the crater and therefore did not generate lahars. An almost continuous tremor with a frequency of 0.7-4 Hz and a moderate to strong amplitude is detected.
In recent days, geodetic observations show uplift and slight contraction of the summit.
Source : Ovsicori
Eruptive activity continues at Semeru, this May 8, 2022, with poor visibility, but seismic recordings on the rise:
- 111 eruption earthquakes, with an amplitude of 10-23 mm and an earthquake duration of 45-130 seconds.
- 4 avalanche earthquakes, with an amplitude of 2 to 5 mm and an earthquake duration of 40 to 50 seconds.
- 9 emission earthquakes, with an amplitude of 2 to 8 mm and the duration of the earthquake from 25 to 66 seconds.
- 5 distant tectonic earthquakes
- 2 Flood Vibration earthquakes, with an amplitude of 10-25 mm and an earthquake duration of 1260-2400 seconds.
The activity level remains at 3 / siaga, with recommendations of:
Do not carry out any activity in the southeastern sector along Besuk Kobokan, up to 13 km from the summit (the center of the eruption). Beyond this distance, the community does not conduct activities within 500 meters of the bank (river edge) along Besuk Kobokan due to the potential for expansion of hot clouds and lava flows. lava up to a distance of 17 km from the summit.
Do not travel within 5 km of the crater/summit of Mount Semeru as it is subject to fallout from incandescent projectiles.
Stay aware of the potential for hot cloud avalanches (APGs), lava avalanches and lahars along the rivers/valleys that originate at the summit of Mount Semeru, especially along Besuk Kobokan, Besuk Bang, Besuk Kembar and Besuk Sat as well as potential lahars in the rivers a small river which is a tributary of Besuk Kobokan.
Source: Magma Indonesia