Publié le par Bernard Duyck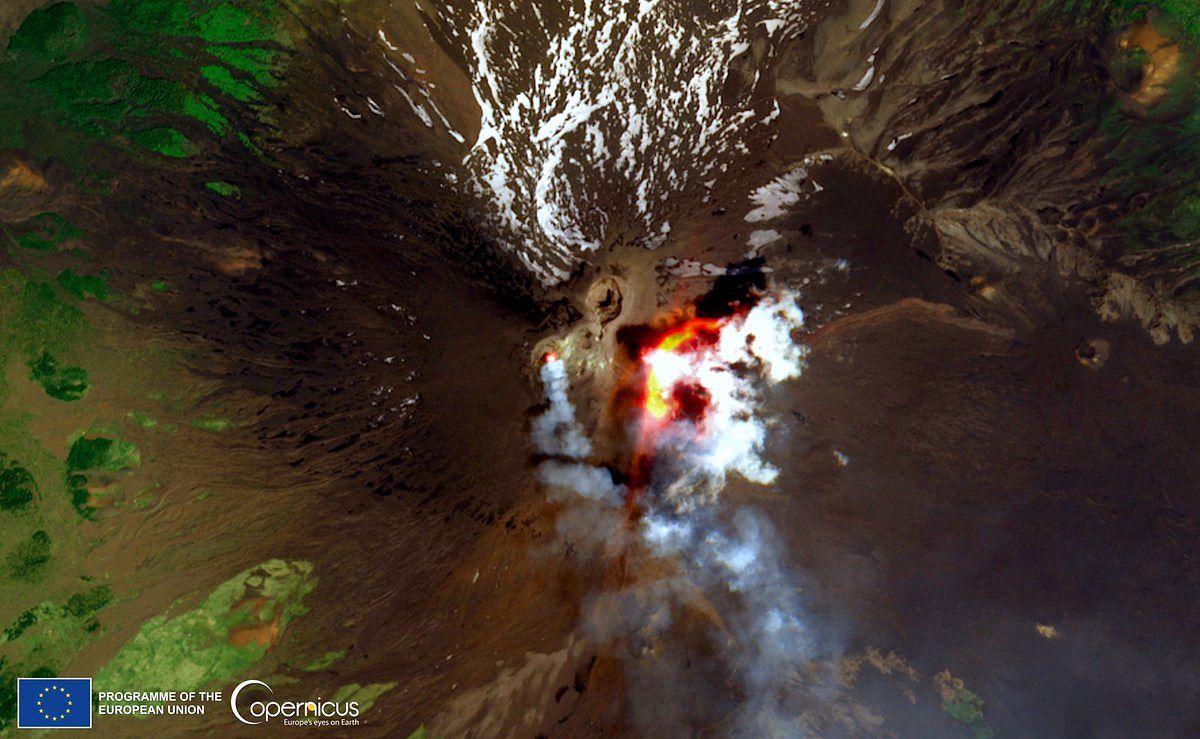 Etna - lava flows on the flanks of the SEC (note the brown horizontal trace to the right of a cooling flow) - degassing of Bocca Nuova - Sentinel-2 copernicus image from 22.05.2022 / 10h - one click to enlarge
From 17:40 UTC on May 22, 2022, there was a gradual increase in explosive activity at the level of the SE crater of Etna, which produced a visible emission of ash towards the south, reaching an altitude of about 5000 m a.s.l.
At the same time, the emission of lava continued at the level of the effusive vents formed on May 12 and 20, with variable intensity. The most advanced lava fronts are between 2800 and 2700 m altitude in the Valle del Leone desert.
From the seismic point of view, the average amplitude of the volcanic tremor, while showing large fluctuations in its trend in recent days, remains stable in the range of high values ​​/ red zone. The source of the volcanic tremor is located under the SE crater, at a depth of about 3000 m above sea level.
The infrasonic activity is quite sustained and mainly located in the SE crater.
The data from the GNSS and clinometric networks monitoring ground deformations do not show any significant changes.
Source: INGV OE, Mirova and Sentinel-2 / Copernicus
The Volcanological Observatory of the Southern Andes (Ovdas) in Temuco - reports that this Sunday at 5:04 p.m. the monitoring stations installed near the Villarrica volcano recorded a long-period earthquake associated with fluid dynamics inside the volcanic system.
Radio Bío Bío reported that -so far- no acoustic signal was noticed nor that there was a possible maximum height of a column as the direction of dispersion. The latter because the prevailing cloudiness in the area prevents direct visibility of the massif.
Technical alert remains Verde
Source: Sernageomin / Radio Bio Bio
A scientific trip to Tonga to map the impact of January's volcanic eruption has yielded "surprising and unexpected" results, scientists say.
The Niwa vessel, RV Tangaroa, has returned from its month-long Nippon Foundation-funded expedition to Japan to study the effects of the Hunga Tonga-Hunga Ha'apai eruption.
Due to the power of the explosion, researchers expected to find dramatic changes to the volcano - instead, they found it largely intact.
They surveyed a 22,000 km² area of ​​seabed and found changes covering an area of ​​8,000 km².
"There is fine sand mud and deep ash undulations up to 50 km from the volcano, with carved valleys and huge piles of sediment," Mackay said.
Niwa biogeochemist Dr Sarah Seabrook said the ash had impacts on the ecosystem.
"Volcanic ash fertilizes microscopic ocean algae through the concentration of nutrients and trace metals in the ash." In this case, there was a bloom of life so large that we could see it from space.
The second part of the mission, scheduled for the middle of next month, will see the caldera mapped by an unmanned surface vessel – for safety reasons – built by Sea-Kit International, which is en route from the UK. It will be flown from Essex, 16,000km away.
Source: Niwa via Stuff.nz