Publié le par Bernard Duyck
Etna still shows activity at the southeast crater.
Two flows were visible on Saturday evening on the southeastern flanks; Strombolian activity illuminates the crater and falling lapilli falls gild the upper slopes.
Sulfur dioxide emissions remain significant, with a cloud towards the southwest, which reaches Tunisia.
Sources: local observers and Sentinel-5P / NASA Earth Observatory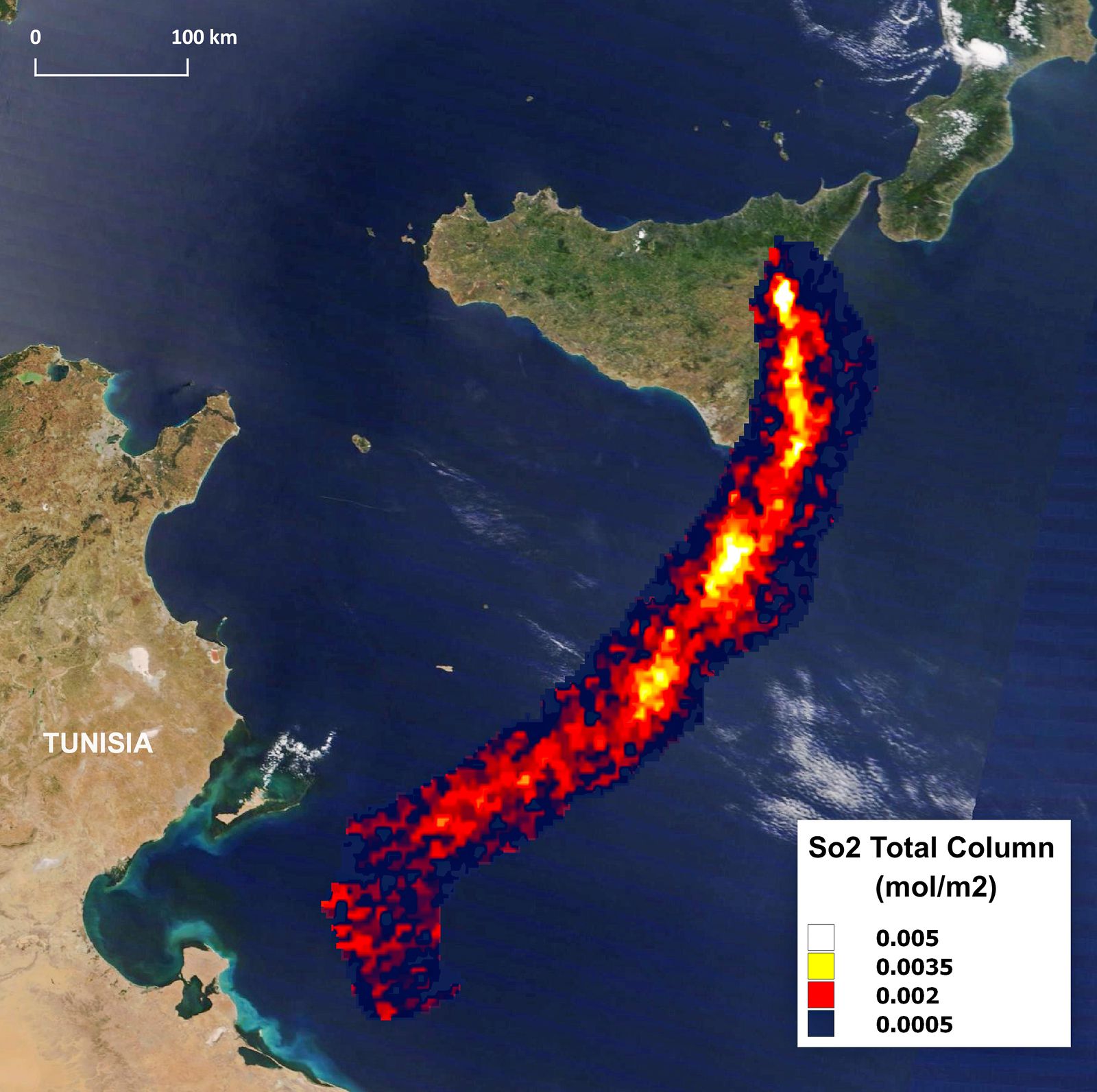 Etna - 21.05.2022 - image merging a Nasa Earth Observatory and Sentinel-5 P view, illustrating the SO2 cloud heading towards Tunisia - Doc. PlanetaryEye
Eruptive activity continues at Suwanosejima.
The episode which occurred on May 22 at 01:47 local time (21 16:47 UTC) was accompanied by a plume at 1,600 meters above the crater, the highest altitude since the start of the eruption, according to the JMA.
An ash fall is reported on the village of Toshima, 5 km away.
Source: JMA
Rincon de la Vieja Volcano
A small eruption was recorded by seismographs and infrasound sensor on May 21, 2022 at 02:51 a.m. The eruption had a duration of 7 minutes and an energy inferred from the infrasound signal of 1400 Joules. Another even smaller eruption lasting 6 minutes was also recorded today at 4:43 a.m., with an energy of 396 Joules. The deformation of the volcanic edifice is stable within the uncertainty of the measurements.
Source : Ovsicori
Strong easterly winds in the vicinity of Katmai and the Valley of Ten Thousand Smokes picked up loose volcanic ash that erupted during the 1912 Novarupta-Katmai eruption and carried it west-northwest this morning. The National Weather Service has issued a SIGMET for this low-level event and suggests the maximum cloud height is 6,000 feet above sea level.
No eruption is in progress. All volcanoes in the Katmai region (Snowy, Griggs, Katmai, Novarupta, Trident, Mageik, Martin) remain color coded GREEN. Re-suspended volcanic ash should be considered hazardous and could harm aircraft and health.
Current volcano alert level: NORMAL
Current Aviation Color Code: GREEN
Source: AVO / Friday, May 20, 2022, 11:46 a.m. AKDT (Friday, May 20, 2022, 7:46 p.m. UTC)