Publié le par Bernard Duyck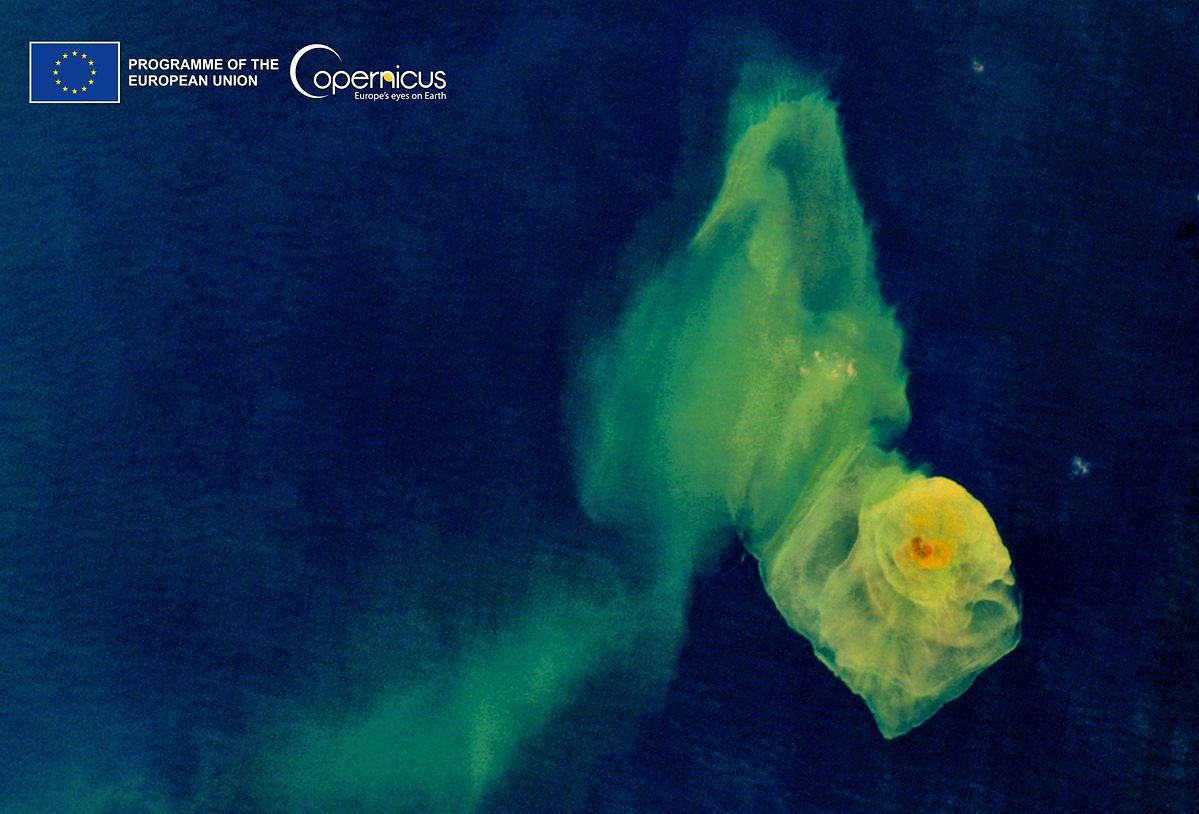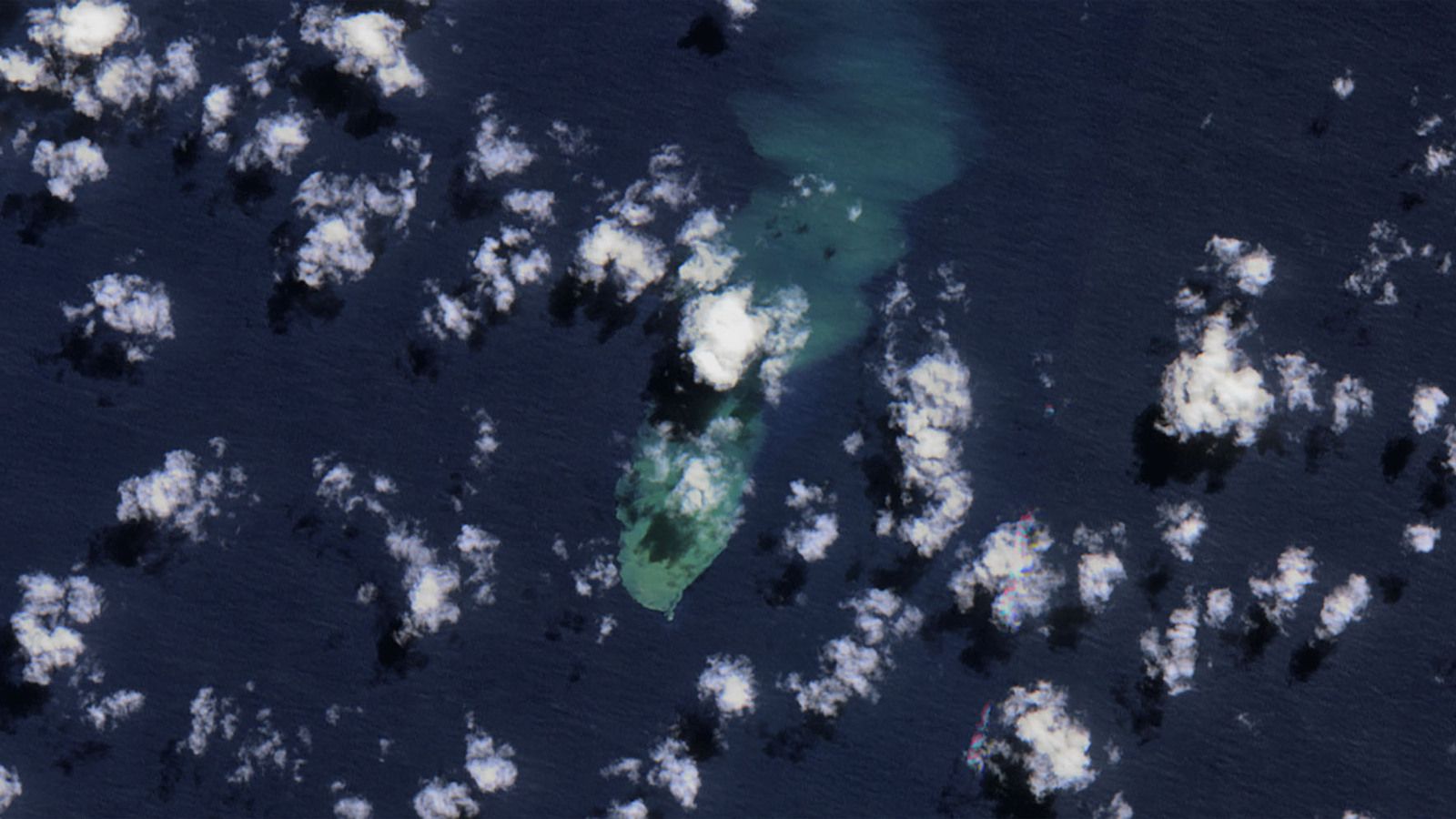 Kavachi - the eruption continues Sentinel-2 image as of 25.04.2022 and 05.05.2022 - Doc. Copernicus via "Un geólogo en apuros" - one click to enlarge
The latest Sentinel 2 / Copernicus satellite image dated May 5, 2022 which covers the area where the Kavachi volcano is located in the Solomon Islands, appears to show that the underwater eruption is still continuing judging by the clear tone of the waters and stain definition.
Source: Copernicus / Sentinel-2
The Sernageomin monitoring stations, located near the Laguna del Maule Volcanic Complex, recorded this Saturday 05/07 at 10:34 p.m., a seismic swarm of 650 volcano-tectonic events (VT) associated with rock fracturing.
The green alert is maintained.
Source: Sernageomin
The Wolf volcano (altitude: 1,710 m) located in the northern part of Isabela Island in the Galapagos archipelago, began a new eruptive period at 11:20 p.m. on January 6, 2022 Galapagos time (00:20 on January 7, 2022) .
The evolution of this eruption was monitored by seismic stations and different satellite systems, thanks to which it was possible to check mainly the emission and progression of the lava flows, as well as the emissions of volcanic gases.
The lava flows were emitted from an approximately 8 km radial fissure with at least 5 vents located on the southeast flank of the volcano. The lavas flowed reaching an approximate maximum distance of 18.5 km, without reaching the coastal margin and covered an approximate area of ​​more than 30 km2.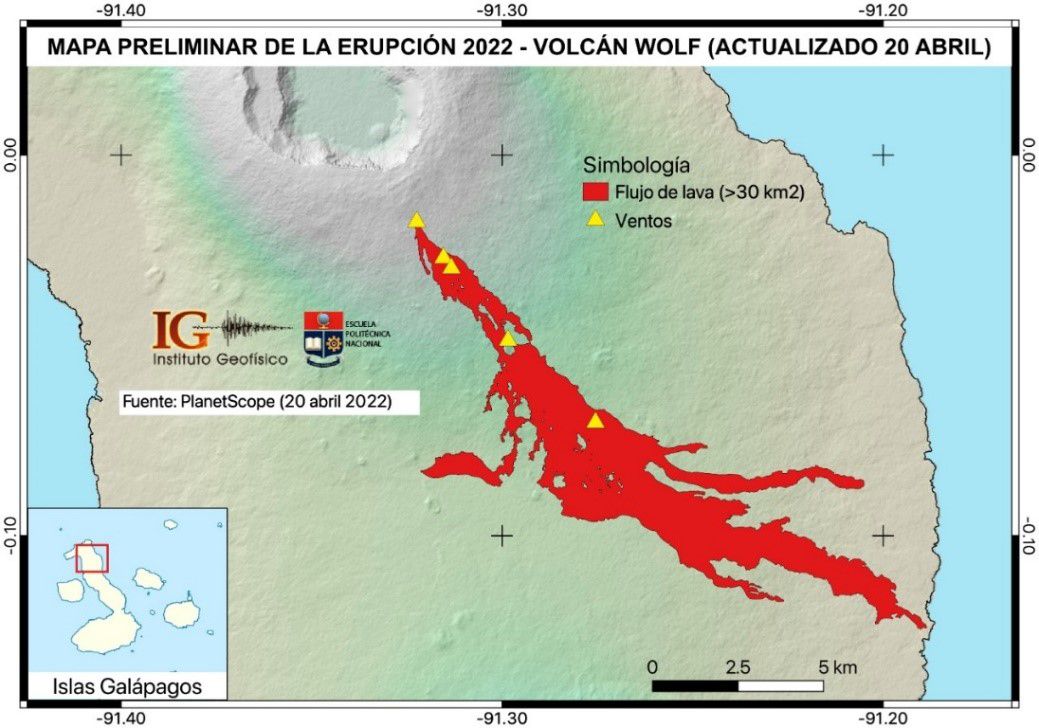 Wolf volcano - Preliminary map of lava flows emitted during the eruption of the Wolf volcano which began in January 2022 (Galapagos Islands). The map was made from PlanetScope satellite images / as of 04.22.2022 - IGEPN / F.J. Vasconez map - one click to enlarge

Wolf volcano - Sentinel 2 images, bands 8-4-3 / IR, showing the evolution of lava flows from Wolf volcano. - A) January 11, B) January 16 and C) May 1. - doc. IGEPN via Mounts project - one click to enlarge
Thermal alerts have gradually decreased in recent days to the point of being almost absent, which is interpreted as a decrease in the rate of emission of lava flows, and a significant cooling of these. Likewise, the degassing of sulfur dioxide shows a downward trend, so that as of the date of this report, a month has passed without a report of SO2 emissions.
The monitoring parameters allowing the evolution of the eruption to be assessed are: seismic activity, degassing, deformation, thermal alerts, ash emissions. These parameters reached their maximum peak in early January 2022, after which they declined until returning to baseline (non-eruptive) values. Currently, thanks to satellite images, no advance of the lava fronts is observed, which seem to have stopped 150-200 meters from the coast and have gradually cooled.
Based on the technical criteria set out above, it is considered that this eruptive period is over.
Sources: IGEPN, Mounts project.
A magnitude 3.3 earthquake was felt in the Greater Reykjavík area at 10:46 a.m. on May 07, 2022.
A second of about M 3.5 followed.
The source of the earthquake was in the northern part of Kleifarvatn, where a fairly strong earthquake has been going on for a few hours.
This is the second time in a few days that earthquakes originating from Kleifarvatn have been discovered in the Greater Reykjavík area.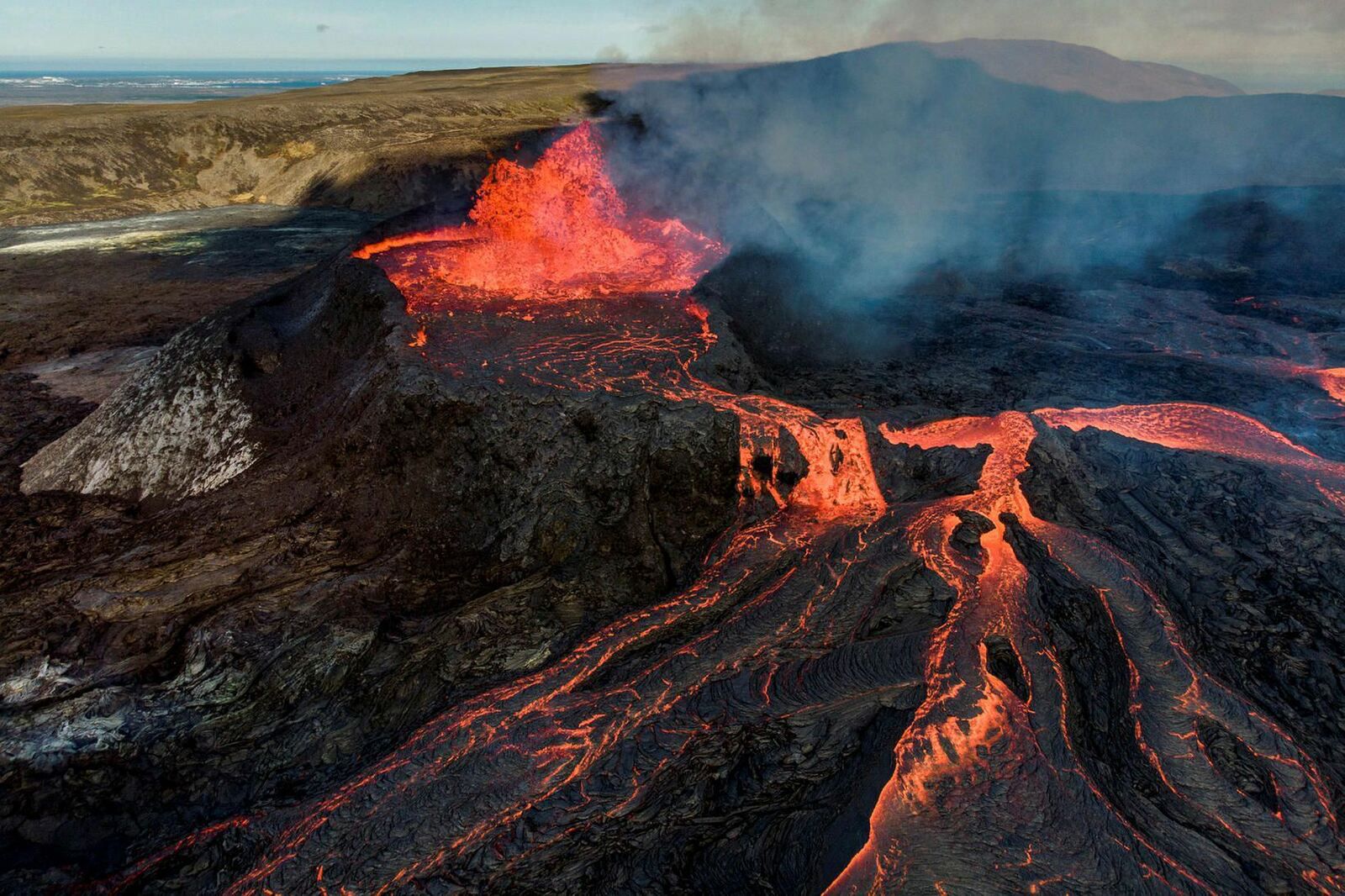 Fagradalsfjall eruption - Excessive carbon dioxide emissions can trigger eruptions. - photo mbl.is / Kristinn Magnússon - one click to enlarge
A scientific article published on May 2 in Nature Geoscience by Ólafur G. Flóvenz, geophysicist, in collaboration with experts from ÍSOR and GFZ, most likely attributes the landslides that occurred in Svartsengi in January, March and May 2020, to high pressure gases (carbon dioxide) that penetrated a conductive layer of water at a depth of about four kilometers below the geothermal system. This repeated under the Krýsuvík Central Geothermal System in August 2020. The gas pressure was sufficient each time to cause a landslide.
These events were a harbinger of the eruption that began at Fagradalsfjall on March 19, 2021. In addition to land rising and receding in high temperature areas, they also appeared in large seismic activity at Svartsengi and in changes in Earth's gravity with the landslide.
Þorvaldur Þórðarson, professor of volcanology at the University of Iceland, reacted to an article by Ólafur G. Flóvenz and others that was reported yesterday in Morgunblaðið. It was stated, among other things, that high-pressure magmatic gas probably caused terrestrial eruptions three times at Svartsengi and once at Krýsuvík 2020, and that this was a harbinger of the eruption at Geldingadalur.
Þorvaldur says that " the gas that caused the landslide in 2020 was released from the magma at a depth of 10-14 km, even deeper, which shows that the magma had already reached Fagradalsfjall. When the tremor started in 2021, the upper part of the earth's crust has opened up and magma has risen .When you look at how much outgassing was during the eruption, carbon dioxide has always been stable and has always come regardless the behavior of the eruption. However, the sulfur gases came out en masse. It is as if these two gases did not come from the same place. The sulfur gases accompanied the magma, but the carbon dioxide was like a bottom flow more regular."
The results of the study, which is the subject of the article, help people understand how magma starts from where it forms by partial melting of the mantle, settles at a certain depth and expands to until it finds its way to the surface. .
" If this is correct, then a gas pulse that causes surface deformation or an abnormally large emission of carbon dioxide can be a fairly strong predictor of an eruption ", says Þorvaldur.
Sources: IMO, Nature Geoscience, Morgunblaðið