Publié le par Bernard Duyck
A swarm of earthquakes started near Eldvörp in the Reykjanes Peninsula at 11:30 a.m. yesterday, May 15, 2022.
At 5:38 p.m. an M4.7 occurred, 2:17 p.m. an earthquake of M4.2 in this area, the earthquake was felt. At 11:35 an M3.5 occurred. Another M3.7 earthquake occurred at 12:01 p.m.
Landslides can occur on the slopes and sides of mountains when earthquakes of these magnitudes occur. Caution is advised for people in these areas.
At 4:56 p.m. on Saturday, a magnitude 4.8 earthquake occurred in Þrengslin east of Lambafell at a depth of 8 km. The earthquake was felt in southern and western Iceland. Aftershocks can be expected
Eldvörp craters - by Rafn Sigurbjörnsson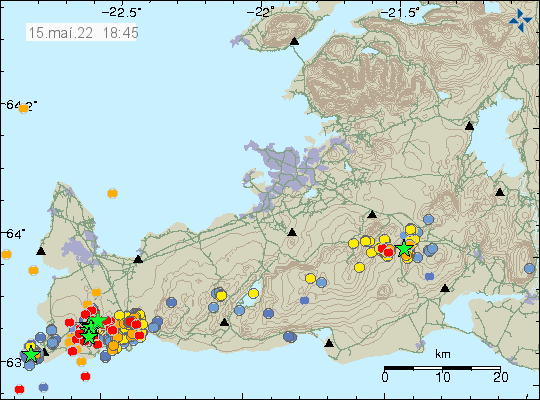 Reykjanes peninsula - seismic swarm as of 05.15.2022 / 6:45 p.m., location and magnitude - IMO - click to enlarge
A possible area to monitor and recent earthquakes: Eldvörp, name given to a row of cinder cones and spatter cones in staggered sections of 10 km, and surrounded by a lava field covering 20 km2. It dates back to a volcano-tectonic episode between 1210 and 1240, called "Reykjanes Fires".
Source: Icelandic Met office / IMO / Written by a specialist on May 16 02:23 GMT & video Rafn Sigurbjörnsson.
A look back at the Stromboli eruptions with photos by Peter Gabris:
On May 13, 2022, at 14:43:32 UTC (16:43:32 Locali), reports from the INGV OE and the Laboratory of Experimental Geophysics Laboratory / LGS - Department of Earth Sciences dell'Università di Firenze recorded a series of above-normal explosive events associated with a seismic signal in the VLP band with a maximum mass of 6.6x10-5 m (in space) and a ground deformation of about 1.88 microradiants (registered with tiltmetro OHO).
The explosions took place in a reporting phase of the very high CO2/SO2 ratio losing in the plume for some months, as reported in the weekly bulletins.
The series of explosive events generated an abundant fallout of material along the Sciara del Fuoco and also on the side of Stromboli, with hot material between 400 and 500 m altitude.
Sources: LGS, INGV OE, thanks to Peter Gabris for the photos