Publié le par Bernard Duyck
Semeru volcano experienced an eruptive episode this Sunday, May 1, 2022 at 06:30 WIB, with an ash plume observed ± 500 m above the summit (± 4176 m above sea level). It is observed that the ash column is gray in color with a thick intensity towards the southwest. This eruption was recorded on a seismograph with a maximum amplitude of 22 mm and a duration of 300 seconds.
Between 00h and 12h local on May 1, the seismicity is also characterized by
- 29 eruption earthquakes
- 19 emission earthquakes
- 1 Harmonic episode
- 1 distant tectonic earthquake
The activity level remains at 3 / siaga, with recommendations for
no activity in the southeastern sector along Besuk Kobokan, up to 13 km from the summit (the center of the eruption). Beyond this distance, the community does not conduct activities within 500 meters of the bank (river edge) along Besuk Kobokan due to the potential for expansion of hot clouds and lava flows. lava up to a distance of 17 km from the summit.
Do not travel within 5 km of the crater/summit of Mount Semeru as it is subject to the danger of stone throwing (incandescent).
To remain aware of the potential for hot cloud avalanches (APGs), lava avalanches and lahars along the rivers/valleys that originate at the summit of Mount Semeru, especially along Besuk Kobokan, Besuk Bang , Besuk Kembar and Besuk Sat as well as potential lahars in the rivers a small river which is a tributary of Besuk Kobokan.
Source: PVMBG, Magma Indonesia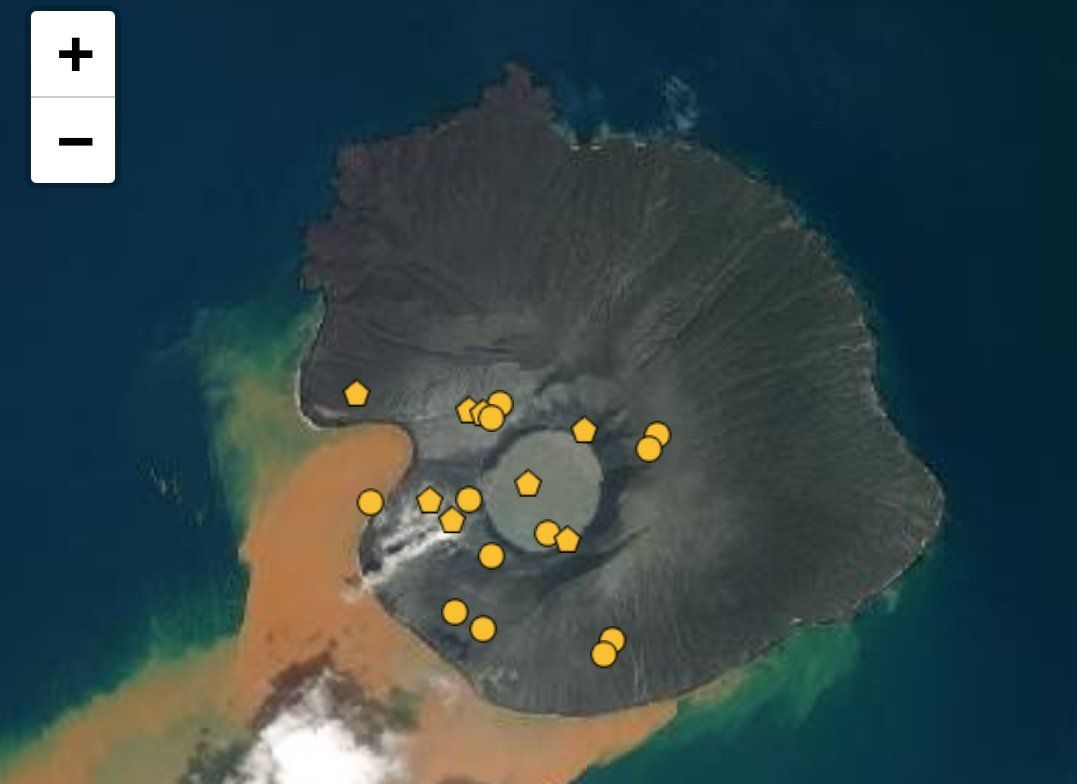 Anak Krakatau - hotspots captured by NOAA satellite as of 30.04.2022 / 7:00 p.m. WIB - via Infomitigasi
At Anak Krakatau, hotspots are still captured by NOAA/Lapansat satellites in the past 24 hours (updated 30.04.2022 / 7:00 PM WIB).
A white main crater plume was observed with fine, medium to thick intensity, about 25-200 meters from the summit.
At the seismic level, Magma Indonesia provides information for 30.04:
- 17 emission earthquakes, with an amplitude of 14 to 47 mm and an earthquake duration of 25 to 150 seconds.
- 4 harmonic episodes
- 4 low frequency earthquakes with an amplitude of 12 to 28 mm and an earthquake duration of 4 to 25 seconds.
- 2 shallow volcanic earthquakes and 1 deep volcanic earthquake
- and continuous tremor with an amplitude of 2 to 50 mm, dominating 5 mm.
Activity level remains at 3/siaga, with recommendation for people/visitors/tourists/climbers not to approach Mount Anak Krakatau or engage in activities within 5 km of the crater asset.
Source: PVMBG, Magma Indonesia
In the past 24 hours, the Taal Volcanic Network has not detected any volcanic earthquakes. Activity at the main crater was dominated by the generation of 1,800 meter high plumes that drifted southwest.
Sulfur dioxide (SO2) emissions averaged 9.123 tonnes/day on April 30, 2022.
Maximum temperatures of 66.5°C were last measured from Main Crater Lake on April 27, 2022.
Based on ground deformation parameters from electronic tilt, continuous GPS, and InSAR monitoring, Taal Volcano Island and the Taal area began to deflate in October 2021.
Alert Level 2 (decreasing unrest) prevails over Taal Volcano. DOST-PHIVOLCS reminds the public that at Alert Level 2, sudden steam-driven or phreatic explosions, volcanic earthquakes, ash fall, and deadly accumulations or explosions of volcanic gas may occur and threaten areas inside TVI and along its coast. Entry into TVI, Taal's permanent danger zone, must therefore be strictly prohibited.
Source: Phivolcs