Publié le par Bernard Duyck
At 10:37 a.m. on June 5, 2022, a phreatic eruption occurred at the summit of Bulusan Volcano that lasted approximately 17 minutes and was recorded by seismic and infrasound monitoring by the Bulusan Volcano Network (BVN).
The event was poorly visible through the cloud cover above the edifice although a vapor-rich gray plume at least 1 kilometer high was observed from Juban, Sorsogon and was later seen drifting eastward. 'west. Ashfall was reported at Juban and Casiguran, Sorsogon. Before the eruption, the BVN recorded 77 volcanic earthquakes during the last 24-hour observation period. Ground deformation data from continuous GPS monitoring indicates Bulusan Edifice has been inflated since February 2021, while electronic tilt monitoring has recorded sudden but isolated inflation of the lower southeast slopes only since April 2022 These parameters indicate that volcanic processes are underway under the edifice. which are likely caused by shallow hydrothermal activity.
The Level 1 Alert status is now high on Bulusan Volcano, meaning it is currently in an abnormal state. Local authorities and the public are reminded that entry into the permanent danger zone (PDZ) with a radius of 4 kilometers must be strictly prohibited and that vigilance in the extended danger zone (EDZ) of 2 kilometers over the southeast sector should be exercised due to the increased possibilities of sudden and dangerous phreatic eruptions. Civil aviation authorities should also advise pilots to avoid flying close to the volcano's summit, as ash from a sudden phreatic eruption can be hazardous to aircraft.
Source: Phivolcs
At the Rincón de la Vieja volcano, no eruption is reported on June 04, 2022.
Seismic activity is similar, compared to yesterday.
At the time of this report, the winds are blowing to the northeast.
A low amplitude probable exhalation signal was recorded at 11:36 p.m. without direct observation due to the night. The shaking became continuous yesterday until this last hour when it started to break up again.
A continuous degassing is observed in the morning; sulfur dioxide emissions are around 50 tonnes per day.
Source: Ovsicori-UNA
In Reventador / Ecuador, the IGEPN reports, in its daily informative bulletin on 04.06.2022 / 11 a.m., a high level of superficial and moderate internal activity, with an unchanged trend.
Seismicity is characterized by: 44 explosion earthquakes, 39 Long Period earthquakes (LP) 10 episodes of emission tremor (TREMI) - 3 episodes of Harmonic tremor
Yesterday afternoon and today morning, it was possible to observe emissions of steam, gas and ash with heights of 600 to 1,000 meters above the level of the crater heading north, north -west, west and southwest.
The Washington VAAC issued 4 reports of ash emission 988 meters above the summit in a northwest and west direction.
Firms and Mirova systems are not reporting thermal alerts in the last 24 hours.
Source: IGEPN
The IGEPN reports an increase in seismicity under the Chiles-Cerro Negro volcanic complex, located on the border of Ecuador and Colombia, 24 km west of the city of Tulcan and 130 km north of Quito. There are no confirmed historical records of eruptive activity for Chiles and Cerro Negro volcanoes.
This seismicity is characterized by volcano-tectonic (VT) earthquakes, caused by the movement of magma below the surface of the Earth. This movement results in pressure changes where the rock around the magma has been stressed. The stress can then cause the rock to break or move.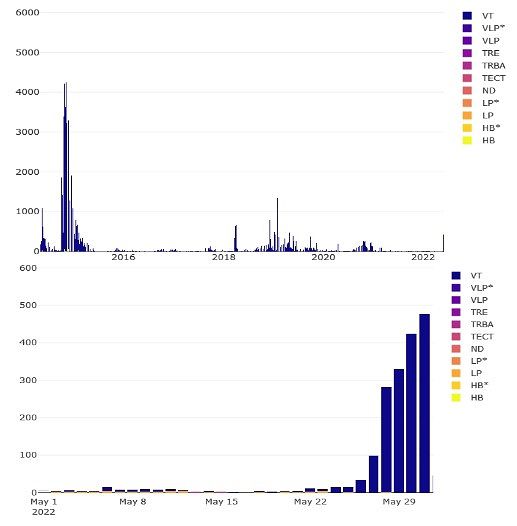 The events are concentrated on the southern flank of the Chiles volcano at depths between 0 and 2 km. below sea level.
The strongest earthquake to date was M2.5 recorded at 5:09 p.m. LT on May 29.
Source: IGEPN / https://bit.ly/3MgtNj2