Publié le par Bernard Duyck
The Reventador maintains a surface and internal activity at moderate levels, with no changes.
Seismicity is characterized by 45 explosion earthquakes, 70 LP earthquakes, 13 episodes of emission tremor, and 4 of harmonic tremor
On June 16 and 17, gas and ash emissions were observed, ranging up to 1,200 meters, with directions oscillating between SO and NO.
The WORLDVIEW system records 3 thermal alerts in the last 12 hours.
Source: IGEPN
The Sangay retains an internal and superficial level of activity, both high and unchanged.
Seismicity is characterized by 42 exlosion earthquakes, 79 LP earthquakes, and 20 episodes of emission tremor.
This seismicity reflects gas and ash emissions on June 26 and 27, observed at heights of up to 1,400 meters above sea level and directions oscillating between west and southwest.
The WORLDVIEW system records 37 thermal alerts over the past 12 hours, and Mirova reports anomalies between 2 and 1047MW on June 27-28.
Source: IGEPN
Sabancaya's activity remained at moderate levels during the week of June 20 to 26, 2022, with an average of 18 explosions per day, accompanied by plumes of gas and ash reaching 2,000 meters above the summit.
The observatory detected 248 earthquakes of volcanic origin, associated with the circulation of internal magmatic fluids and VT earthquakes, linked to the fracturing of rocks.
No significant deformation anomalies.
Six thermal anomalies, with a max. of 18 MW, are associated with the presence of a dome in the crater. The volcanic alert remains in naranja, with an inaccessible zone of 12 km radius around the crater.
Source: I.G.Peru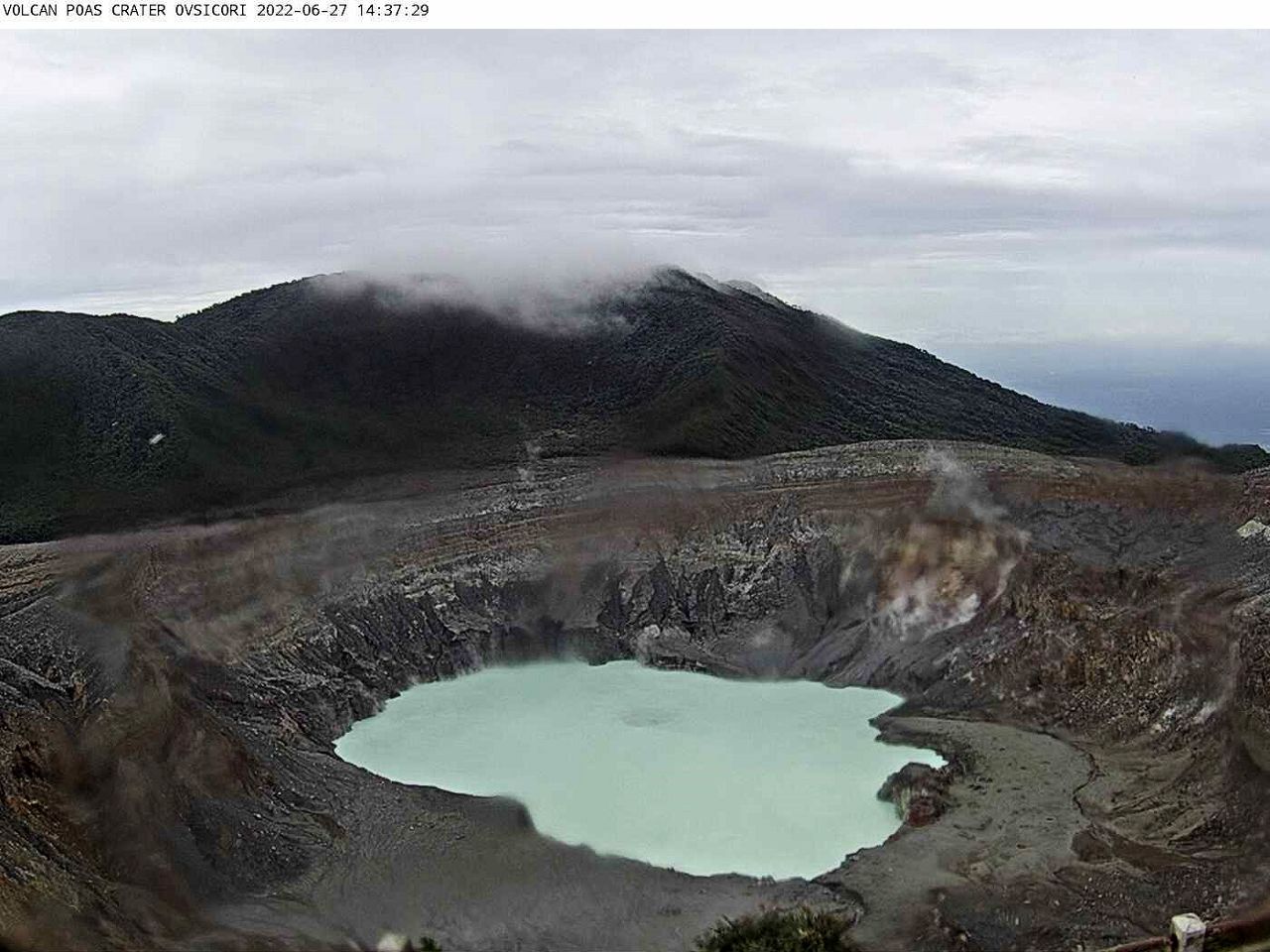 Poas - fumaroles and bubbles in Laguna Caliente 27.06.2022 / 2:37 p.m. - Ovsicori webcam - one click to enlarge
In Costa Rica, the Poas volcano is not erupting.
Bubbles are observed in the lake, produced by fumaroles located below the level of the lake.
The fumaroles on the east wall of the crater remain active.
Low frequency and low amplitude earthquakes are observed. No significant deformation of the volcanic edifice is observed.
Source: Ovsicori