Publié le par Bernard Duyck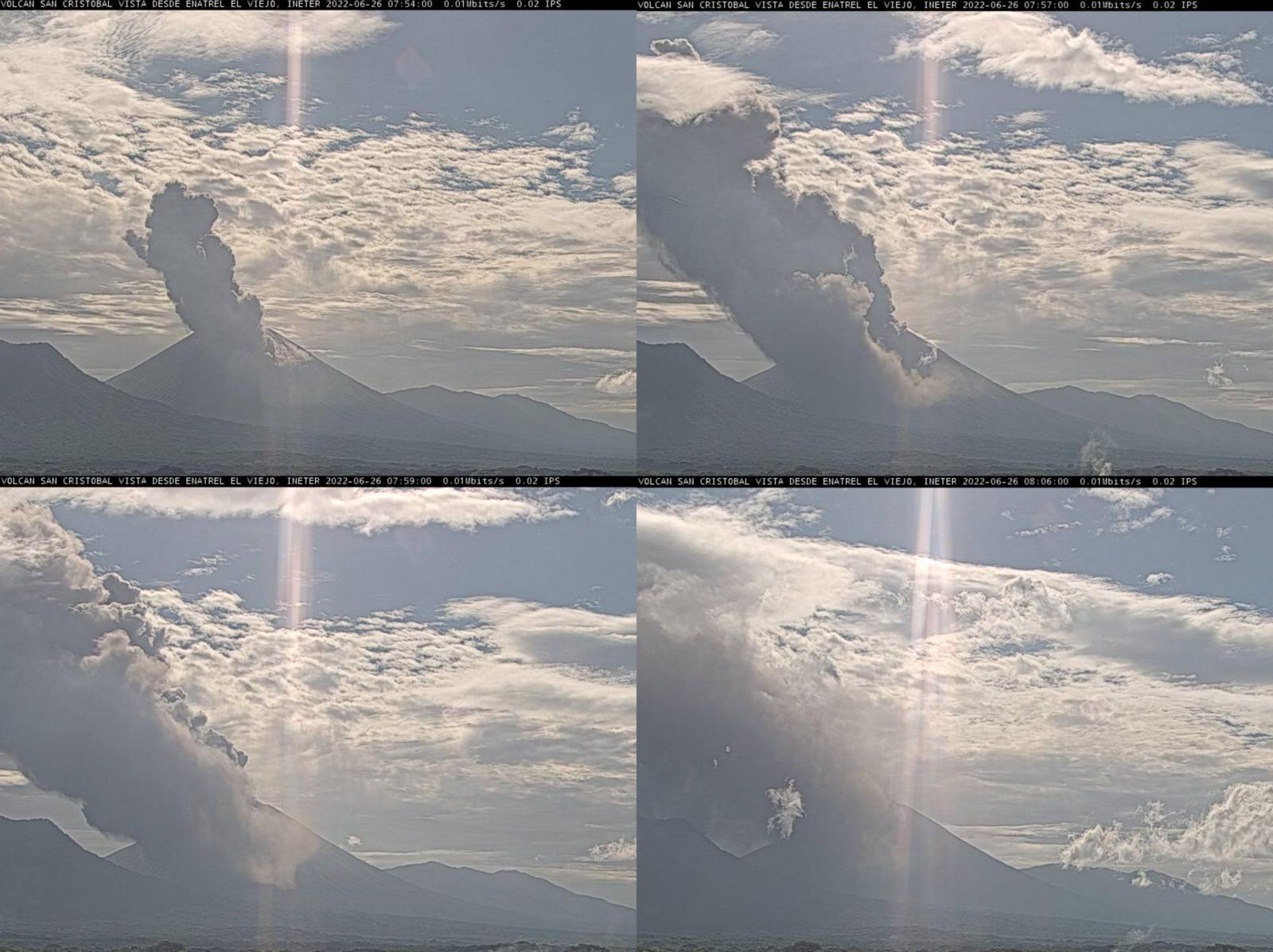 San Cristobal / Nicaragua - 26.06.2022 - Doc. Volcano limelapse / Ineter webcams - one click to enlarge
This June 26, 2022 around 7:35 a.m. there was an earthquake and then the expulsion of ash and gas from the San Cristobal volcano in Nicaragua, according to a statement by engineer A. Moreira at 200% news. This eruption was visible on the Ineter webcam.
Sources: 100% news, INETER
At Sakurajima, an eruptive episode occurred on June 27, 2022 12:21 (27 03:21UTC), accompanied by a white plume at 1,500 m. above the crater, and dispersed to the northeast.
According to VAAC Tokyo, the cloud of ash and gas is expected to the NE, detached from the volcano.
Sources: JMA & VAAC Tokyo
The Sernageomin reports a VT earthquake, associated with the fracturing of rocks, this June 26 at 9:43 a.m., at the Tupungatito volcano.
The volcanic alert remains in Verde.
Source: Sernageomin
In Bulusan, the day of June 26 was marked by 7 volcanic earthquakes.
The activity is accompanied by a moderate plume, 150 meters high, and inflation.
The sulfur dioxide flux is 559 tons/day.
A small volume lahar that began around 7:04 p.m. yesterday, June 26, was detected by the Bulusan Volcanic Network (BVN) seismic and infrasound stations. The event lasted fifty-four (54) minutes during a stormy period in the province of Sorsogon. An eye survey by the Bulusan Volcano Observatory (BVO) confirmed thin lahar deposits confined to a channel along Calang Creek in Brgy. Cogon, Irosin, the main channel draining the southwestern slopes of Bulusan.

Alert Level 1 still prevails over Bulusan Volcano, meaning it is currently experiencing low-level unrest. Local authorities and the public are reminded that entry into the permanent danger zone (PDZ) with a radius of 4 kilometers must be strictly prohibited and that vigilance in the extended danger zone (EDZ) of 2 kilometers over the southeast sector should be exercised due to the increased possibilities of sudden and dangerous phreatic eruptions.
Source: Phivolcs