Publié le par Bernard Duyck
From 8:21 p.m. to 8:29 p.m. UTC on June 06, 2022, the seismic stations of Stromboli recorded a seismic signal, which can be associated with two landslides.
The trend of the average amplitude of the volcanic tremor has not undergone significant changes.
During landslides, the analysis of the images from the INGV-OE surveillance cameras revealed a weak projection activity in the area of ​​the North crater.
At 23:40 (21:40 UTC), the parameters return to normality.
Source: INGV OE
An eruptive episode occurred at G. Ili Lewotolok on Tuesday June 07, 2022 at 2:22 p.m. WITA. The height of the ash column was observed at ± 800 m above the peak. The eruption was recorded on a seismograph with a maximum amplitude of 12.4 mm and a duration of 62 seconds.
Source: Magma Indonesia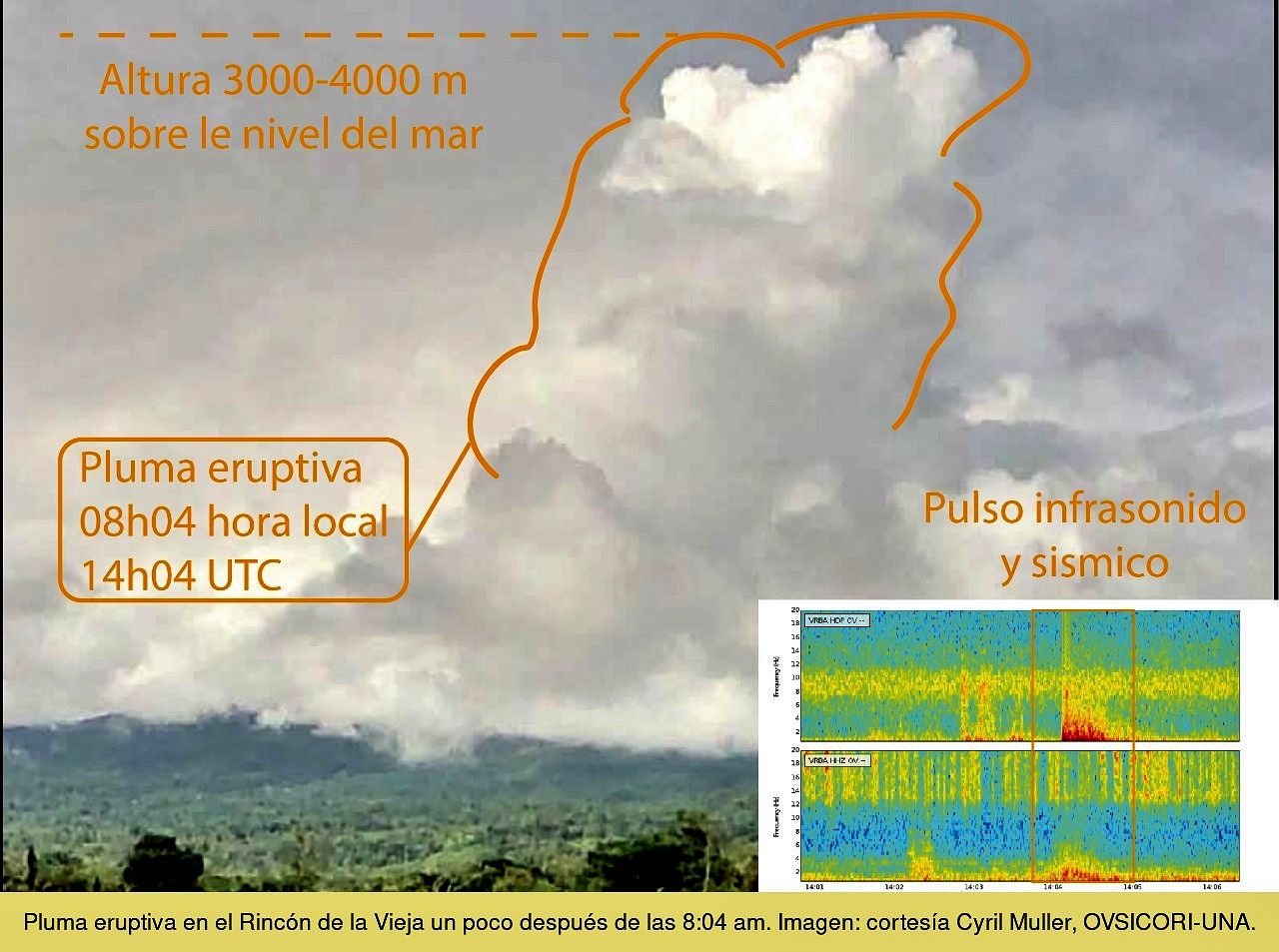 Rincón de la Vieja - 06.06.2022 / 08:24 loc. - photo Cyril Muller via Ovsicori - one click to enlarge
A moderate eruption was detected at Rincón de la Vieja at 8:04 a.m. on June 06, 2022, accompanied by a steam plume that rose about 3000 m above the volcano. This plume was also detected by the DOAS network south of the volcano, which monitors the flow of SO2. The tremor has been almost continuous since dawn.
Source: Ovsicori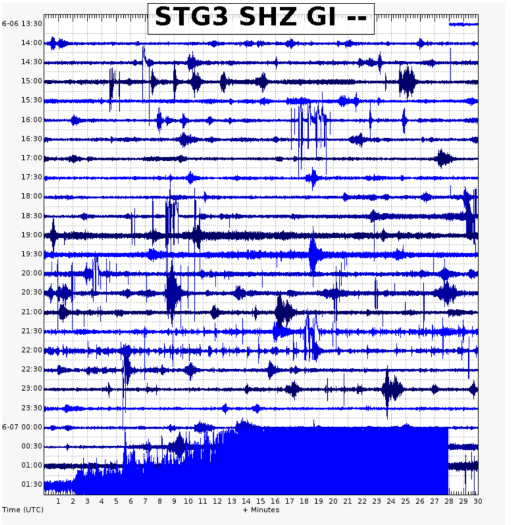 Santiaguito - seismogram on 06.06.2022 / in UTC time, signals associated with the lahar - Doc. Insivumeh
Heavy rains are generated in the area of ​​​​the Santa María-Santiaguito volcanic complex, which currently causes the lahar to descend into the Cabello de Ángel river, a tributary of the Nimá I river. In its descent, the lahar has weak characteristics, it can carry pasty volcanic materials, similar to a mixture of cement, accompanied by water, blocks of rock up to 1 meter in diameter, trunks, tree branches and fine materials that incorporate into your path.
The lahar may increase its intensity from weak to moderate in the next few minutes and, if these rainy conditions persist in the region, the possibility of lahars descending in one of the channels that emerge from the volcanic complex is not excluded. INSIVUMEH maintains visual and instrumental monitoring of volcanic activity through its ground observers, seismic stations and web cameras.

In Fuego, a lahar is reported in the Seca and El Mineral barranca, tributaries of the Rio Pantaléon, with weak to moderate characteristics. The evolution according to the precipitations can concern other drainages of the volcano.

Source: Insivumeh – special bulletin 06.06.2022 / 8:11 p.m. local