Publié le par Bernard Duyck
During the last 24 hours, thanks to the monitoring systems of the Popocatépetl volcano, 23 low intensity exhalations have been detected, accompanied by water vapor, volcanic gases and slight amounts of ash, (see photo above, extracted of video 3 ). In addition, nine minutes of very low amplitude tremor and a volcano-tectonic earthquake recorded today at 00:33, with a magnitude of 1.3, were recorded.
During the morning and 11:00 a.m. loc. time of this report, a slight emission of water vapor, volcanic gases and slight amounts of ash are observed with a west-northwest direction,
CENAPRED urges NOT TO APPROACH the volcano and especially the crater, because of the danger of falling ballistic fragments and, in case of heavy rains, to stay away from the bottom of the ravines because of the danger of mudslides and of rubbish.
Despite this advice, two injuries and one death were reported in a group of mountaineers on June 23.
The Popocatépetl volcanic alert traffic light is in YELLOW PHASE 2.
Sources: Cenapred & Mexico City webcams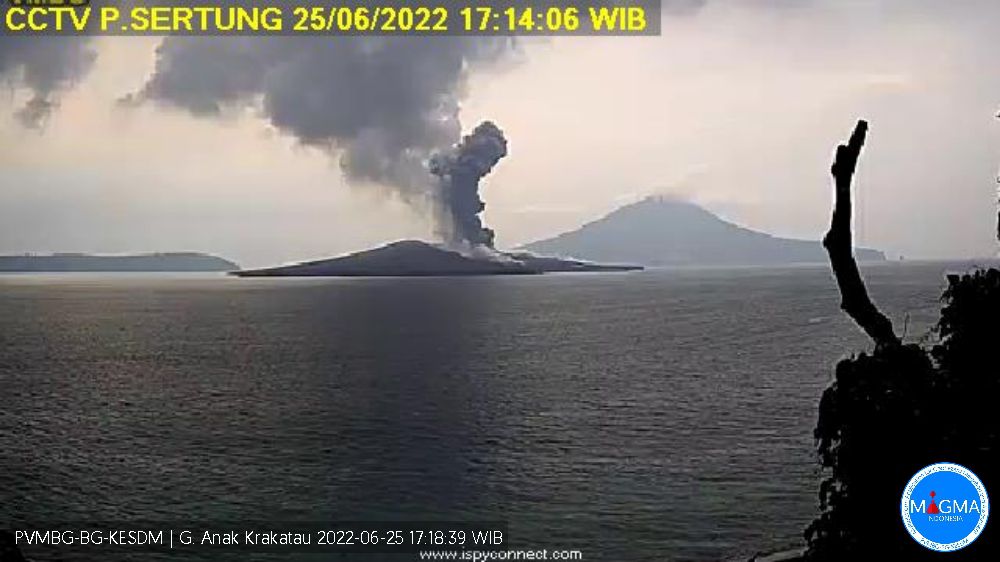 Anak Krakatau - 2022.06.25 / 5:18 p.m. WIB - Sertung / PVMBG webcam - Magma Indonesia - one click to enlarge
At Anak Krakatau, the seismicity of June 25 reveals:
- 4 eruption earthquakes, with an amplitude of 47-51 mm and an earthquake duration of 16-40 seconds. The eruptive episode of 5:12 p.m. WIB, is characterized by a thick plume of gray ash observed at ± 400 m above the summit (± 557 m above sea level). This eruption was recorded on a seismograph with a maximum amplitude of 49 mm and a duration of 30 seconds. (see webcam)
- 45 emission earthquakes, with an amplitude of 10 to 54 mm and an earthquake duration of 12 to 50 seconds.
- 225 low frequency earthquakes, with an amplitude of 11 to 50 mm and an earthquake duration of 4 to 20 seconds.
- 14 shallow volcanic earthquakes, with an amplitude of 6-34 mm and an earthquake duration of 4-10 seconds.
- 4 episodes of tremor, continuous with an amplitude of 2-38 mm, dominant 3 mm.
The level of activity remains at 3 / siaga, accompanied by the "recommendation" not to approach or exercise activity within a radius of 5 km from the active crater.
Sources: PVMBG, Magma Indonesia
This week at Merapi, 70 lava avalanches were observed mainly in the southwest, up to the Bebeng River with a maximum slip distance of 1,800 m.
There is no change in the height of the dome. For the middle dome, no significant morphological change was observed. According to photo analysis, the volume of the southwest lava dome is 1,551,000 m³ and the central dome is 2,582,000 m³.
The intensity of seismicity this week is still quite high. Mount Merapi's deformation, which was monitored using EDM this week, showed a distance shortening rate of 0.2 cm/day.
Activity level remains at 3/siaga
The current potential danger consists of lava avalanches and hot clouds in the south-southwest sector covering the Boyong river for a maximum of 5 km, the Bedog, Krasak, Bebeng river for a maximum of 7 km. The southeast sector covers the Woro River for a maximum of 3 km and the Gendol River for a maximum of 5 km.
Source: BPPTKG
The eruption of the Semisopochnoi volcano has continued throughout the past week. Seismicity remained elevated with intermittent periods of seismic shaking. Sulfur dioxide emissions from the volcano were observed in satellite data earlier this week. Otherwise, no unusual activity was seen over the past week in satellite and web camera views, although cloudy conditions obscured satellite views for most of the past week.
Small explosions have characterized recent activity and show no signs of abating. These produce minor ash deposits near the active north crater of Mount Cerberus, with ash clouds generally below 3 km. asl.

The Semisopochnoi is monitored by local seismic and infrasound sensors, satellite data, web cameras and infrasound arrays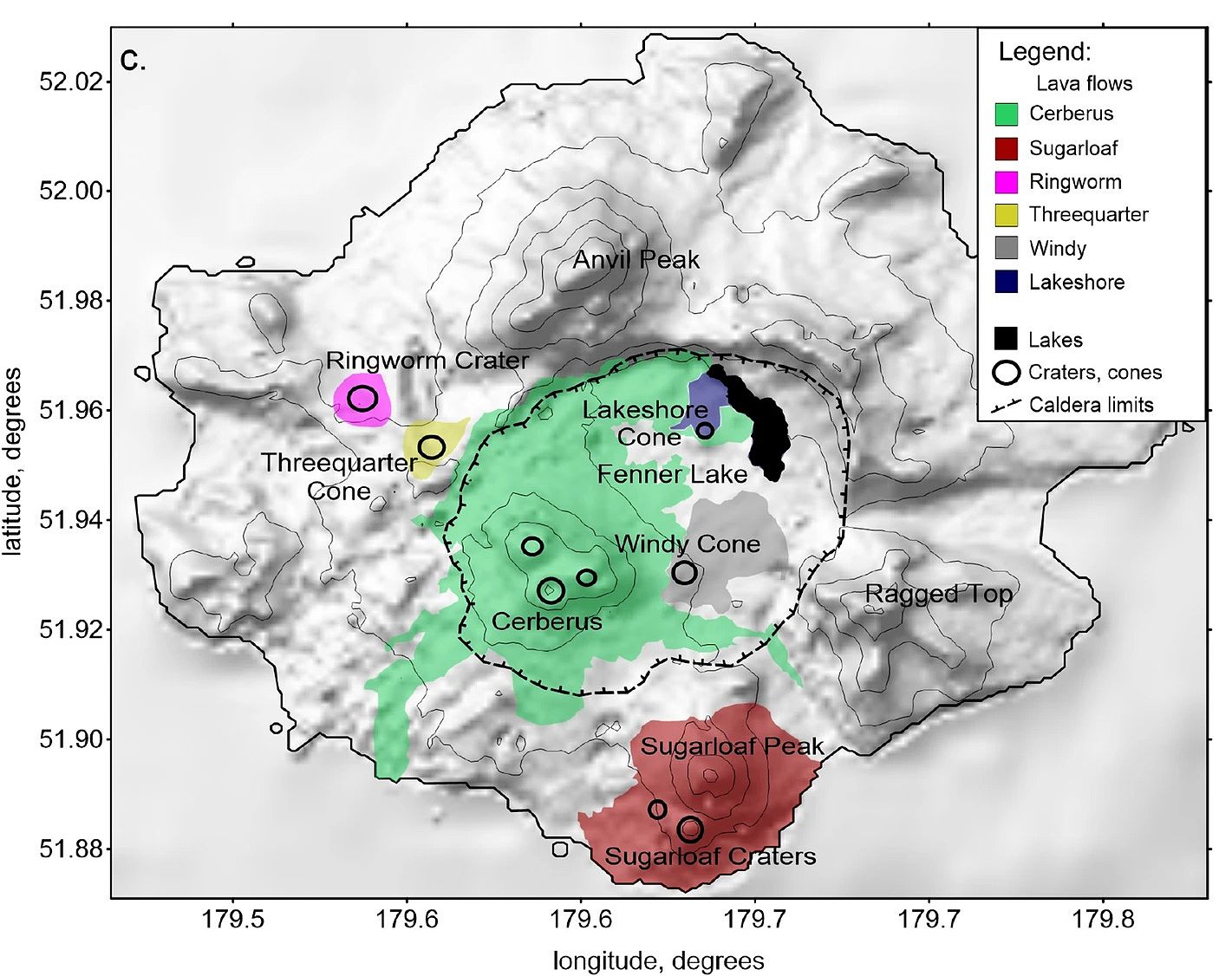 Topography map of Semisopochnoi Island indicating lava flows and the main structural elements (modified from Coombs et al.12).  In Structure of the magma plumbing system beneath Semisopochnoi Island (Aleutian Arc) inferred from seismic tomography
Semisopochnoi Island is an isolated and little-studied volcanic island in the western part of the Aleutian Arc. The existence of several active volcanic centers and a large 5,000-7,000 year old caldera makes this island an important site for volcanic hazard assessment in the North Pacific.
Based on the local seismicity data recorded by six permanent seismic stations, we created the seismic tomography model, including the 3D distributions of the Vp, Vs and Vp/Vs ratios down to a depth of 10 km. This model provides the first geophysical insight into the interior structure of Semisopochnoi Island and sheds light on processes in the magmatic plumbing system beneath all volcanic centers on the island. At depths of 5-10 km, we observed a high Vp/Vs ratio columnar anomaly beneath the caldera in the central part of the island, which likely represents the stable magmatic conduit.
This conduit is led by a prominent anomaly with a high Vp/Vs ratio located 3 to 5 km away. directly below the caldera, which represents the reservoir of magma feeding Cerberus and other Holocene volcanic centers on Semisopochnoi Island.
Sources:
- AVO weekly update
- Structure of the magma plumbing system beneath Semisopochnoi Island (Aleutian Arc) inferred from seismic tomography - Galina Yaroshenko, Ivan Koulakov & al. / Nature - This article is licensed under a Creative Commons Attribution 4.0 International License, published 24.06.2022
Distribution of the Vp and Vs anomalies and the Vp/Vs ratios obtained from the inversion of the experimental data in three vertical sections, as indicated in Fig. 6. The projections of the main volcanic vents are shown as black triangles. Cer cerberus stratovolcano, RC ringworm cone, Tc threequarter cone, Wc windy cone, Lc lakeshore cone, Sc sugarloaf cone. - In Structure of the magma plumbing system beneath Semisopochnoi Island (Aleutian Arc) inferred from seismic tomography