Publié le par Bernard Duyck
Seismic activity is reported to be increasing at Bulusan Volcano in the Philippines.
From 5:00 a.m. on June 20, 2022 to 5:00 a.m. June 21, a total of 80 volcanic earthquakes, including a low-frequency volcanic earthquake, were recorded by the Bulusan Volcanic Network. Most were weak and shallow events, but may indicate that a phreatic eruption could possibly occur within the next few hours to days.
A 300 m high plume tops the volcano, drifting WSW. Emissions are rated as moderate.
The flow of sulfur dioxide is 660 tonnes/day, and inflation is still observed.
The public is reminded that Bulusan Volcano is in Alert Level 1 status, meaning it is currently in an abnormal state. A zone of 4 km in radius, constituting the permanent danger zone, is forbidden to access, and it is advisable to only enter the 6 km zone with vigilance.
Source: Phivolcs-DOST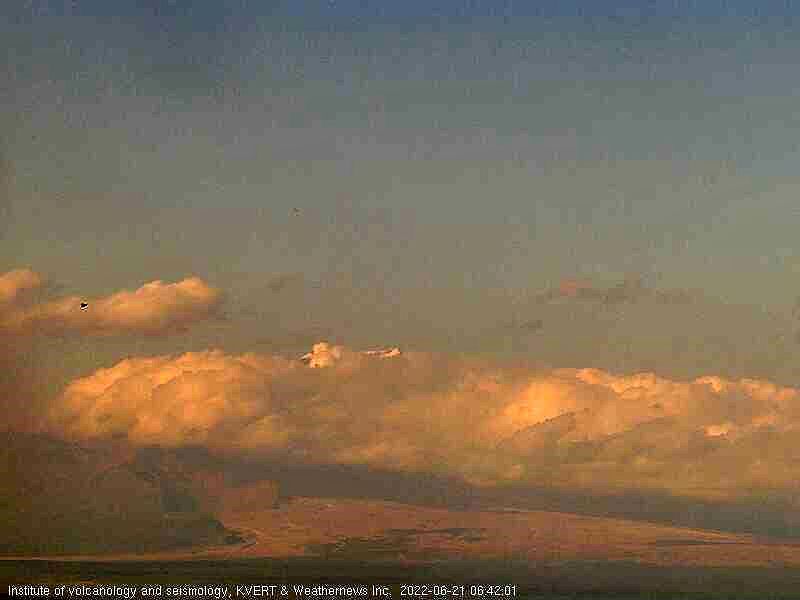 Sheveluch - seen on 06.21.2022 / 06:42 from F.Yu. Levinson-Lessing Kamchatkan Volcanological Station (Klyuchi village, 45 km SSW of the volcano) - IVS webcam, KVERT, Weather news - one click to enlarge
Lava dome growth continues at Sheveluch.
A strong fumarolic activity, incandescence of the lava dome, and occasional explosions and hot avalanches accompany the process on June 20, 2022. KVERT satellite data showed an extensive ash cloud about 255 km east of the volcano , and a thermal anomaly on the volcano.
The Aviation Color Code is ORANGE
Sources: KVERT & VAAC Tokyo
Activity continues at Gunung Ibu, marked by a white to gray plume of varying intensity, 200-1,000 meters above the summit.

An episode is reported on Monday, June 20, 2022 at 6:24 p.m. WIT, with the height of the ash column observed at ± 1000 m above the peak (± 2325 m above sea level). The ash column is observed to be gray with thick intensity to the west. This eruption was recorded on a seismograph with a maximum amplitude of 26 mm and a duration of 75 seconds.
Seismicity is characterized by:
- 76 eruption earthquakes, with an amplitude of 16 to 30 mm and an earthquake duration of 20 to 75 seconds.
- 34 avalanche earthquakes, with an amplitude of 2-15 mm and an earthquake duration of 15-77 seconds.
- 24 emission earthquakes, with an amplitude of 5 to 14 mm and an earthquake duration of 10 to 40 seconds.
- 40 shallow volcanic earthquakes with an amplitude of 3-12 mm and an earthquake duration of 4-12 seconds.
- 9 distant tectonic earthquakes.
Activity level remains at 2/waspada, and communities around Mount Ibu and visitors/tourists are advised not to travel within 2.0 km and sector expansion is 3.5 km to the crater opening in the northern part of the active Mount Ibu crater.
Source: PVMBG, Magma Indonesia
Eruptive activity at Sabancaya volcano, in Peru, remained at moderate levels between June 13 and June 19, 2022.
The IGP reports an average of 17 explosions per day, accompanied by plumes of gas and ash up to 2,0000 m. above the top.
During the period, 271 volcanic earthquakes associated with the internal circulation of magmatic fluids were detected, as well as VT earthquakes, linked to rock fracturing.
The deformation data does not show any significant anomalies. Three thermal anomalies, associated with the presence of a dome in the crater are identified, with a max. of 21MW.
The volcanic alert is maintained in Naranja, together with a prohibited zone of 12 km radius.
Source: I.G.Peru