Publié le par Bernard Duyck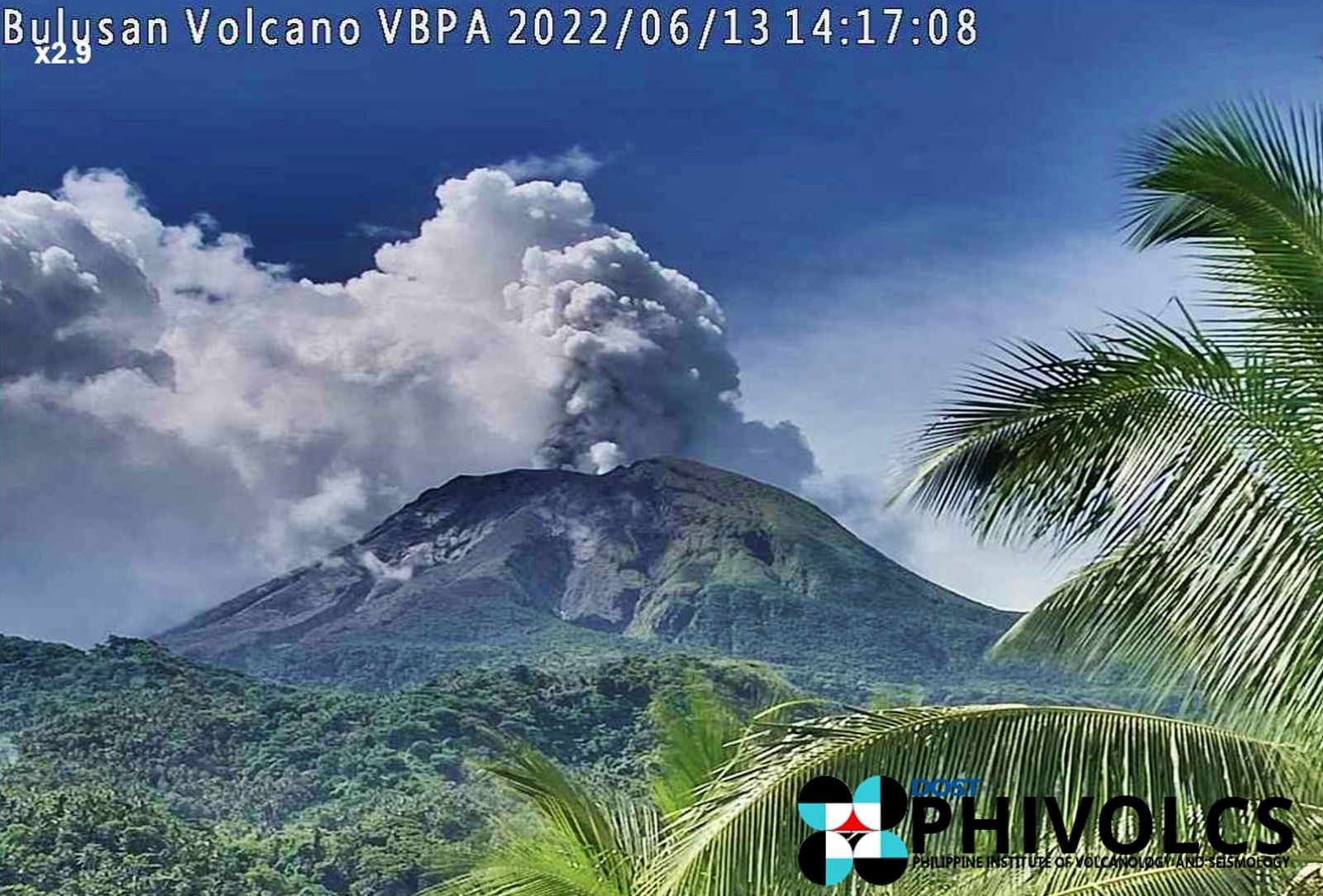 Bulusan - Abundant plume emission on 2022-06-13 at 2:17 PM from summit vents as seen from Patag, Irosin (VBPA) observation station. Note the gray plume from Blackbird crater to the left of the steam-laden plume.- Doc. Phivolcs - one click to enlarge
Since its eruption at 3:37 a.m. yesterday, June 12, 2022, Bulusan Volcano has remained agitated as degassing from its summit vents continues. Steam-laden plumes were generated with periods of abundant volume and sporadic ash that began at 4:30 a.m. today. A noticeable increase in ash in the plumes at 09:00 was later followed by reports of light ashfall over Catanusan, Juban, Sorsogon and sightings of ashfall on the upper northwest slopes.
At least five episodes of gray ash plume emission from Blackbird Crater and abundant steam from the summit vents have been observed from Bulusan Volcanic Network (BVN) IP cameras. These events registered very weakly or not at all in the seismic recording and not at all in the infrasound recording of the BVN. Much of the ash was scattered northwest of the summit, but no ashfall on population centers was also reported. The plumes varied in ascent between 400 meters and 750 meters and drifted strongly to the northwest.

Alert Level 1 status remains in effect over Bulusan as the volcano is still in a state of hydrothermal unrest. Local authorities and the public are reminded that entry into the permanent danger zone (PDZ) with a radius of 4 kilometers must be strictly prohibited and that vigilance in the extended danger zone (EDZ) of 2 kilometers over the southeast sector should be exercised due to the increased possibilities of sudden and dangerous phreatic eruptions which can occur without warning. Civil aviation authorities should also advise pilots to avoid flying close to the volcano's summit, as ash from a sudden phreatic eruption can be hazardous to aircraft. In addition, people living in valleys and along river/stream channels, especially in the southeast, southwest, and northwest sectors of the edifice, should be vigilant against runoff and lahars loaded with sediments in the event of heavy and prolonged rains in the event of a phreatic eruption. DOST-PHIVOLCS is closely monitoring the condition of Bulusan Volcano and any new developments will be communicated to all relevant stakeholders.

Source: DOST-PHIVOLCS update June 13 at 5:00 p.m. loc.
All entrances to Yellowstone National Park are temporarily closed due to severe flooding, landslides, and extremely dangerous conditions.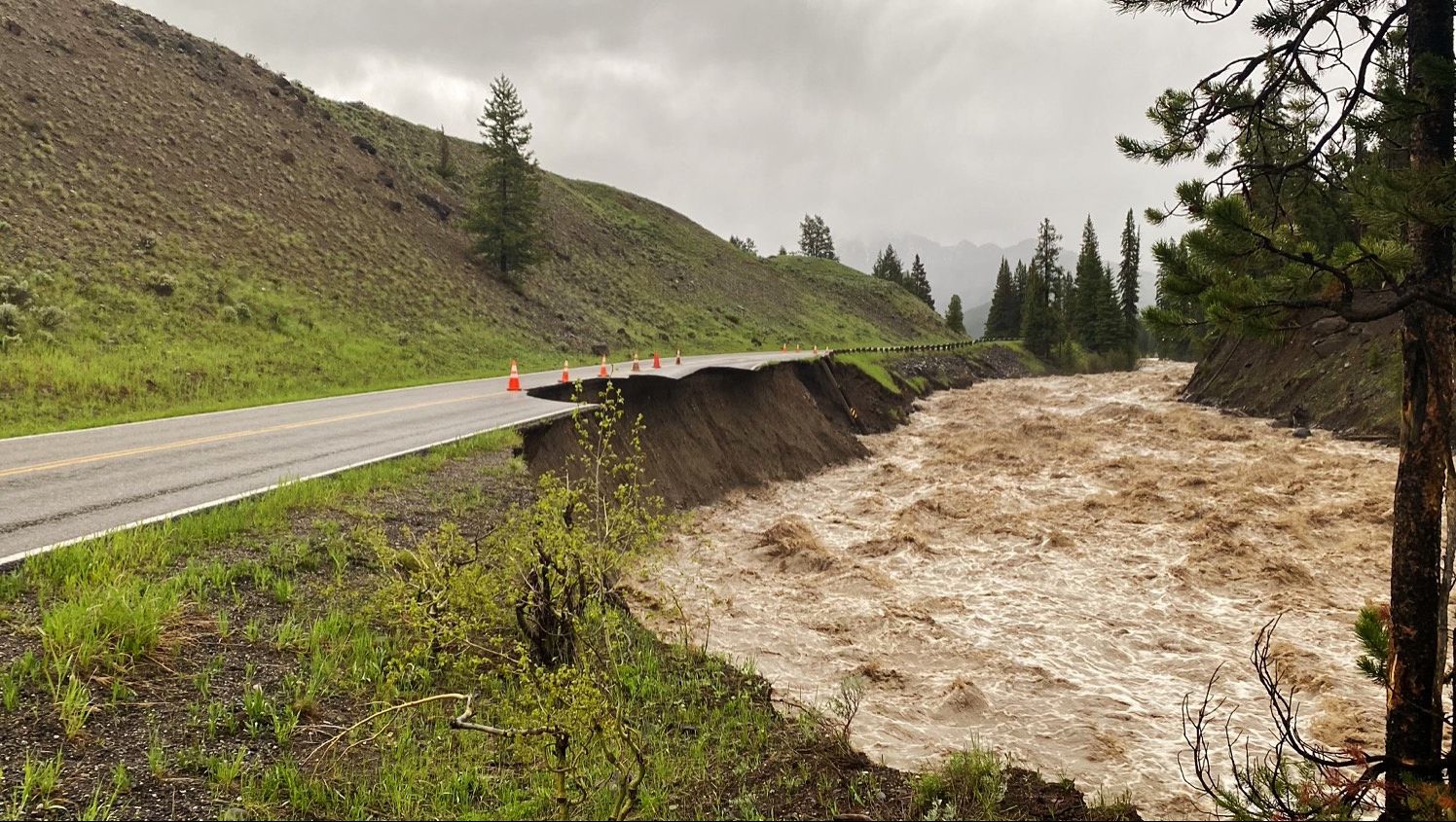 Yellowstone N.P. - Erosion by the Lamar River and collapse on the Northeast Entrance Road. - photo 13.06.2022 / NPS - one click to enlarge
The first priority has been to evacuate the northern part of the park where multiple road and bridge failures, mudslides and other problems are seen. The community of Gardiner is currently isolated, and the NPS is working with the county and the state of Montana to provide needed support for residents, who are currently without water and power in some areas. Due to forecasts of higher flood levels in the South Loop areas of the park, in addition to concerns about water and wastewater systems, visitors to the South Loop are going to be evacuated out of the park more late in the day in coordination with park business partners.
The timing of the park's reopening will not be known until the floodwaters have subsided and we are able to assess the damage throughout the park. It is likely that the North Loop will be closed for a long time.
Source: Yellowstone National Park
6/13/22 Conditions of Yellowstone's North Entrance Road through the Gardner Canyon between Gardiner, Montana, and Mammoth Hot Springs. NPS video: Filmed by Yellowstone's helicopter manager from a park helicopter.