Publié le par Bernard Duyck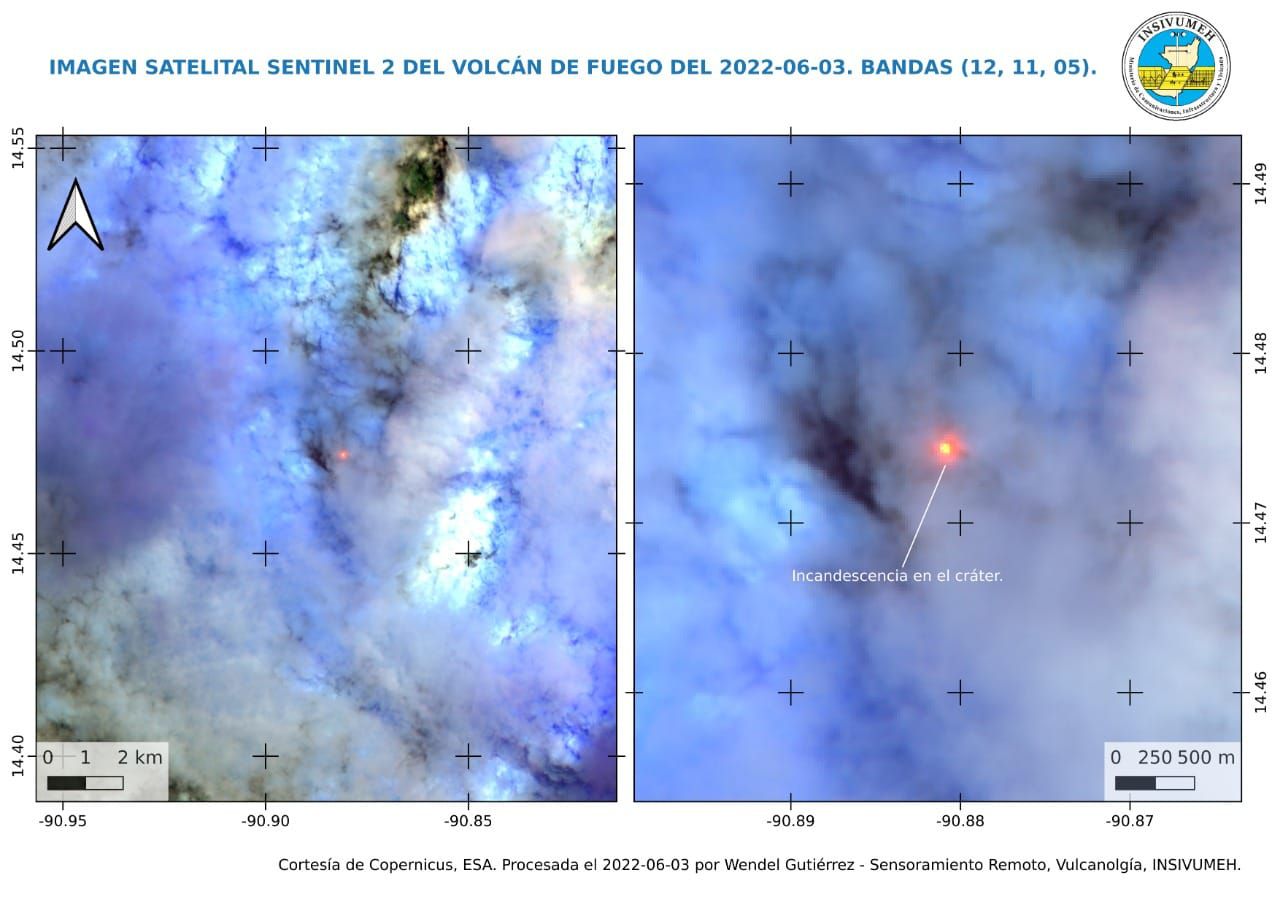 Fuego - incandescence in the crater - image Sentinel-2 bands 12,11,5 from 03.06.2022 - via Insivumeh
The Fuego Volcano Observatory reports cloudiness in the area, however, low rumblings were heard 2 to 6 times per hour, associated with explosions; these explosions generate columns of ash from 4,500 to 4,800 meters above sea level which are dispersed in the northeast and east direction of the volcano due to the wind pattern. In addition, low noises were heard due to the avalanches generated around the crater and towards the ravines of Santa Teresa, Taniluyá, Ceniza, Las Lajas and Honda. There is a likelihood of ash fall in communities northeast and east of the volcano, as well as in the Guatemala City metropolitan area.
The rains recorded on the Fuego volcano are currently generating the descent of a lahar in the Ceniza ravine, a tributary of the Achiguate river, on the southern flank of the volcano. This lahar is weak in nature, it moves along the eastern edge of the Ceniza channel, parallel to the road that leads to La Rochela. The lahar carries a pasty mixture of water, boulders up to 1 meter in diameter and finer sediments, as well as small tree trunks and branches. The lahar on its path produces vibrations in the ground, as can be seen on the seismogram of the FG14 station. If these rains persist, the possibility that more lahars descend in this ravine and in any other ravine of this volcano is not excluded.
Sources: Insivumeh - Daily bulletin 02.06.2022 & Special volcanological bulletin 03.06.2022 / 9:30 a.m. local
In Papua New Guinea, the Ulawun volcano experienced a brief eruption on May 31 at around 8:20 a.m.
The RVO qualifies the activity as a continuous emission of thick plumes of gray ash for 10-15 minutes.
The probability of a new active eruptive phase is low and the alert is activated at level 1.
Source: LOOP PNG & GVP
Explosive activity continues at Suwanosejima. The Volcanic Ash Advisory Center (VAAC) in Tokyo has warned of a plume of volcanic ash which has risen to an estimated altitude of 2,100m) or flight level 070 and is moving at 15 knots in the heading west this June 4, 2022.
Yesterday, an ash plume is reported at 1,600 m. above the crater, drifting southwest.
The JMA reports 13 explosions between May 30 and June 3 / 3 p.m., accompanied by plumes of gas and ash reaching 1,600 m. above the crater, as well as large bombs at 300 m. from the center of the crater
Source: JMA