Publié le par Bernard Duyck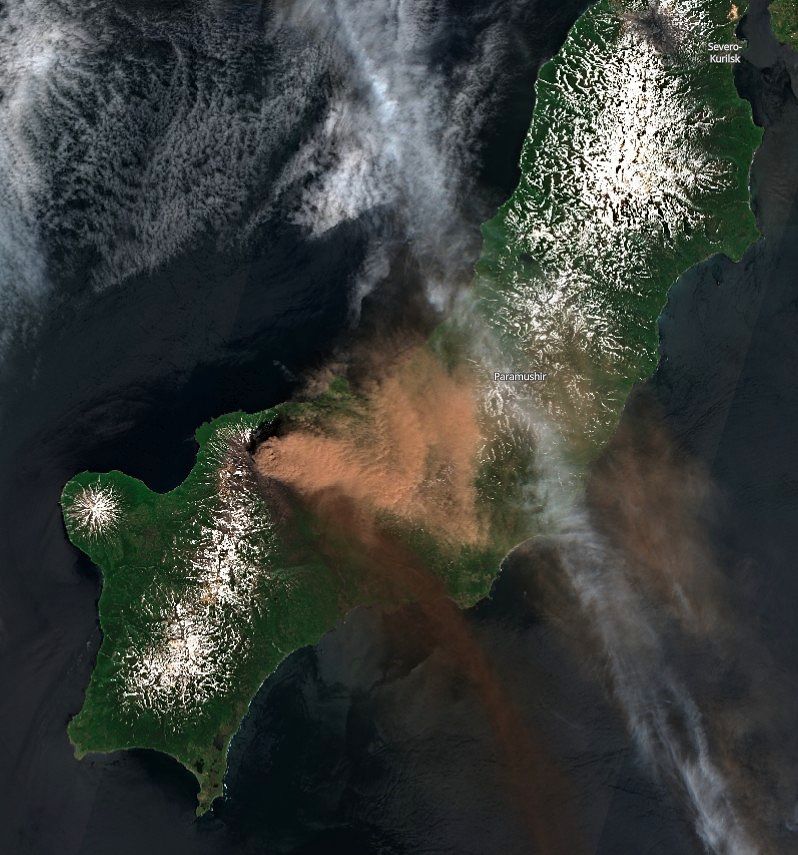 Eruptive plume from the Chikurachki volcano on June 24, 2022. Credit Copernicus EU Sentinel-2, EO Browser - via The Watchers - one click to enlarge
Satellite data from KVERT shows that the explosive eruption of Chikurachki, on Paramushir Island in the Kuriles, lasted from 19:30 UTC on June 23 to 09:00 UTC on June 24.
The explosions sent ash up to 4.5 km above sea level, and the ash plume and later ash cloud moved about 786 km southeast of the volcano on 23 and June 24.
On 2022-06-24, sentinel-5P Tropimi detected an enhanced SO2 signal of 16.41 DU at a distance of 35.9 km from Chikurachki and/or Ebeko.
A gas-steam emission activity of the volcano continues. A risk of an ash explosion up to 6 km above sea level remains. Ongoing activity could affect low-flying aircraft.
KVERT continues to monitor the Chikurachki volcano.
The aviation code was brought back to Yellow on the morning of June 25.
Sources: KVERT, Sentinel-5P tropomi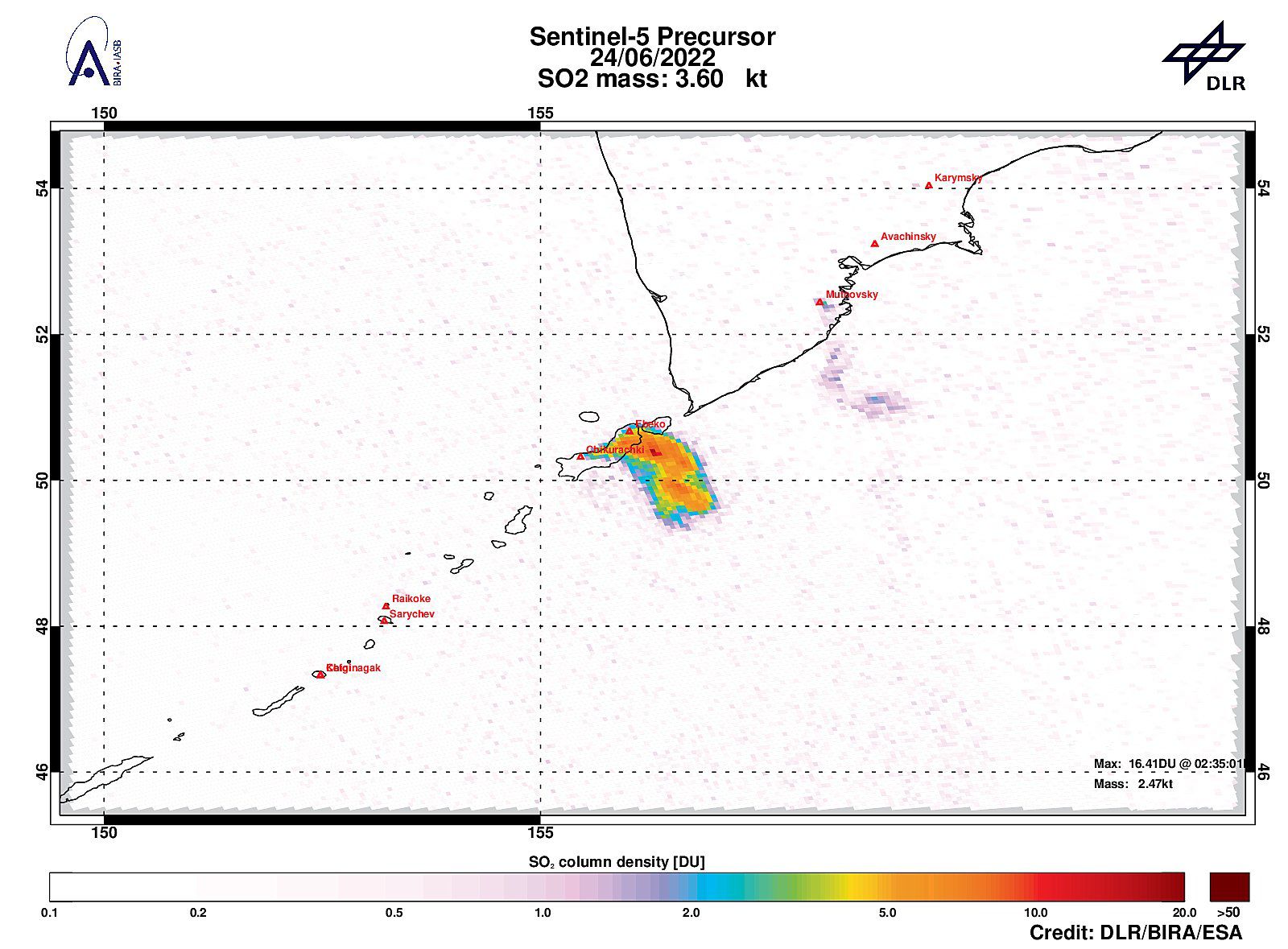 Chikurachki - SO2 signal of 16.41DU at a distance of 35.9km from Chikurachki on 24.06.2022 - image Sentinel-5P Tropomi / DLR BIRA ESA - one click to enlarge
Under KVERT surveillance, four volcanoes are on Orange Aviation Alert: Bezymianny, Karymsky, Ebeko and Sheveluch.
At Sheveluch, the growth of the lava dome continues with morphological changes, strong fumarolic activity, incandescence of the lava dome, explosions, and hot avalanches accompany this process. Satellite data from KVERT showed a thermal anomaly over the volcano.
Sources : KVERT, IVS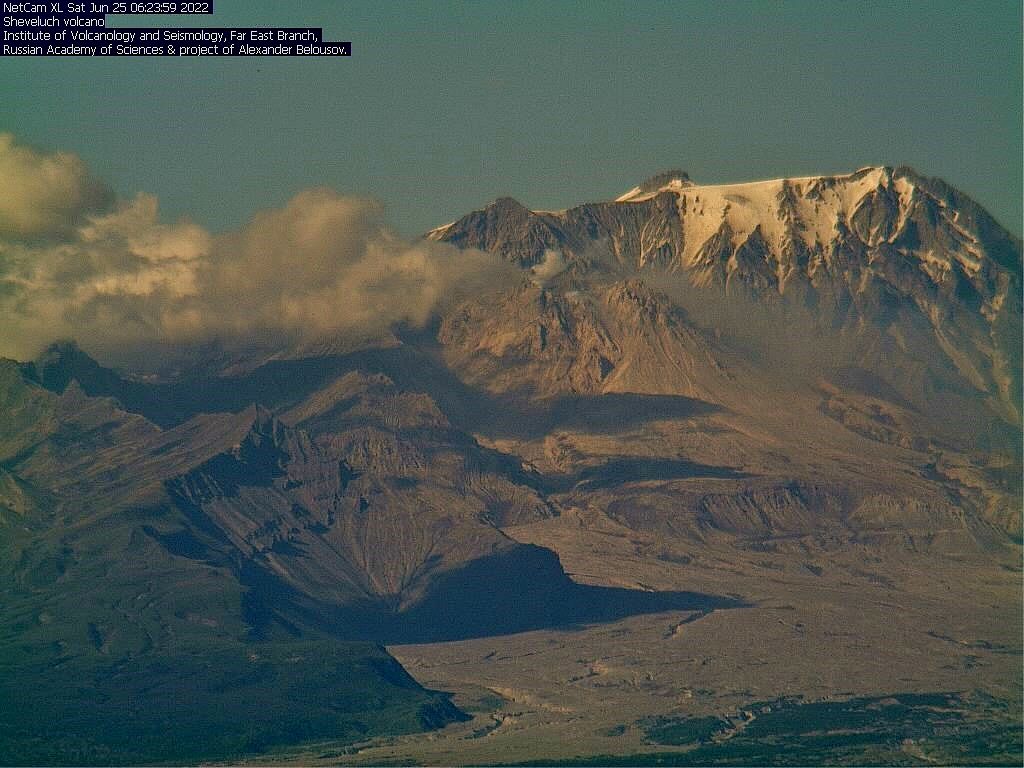 Sheveluch - fumarolic activity at the dome on 06.25.2022 / 06:23 - IVS Far East branch webcam - one click to enlarge
The eruptive activity of Ili Lewotolok continues on Lembata.
On June 24, the main crater plume is white and gray with fine, medium to thick intensity, about 50-600 meters from the summit.
Seismicity is characterized by:
- 24 eruption earthquakes, with an amplitude of 11.8 to 35.9 mm and an earthquake duration of 33 to 118 seconds.
- 1 temporal avalanche earthquake, with an amplitude of 7.2 mm and an earthquake duration of 140 seconds.
- 208 emission earthquakes, with an amplitude of 2 to 17.4 mm and an earthquake duration of 16 to 161.8 seconds.
- 64 episodes of non-harmonic tremor, with an amplitude of 1.8 to 16.7 mm and an earthquake duration of 105 to 541 seconds.
- 1 hybrid / multiphase earthquake
- 1 local tectonic earthquake 1 time with an amplitude of 4.9 mm, S-P 5 seconds and an earthquake duration of 18 seconds.
- and 4 episodes of continuous tremor, with an amplitude of 0.5 to 8.4 mm, dominating 1 mm.
Recommendations:
Based on the results of a thorough analysis and assessment, on June 14, 2022, the activity level of the Ili Lewotolok volcano is still at level III / siaga, with new recommendations adapted to the latest potential dangers:
people around Mount Ili Lewotolok as well as visitors/climbers/tourists are recommended not to carry out activities within 3 km radius of the summit/crater of Mount Ili Lewotolok, 3.5 km radius for the southern sector -east, a radius of 4 km for the east and north-east sectors. Residents of Lamawolo Village, Lamatokan Village and Jontona Village should always be aware of the potential threat of incandescent lava and pyroclastic flows in the eastern part of G. Ili Lewotolok peak/crater
Sources: PVMBG, Magma Indonesia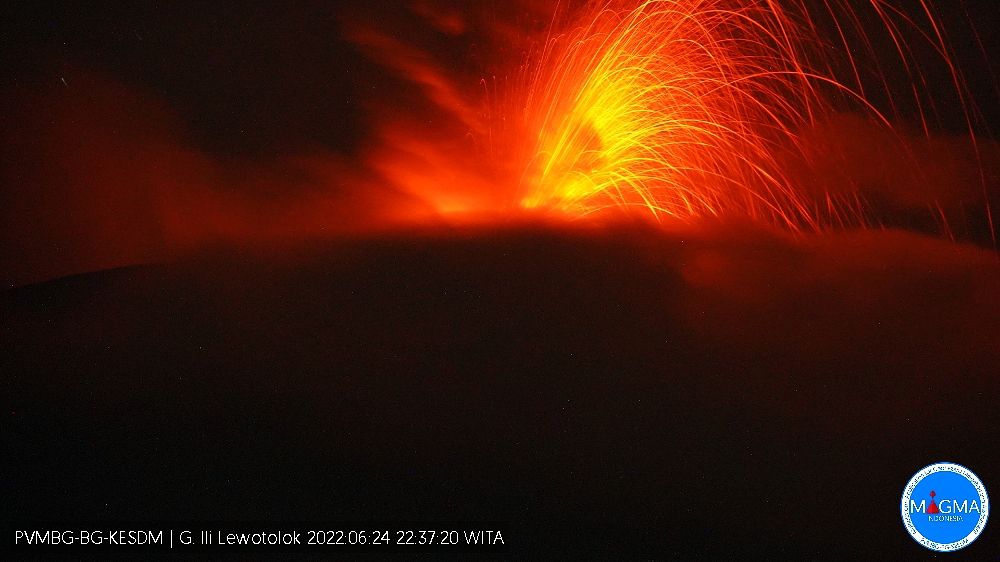 Ili Lewotolok - activity from 06.24.2022 / 10:37 p.m. WITA - PVMBG Magma Indonesia webcam - one click to enlarge
What are the researchers from the Observatory of Vesuvius INGV doing in the sea of ​​the Gulf of Pozzuoli?
The area is that of the "Secca delle Fumose", a submerged part of the caldera of the Phlegraean Fields. Here, at a depth of about 10 meters, between the Roman-era Pilae, high-temperature volcanic gases escape. Researchers measure its temperature and take samples for (subsequent) analysis. These investigations are carried out within the framework of the Departmental Strategic Project "Love-CF" and the results will make it possible to improve knowledge of the volcanic degassing of the entire caldera.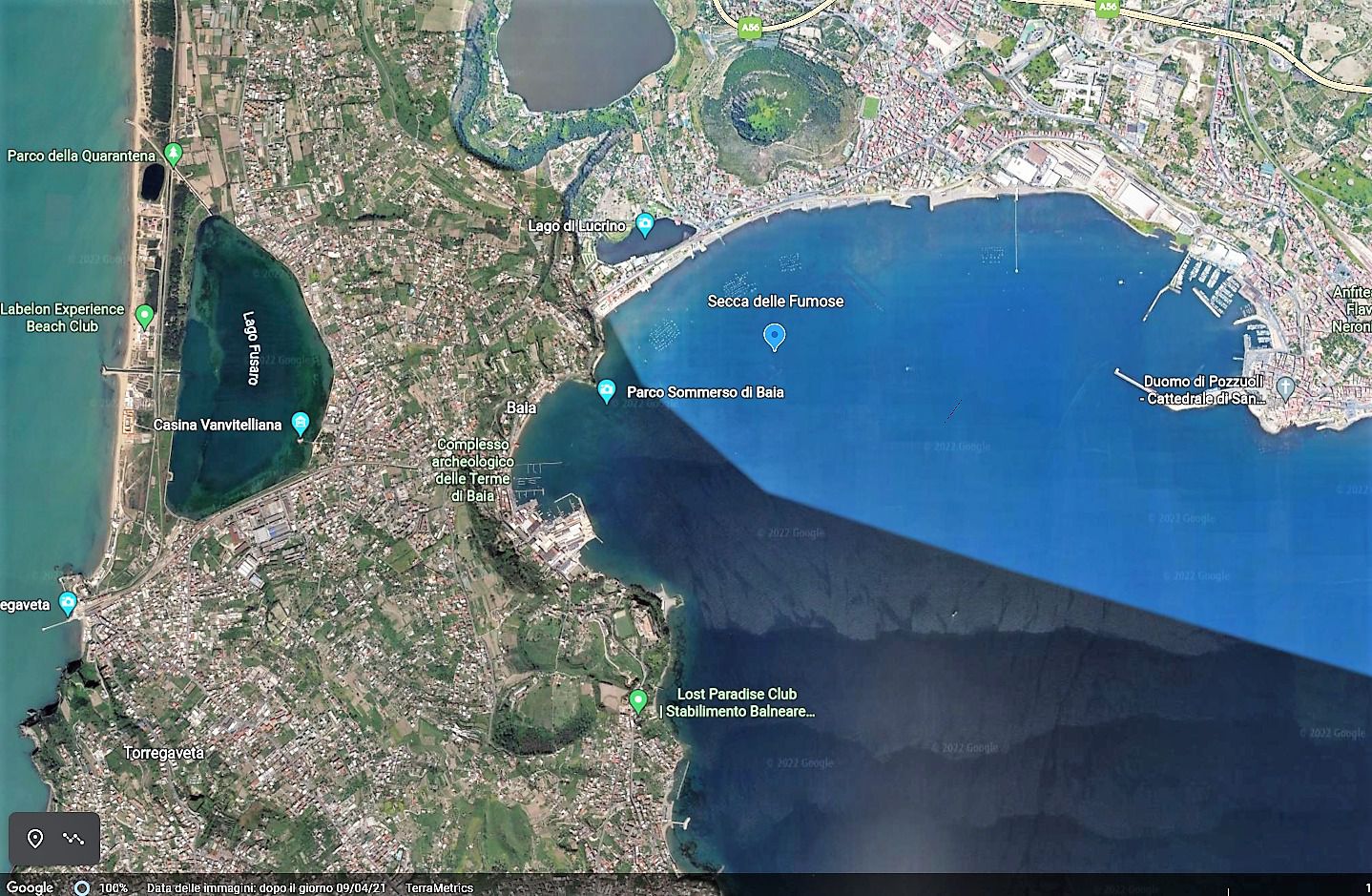 Phlegraean fields - LOVE-CF project - studied area of ​​"Secca delle Fumose" (in the center) - Doc. INGVvulcani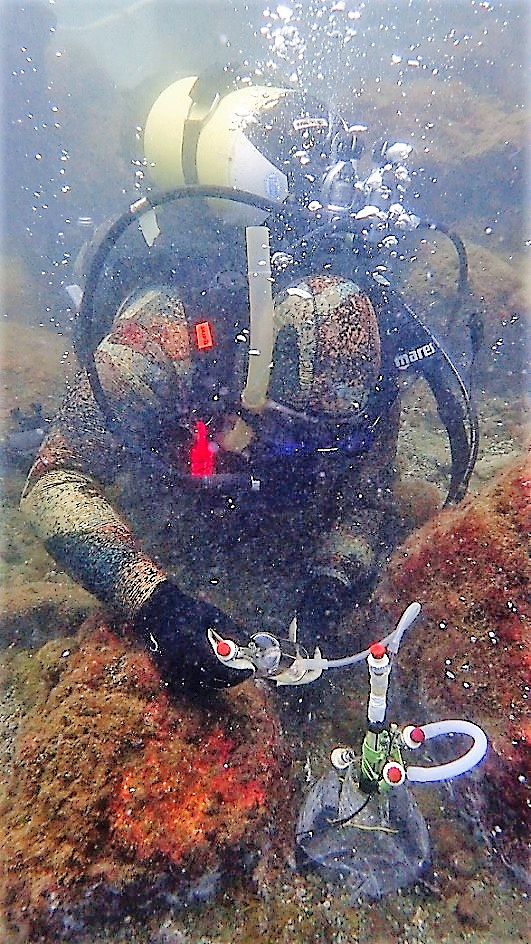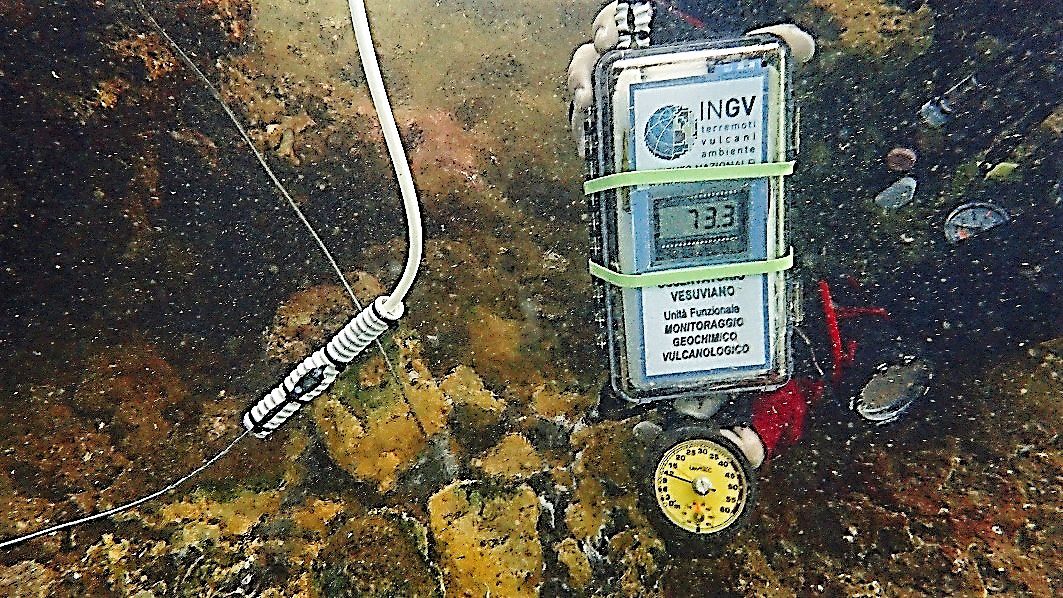 LOVE-CF project - gas sampling and temperature measurement - Doc. INGVvulcani 06.2022 - one click to enlarge
It is the INGV which promoted and financed the "LOVE-CF project" (Linking surface Observables to sub-Volcanic plumbing-system: a multidisciplinary approach for Eruption forecasting at Campi Flegrei caldera), carried out in collaboration with other research centers and Italian and foreign universities.
The Departmental Strategic Project on the Phlegraean Fields aims to correlate the geochemical and geophysical variations measured during volcanic unrest with the dynamics of the magma at depth, monitored through the study of events representative of the eruptive history of the caldera by natural, experimental and numerical approaches. This information can be fundamental in defining the source of the unrest (magmatic or non-magmatic) and in predicting the time and size of a future eruption.
Source: INGV OV