Publié le par Bernard Duyck
According to the PVMBG, the seismic activity of Semeru between June 15 and 21 is characterized by:
- 518 eruption earthquakes
- 30 blast and emission earthquakes
- 51 harmonic episodes
- 1 volcanic earthquake
- 2 local and 5 distant tectonic earthquakes.
On June 22, the volcano is clearly visible until it is covered by fog 0-III. The crater plume was not observed. The weather is sunny to rainy, the wind is weak in the northeast and southwest.
Seismic observation
- 91 eruption earthquakes, with an amplitude of 10-24 mm and an earthquake duration of 75-220 seconds.
- 12 harmonics, with an amplitude of 3-15 mm and an earthquake duration of 120-2155 seconds.
- 3 distant tectonic earthquakes, with an amplitude of 15-35 mm, S-P 15-20 seconds and an earthquake duration of 45-300 seconds

Activity level is at 3/siaga, with recommendations
to carry out no activity in the southeastern sector along Besuk Kobokan, up to 13 km from the summit (the center of the eruption). Beyond this distance, the community does not conduct activities within 500 meters of the bank (river edge) along Besuk Kobokan due to the potential for expansion of hot clouds and lava flows. lava up to a distance of 17 km from the summit.
Not to move within a radius of 5 km around the crater / summit of Mount Semeru because it is subject to the danger of stone throwing (incandescent).
To remain aware of the potential for hot cloud avalanches (APGs), lava avalanches and lahars along the rivers/valleys that originate at the summit of Mount Api Semeru, especially along Besuk Kobokan , Besuk Bang, Besuk Kembar and Besuk Sat as well as potential lahars in small rivers which is a tributary of Besuk Kobokan.
Source: PVMBG, Magma Indonesia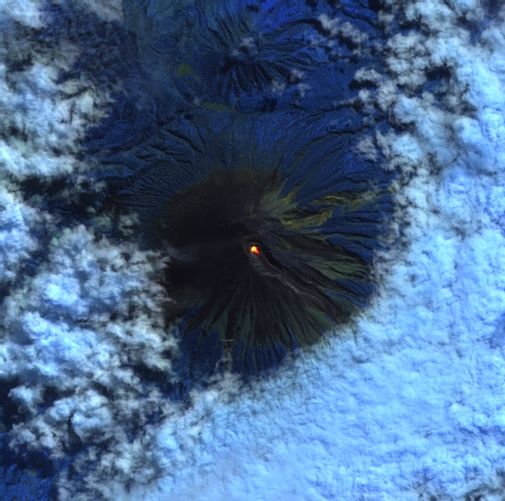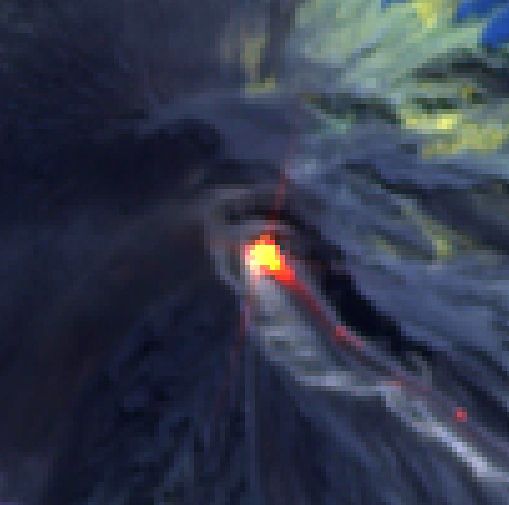 Semeru - Sentinel-2 bands12,11,8A images from 2022-06-19 via Mounts Project - thermal anomalies at the summit and in the SE crevasse - one click to enlarge
The eruption at Kīlauea Volcano's summit in Halema'uma'u Crater has continued for the past 24 hours. All recent lava activity has been confined to the crater.
Lava eruption from the West Halemaʻumaʻu vent into the active lava lake and seeps on the crater floor have continued over the past 24 hours. Lava seepage activity continued along the eastern and southern edges of the crater floor. Flyby measurements on June 17, 2022 indicated that the crater floor had experienced a total elevation of about 120 meters (394 feet) and that 93 million cubic meters (24 billion gallons) of lava had been effused since the start. of this eruption in September. 29, 2021.
Summit Observations: Summit tiltmeters have recorded slight inflation over the past 24 hours. A sulfur dioxide (SO2) emission rate of approximately 2,300 tonnes per day (t/d) was measured on June 21, 2022.
Source : HVO-USGS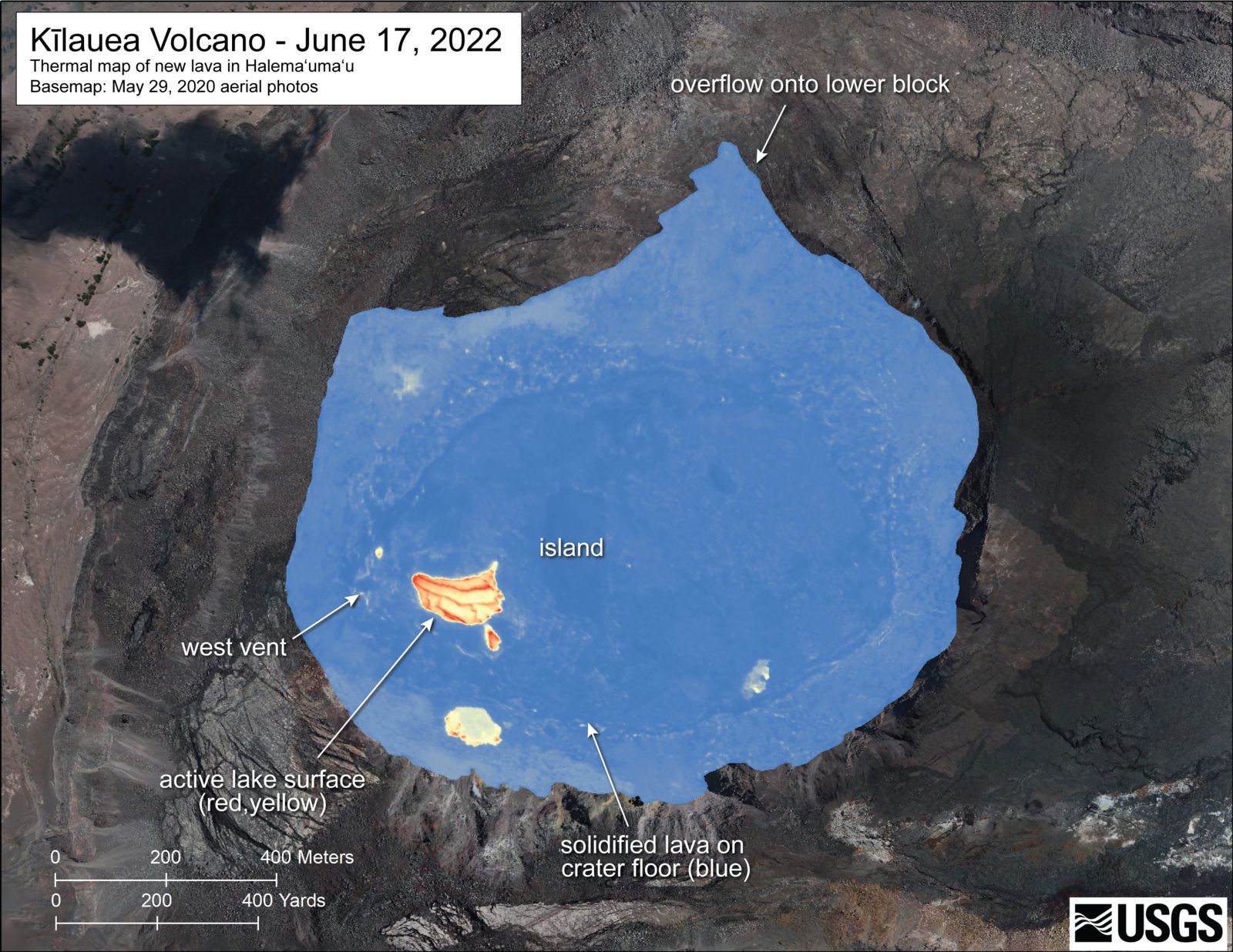 A helicopter overflight on June 17, 2022 collected aerial visual and thermal images of Halema'uma'u crater at Kīlauea's summit. The active surface of the lake is limited to the western part of the crater. The scale of the heat map runs from blue to red, with blue colors indicating cooler temperatures and red colors indicating warmer temperatures. - Source :: HVO-USGS - one click to enlarge
In Bulusan, no significant changes over the past two days.
In summary on June 22, 65 volcanic earthquakes were recorded.
The sulfur dioxide flux is 448 tons/day (June 22, 2022)
Plume (vapor): Poor evaporation; 100 meters high; dispersed in a west-northwest and west direction
Deformation of the ground: the volcano is in inflation.
Source: Phivolcs