Publié le par Bernard Duyck
Phivolcs issued an update for Bulusan on June 12, 2022 at 4:30 p.m.:
At 3:37 a.m. this morning, an eruption was detected by the Bulusan Volcanic Network. The eruption lasted about 18 minutes and was recorded as a blast-type earthquake by seismic and infrasound instruments, but could not be observed visually in the dark of night.
The explosion was felt at intensity III by the inhabitants of Brgy. Añog, Juban and at Intensity II in Brgy. Inlagadian, Casiguran, all within 5km from Bulusan peak. Rumblings accompanying the eruption were also reported by witnesses in Sitio Bagong Barrio, Brgy. Santa Lourdes, Barcelona, ​​Brgy. Inlagadian and Brgy. San Juan, Casiguran, Brgy. Bentuco, Gubat and Brgys. Añog, Calateo, and Puting Sapa, Juban.
Brief incandescence at the base of the eruption plume was also reported at Brgy. Inlagadien, Casiguran.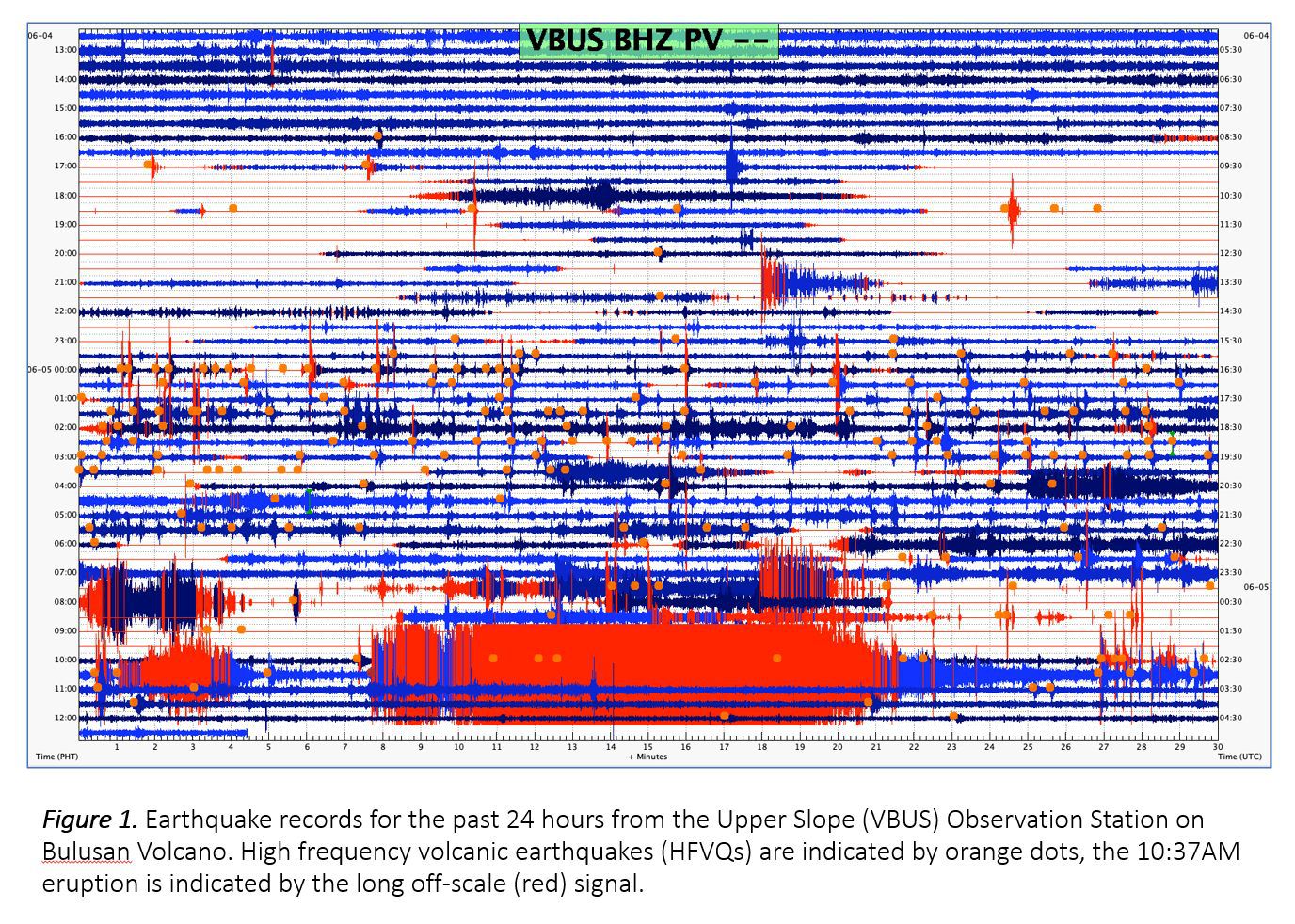 Earthquake records for the past 24 hours from the Upper Slope Observing Station (VBUS) at Bulusan Volcano. High frequency volcanic earthquakes (HFVQ) are indicated by red dots, tremor events by orange dots, the 03:37 eruption is indicated by the long off-scale signal (red). - Doctor. Phivolcs - one click to enlarge
At dawn, several active vents at the summit could be observed spewing ash and steam to a height of at least 500 m before being drawn northwest. In the morning, six vents - the main crater called Blackbird, three summit explosion pits, and the side vents on the northwest and north sides of the summit - were actively degassing short plumes that swept ash until at least 9:00 a.m. in the morning. The plumes dispersed into a long veil of ash extending several kilometers to the northwest.
This period of "ash" was accompanied by a very weak sporadic volcanic tremor. Degassing of steam-laden plumes continues as Blackbird Crater generates a fine ash mist over the upper northwest slopes.
Field data at the time of publication of this bulletin confirms the low ash fall on the barangays and municipalities of the province of Sorsogon: Barangay, Casiguran, Cogon, Inlagadian, San Juan, Tulay, Juban, Añog, Aroroy, Bacolod, Buraburan, Calateo, Lajong, Mabini, Puting Sapa, Tublijon, Magallanes, Incarizan, Pili, Sta. Elena, Tula-tula.
Aeolian or windblown ash was reported from Sorsogon town and Palanas, Pilar, Sorsogon province across Sorsogon bay and as far as Anislag, Daraga, Albay, 50 kilometers northwest of Bulusan.
Fine ash fall can cause irritation and respiratory problems, especially among the vulnerable population - the elderly, children, pregnant women and people with respiratory conditions - and can be particularly dangerous when inhaled in large quantity. Additionally, ash fall, even thin but containing large amounts of sulfur, can also cause irritation. Affected populations are advised to protect their mouths and noses with N95 grade face masks or a damp cloth or towel. Motorists are advised to drive with extreme caution as ash can impair visibility and, when wet, can make roads slippery.
At the seismic level, 106 volcanic earthquakes were recorded, including 48 episodes of volcanic tremor (duration 20 minutes).
Sulfur dioxide emissions fell from 613 tonnes/d on the 10th to 4,627 tonnes/d on the 12th.
The plumes reached a height of 500 meters before drifting west northwest

Alert Level 1 status remains in effect over Bulusan as all other monitoring parameters to date indicate that the current unrest is driven by the volcano's restive hydrothermal system.
Sources: Phivolcs, PNA, CNN, Philstar