Publié le par Bernard Duyck
Activity continues at Sakurajima, where the observatory sent a survey team on July 25 to determine exactly where the volcanic rocks landed and to assess the damage.
The team found volcanic ash in the northern and eastern parts of the volcano but found no noteworthy changes. An aerial survey using a helicopter was hampered by clouds above the crater.
Officials warn of further eruptions of a similar magnitude, as crustal movements there indicate the volcano remains inflating even after the eruption.
An eruption occurred at Minamidake Crater at 10:53 a.m. local time on July 26, with a plume of gas and ash that rose 2,200 m above the crater rim.
Volcanic ash flows east from the crater (towards Kihoku, Kanoya city), and a "significant small amount" of ash (0.1-1mm, requiring traffic precautions) falls in the city from Kagoshima in one hour.
Sentinel-5P / TROPOMI detected an enhanced SO2 signal of 5.30DU at a distance of 7.3km from Sakura-jima on July 26.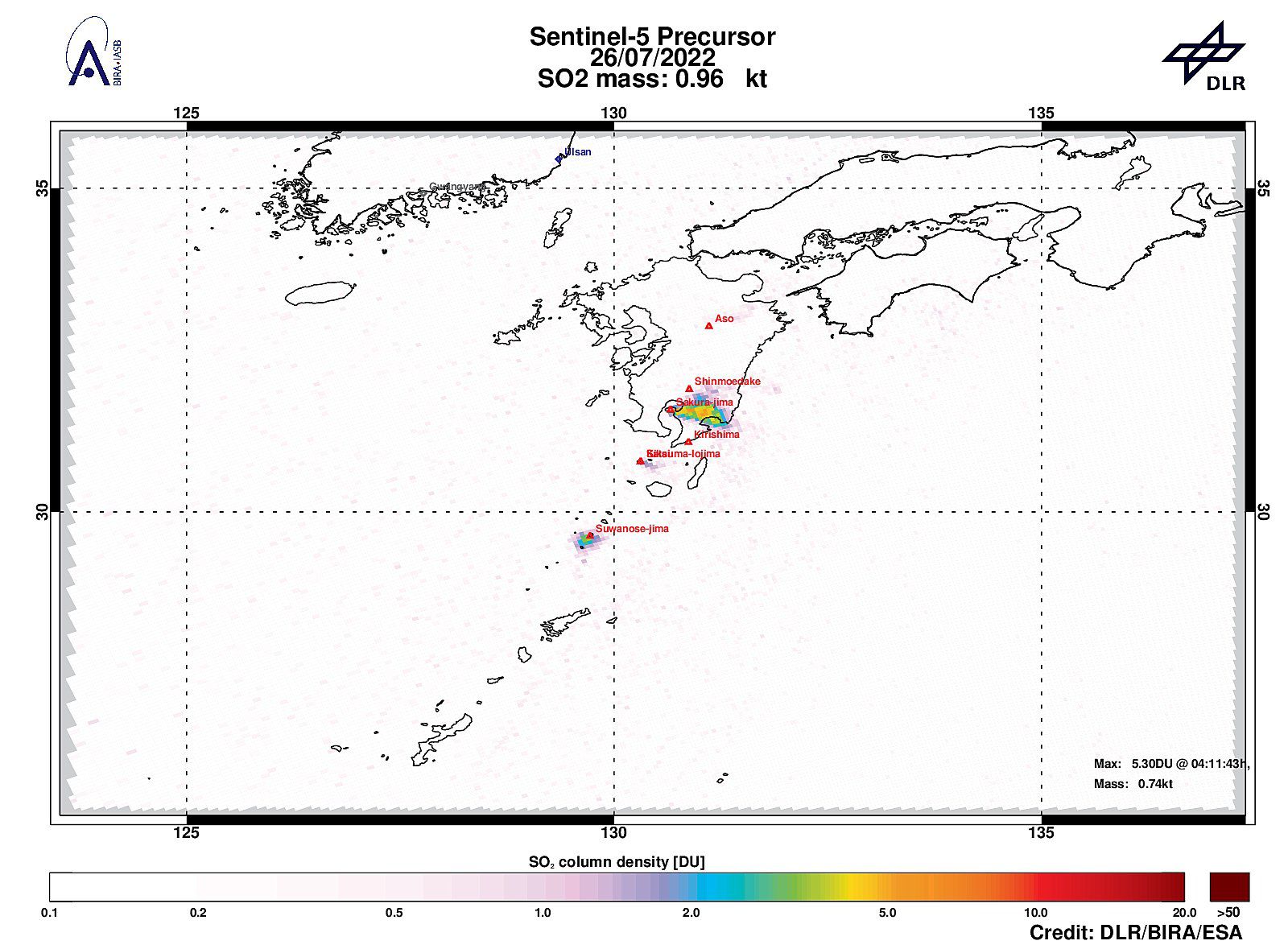 Sakurajima - TROPOMI detected an enhanced SO2 signal of 5.30DU at a distance of 7.3km from the volcano on 26.07.2022 - Doc. Sentinel-5P Tropomi / DLR / BIRA / ESA
Sakurajima Volcano is an open-vented volcano, located in the Aira Caldera, and largely produces its own vulcanian-like eruptions like the one that occurred on July 24. From October 1955 begins a sequence of these types of eruptions, still in progress, which sees the alternation of two active craters: the Minamidake crater and the Showa crater. It is from the Minamidake that the current volcanic cycle occurs.
Sources: JMA & INGVvulcani.
During the last 24 hours, thanks to the monitoring systems of the Popocatépetl volcano, 17 low intensity exhalations have been detected, accompanied by water vapor and volcanic gases, sometimes accompanied by ash. In addition, 18 minutes of low amplitude tremor and two volcano-tectonic earthquakes were recorded, the first recorded yesterday at 11:04 p.m. and the second today at 7:57 a.m. local time, both with a magnitude of 1.7.
During the morning and at the time of this report, an emission of water vapor, gas and sometimes a slight amount of ash was observed, which dispersed towards the west.
The volcanic alert of Popocatépetl remains in Amarillo phase 2. Cenapred urges not to approach the volcano, and in case of heavy rains, to stay away from drainages.
Sources: Cenapred & webcams from Mexico City.
According to I.G.Peru, the eruptive activity of Sabancaya remained at moderate levels between July 18 and 24, 2022, with a daily average of 30 explosions, accompanied by plumes of gas and ash up to 1,500 meters above sea level. above the top.
During the period, the observatory detected 262 volcanic earthquakes, associated with the circulation of internal magmatic fluids, and volcano-tectonic earthquakes, in connection with the fragmentation of rocks.
Deformation monitoring does not show any significant anomalies. Nine thermal anomalies, with a max. of 52 MW, have been identified, in connection with the presence of a lava dome in the crater.
The volcanic alert level remains naranja, associated with an inaccessible zone of 12 km radius around the crater.
Source: I.G.Peru